Napa Valley Sparkling Wine Tour: Self-Guided Tour Around this Northern California Region
Are you looking for a great self-guided Napa Valley Sparkling Wine Tour? My suggested itinerary will ease the burden of trying to figure it all out yourself.

Due to COVID-19, all Napa tasting rooms now require reservations. This suggested itinerary shows you how to squeeze in 4 sparkling wine houses in one day with reservations. I have suggested the best tasting at each location as well as what time to book your appointment. To make this work, you will need to book at least a month or two in advance (or further out if possible).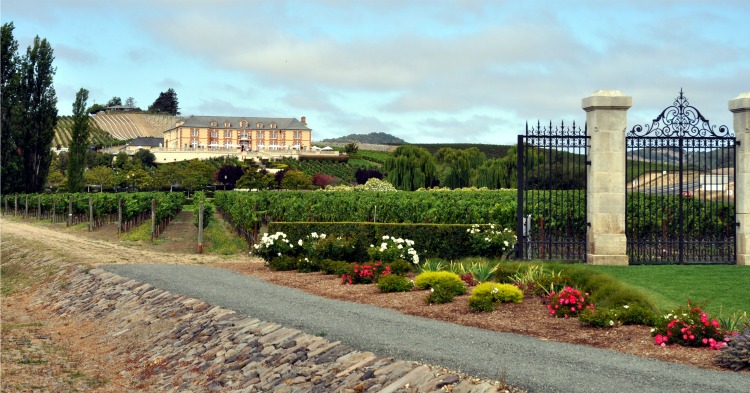 Stop One: Schramsberg Vineyards

There are a couple of tight turnarounds on this itinerary. Make sure to take a close look at the route and how long it will take, so you know exactly when you need to leave one winery to get to the next on time. Have all of the wineries' numbers on hand also so you can call ahead if you are running a few minutes late.
Also, since this is new to everyone, make sure to tell the winery that you have another appointment, so you will need to leave at a certain time to make it. You can do this once you sit down. They are usually quite friendly and appreciate knowing ahead of time. That way, you won't feel too rushed and can make sure you are finished in time to not have to speed over to your next appointment.
Once the appointment only restrictions are lifted, it won't be as tight of a turnaround as some start allowing walk-ins again and your experience won't last as long. However, whether you are traveling now or in the future, this will give you a good idea on a plan to sample the best sparkling wine in Napa on your visit.
Before you begin your day of tasting, make sure to eat a hearty breakfast. In my itinerary, you will eat lunch at one of the wineries, but your appointment will be around 2:30 pm. If you need additional food to get you through the day, make sure to bring something with you to snack on.
You can also remove one stop from my list, so you aren't as rushed trying to make your appointments. Also, make sure you have a designated driver and/or hire a driver to ensure safety on the roads.
Disclaimer: I receive a small commission from some of the links on this page.

Stop One: Schramsberg Vineyards

Appointment Time: 11 am
Arrival Time: No later than 10:45 am
Length of Tour: 75 minutes
Your first stop is on the northern end of the district near the town of Calistoga. I always start here as they have a limited number of tasting times and are strict with their appointments. This is good though, because you know it will start on time.
Their best option for your Napa Valley sparkling wine tour is the "All Sparkling Experience." The first one of the day is at 11 am and you must arrive no less than 15 minutes in advance.
This tasting is 100% outdoors and features a variety of their sparkling wines. It also only seats up to 6 people, so you won't feel too crowded and it allows space for social distancing.
I love visiting here first as, in my opinion, they serve up the best sparkling wine in the region.
This tasting is $50 per person. If you plan to buy, their bubbly runs between $25 and $160 a bottle. They sell certain bottles that you are not able to get anywhere else except on site. If you want something special, pick up a bottle or two before you leave.
After your tasting, you will then have 45 minutes to drive to Mumm. The drive is about 11 miles and usually takes about 20 to 25 minutes.
Stop Two: Mumm

Appointment Time: 1pm
Length of Tasting: 60 minutesYour second stop on this Napa Valley sparkling wine tour is Mumm Napa. They currently offer an Outdoor Tasting Experience, which features three of their bubbly wines.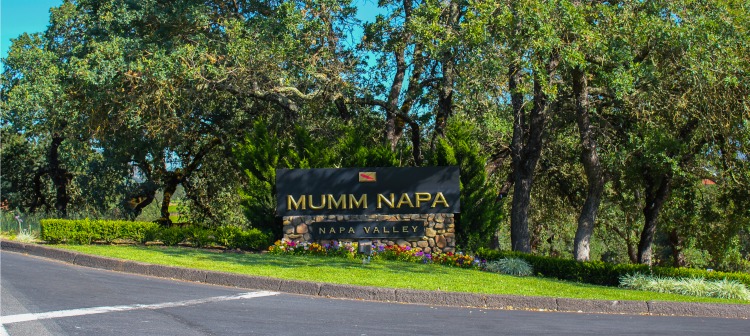 Your group will have your own private table with service from a winery staff member. You can sample their wines and ask questions all about the winery.
This experience is $40 per person and lasts around an hour. If you get done early, you can also grab a full glass of one of their wines. They range from $18 to $25 a glass.
You will be done here around 2pm, which gives you 30 to 45 minutes before your next appointment.
You will then drive to Domaine Chandon. Driving time is about 15 to 20 minutes.
Stop Three: Domaine Chandon

Appointment Time: 2:30pm or 2:45pm, depending on which option you choose
Length of Tasting: 90 minutes or 70 minutes
This is where you will have a little lunch. They currently have two experiences you will enjoy.
The first is their Picnic on the Lawn. It lasts about 90 minutes and includes local cheeses, fresh salads, and sandwiches. Your picnic basket (which you get to take with you) also includes some of their minis. The experience is around 90 minutes and costs $85 per person.
If you like this option, then make an appointment for 2:30pm.
The second option is their Tartines and Tasting Experience. This includes a sparkling wine flight with a trio of tartines (bread with tasting toppings), a cheese board, or a garden bowl. Your guide will tell you more about the wines you are sampling and answer all of your questions. This experience is $55 per person and lasts about 75 minutes.
Make an appointment for 2:45pm for this option.
You will then have 30 minutes to drive to Domain Carneros. The drive is about 17 miles and takes about 25 minutes. This is a tight turn-around, but don't rush it. You can always call Domain Carneros if you are running a few minutes late.
Note: If you want to just do three in a day, drop this one from your list. You can then stop for lunch in Yountville or Napa as you make your way south to Domaine Carneros.

Stop Four: Domaine Carneros

Appointment Time: 4:30pm, last appointment of the day
Length of Tasting: 90 minutes
Your last stop on my suggested Napa Valley sparkling wine tour is Domaine Carneros. This is on the southern end of the valley and the last appointment time of the day.
If you are running late, drop off one to two people at the bottom of the steps so they can grab your reservation. Then you don't have to rush to find a parking spot and run in the door.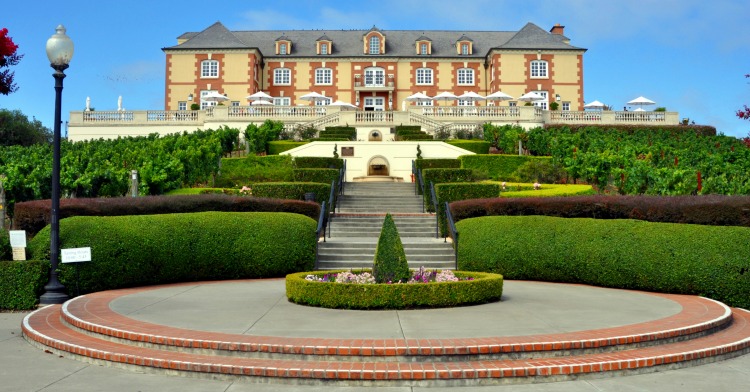 This famous wine house also offers only outdoor tastings. With lush gardens and well-manicured vineyards, you can soak in the amazing views all around.
Here, I recommend the Sparkling Wine Sampler. It includes 2-ounce tastes of four of their sparkling wines. The cost is $40 per person and it lasts about 90 minutes.
If you need a little more food, you can also order a meat or cheese tray from their menu. They also offer a small selection of caviar as well as a caviar flight.
You will be done at this last tasting around 6pm.