Comedy Day in San Francisco: See Local Comedians for Free in Golden Gate Park

by Jill Loeffler  •

Updated: August 29, 2022
Once a year, local comedians say "thank you" to the community by hosting a free afternoon of comedy in Golden Gate Park. The 2022 Comedy Day in San Francisco is on Sunday, September 18, 2022 from 12 pm to 5 pm.

The event features more than 40 comedians from the San Francisco Bay Area and beyond. All comedians are asked to keep it clean during their acts, but sometimes they slip, so we would consider this a PG-13 show.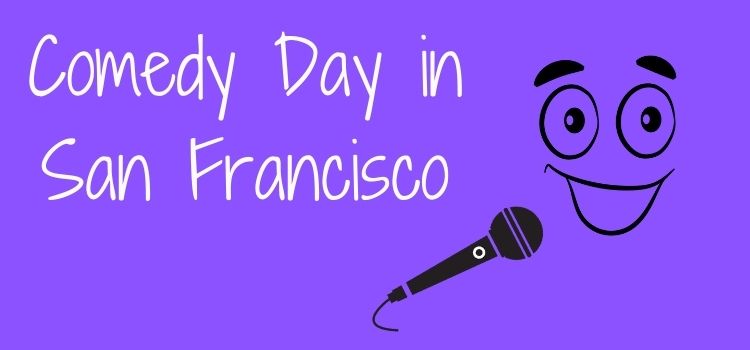 All performances take place in Sharon Meadow in Golden Gate Park.
This annual event draws a large crowd and there is always limited seating, so I recommend showing up early to grab your seat for the show. It will begin with a brief opening act around 11:45 am and last until around 5 pm.
Click here for a list of comedians scheduled to perform this year.
Food & Beverages

Comedy Day in San Francisco features food and beverage vendors each year. They offer dishes from a variety of local restaurants and caterers. You will also find beer, wine, and other drinks from local vendors as well.
Disclaimer: I receive a small commission from some of the links on this page.

Where to Stay

There are only a handful of places to stay near Golden Gate Park, so I always recommend staying in Union Square for these types of events. This is where you will find the best hotel options and it's an easy light rail train or bus ride away.
You can also find some options in a few districts that are a little closer including Alamo Square, the Haight Ashbury, and Civic Center/Hayes Valley. Click the links below for my recommendations in each of these districts.
You can also look for hotels on TripAdvisor.com. I love to check out their current special offers before booking. Their deals range from a discount on your nightly room rate to free parking or breakfast. Click here to check out their deals in San Francisco.
How to Get to Robin Williams Meadow (Formerly Sharon Meadow)

Robin Williams Meadow is on the southeastern corner of Golden Gate Park. You will find it near the western side of the Haight Ashbury District near Kezar Stadium.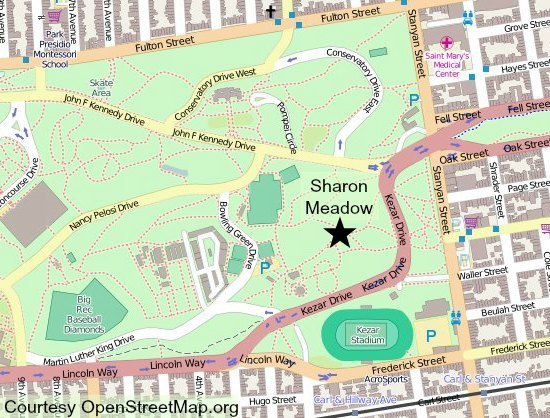 You will find a number of transportation options to get to Robin Williams Meadow.
Muni Buses: You can take a variety of buses from all over San Francisco to get to the 2016 Comedy Day in San Francisco. These all drop within a few blocks of the event: 5, 6, 21, 33, 37, 43, 44, & 71.
Light Rail Train: Take the N-Judah Light Rail Train to the stop at Stanyan and Carl Streets. From here, walk north on Stanyan until you see Golden Gate Park. You will then enter the park and find Sharon Meadow behind Kezar Stadium.
Driving & Parking: As I mentioned above, this event is really popular and draws a large crowd. I don't recommend driving unless it's your only option. The best place to look for parking is outside the park in the Cole Valley or Inner Sunset districts. Both are on the southern side of the park. You might be able to find parking along Frederick Street or just to the south of it. Most of the time, you will need to park several blocks away, so plan to walk quite a while from your parking spot to Sharon Meadow.
It's mostly two-hour parking in and around Golden Gate Park, so make sure you check out the parking signs near your car before you leave it. They do ticket frequently in this area.
You can also check out the parking garage in between the California Academy of Sciences and the de Young Museum. It's a great option if you do not want to walk too far. However, it is very expensive to park there all day ($5 an hour, $28 maximum for the day) and fills up early in the morning on the weekends.
Other Top Events this Month

SF Giants: Check the SF Giants schedule. You can still catch a game or two this season at Oracle Park (formerly AT&T Park) in the SOMA district. Click here for more details.
SF Theater: Catch a Broadway performance or a fun show at a small, local theater during your stay. On my theater calendar, you will find all of the top shows as well as the smaller ones. Click here for additional details.
San Francisco Fringe Festival: If you love the theater, you will also love this grassroots theater festival every fall in SF. They feature dozens of performances from local groups.
Other Pages You Will Enjoy

Comments? Questions? Suggestions?
I would love for you join me in my private Facebook group! 
It's a great place to interact with me and others that know the area well.
You can ask questions, get advice for your upcoming stay, and then share your photos and advice with others when you return home. It's a great community and the fastest way to get answers to those nagging questions about your visit!