Alcatraz Tickets
Tips on How & When to Pick Up Yours Before Your Visit
All Alcatraz tickets include the ferry ride over to the island, a self-guided audio tour, and the return ferry ride. These tickets sell out quickly, so I recommend buying them as soon as your plans are set.
They go on sale 90 days ahead of time. Alcatraz is open every day except Thanksgiving, Christmas, and New Year's Day.
Are you looking for tickets on sold out days? Here you will also find some tips on a few places to look for legitimate tickets after individual days are already sold out.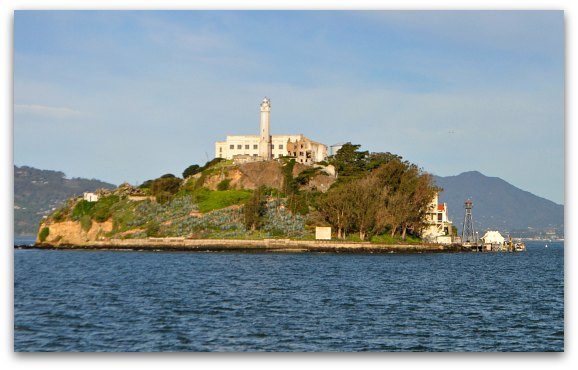 For some of the links on this page, I receive a small commission when you purchase. You don't pay more when you buy through me and it gives me the chance to offer you all this great content for free!
Schedule for Ferries
You will find several ferries to Alcatraz leaving every day. They leave from Pier 33 near San Francisco's Fisherman's Wharf District.
The best way to get here is to either walk from Fisherman's Wharf or take the F Streetcar. The F drops off about a block from Pier 33. Most of the streetcar drivers call out the stop, but you can also ask them to let you know when you arrive at your destination.
Mid-March - Early November
This is the schedule for most of the year.
Early Bird: 8:45am
Day Tours

9:10 AM
9:30 AM 
10:00 AM
10:30 AM
11:00 AM
11:30 AM
12:00 PM 
12:30 PM
1:00 PM
1:30 PM
2:10 PM
2:40 PM
3:20 PM
3:50 PM

Night Tours (running a few nights a week)
November - Mid March
Here is the typical schedule for November - the middle of March.
Early Bird: 8:45am
Day Tours

9:10am
9:30am
10:00am
10:30am
11:00am
11:30am
12:00pm
12:30pm
1:00pm
1:05pm
1:35pm

Night Tour: 3:50pm
Tour Types
On the schedule above, you will see times for three types of tours.
Early Bird & Day Tours
The only difference between these two tours is the time they leave. The Early Bird tour is the first one that leaves every morning. It gives you a chance to begin exploring the island before any other ferries arrive.
For both of these types, your day will start with a walk up the hill to the main entrance of the prison building. You will be handed your self-guided audio tour and then, you will head up the stairs into the cell house.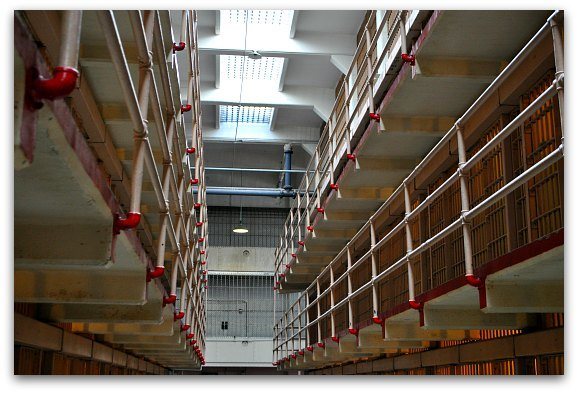 The audio tour is well done. In addition to the narrator, it also features stories and tidbits of what life was like on The Rock from both prisoners and guards. This tour takes about 45 minutes.
After you finish, you are free to participate in one of the free presentations or tours. They will give you even more information about Alcatraz. Most of these are in the morning and early afternoon.
You can then roam around the grounds. You will get some amazing views of the SF Skyline and the Golden Gate Bridge. You can also visit a couple of other buildings that are open to the public, but not on the audio tour.
Click here to learn more about what to expect during the day tour.
Night Tour
The Night Tour is my favorite since the groups are smaller and there are fewer people on the island. It also includes a few more stories told by the park rangers. You can either stop and listen or just visit on your own (similar to the day tour).
Depending on the season, there are either one or two ferries for the night tour. There are also one or two return ferries. All of them leave around 4pm or 5pm and return around 6pm or 7pm.
Click here for additional details on what it's like on the night tour.
Best Places to Buy Tickets
You have a couple of options when buying your tickets. You can either just buy your Alcatraz tickets directly through the official ticketing company or you can buy the tickets in combination with other tours.
Alcatraz Tickets Only
If you know you want to visit Alcatraz, but haven't finalized your other plans, then you can buy them directly through Alcatraz Cruises. This is the official ticketing site and the company that manages the ferries.
You will purchase your ticket for a specific time. This is the time that your ferry leaves Pier 33. You will want to arrive at least 30 minutes prior to your departure time. The ferries will not wait for anyone that is running late. Once the gates are closed, even if the ferry is still at the dock, they will not allow you to board.
Click here to visit the Alcatraz Cruises site to buy your tickets.
Ticket & Tour Combos
The other option is to buy your Alcatraz tickets in combination with other tours. These combo packages will save you a little money as. buying all of the tour tickets separately.
The most popular is the City Tour and Alcatraz combo. It includes a half-day bus tour of SF and then the tour of Alcatraz. Click here to check out this tour option on Viator.
Discounted Tickets
Many people search for discounted Alcatraz tickets. You won't find very many reputable companies selling these tickets.
Since Alcatraz sells out most of the year, they rarely offer their tickets at a discount. I call this out as I want you to be very careful of fraudulent tickets.
I recommend purchasing your tickets either directly through Alcatraz Cruises, a reputable site such as Viator, or at the ticket counter (tickets will only be available here during the low season).
If you think you found an amazing deal and/or discount on Alcatraz tickets, it's most likely a scam. If you aren't sure, feel free to reach out to me and I'll do my best to help you identify if the deal is legitimate.
Find Tickets for Sold Out Days
I get emails all the time from people looking for Alcatraz tickets on days that are sold out on the official website. Once those are sold out, there are no places I'd recommend booking individual tickets. However, my secret to solving this issue is to look for and book a combo tour (package) that includes other attractions or activities as well as Alcatraz tickets.
There are two places I'll look for sold out tickets/combo tour tickets. You can find them on Get Your Guide and Viator. Both consolidate the tickets available at local tour companies and offer you one look at almost everything that is still available for your dates.
Get Your Guide
Below are some of the top combo tour options on Get Your Guide. Click the pictures to find out what options are available on the date of your visit.
Viator
Visit their site here to find a list of all combo tickets that include Alcatraz.
Exhibits at Alcatraz
Alcatraz is now starting to use some of their buildings for special exhibits. They have featured the works of famous artists such as Ai Weiwei, as well as others that focus on topics related to prisons, prisoners, or human rights.
Click here to see the exhibits currently on display on Alcatraz Island.
Save with Goldstar: If you are looking for other fun things to do during your stay in San Francisco, check out the great deals on Goldstar. They offer tickets to top SF events, tours, and other activities. Most tickets are up to 50% off the full retail ticket value. Click here to check out their selection for your visit. They update their offering daily, so check back if you don't see tickets for the days of your visit.
More Information for Your Visit