San Francisco Chinatown
Top Activities & Things to Do in Chinatown SF
San Francisco Chinatown is a bustling neighborhood with a lot to see and do. It is known as the 'city within a city.'
Grant Avenue is the main street in this SF district. Most of the restaurants and shops are right on this street.
The Dragon Gate is the famous starting point of Chinatown. It is on the corner on Bush Street and Grant Avenue. It runs all the way to Columbus Street. There are a number of smaller shops and restaurants on the side streets, but but the heart of this San Francisco neighborhood is right here.
Top Activities & Attractions in Chinatown
San Francisco Chinatown is full of fun activities from seeing how fortune cookies are made to shopping for inexpensive SF gifts. Here are the seven most important things to see and do in this neighborhood.
1. Discover How Fortune Cookies Are Made
One of your first stops in San Francisco Chinatown can be the Golden Gate Fortune Cookie Factory. Watch through the window as the cookie makers add fortunes to each cookie. Maybe you can guess what your fortune will be!
It only takes a few minutes and is a fun way to start your tour here. You will find it at 56 Ross Alley, which is off Jackson Street between Grant and Stockton Streets.
Learn More: Golden Gate Fortune Cookie Factory
---
2. Uncover Hidden Gems on These Tours
There is so much to learn about this neighborhood from its authentic foods to its long history in San Francisco. On these walking tours, you'll get an insider's look at this fascinating neighborhood.
You'll learn more about its people, top attractions and role as one of the first settlements in the area - even before San Francisco became a city.
Learn More: Chinatown Tours
---
3. Shop for Inexpensive Gifts
San Francisco Chinatown is the number one place in the city to find inexpensive items. You will find some great bargains on Grant Avenue and there are also a few other hidden spots to check out while you are here. Click through to find more information on all of the top places to shop here.
Learn More: Shopping in Chinatown
---
The Lion Gate that leads from Union Square into Chinatown on Grant Avenue
---
4. Learn More About Chinese History at the Chinese Historical Society
The Chinese Historical Society of America is a great way to learn more about the neighborhood. Here you will see old photography, sculptures and other pieces of work that showcase the real Chinatown San Francisco. You will find it at 965 Clay Street.
This museum is also one of several attractions included with the Go San Francisco card. With this pass, you can save money on admission to the Chinese Historical Society as well as many other top SF attractions.
Learn More: Chinese Historical Society
---
5. Try Yummy Dim Sum
Checking out one of these Dim Sum restaurants is a great way to try a variety of authentic Chinese dishes at a very reasonable price. There are dozens to choose from and this is where you will find some of the best.
Learn More: The Best Dim Sum Restaurants
---
6. Step Back in Time at These Chinese Temples
During your visit in the Chinatown neighborhood, I recommend spending a few minutes in one of its temples. Many welcome visitors and are open everyday of the week. Discover three of my favorite temples in the neighborhood and what to expect during your visit.
Learn More: The Best Chinese Temples
---
7. Celebrate the Chinese New Year
The Chinese New Year is the biggest celebration in San Francisco Chinatown every year. It kicks off with a large parade down the center of Chinatown. The date changes every year to coincide with the lunar cycle. It will fall sometime between late January and early March.
It's an amazing celebration with music, colorful dress and thousands of people. If you happen to be in San Francisco during this time of year, I highly recommend stopping by to help celebrate the Chinese New Year.
Learn More: Chinese New Year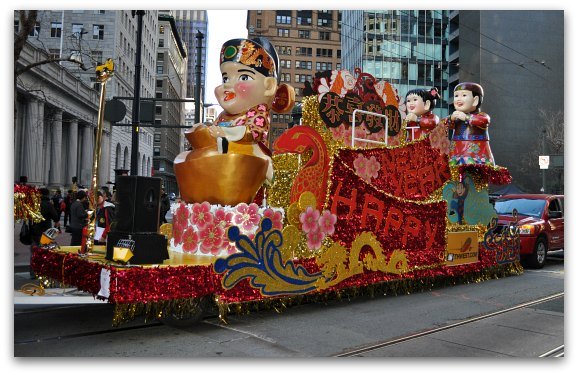 A float at the beginning of the Chinese New Year's Parade in SF
If you only have one day in Chinatown, then check out my "Perfect Day" itinerary. In just one day, you will learn about this district's history, check out some great places to eat and find the best places to shop. It's a fun way to cover as much as possible in one day, but at your own pace!
Hotels Near Chinatown
With Chinatown's location in the heart of the city, it is easy to find a great hotel room close by. Here are some of the top recommendations.
Orchard Garden Hotel
466 Bush Street

The Orchard Garden Hotel is a three and a half star hotel. It has 86 rooms and the following amenities:
Fitness & Business Centers
Suites Available
Free High-Speed Internet Access
Room Service
Bar/Lounge & Restaurant
Rooms at the Orchard Garden Hotel start at around $250 a night.
Find more ratings and reviews on Booking.com: Orchard Garden Hotel
---
SW Hotel
615 Broadway Street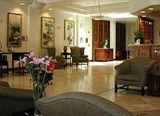 The SW Hotel is a three star hotel. It has 81 rooms and has the following amenities:
Free Continental Breakfast with Coffee and Tea Each Morning
Free Wireless Internet Access
Custom Ming Designed Furniture in Each Room
Cable TV
Air Conditioning
Rooms at the SW Hotel start at around $170 a night.
Find additional ratings and reviews on Booking.com: SW Hotel
---
Other Hotels In or Near San Francisco Chinatown
Royal Pacific Motor Inn: 661 Broadway Street, 3 stars

Free parking, free wireless internet, coffee maker in each room, satellite TV available in their traditional-style rooms
Rooms start at around $120 a night



University Club: 800 Powell Street, 4 stars

32 inch flat screen TV, coffee maker, restaurant and bar on site, gym, sauna, business center with meeting rooms
Rooms start at around $250 a night



Grant Plaza Hotel: 465 Grant Street, 2 stars

Parking (extra charge), internet in public areas (extra charge), business services, elevator, 72 rooms
Rooms start at around $75 a night
Find ratings, reviews, and low prices on Booking.com: San Francisco Chinatown Hotels
Discover other lodging recommendations in San Francisco.
How to Get to Chinatown
There are a number of transportation options to get to San Francisco Chinatown.
From Fishermans Wharf:
Cable Cars: You can take either the Hyde/Powell or the Mason/Powell cable car lines from Fishermans Wharf to San Francisco Chinatown. It will take you about 20 minutes on either line. The cost is $6 for a one way ride.


Bus, 30 Stockton: Pick this bus up at Columbus and Bay Streets heading into downtown San Francisco, get off the bus at Stockton and Pacific or Stockton and Washington Street, walk up the hill until you reach Grant Street. The cost is $2 per person.


SF Taxi: You can also take a taxi over to Chinatown. It will cost around $10 and only take about 5 to 10 minutes.
From Union Square:
Cable Cars: All three cable cars run through San Francisco Chinatown. Pick up one of the three cable cars and the conductor will tell you where to get off for Chinatown.


Bus, 1 California: Pick up this bus anywhere along Sacramento street. It will take you up the hill to San Francisco Chinatown. The Clay and Stockton Street Stop is the best.


Taxi: If you take a taxi, you can get here from Union Square in just a few minutes. It will also cost less than $10.


Walk: San Francisco Chinatown is less than a mile from Union Square. It's a little bit of an uphill walk, but if you take it slow, you can walk here in just a few minutes.
Download this easy Chinatown planning guide with all the top attractions, hotels and restaurants.
---
Fishermans Wharf & Pier 39: A trip to San Francisco is not complete without a stroll through Fishermans Wharf and Pier 39 San Francisco. Yes, it is quite touristy, but it is full of action and is in a beautiful location right along the San Francisco bay. Discover the hot spots in this popular San Francisco neighborhood.
Union Square Shopping: Are you looking for a great place to shop? If so, a trip to Union Square is the answer. This lively neighborhood is full of high end shops, galleries and other fun places to shop. The square itself is a great place to grab some coffee and watch the crowds roll by.
Haight Ashbury District: The Haight Ashbury district takes you back to the 60s. This was the heart of the action during the "Summer of Love". See where it all took place by strolling down this colorful neighborhood in San Francisco.
North Beach: Another popular neighborhood is North Beach. The main attractions here are the great Italian restaurants, Coit Tower, Beach Blanket Babylon and the cute shops that line the sidewalks of Columbus Street. It is packed with history too. Learn more about this exciting neighborhood and everything there is to see and do!