Dim Sum San Francisco
The Best Places to Get Dim Sum in SF
Are you interesting in trying Dim Sum during your visit to San Francisco? Let me help you discover a list of some of the top options in Chinatown and throughout the city.
First, let's start with the basics. What is Dim Sum? It is Chinese cuisine served in small quantities. Many dishes are steamed or fried. They are then served on small plates in quantities of two or three.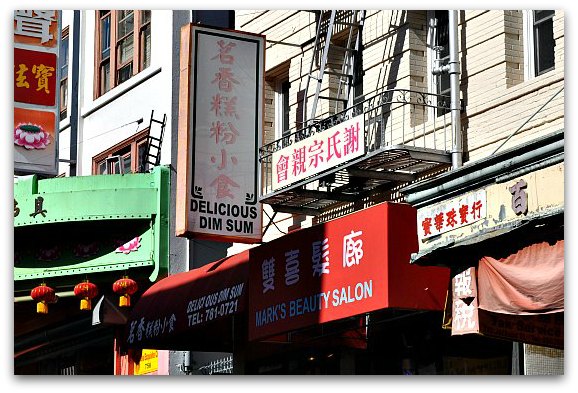 You will find two types of Dim Sum Restaurants in San Francisco. The first provides you with a menu and you write down all of the items you want to try.
The second type is a little more fun! The server wheels around a car with different Dim Sum on it and you can pick and choose. This is my favorite since you get to take a look at the options and point to what you'd like to order.
The best way to eat Dim Sum is to order four or five plates. Once you finish those, you can order a few more - maybe even some of your favorites from your first order.
Since San Francisco is a fairly expensive town to visit, Dim Sum offers some of the best food value in the city. My friends and I can typically eat a full meal, but still only pay less than $10 per person (usually it's only around $5 or $6 per person).
Be prepared to bring cash before you sit down and eat. Many of these places do not accept credit cards or travelers checks.
Now that you know a little more about it, here are some of my favorite places to enjoy it.
Chinatown
You will find dozens of places to eat in Chinatown. They are often very small with only 6 or 7 tables.
They may look similar from the outside, but there are major differences in ambiance and quality of the food. Here are some of the best places to eat in the Chinatown district.
Delicious Dim Sum: 752 Jackson Street - This is my favorite place to grab Dim Sum in San Francisco. However, it's small and often crowded, so make sure you have a few alternatives in mind. It's open every day from 7am to 6pm except Wednesday when it's closed. Cash only.


City View: 662 Commercial Street (between Kearny and Montgomery) - It's only open for lunch Monday - Friday from 11am to 2:30pm; Saturday and Sunday from 10am to 2:30pm


Good Mon Kok Bakery: 1039 Stockton Street - This is another one of my favorites. It's open everyday from 7am to 6pm. Cash only.


Wing Sing: 1125 Stockton Street. Another local favorite in the heart of Chinatown. This Dim Sum San Francisco restaurant only accepts cash.


Hang Ah Tea Room: 1 Pagoda Place. Claims to be one of San Francisco's oldest Dim Sum restaurants in Chinatown. It's colorful, small and it is cheap, cheap, cheap.
Chinatown Attractions: Fortune Cookie Company | Shopping
Other Options
You will also find a few good options outside of Chinatown. Many of these places are slightly larger, so they can accommodate groups larger than four or five people.
Yank Sing: Financial District, 101 Spear Street - Yank Sing offers a slightly different take on this Chinese cuisine. It's a little more expensive because they offer some higher end dishes. Due to their location, they appeal to the working crowd located near their restaurant. They are open Monday - Friday from 11am to 3pm and Saturday and Sunday from 10am to 4pm.


Good Luck Dim Sum: Inner Richmond, 736 Clement Street - Although it's located in the Inner Richmond, this is a more traditional restaurant. It's affordable and they only accept cash. Open Mondays and Wednesday - Sunday from 7am to 6:30pm.


Clement Restaurant: Inner Richmond, 621 Clement Street - Clement Restaurant offers good, affordable Dim Sum, but it's slightly more expensive than their neighbor Good Luck Dim Sum. They are open everyday from 7:30am to 6:30pm and only accept cash.


Hong Kong Lounge: Inner Richmond, 532 Geary Boulevard - The Hong Kong Lounge offers this as well as many other Chinese options. It's a full service restaurant that accepts credit cards and is open a little later in the evening. It's a good choice when traveling with a larger group or with children. They are open for Monday - Friday from 10:30am - 2:30pm & from 5pm to 9:30pm; open Saturday and Sunday from 9:30am to 2:30pm.
Other Great Restaurant Options in SF
---
Chinese Historical Society: Head over to the Chinese Historical Society before or after you enjoy your Dim Sum for a look at the history of the Chinese Americans. This small, yet interesting museum features artifacts, stories and other cultural exhibits that give you some insight into this community.
Chinese Temples: Another great way to learn more about the community in Chinatown is by stopping by one of these three Chinese Temples. All welcome visitors as long as you are respectful of those coming to pray. Click through the link above to learn more and find out how you can visit these temples during your visit.
A Perfect Day in Chinatown: Do you only have one day to visit Chinatown? If so, then you will love this self-guided itinerary. In one day, you will take the best route through this SF district and see as much as possible. It's free and a great tour to do at your own pace.
A Perfect Day in North Beach: Right next door to Chinatown is SF's North Beach district. On this page, you will find what I would do if I had only one day to visit North Beach. It includes a visit to Coit Tower, a stop by the place where Joe DiMaggio learned to play baseball and a visit to one of my favorite bakeries in the city!