San Francisco Live Music
2016 Calendar of Concerts
The San Francisco live music scene is one of the best in the country. If you love concerts, then San Francisco is a great place to catch a show.
Here you will find a combined list of some of the top shows in SF. The list includes the calendars for some of the biggest venues including The Fillmore, The Warfield and Slims.
You will also find SF concert listings for the Great American Music Hall, The Independent and a few tops shows at other venues throughout the city. You can also click through to a full calendar for each month.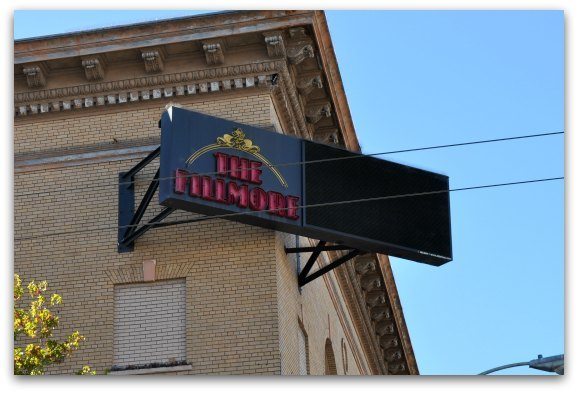 In addition to live music, SF is also home a few big music festivals each year including Outside Lands, Hardly Strictly Bluegrass and Oysterfest.
Half-Priced Concert Tickets This Month & Next
Click the links below for some of the best deals on concert tickets throughout the Bay Area. All tickets are offered at up to 50% off the full retail price.
*Small fee will apply at checkout.
October 2016
>> Additional concerts in October
>> Full calendar of events for October
November 2016
>> Full calendar of events in November
December 2016
12/2: Los Lobos at The Fillmore


12/9: One Starry Night: Lindsey Stirling, Andy Grammer, Gavin DeGraw & Walking on Cars at the Nob Hill Masonic Center


12/10: Zeds Dead at the Bill Graham Civic Auditorium


12/11: PartyNextDoor & Jeremih at the Nob Hill Masonic Center


12/12 & 12/13: Gladys Knight & the SF Symphony at Davies Symphony Hall


12/24: Brian Setzer Orchestra at The Warfield


12/31: Sleater-Kinney at the Nob Hill Masonic Center
>> Full calendar of events for December
San Francisco Live Music Calendars by Month
SF's Live Music Festivals
Oysterfest: This one-day festival features amazing oysters from the west coast as well as live music. It occurs each year in either May or June. This event draws thousands of people from around SF, the Bay Area and beyond. Click here for this year's festival details.
Outside Lands Music Festival: This is SF's largest music festival every year. During the first part of August, thousands of music lovers head to Golden Gate Park for this three-day festival. Click here for more details and to buy your tickets for this year's event.
Hardly Strictly Bluegrass: This free three-day festival is the first weekend in October each year. It's also held at Golden Gate Park. Find additional details here.
Stern Grove Festival: The Stern Grove festival is a local institution. This free event features live music every Sunday at 2pm from late June to the middle of August. Click here for more details.
Treasure Island Music Festival: Just across the SF Bay Bridge, you will find the Treasure Island Music Festival. This annual event lasts two days and is often held in mid to late October. Click here for more details.
Do you have a festival you would like to add? If so, click here to add it to our calendar.
Other Events in SF Each Month
Details on SF's Top Venues
In addition to the list above, you will also find a number of smaller venues. Here is a quick overview of each one - in addition to a link to their calendar.
Bimbo 365
Bimbo's mainly features live rock and jazz music. They book locally popular bands such as Super Diamond and Tainted Love.
They have a little bit of seating, which is on a first come, first served basis. The rest of the venue is standing room only. Again, I love this venue because it never feels overly crowded.
Bimbo 365 also serves food. The menu is very limited but offers burgers, pizza and fries. All shows are 21 and over. They also have a two drink minimum.
This San Francisco live music venue is located at 1025 Columbus Avenue in the North Beach district. Visit the Bimbo 365 show calendar for a list of their upcoming shows and to purchase tickets.
---
Cafe du Nord & The Swedish American Hall
Cafe du Nord has a really small, intimate setting that allows you to get really close to the music. It's mostly up and coming bands or local favorites.
This venue has a few dimensions. It is a restaurant, where you can sit and enjoy you dinner with the show. You can also hang out in the bar or the standing room only area.
They also have a larger venue upstairs called the Swedish American Hall. It's a larger space that offers a second live music option for your evening.
This venue is located on Market Street between Sanchez and Church Streets. They have a combined calendar that lists the shows at both Cafe du Nord and the Swedish American Hall.
Other Pages You Might Enjoy