San Francisco Events in May 2017
Mother's Day, Memorial Day Weekend, & Other Things to Do this Month
May in San Francisco is warm, sunny, and a lovely time to visit. During the month, you will find dozens of things to do and plenty of events to keep you busy.
Spoil your mom this Mother's Day with several fun activities planned just for her and the family. You will also discover a variety of colorful and memorable events over Memorial Day weekend. In addition, you can sample local wines at the annual Uncorked Wine Festival in Ghirardelli Square, show off your favorite costume during the Bay to Breakers race, and savor a variety of oysters during Oysterfest.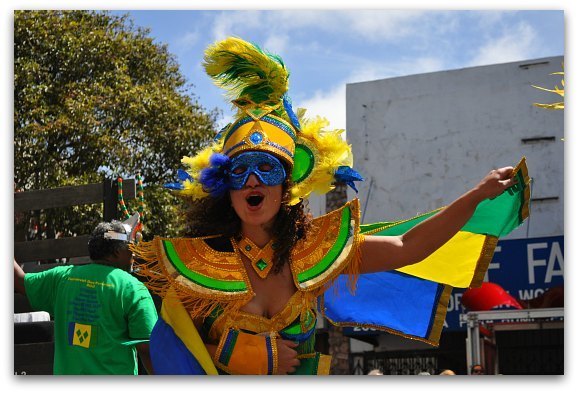 This month, you can also step inside the theater to see a performance of Roman Holiday. You'll also get the chance to explore the city on one of the free walking tours offered by SF City Guides & the Public Library, fly high above the city on a helicopter tour, or taste a variety of beers during the spring International Beer Festival.
Read on for more details on the top San Francisco events in May 2017.
For some of the links on this page, I receive a small commission when you purchase. You don't pay more when you buy through me and it gives me the chance to offer you all this great content for free!
SF Giants Baseball
Head over to AT&T Park this May to catch the SF Giants in action. This month, they have thirteen home games in San Francisco. During May, they play host to the Reds and the Dodgers. Toward the end of the month, both the Braves and the San Nationals take on the Giants in SF.
Dates: Several in May
Learn More: Find the full schedule this year
SF Ballet
Catch one of the last performances of the SF Ballet this season. From May 1 - 7, see a performance of Cinderella. All shows are at the War Memorial Opera House near City Hall in the Civic Center neighborhood.
Dates: May 1 - 7
Learn More: Additional details for the SF Ballet in May
Save with the SF CityPass
Save on your admission to some of SF's top attractions with the SF CityPass. This discount card includes admission to the California Academy of Sciences, either the Aquarium of the Bay or the Monterey Bay, and either the Exploratorium or both the de Young and the Legion of Honor. You will love the ease of the 7-day unlimited Muni pass that is also included and the ticket on the 60-minute SF Bay Cruise. If you plan to visit all of these attractions, it's a great way to save!
Dates: Any day in May
Tickets: Save up to 44% on San Francisco's Muni and 4 other attractions with CityPASS. Shop now!
Free Walking Tours with SF City Guides
Every day of the year, you will find five to six wonderful tours offered by SF City Guides. Supported by the SF Public Library, all walks offer the history or fun facts about a specific district or attraction. You can stroll over the Golden Gate Bridge, walk the historic alleys of Chinatown, or learn more about the history of the Palace of Fine Arts. All walks are free and last for around two hours.
Dates: Every day of the month
Learn More: Find a full schedule with starting locations
Uncorked Wine Festival
During the Uncorked Wine Festival at Ghirardelli Square, you can sample new local wines, talk to winemakers, and attend a seminar to learn more about the wines on hand. You can also listen to live music, sample local goodies, and watch live cooking demonstrations.
Date: May 6
Learn More: Discover details for this year's event
Free Museum Admission Days
Save money and visit one of SF's top museums during their free admission days. Each month, several museums offer free entrance to their permanent collection. You can see dozens of artifacts at the Asian Art Museum, enjoy fine arts at the de Young Museum, or discover new plants and flowers at the Conservatory of Flowers.
Dates: Several at the beginning of the month
Learn More: Uncover free museum dates for May
Uncover the Best Hotel Deals for Your Stay
Don't book your room before checking out the great discounts online. There are a variety of deals available including discounts off your room rate, free parking, and more. Click the links below to check out the latest offers on San Francisco hotels during your stay.
Bookings: Save on your Hotel with Booking.com, Planet Earth's #1 Accommodation Site. No booking fees ever!
TripAdvisor: What's the #1 hotel in San Francisco? Read reviews & find hotel deals on TripAdvisor!
Mother's Day
Celebrate your mom on Sunday, May 14 in San Francisco. You will find a wide range of things to do to make the day extra special. You can head out on a Champagne Cruise in the morning, do a little shopping in the afternoon and/or enjoy an evening sunset cruise. You can also make you way over to Alcatraz for the day or spend time exploring the Golden Gate Bridge. There are plenty of wonderful places for the entire family to enjoy a lovely brunch or lunch to celebrate.
Date: Sunday, May 14
Learn More: Find a list of all of the things to do this year for Mother's Day in SF
Roman Holiday: SF Theater
This month, you will find several performances on the theater calendar. The biggest show is Roman Holiday (5/24 - 6/18). Other San Francisco events in May include Noises Off at the SF Playhouse, Battlefield at the ACT Theater, and The Roommate at the SF Playhouse
Dates: Several shows this month
Learn More: Discover additional details about these shows & other theater performances in May
A Three Day Self-Guided Tour of SF
Are you short on time for your stay in SF? Do you want to see as much as possible during your visit? If so, then check out my self-guided three-day tour of SF. It offers you the chance to visit as many attractions and see as much as you can in just three days. You will visit the Golden Gate Bridge, Alcatraz, and Coit Tower. You will also get a chance to explore top districts such as Fisherman's Wharf, Chinatown, and North Beach.
Dates: Any day in May
Learn More: See what's included in the entire self-guided tour here
Museum Exhibits
All year round, San Francisco's world-renowned museums host excellent exhibits that you won't want to miss. May is the last month to enjoy "In That Case" at the Contemporary Jewish Museum, "Frank Stella" at the de Young, and "The Future of the Past" at the Legion of Honor.
Dates: All throughout the month
Learn More: Check out the full list of exhibits this month at SF's top museums
Zappos Bay to Breakers Run
Race through the city in your most comfortable, yet colorful costume. The Bay to Breakers run is a unique experience with more than a hundred thousand people running in costume from the Bay, on the eastern side, to the Breakers out on the western side of the city. This 12k run is not for the faint of heart though as many people are challenged by the number of hills on this course. It's fun to run, but also fun to watch along the sidelines.
Date: Sunday, May 21
Learn More: Find a full list of details + information on how to register
SF Helicopter & Alcatraz Tour
Make the most of your visit to San Francisco on the Helicopter & Alcatraz Combo Tour. Your day starts with an amazing 15 to 20 minute helicopter ride of SF and the Bay. You will see Alcatraz, the Golden Gate Bridge, and the SF Skyline from above. Once you land, you will be taken over to Pier 33 to pick up your ferry to Alcatraz. You will get the chance to spend 2 to 3 hours on this interesting island. Your visit includes a self-guided audio tour and plenty of time to explore on your own.
Dates: Every day in May
Tickets: Discover more details & grab your seats today on Viator.com!
Carnaval Celebration
One of the most colorful celebrations each year is Carnaval in the Mission District. Every year, it's held the Saturday and Sunday before Memorial Day. This two day event celebrates the Latin and South American cultures. Sample traditional foods from Latin and South America, dance salsa on the streets of the Mission, and meet new friends. The popular parade is on Sunday morning and features traditional dress and music from places such as Peru, Nicaragua, Panama, Ecuador, and more.
Dates: May 27 - 28
Learn More: Find a list of events during this year's Carnaval celebration
Memorial Day Weekend
Spend Memorial Weekend with us and enjoy dozens of fun activities. This weekend, you can head out on the water on a special holiday cruise, attend the Carnaval Festival in the Mission, or attend a theater, symphony, or other cultural performance. You can also honor those that died for our country at one of the Memorial Day Events. Click the link below for a full list of activities for this weekend.
Date: May 27 - 29
Learn More: Find a full list of activities this Memorial Day weekend
SF Symphony
Head over to Davies Symphony Hall for some amazing performances this month. The San Francisco Symphony Youth Orchestra performs on May 14. Other highlights include Berlioz's Requiem (5/4 - 5/6), Emanuel Ax plays Mozart (5/10 - 5/13), and Shostakovich with Matthias Goerne and Tchaikovsky's Fifth (5/25 - 5/27)

Dates: Several in May
Learn More: Full SF Symphony calendar for May
National Cemetery Memorial Day Events
The largest Memorial Day event in San Francisco is at the National Cemetery in the Presidio. The event starts at 10:30am with a parade. It's followed by a formal ceremony that starts at around 11am. Many local politicians and military personnel will speak. At the end, the U.S. Army's 75th Pacific Division will honor those we lost with a 21-gun salute.
Date: Monday, May 29
Learn More: Find details on this event in the Presidio
2016 Events
The following list of events are not yet confirmed for 2017. I'll update these as soon as their details are ready for this year.
How Weird Street Faire
One of those unique, only-in-San-Francisco type of festivals, the 17th annual "Weirdest Show on Earth" is fun for everyone. At this street fair, dancers, DJs, artists and other performers come together on 10 music stages to celebrate the eclectic beauty of the community.
Dates: May 1
Learn More: Find out more on the How Weird web page
Concerts in SF
SF's beloved and unique concert venues, including the Fillmore and the Warfield, host great performances all year long. Top performers this month include Tommy Emmanuel, Violent Femmes, Andrew Bird, Disclosure, and Macklemore & Ryan Lewis. You will also find several top shows just beyond SF including Rihanna & Travis Scott at the Oracle Arena, Beyonce at Levi's Stadium, and The Who at the Oracle Arena.

Dates: All throughout the month
Learn More: Visit the live music calendar to find out who else in town this May
Sunday Streets
May 1 in the Bayview/Dogpatch neighborhood marks the second edition of Sunday Streets this year, a monthly festival that rotates among districts. Each of these free events features activities for the whole family, live music, and streets closed to traffic so you can run, bike, and play in the area.
Dates: May 1 - November 13
Learn More: Find out which weekends to visit which neighborhoods
Yerba Buena Gardens Festival
Kicking off May 1, the Yerba Buena Gardens Festival is an ongoing event that offers free programming every week through October. Live outdoor performances include music, dance, and theater, and feature both well-known and emerging artists.
Dates: Several, beginning May 1 and continuing through October
Learn More: Discover what the 2016 Yerba Buena Gardens Festival has to offer
San Francisco International Film Festival
The 59th edition of the longest-running film festival in the Americas—the SF International Film Festival— features an excellent selection of marquee premiers, international winners, documentaries, musical performances, and more. Filmmakers from nearly 50 countries around the world are screening hundreds of films.
Dates: April 21 - May 5
Learn More: Find out more about the festival and its featured films
Smuin Ballet: Dance Series Part Two
In addition to the SF Ballet, the Smuin Ballet also has several performance this month in San Francisco. It includes a piece called Oasis, which is a close look at the scarcity and abundance of water; Return to a Strange Land, a piece by dance master Jiri Kylian; and utto Eccetto il Lavandino (everything but the kitchen sink) by Val Caniparoli. All performances are at the Yerba Buena Center for the Performing Arts.
Dates: May 6 - 15
Tickets: On sale now at up to 50% off on Goldstar
SF Jazz Gala
This elegant annual SF Jazz Gala brings together some of the greatest contemporary musicians on the red carpet, in the concert hall, and on the dance floor. Every year, the organization presents a Lifetime Achievement Award to top artists, making this a truly star-studded event.
Date: May 6
Learn More: Get more info from the SF Jazz website
Oysterfest
Enjoy a full day of music and food at Oysterfest. For one day, you can sample a variety of oysters from top local locations. There will also be a large selection of premium beer and wine for sale. In addition, all day long, this festival offers live music on their main stage. All activities are at Sharon Meadows in Golden Gate Park.
Date: Saturday, May 7
Tickets: Buy your tickets today on LivingSocial!
Learn More: Find a list of performers & more info for this year's event
Taste of Potrero
Enjoy an evening of high-class food and drink at Pier 70, brought to you by SF's best bars and restaurants, including Almanac beer, Layer Cake, Piccino, Souvla, The Homestead, and many more. All proceeds benefit Daniel Webster Elementary School.
Date: May 12
Learn More: Discover more details and buy tickets on the event website
Taiwanese American Cultural Festival
Now in its 24th year, the Bay Area's biggest Taiwanese American celebration is expecting over 10,000 people to come and enjoy delicious traditional food, music, art, and other vibrant parts of Taiwanese culture. Head over to Union Square on Saturday, May 14 from 10am to 6pm for this family-friendly event and connect with this beautiful ethnic group.
Dates: May 14
Learn More: Get festival details from the event website
SF International Arts Festival
This festival aims to foster a global community of artists who together present a variety of top quality collaborative projects in music, dance, theater, and more. Catch the performances at the Fort Mason center and enjoy the contributions of artists from France, Japan, Lithuania, Ireland, Serbia, Switzerland, Taiwan, and the US.
Dates: May 19 - June 5
Learn More: Click here for event details
Union Square Live
Enjoy free live performances in Union Square throughout the spring and summer. They offer a variety of dance, music, circus, theater, movies, and more. The 2016 season of Union Square Live continues every week through September.
Dates: Several from April - September
Learn More: Find out who will be performing next in Union Square
Maker Faire Bay Area
Come join thousands of people who love to tinker with, discover, and make things. Try out their inventions—everything from handmade teas to open sourced digital pianos—and find out what they've learned in the process. If you are not already one of these innovators, you will surely be inspired to become one!
Dates: May 20 - 22
Learn More: Discover what Maker Faire is all about
San Francisco International Beer Festival
This year's International Beer Festival is once again scheduled to be held at the Festival Pavilion in the Fort Mason Center. This venue offers plenty of space for the dozens of local brewers showcasing their latest brews. Sample as many as like between 7pm and 10pm. This fundraiser supports the Telegraph Hill Cooperative Nursery School, which is this school's only fundraiser of the year. Stop by to help out a great cause as you enjoy some cold beers with your friends.
Date: Saturday, May 21
Learn More: Find additional details on this spring's International Beer Festival
SF Comedy Shows
Each month, SF offers a variety of laugh-out-loud performances, including stand-up at the comedy clubs, BATS Improv, and musical comedies like Beach Blanket Babylon and Foodies, the Musical. This month at Cobb's Comedy Club and the Punch Line: Tom Papa, Pablo Francisco, Al Madrigal, Dan Cummins, Ari Shaffir, and more.
Dates: All month long
Learn More: Check out the full list of upcoming comedy shows
Asian Heritage Festival
This annual festival is free to the public and offers live entertainment, specialty foods, arts & crafts, and more. The event brings the community together and represents a diverse group of Asian and Pacific Islander cultures.
Date: Saturday, May 21
Learn More: Read more about the activities planned for this year's festival

More Pages to Enhance Your Visit