San Francisco Events in April 2017
Cherry Blossom Festival, Theater & Other Fun Things to Do
San Francisco is beautiful in April as the flowers are blooming and the weather is cool, yet sunny. It's one of the best times to visit.
Spring is in the air and you will find dozens of fun things to do. It's also the first month of the year where you will find street fairs almost every weekend.
This month, enjoy several shows at SF's theaters. One of my favorite festivals, the Cherry Blossom Festival, is planned for the first part of the month. You will also discover several film festivals, including the Human Rights and the International Film Festivals, this month.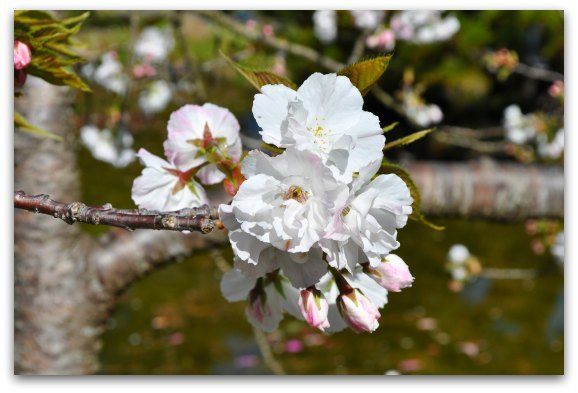 Cherry Blossoms bloom in April in SF's Japanese Tea Gardens & Japantown
Discover something new at one of more than a dozen traveling museum exhibits or visit a museum for free toward the beginning of the month. The SF Symphony and SF Ballet also offer several performances throughout the month.
Read on to uncover even more fun things to do this April in San Francisco.
For some of the links on this page, I receive a small commission when you purchase. You don't pay more when you buy through me and it gives me the chance to offer you all this great content for free!
San Francisco Theater in April
San Francisco events in April include a variety of theater performances. Highlights include John at the Strand (2/22 - 4/23), Noises Off at the SF Playhouse (3/21 - 5/13) and Needles and Opium at the ACT (3/30 - 4/23).
Dates: Several in April
>> Full theater calendar for April
Golden Gate Bridge Free Walking Tour
Learn all about one of the most recognized bridges in the world on this free walking tour. During this two hour tour, you will learn more about how locals received the approval to build the bridge, the key players that made it happen, and some of the bumps along the way. You will also learn fun facts including how many people helped build it, how much it cost, and how often its painted. With the group, you will walk to the southern tower of the bridge. From there, you can continue the rest of the way on your own or return to the southern visitors area.
Dates: Every Thursday & Sunday at 11am
Learn More: Find a full schedule of free walking tours offered by the SF Public Library
SF Ballet
This SF Ballet offers three programs in April. The first, Program 6, is Swan Lake. It runs from March 31 - April 12. The second, Program 7, runs from April 5 - 18 and includes Trio - Thatcher World Premiere - Within the Golden Hour. The final program this month is Cinderella. It runs from April 28 - May 7. All shows are at the War Memorial Opera House in the Civic Center District.
Dates: Several this month
Learn More: Find additional details & ticketing information
48-Hours in SF: Self-Guided Tour
Do you only have a couple of days to explore SF? Are you trying to pull together your plan to see as much as possible? To simplify your process, I've done it for you! On this 2-day self-guided tour, you will see all the top attractions including Alcatraz, Fisherman's Wharf, and the Golden Gate Bridge. You will also head out on a cable car ride, walk down Lombard Street (one of the most crooked streets in the world), and admire one of Diego Rivera's frescos. The itinerary also includes tips on where to stop for lunch or dinner and allows you to see as much as you can in just two days.
Dates: Any day of the week
Learn More: Discover the full itinerary
SF Giants Baseball
Head over to AT&T Park for the home opener of the SF Giants 2017 season on April 10. It is the first of a four game series against the Arizona Diamondbacks. In April, the Giants also play host to the Rockies, the Dodgers, and the Padres.
Dates: Home Opener is April 10
Learn More: Discover the full schedule & more on my SF Giants page
Top Hotel Deals
Are you still looking for a place to stay during your visit? I recommend starting your search on either TripAdvisor.com or Booking.com. Both offer a huge selection of hotels, motels, and hostels and offer some of the best prices around.
Bookings: Save on your Hotel with Booking.com, Planet Earth's #1 Accommodation Site. No booking fees ever!
TripAdvisor: What's the #1 hotel in San Francisco? Read reviews & find hotel deals on TripAdvisor!
Easter
You will find a variety of fun San Francisco events in April this Easter. You can head up to Mount Davidson for the annual sunrise service, enjoy a meal with your family, or head out on a bay cruise. You can also attend the Union Street Festival that afternoon or catch a theater performance.
Date: 4/16
More: My full calendar of events this Easter Day Weekend in SF
Free Museum Admission Days
Save money during these free museum admission days. Each month, several museums offer free entry into their permanent collection. Admire the exhibits of top museums including the Asian Art Museum, the Legion of Honor, and the de Young Museum.
Dates: Several in early April
Learn More: Find the full schedule here
SF Green Film Festival
The Green Film Festival aims to spark the next great environmental ideas by bringing together people from all over the globe to view and discuss insightful, innovative films that tell the stories of dozens of countries.
Dates: April 20 - 26
Learn More: Get more information on what films are playing, tickets, and more
Save with the SF CityPASS
A great way to save on top attractions is through the SF CityPASS. This discount pass offers admission to the California Academy of Sciences, the Aquarium of the Bay (or the Monterey Bay), and the Exploratorium (or the de Young + Legion of Honor). It also includes a ticket on a 60-minute bay cruise, as well as, a 7-day unlimited Muni Transit Pass. The transit pass is valid on all SF public transit including buses, light rail, and the cable cars.
Tickets: Save up to 44% on San Francisco's Muni and 4 other attractions with CityPASS. Shop now!
Cesar Chavez Holiday
Each year, SF's Mission District celebrates Cesar Chavez, California's legendary labor and civil rights leader who fought to improve the working conditions of farmers and migrant workers. The annual festival features a parade at 11am and street fair from 12 - 5pm.
Date: April 29
Learn More: Click here for more details about the Cesar Chavez event
SF Symphony
The SF Symphony is set to perform several shows in April. They start with MTT as he conducts Mahler (3/30 - 4/2). Other top performances include Raiders of the Lost Ark, Feature film with live orchestra (4/13 - 4/15), Prokofiev and Rachmaninoff (4/19 - 4/22), and German Romanticism: Schumann and Strauss (4/27 - 4/29). All shows are at Davies Symphony Hall in the Civic Center District.
Dates: Several in April
Learn More: Discover additional details on attending an SF Symphony performance
San Francisco Bay Sunset Catamaran Cruise
Enjoy an evening on the water on this SF Bay Sunset Catamaran Cruise. It runs every night in April and offers gorgeous views of the bay, the SF Skyline, and the Golden Gate Bridge. You will also cruise along the SF shoreline, Alcatraz, and the lovely town of Sausalito.
Dates: Every night this month (April 1-13 at 6pm; April 14-30 at 6:30pm)
Tickets: Reserve your spot today on Viator.com
Learn More: Learn about other top SF Bay Cruises
Frank Stella at the de Young Museum
Admire the work of Frank Stella at this exhibit at the de Young Fine Arts Museum. It includes around 50 of the pieces he created since 1970. It will be on display throughout the month.
Dates: November 5 - June 25
Learn More: Find the full museum exhibit schedule
Learn More: Details on what to expect when you visit the de Young Museum
Art Market
Art Market SF has partnered with the Fine Arts Museums of San Francisco in inviting thousands of visitors to view and buy an impressive selection of contemporary and modern pieces.
Dates: April 26 - 30
Learn More: Take a look at what you can expect to find at the Art Market
stARTup Fair SF
The stARTup Fair allows unrepresented artists the opportunity to showcase their work in a world that offers less and less space for exhibitions. Join this group of creative, innovative art entrepreneurs and support emerging artists.
Dates: April 28 - 30
Learn More: Read more about this unique art initiative
San Francisco Decorator Showcase
This event, which takes place in the most prestigious San Francisco homes, is regarded as the West Coast's premier design showcase event, featuring the wonderful work of the region's top interior and landscape designers. All proceeds benefit the San Francisco University High School Financial Aid Program.
Dates: April 29 - May 29
Learn More: Discover more details about this elegant event
Buy Attraction Tickets in Advance
Plan ahead and purchase your attraction tickets before you arrive.
See More Cherry Blossoms in Bloom at the Japanese Tea Garden
April is the perfect time to visit the Japanese Tea Garden in Golden Gate Park. Toward the beginning on the month, the cherry blossoms begin to bloom and the garden is absolutely beautiful. You will get some of the best pics of this attraction during this time of year. Get in free if you arrive between 9am and 10am on Monday, Wednesday, or Friday morning.
Learn More: See additional pics & learn what it's like to visit the Japanese Tea Garden
2016 Events
The following list of events have not yet been confirmed for 2017. I'll update these as more information is available.
Union Square Live
Downtown SF comes alive in spring and summer with free live performances in Union Square each week. Events include dance, music, circus, theater, movies, and more. The 2016 season of Union Square Live kicks off on April 5 at 12pm and continues through September.
Dates: Several from April - September
Learn More: Find out about this season's performances in Union Square
West Portal Sidewalk Fine Arts & Crafts Fair
This is the 28th year of the annual Fine Arts and Crafts Fair in the West Portal neighborhood. The three-day event runs from 10am to 5pm, featuring the photography, paintings, ceramics, and jewelry of more than 40 artists.
Dates: April 8 - 10
Learn More: Click here for more event details
Cherry Blossom Festival
The Cherry Blossom Festival kicks off this year's celebration on April 9. This two weekend long event is a celebration of spring and the blossoms all over Japantown. During this event, you can enjoy traditional music, dance, and food. You can also sample gourmet treats and learn more about these gorgeous blossoms.
Dates: April 9-10 and April 16-17
Learn More: Find additional details for this year's Cherry Blossom Festival
Sunday Streets
One Sunday each month (from April to November) is dedicated to bringing together and showcasing the best of a particular area in SF. Each free neighborhood festival features live music, activities for the whole family, and streets closed to traffic so you can truly explore the area and relax. This April 10, Sunday Streets kicks off in the Mission District.
Dates: April 10 - November 13
Learn More: Find out which weekends to visit which neighborhoods
Dine + Discover: a Benefit for SPUR
Head on over to the Minnesota Street Project, the hot new place to be in the Dogpatch district, for an evening of gourmet bites and cocktails. The creative ambience is unbeatable—an innovative art space converted from a block of industrial warehouses, not far from the bustling restaurants, shops, and tasting rooms of 20th Street. The event will benefit SPUR, the San Francisco Bay Area Planning and Urban Research Association, dedicated to promoting good planning and good government in the area.
Date: TBD
Learn More: Visit the website for more information
Live Music in SF
SF boasts a variety of live music venues with great performances all year long. This month, three of the biggest concerts are Miike Snow at the Independent, Boyce Avenue at the Fillmore, and Cypruss Hill at the Bill Graham Civic Auditorium.
Dates: April 13-14 (Miike Snow), 20 (Cypruss Hill), 21-22 (Boyce Avenue), and all month long
Learn More: Check out the full list of April shows
San Francisco International Film Festival
This year brings the 59th edition of the longest-running film festival in the Americas—the SF International Film Festival—which features an impressive mix of marquee premiers, international winners, documentaries, musical performances, and more. This large festival should not be missed, as filmmakers come from nearly 50 countries around the world to screen hundreds of films.
Dates: April 21 - May 5
Learn More: Get film festival details
Bay Area Dance Week
Don't miss these 10 days of more than 600 free dance classes, performances, and workshops, beginning with the very popular Kick-Off at Union Square.
Dates: April 22 - May 1
Learn More: Find out more about this fun-filled week of dance
Glen Park Festival
This 18th annual family-friendly festival features gourmet food, live music, and raffles. Enjoy the street fair from 10am to 4:30pm while supporting the local community.
Date: April 24
Learn More: More festival details, including how to get there
SF Comedy Scene
San Francisco sure does appreciate getting its laughs with stand-up and other comedic entertainment. Every month, you can catch performances of BATS Improv, musical comedies, and more. This month, Cobb's Comedy Club features Barry Rothbart and Piff the Magic Dragon.
Dates: All month long
Learn More: Check out the full list of upcoming comedy shows
Opening Day on the Bay
This is an annual celebration for the maritime community, which includes the Blessing of the Fleet, a boat parade, and lots of sailing! This is the most popular day to go out on the water, and you'll see the bay dotted with sails from Pier 39 to Sausalito.
Date: April 24

Additional Activities for Your Visit