The Perfect Day in the Civic Center & Alamo Square: Tips to Make the Most Out of Your Day in These SF Districts

The Civic Center neighborhood sits in the heart of the city. This beautiful area houses SF's City Hall, the Asian Art Museum and several performing arts buildings. 

Just up the hill, you will find the gorgeous Alamo Square district. It's one of the neighborhoods that did not suffer too much during the 1906 Earthquake and Fire.
This means you will still find dozens of historic Victorians as well as the famous Painted Ladies of Alamo Square. This neighborhood has several amazing bars and restaurants too. 
The walking tour below offers an easy path through these two neighborhoods in just one day. It's the 'best of the best' and what I consider the 'perfect' day in this historic area of San Francisco.
I recommend doing this self-guided walk Monday or Friday, since this is when all the attractions within the schedule are open. The Asian Art Museum closes on Tuesday and Wednesday (and opens in the afternoons on Thursday) and City Hall opens only during the week. 

Disclaimer: I receive a small commission from some of the links on this page.

9 am: Savor Your Breakfast at Brenda's 

Brenda's French Soul Food is one of the yummiest places to grab breakfast or brunch in San Francisco. It's a cute restaurant offering New Orleans style food. Sample some of their specialties such as their Shrimp and Grits or their chocolate filled Beignets. If you are looking for something more traditional, you will not be disappointed with their egg scrambles and omelets.
You will find Brenda's at 652 Polk Street between Turk and Eddy Streets. They are open every day at 9 am, so head over early if you enjoy taking your time at breakfast.

10 am: Admire Thousands of Artifacts at the Asian Art Museum 

Take a left out of Brenda's and walk three blocks south to the Asian Art Museum. It's one of my favorite museums in San Francisco. 
This gorgeous museum features thousands of artifacts from the countries in Asia. You can see ancient pieces of art from China, Japan and India. Pieces from Tibet, Nepal and Indonesia are also on display.

One of my favorite exhibits is the Chinese Jade Gallery. It features dozens of intricate and colorful jade carvings. 

Spend a couple of hours here admiring these gorgeous pieces. You can also pay a little extra to visit their temporary exhibit (most of the time it's worth the additional fee). 

The museum opens at 10 am on Friday through Monday. It costs $15 for adults and $10 for seniors over the age of 65, college students with IDs, and youth ages 13 - 17. Children under 12 are free.
Note that the museum is open on Thursday but only from 1 pm to 8 pm. It's closed on Tuesday and Wednesday.
It is closed on New Year's Day, Thanksgiving Day, and Christmas Day.
Click here for more pictures and what to expect during your visit to the Asian Art Museum. 
12:30 pm: Soak in the Beauty of SF's City Hall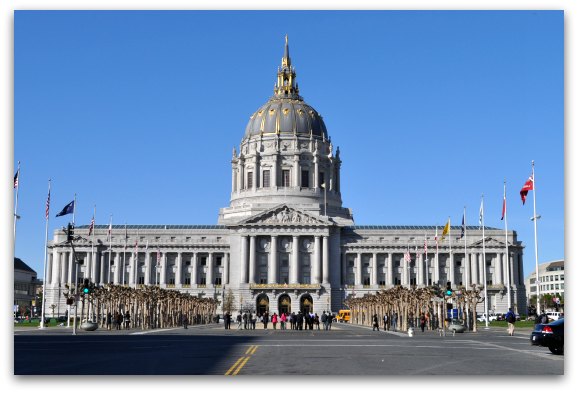 Were you admiring the beautiful gold dome during your walk to the Asian Art Museum? This is San Francisco's City Hall.
This government building welcomes visitors during their normal business hours (8 am to 8 pm, Monday - Friday). Inside, you get the chance to see its breathtaking marble stairs, the inside of the dome and a couple of small museums.

It's free to enter and the entire visit takes about an hour. Make sure you read my SF City Hall page for tips on finding all the hidden gems within this beautiful San Francisco attraction.

2 pm: Grab Some Lunch in Hayes Valley 

After your visit to City Hall, walk south on Van Ness Street to Hayes Street. This is where you will find several restaurants and cafes in Hayes Valley. 
You will find a variety of options from higher end dishes to some budget-friendly options.

Here are a few of my favorites.

Chez Maman West: French cuisine, 401 Gough St

Papito Hayes: Mexican dishes, 425 Hayes St A

a Mano: Italian, 450 Hayes St
Souvla: Greek food, 517 Hayes Street

3 pm: Get a Postcard View of the Painted Ladies of Alamo Square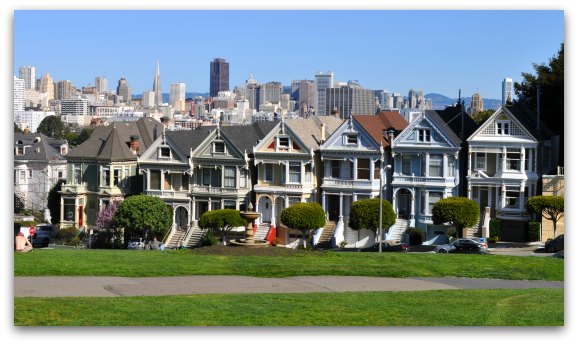 After you finish lunch in Hayes Valley, take the 21 bus up to Alamo Square. Pick the bus up near the corner of Hayes Street and Gough. Take it up the hill to Hayes and Pierce Streets. 
The minute you step off the bus, you will realize why you are here. The view from this angle of the Painted Ladies of Alamo Square with downtown San Francisco in the background is amazing. 

Spend some time taking pictures and walking around the park. You can also grab a seat on the lawn as you soak in the views around you.

4 pm: Walk Around Alamo Square to See More Colorful & Historic Victorians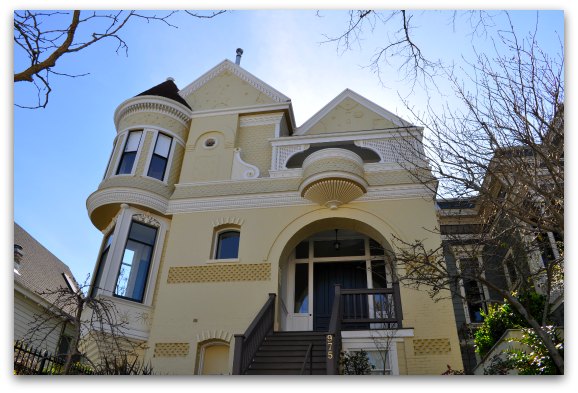 After you finish at Alamo Square, walk around the neighborhood and admire the other colorful Victorians. You will find a few on Grove Street between Steiner and Fillmore, some gorgeous houses on Fillmore between Grove and Hayes and on Steiner Street between Fulton and McAllister.
Once you are finished walking around the neighborhood, head toward Divisadero Street. If you can't find it on your map, just ask the locals as they are always happy to point you in the right direction.

6 pm: Grab a Drink at a Local Bar

By this time, I'm sure you will be exhausted and ready to sit down for a little while. One of my favorites places to grab a drink is at Fly Bar at 762 Divisadero Street. 
It's the perfect place to unwind, discuss your plans for the following day and mingle with the locals.
>> More great happy hour specials around SF
7 pm: Savor the Flavors of the Best Pizza in Town

Once you finish up at Fly Bar, walk north on Divisadero Street one block to Little Star Pizza. This funky pizza joint has THE best pizza in town. 
At this time in the evening, you may have to wait for a table. However, the wait is worth it. 

They serve up both deep dish and thin crust pizzas. My two favorites are the Classic Deep Dish and the Pesto Chicken Thin Crust. They also have a great beer selection and several wines by the glass.

After dinner, you can grab a few more drinks at the Fly Bar (on the corner of Fulton and Divisadero) or at Fool's Errand (at 639A Divisadero). 

An alternative for the evening is to catch a ballet performance, a show by the world-famous SF Symphony or a theater performance. You can also check out the new Jazz Center in Hayes Valley. Click here for a list of calendars by month.

How to Get to the Starting Point

The best way to get to Brenda's French Soul Food (652 Polk Street) is to take the 31 bus. Pick it up on the corner of Market and 5th Streets and take it to Polk and Eddy Streets. You are then just a half a block away from Brenda's.
Your best bet from Fisherman's Wharf is to take the 49. Pick it up on the corner of North Point and Jones Streets. Take it to the Van Ness Avenue and Eddy Street stop. Walk one block down Eddy Street to Polk and Brenda's is just a couple of buildings down the street on your right.

Other Things to Do in these Neighborhoods

While this itinerary gives you a great overview of these three neighborhoods, you will also find some other fun things to do in each one. Click the links below to learn even more about these neighborhoods:
More "Perfect Day" Itineraries

Comments? Questions? Suggestions?
I would love for you to join me in my private Facebook group! 
It's a great place to interact with me and others who know the area well.
You can ask questions, get advice for your upcoming stay, and then share your photos and advice with others when you return home. It's a great community and the fastest way to get answers to those nagging questions about your visit!