Sonoma Events in October 2021: Harvest Activities, Wine Tasting, & More
Sonoma events in October 2021 include Pinot on the River, the Harvest Fair, and Healdsburg Crush. Other highlights include outdoor concerts at Gundlach Bundschu and individual winery events.

My calendar includes top things to do in Healdsburg, Santa Rosa, Rohnert Park, and other towns all around the county. In addition, I've included a few of the top deals for this month for wine tasting, hotels, and other fun things to do.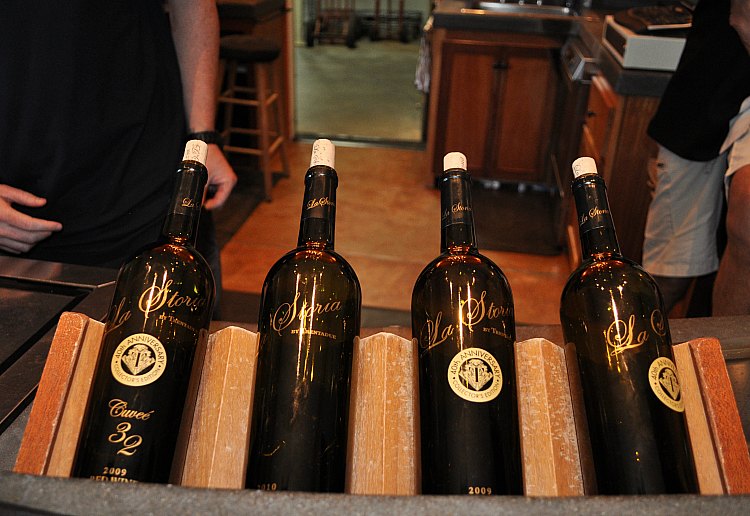 Disclaimer: I receive a small commission from some of the links on this page.

Healdsburg Crush
Date: 10/17
Spend the day in the Healdsburg Plaza enjoying wine from more than 60 local wineries. You can sample Chardonnay, Pinot Noir, Zinfandel, sparkling wine, and so much more. 
Proceeds from this event benefit the Boys and Girls Clubs of Sonoma & Marin. 
Head over between  11 am and 3 pm. This event is for those 21 and older only.
Sonoma County Harvest Fair

Dates: Postponed to 2022
One of the first big Sonoma events in October is the harvest fair. This event offers the best of Sonoma County with award winning wines, beer, and locally produced food. For two days, there are dinners, a wine country marketplace, and several tasting and pairing options.
The most popular is the Grand Harvest Tasting Pavilion. More than 100 wineries will be on hand serving up their Sonoma wines. You can also sample goodies from the winners of the Professional Wine, Food and Restaurant competitions. The Grand Harvest Tasting Pavilion is open all three days.
>> Visit their site to learn more
Live Music at Gundlach Bundschu

Dates: 10/29
One of the best outdoor Sonoma events in October is at Gundlach Bundschu. This Sonoma Valley winery has one outdoor concert on 10/29. It will feature live music from Kevin Morby and Hamilton Leithauser.
Doors open at 5:30 pm and the show runs until around 10 pm.
Places to Stay in Sonoma

If you plan to attend one or more of these Sonoma events in October, then make sure to spend a night or two to enjoy this lovely Northern California wine region. Click the links below for some great deals and to read recent guest reviews on Sonoma's top hotels.

Booking.com: Save on your Hotel in Sonoma with Booking.com, Planet Earth's #1 Accommodation Site. No booking fees ever!
TripAdvisor: What's the #1 hotel in Sonoma County? Read reviews & find hotel deals on TripAdvisor!
VRBO: You can also find some great places to stay on VRBO. They offer apartments, houses, cottages, and rooms for rent all around Sonoma County. Find some great places to stay here. 
Asti Tour de Vine

Dates: 10/9
Ride your bicycle through the beautiful back roads of Sonoma County on the Asti Tour de Vine. Cruise past colorful vineyards, next to the Russian River, and through cute rural towns. The event includes 25k, 50k, 100k, and 100m routes.
All four end up in the town of Cloverdale at the historic Asti Winery. Your ride ends with a hearty lunch with some local Sonoma County wine.
More Fun Things to Do in Sonoma in October

In addition to all of these fun Sonoma events in October, you will also find so many other great things to do from heading out on a hot air balloon ride over the valley to bike riding tours. Click the links below to learn more.

Sonoma Wine Country Bike Tour: Ride through Sonoma Wine Country on this 4.5 hour tour, starts in Santa Rosa and takes you to visit two to three wineries, entire trip is about 16-miles (25.7 km), route is mostly flat, check for availability
Foodies on Foot: Walking and food tour of Sonoma which stops at top-rated restaurants, check for availability on Groupon
*Note: Most Groupon deals last for 120 days after purchase, so make sure to check the exact terms before purchasing.

Gem Faire in Santa Rosa

Dates: 10/22 - 10/224
The Gem Faire is coming to Santa Rosa this October. It will feature more than 80 importers, wholesalers, and manufactures at the Sonoma County Fairgrounds. You will find thousands of high quality gems, beads, crystals and more.
Pinot on the River

Date: TBD
One of the best places to find high quality Pinot Noir wines is in the Russian River Valley. Pinot on the River features around 100 wineries from the region serving up their top Pinot wines. The event takes place in the Healdsburg Plaza and runs from 12pm to 4pm (VIP access starts at 11am).
The event helps to raise money for the local Boys & Girls Clubs.
Sonoma Events in October 2021: Wine Tasting Parties

In addition to these larger Sonoma events in October, you will also find some great, small events at local wineries. Most required advanced registration so visit the winery websites for details.
Emeritus Vineyards (10/17): Music & Wine at Emeritus from 1 pm to 4pm, bring you own chair, blanket or whatever you want to sit on during the show.
Gary Farrell Winery: Annual Harvest Dinner (10/2), dinner, wines and more, limited attendance and tickets required, 21 and older only, starts at 6 pm
Larson Family Winery: Canine Costume Contest (10/31), a fun day of dogs in costumes and wine tasting from 11 am to 1 pm

2019 Events
The list below is from 2019, but will give you an idea on what you will usually find for wine tasting events in Sonoma in October. The 2021 list is quite a bit shorter than normal and I expect some on the list below to return in 2022.
Amista Vineyards: Amista Harvest Lunch (10/21)

Buena Vista Winery: Annual Harvest Masquerade Ball (10/20), head back to 1864 when the Count of Buena Vista hosted his first wine release with a masquerade ball, dancing, light appetizers and wine, dress in your favorite masquerade gown with mask for this special annual event, 7 pm to 10 pm
Cline Family Cellars: Halloween Party (10/26), annual Halloween party with treats in the tasting room, a chance to visit the "lab" and a chance to show off your dancing skills, 2pm to 5pm
Coppola: Harvest & Halloween Carnival (10/28), family-friendly event with games, music, magic, costumes, and more, reservations are required
Dutton-Goldfield: Harvest Party (10/19), Meet the winery team, club members and other wine lovers, enjoy a flight of the newest releases, be the best grape stomper in the competition, and learn about everything winery related at this wonderful party, live music by Sebastian St. James, reservations are recommended, starts at 11 am and ends at 4 pm, public tickets are $20 and wine club members are complimentary
Emeritus Vineyards: Harvest Trail (10/20), learn about the wines while walking through the vineyard with the founder, wine maker, and other members of the company, tables with food and wine pairings throughout the walk, 1 pm to 3:30 pm
Francis Ford Coppola Winery: 11th Annual Halloween Carnival (10/27), wine, costume party, and more
Gary Farrell Winery: SOMM SERIES Pair Like a Somm (10/13), Learn from the estate sommelier how to make the perfect pairing of wine and food just in time for the holidays, reservations required and limited to 16 guests total, $55 for general admission and $35 for club members, starts at 10:30 am

Gloria Ferrer Caves & Vineyards: Succulent Pumpkin Workshop #1 and #2 (10/20), create your own pumpkin table centerpiece while drinking wine and eating light bites, there are two seatings with the first at 11 am to 12:30 pm and the second at 1 pm to 2:30 pm, prices for general admission are $65, club members are either $55 or $60 depending on level

J Vineyards & Winery: Eastside Knoll Vineyard Dinner (10/12), eat in the vineyard with a meal by the Executive Chef Carl Shelton paired with wines, from 5 pm to 10 pm, general admission is $250 and $220 for club members
Jacuzzi Winery: Harvest Lunch and Grape Stomp (10/5) from 11:30 am to 3:30
Jordan Winery: Farm-To-Table Interactive Cooking Luncheon (10/5), farm to table foods paired with wines at Jordan Winery, you can pick the fruit and veggies for the lunch to be made out of during your tour, starts at 9:45 am and finishes at 3 pm, tickets are $200 per person and limited to 18 guests total
Jordan Winery: Fall Vineyard Hike (10/23 and 10/24), start with a continental breakfast at the chateau before a easy 4 mile hike in the vineyards, see great views from different areas of the vineyards, and finish with a small bite and wine pairing on the terrace, starts at 9:45 am and ends at 2 pm, tickets are $110 and limited to 18 guests
Lambert Bridge Winery: Chef's Table Series (10/18 & 10/19), food from the local chef at Boon Eat + Drink
Landmark Vineyards: Harvest Festival (10/5), celebrate the harvest and enjoy Landmark wines paired with food from local vendors, 11am to 3pm, Landmark Courtyard, $60 for the public, $40 for club members
Ledson Winery: Corvettes at the Castle (10/17), check out the coolest corvettes as you taste wine and eat small bites, from 10 am to 4 pm

Papapietro Perry: Sip & Eat - Pilon Kitchen (10/5), Enjoy Venezuelan cuisine with wine, from 11 am to 4 pm
Pech Merle Winery: Pech, Love, & Paella (10/6), paella, fresh salads and flan, 5pm to 8pm, $85 general admission and $65 for club members
Red Car Wine: Fall Estate Release at Red Car Wine (10/12), taste the newest releases of Chardonnay, Pinot Noir and Syrah, eat small bites at the tasting room, from 4 pm to 6 pm, $30 for non-members and 2 free tickets for members
Rodney Strong Vineyard: Single Vineyard Release Dinner (10/12), learn about three different wines as they are paired with food in the vineyard, meet with special wine guests, starts at 4:30 to 8:30, tickets are $155 per person and $125 for members
Schug Carneros Estate Winery: Oktoberfest (10/6) under the tent starting at 10am
Seghesio Family Vineyards: Italian Heritage Dinner (10/12), share wine, food and more as Chef Peter Janiak prepares classic Italian food for you to enjoy, from 6 pm to 9 pm, tickets are $125 for general public and $100 for members
Simi Vineyards: Simi Select Party (10/12), drink wine and eat small bites as you listen to live music on the terrace, starts at 1 pm and ends at 4 pm, tickets are $35 per person general admission and $25 for wine members
Sonoma-Cutrer: Winemaker for a Day Harvest Lunch (10/19), family style lunch with perfectly paired wines, located in the vineyard and led by Winemaker Cara Morrison, views of their 400 acre property, $75 plus tax
Wine Tasting Deals in Sonoma County

Get some great deals on wine tasting either before or after these fun Sonoma events in October. Click the links below for some of the best deals around.

Battaglini Winery & Vineyard: $5 Buys You a Coupon for $5 Off a Wine Tasting for Two Plus 20% Off a Bottle of Wine, near Santa Rosa, check for availability
Harvest Moon Estate And Winery: Save on their wine and cheese tasting plates for one, two or four people, near Santa Rosa, check for availability
*Note: Most deals last for 120 days after purchase, so make sure to check the exact terms before purchasing.