Sonoma Events in October 2023: Harvest Activities, Wine Tasting, & More

by Jill Loeffler  •

Updated: September 5, 2023
Sonoma events in October 2023 include Pinot on the River, the Harvest Fair, and Healdsburg Crush. Other highlights include outdoor concerts at Gundlach Bundschu and individual winery events.

My calendar includes top things to do in Healdsburg, Santa Rosa, Rohnert Park, and other towns all around the county. In addition, I've included a few of the top deals for this month for wine tasting, hotels, and other fun things to do.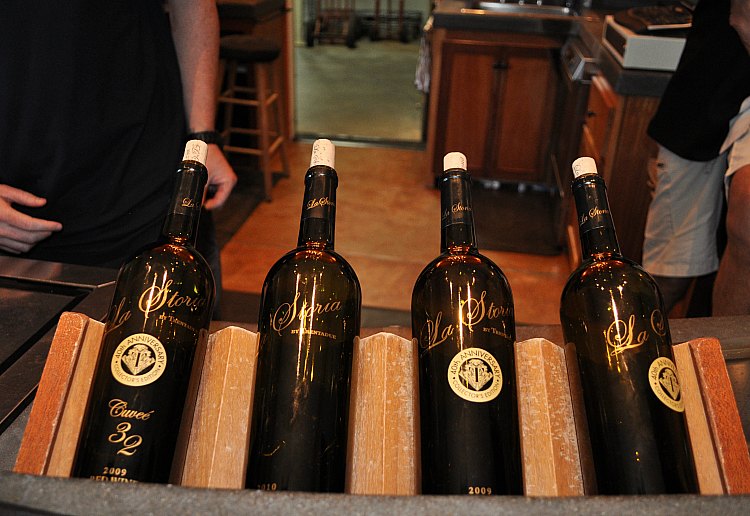 Disclaimer: I receive a small commission from some of the links on this page.

Sonoma Harvest Music Festival
Dates: TBD
BottleRock presents this year's Sonoma Harvest Music Festival at the B.R. Cohn Winery. This two-weekend event features live music in the vineyards. There will be a different line-up each day and each weekend.
In addition, enjoy local food and wine all throughout the shows. This music festival is different from most in the fact that they limit the crowds to just 3,000 people per day.
Healdsburg Crush: Pouring on the Plaza
Date: 10/15
Spend the day in the Healdsburg Plaza enjoying wine from 65 premium wineries. You can sample Chardonnay, Pinot Noir, Zinfandel, sparkling wine, and so much more. Entry price is $125 per person, including one souvenir glass.
There will be live music, local food, and a silent auction. 100 percent of the proceeds from this event benefit the Boys and Girls Clubs of Sonoma and Marin. 
Head over between 12 pm and 4 pm. This event is for those 21 and older only.
Sonoma County Harvest Fair

Dates: 10/14
One of the first big Sonoma events in October is the harvest fair. This event offers the best of Sonoma County with award winning wines, beer, and locally-produced food.
The most popular is the Grand Harvest Tasting Pavilion. More than 100 wineries will be on hand serving up their Sonoma wines. You can also sample goodies from the winners of the Professional Wine, Food and Restaurant competitions. 
Tickets are currently on sale. It runs from 1 pm to 4 pm.
>> Visit their site to learn more
St. George's Greek & Middle Eastern Food Festival
Dates: 10/14 - 10/15
Sonoma County is known mostly for the gorgeous valleys, the great wines, and the local fairs. However, they also know how to live life to the fullest and enjoy a great Greek and Middle Eastern food festival.
As would be expected this festival is dolma-packed (how could someone write jam-packed?) with the best middle eastern food this side of the old country.
This is another one of the Sonoma events in August that has DJs and live music, church tours, and live dance performances for everyone to enjoy. And, again, it has middle eastern and Greek food!
It is located in Rohnert Park just about an hour north of San Francisco and runs from noon to 7 pm each day. OPA!
Live Music at Gundlach Bundschu

Dates: No events in October 2023
One of the best outdoor Sonoma events in October is at Gundlach Bundschu. This Sonoma Valley winery has two outdoor concerts.
The first one is on 10/16 and features Marco Benevento. The second is on 10/24 and features Plains.
Doors open at 5:30 pm and the show runs until around 10 pm.
Places to Stay in Sonoma

If you plan to attend one or more of these Sonoma events in October, then make sure to spend a night or two to enjoy this lovely Northern California wine region. Click the links below for some great deals and to read recent guest reviews on Sonoma's top hotels.

Booking.com: Save on your Hotel in Sonoma with Booking.com, Planet Earth's #1 Accommodation Site. No booking fees ever!
TripAdvisor: What's the #1 hotel in Sonoma County? Read reviews & find hotel deals on TripAdvisor!
VRBO: You can also find some great places to stay on VRBO. They offer apartments, houses, cottages, and rooms for rent all around Sonoma County. Find some great places to stay here. 
Asti Tour de Vine

Dates: 10/14
Ride your bicycle through the beautiful back roads of Northern Sonoma County, California's breathtaking wine country. Cruise past colorful vineyards, next to the Russian River, and through cute rural towns. The event includes 25k, 50k, 100k, and 100m routes.
All four end up in the town of Cloverdale at the historic Asti Winery. Your ride ends with a hearty lunch with some local Sonoma County wine.
More Fun Things to Do in Sonoma in October

In addition to all of these fun Sonoma events in October, you will also find so many other great things to do from heading out on a hot air balloon ride over the valley to bike riding tours. Click the links below to learn more.

Sonoma Wine Country Bike Tour: Ride through Sonoma Wine Country on this 4.5 hour tour, starts in Santa Rosa and takes you to visit two to three wineries, entire trip is about 16-miles (25.7 km), route is mostly flat, check for availability
Food & Wine Walking Tour: Walking and food tour of Sonoma which stops at several gourmet spots for tastings, check for availability
Gem Faire in Santa Rosa

Dates: 10/27 - 10/29
The Gem Faire is coming to Santa Rosa this October. Gem Faire is a major gem, jewelry, and bead exhibition in the US, holding nearly 50 shows yearly.
It will feature more than 80 importers, wholesalers, and manufactures at the Sonoma County Fairgrounds. You will find thousands of high quality gems, beads, crystals and more.
The fair runs from 12:00 pm - 06:00 pm.
Pinot on the River

Date: 10/7
One of the best places to find high quality Pinot Noir wines is in the Russian River Valley. Pinot on the River features around 40 wineries from the region serving up their top Pinot wines. The event takes place in at the Old Courthouse Square in Santa Rosa and runs from 11 am to 3 pm.
The event helps to raise money for Sonoma County Pride.
Clo Cow Half Marathon, 10k, and 5k

Date: 10/15
This fun, annual footrace offers different distances for different levels, all beginning and ending in downtown Petaluma. 
The half marathon starts at 7:30 am, while the 10k starts at 7:35 am and the 5k starts at 7:40 am.
This is one of the great family-friendly Sonoma events in October, featuring meet-and-greet opportunities with Clo the Cow herself! Wearing your cowbell finisher medal, how could you say no to a glass of Clover chocolate milk in your post-race celebration?
Sonoma County Art Trails
Dates: 9/30, 10/1, 10/7 & 10/8
The Sebastopol Center for the Arts is one of the most vibrant arts organizations in Northern California. This annual art event showcases the creative talent of Sonoma County. 
Over two weekends the private studios of multiple participating artists will be open to the public. 
Sonoma Events in October 2023: Wine Tasting Parties

In addition to these larger Sonoma events in October, you will also find some great, small events at local wineries. Most required advanced registration so visit the winery websites for details.
Alexander Valley Vineyards: Fall Garden Lunch (10/7)
Buena Vista Winery: Annual Halloween Masquerade Ball (10/28), head back to 1864 when the Count of Buena Vista hosted his first wine release with a masquerade ball, dancing, light appetizers and wine, dress in your favorite masquerade gown with mask for this special annual event.

Cline Cellars (10/21): Hallowine costume party

DeLoach Vineyards (10/14): Pinot and Paella Winemaker Lunch from 12 pm to 3 pm

Dutton-Goldfield Winery (10/15): Exploring Wine & Mushrooms: A Toast to Umami from 3 pm to 6 pm

Emeritus Vineyards (10/21): Harvest Trail, follow the trail of the grapes from vine to crush pad, sample current releases and enjoy some small bites, 11:30 am to 3:30 pm

Gary Farrell Winery (10/7): Harvest Dinner, family style meal paired with Gary Farrell wines from 5:30 pm to 9 pm

Gary Farrell Winery (10/22): Street tacos created by Sergio Velencia from Chacho's Catering and pinot on the patio, from 11 am
J. Richards Winery (10/14): Harvest celebration dinner from 4 pm to 9 pm

Jacuzzi Wines (10/8): Grape Stomp from 11 am to 2 pm

Kendall Jackson (10/7): Farm-to-table dinner from 5:30 to 9 pm
Landmark Vineyards (10/7 - 10/8): Harvest Festival at Kenwood Estate including barbecue lunch and live music

Trione Winery: Dinner Under the Stars (10/8), from 5 pm to 8 pm
Viansa (10/15): Viansa di Notte, from 3 pm to 5 pm, live music, light bites and wine

Wine Tasting Deals in Sonoma County

Get some great deals on wine tasting either before or after these fun Sonoma events in October. Click the links below for some of the best deals around.

Battaglini Winery & Vineyard: $5 Buys You a Coupon for $5 Off a Wine Tasting for Two Plus 20% Off a Bottle of Wine, near Santa Rosa, check for availability
Harvest Moon Estate And Winery: Save on their wine and cheese tasting plates for one, two or four people, near Santa Rosa, check for availability
*Note: Most deals last for 120 days after purchase, so make sure to check the exact terms before purchasing.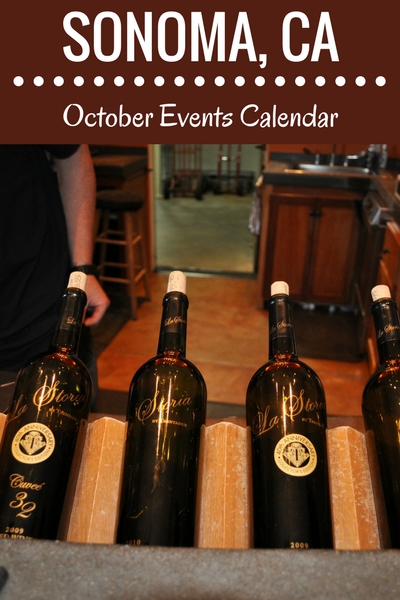 Comments? Questions? Suggestions?
I would love for you to join me in my private Facebook group! 
It's a great place to interact with me and others who know the area well.
You can ask questions, get advice for your upcoming stay, and then share your photos and advice with others when you return home. It's a great community and the fastest way to get answers to those nagging questions about your visit!