Sonoma Events in October 2017
Harvest Activities, Wine Tasting, & More
Sonoma events in October 2017 include Pinot on the River, the Harvest Fair, and the Alexander Valley Film Festival. Other highlights include outdoor concerts at Gundlach Bundschu, Laughfest, and the Geyserville Beer, Wine, & Spirits Festival.
My calendar includes top things to do in Healdsburg, Santa Rosa, Rohnert Park, and other towns all around the county. In addition, I've included a few of the top deals for this month for wine tasting, hotels, and other fun things to do.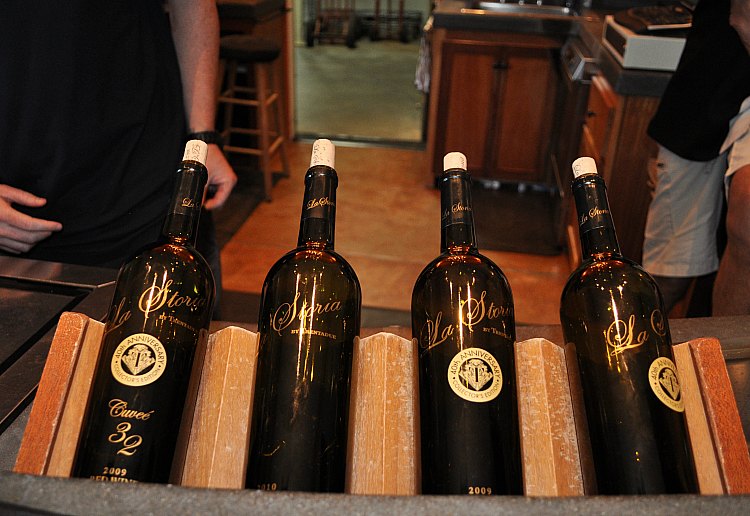 For some of the links on this page, I receive a small commission when you purchase. You don't pay more when you buy through me and it gives me the chance to offer you all this great content for free!
Sonoma County Harvest Fair
Dates: 10/6 - 10/8
One of the first big Sonoma events in October is the harvest fair. This event offers the best of Sonoma County with award winning wines, beer, and locally produced food. For three days, there are dinners, a wine country marketplace, and several tasting and pairing options.
The most popular is the Grand Harvest Tasting Pavilion. More than 100 wineries will be on hand serving up their Sonoma wines. You can also sample goodies from the winners of the Professional Wine, Food and Restaurant competitions. The Grand Harvest Tasting Pavilion is open all three days.
>> Visit their site to learn more
Geyserville Beer, Wine, & Spirits Festival
Date: 10/7
Head over to Geyserville for another chance to sample the best local beer, wine and spirits. This event is limited to just 500 people, so everyone gets the best experience possible. All proceeds go to support the Geyserville Education Foundation. The event is held at the Geyserville Inn and runs from 12pm to 5pm.
Live Music at Gundlach Bundschu
Dates: 10/4, 10/8, 10/16 & 10/29
One of the best outdoor Sonoma events in October is at Gundlach Bundschu. This Sonoma Valley winery has four outdoor concerts this October. This month's performers include Conor Oberst with Felice Brothers (10/4), Hope Sandoval and the Warm Inventions (10/8), Spiritualized (10/16), and M. Ward (10/29).
UCSF Medical Center Celebrity Golf Classic
Date: 10/9
The annual UCSF Medical Center Celebrity Golf Classic will be held at the Mayacama Golf Club in Santa Rosa. The event helps to raise money from three local causes: All Stars Helping Kids, The Michael J. Fox Foundation and UCSF Benioff Children's Hospital San Francisco.
Each foursome is paired with a celebrity and the event also includes locally sourced food and top Sonoma County wines.
Sonoma Laughfest
Dates: 10/13 - 10/15
More than 100 comedians will be on hand this year for Sonoma Laughfest. The event runs for three nights and includes 9 one-hour performances. The first night is in Sonoma, night two is in Santa Rosa, and the final night of performances are in Healdsburg. Shows include stand-up, improv, sketch comedy, and more.
>> Visit their website to pick up your tickets today
Places to Stay in Sonoma
If you plan to attend one or more of these Sonoma events in October, then make sure to spend a night or two to enjoy this lovely Northern California wine region. Click the links below for some great deals and to read recent guest reviews on Sonoma's top hotels.
Booking.com: Save on your Hotel in Sonoma with Booking.com, Planet Earth's #1 Accommodation Site. No booking fees ever!
TripAdvisor: What's the #1 hotel in Sonoma County? Read reviews & find hotel deals on TripAdvisor!
Sonoma County Art Trails
Dates: 10/14 & 10/15 + 10/21 & 22
Sonoma County Art Trails is a way to learn about and support local artists. For four days in October, you will get the chance to step inside their studios, learn about how their create their art, and ask the artists questions. If you love some of their work, you can even pick up a piece or two for your own home.
Studios will be open from 10am to 5pm all four days. You can pick up a map at the Sebastopol Center for the Arts.
Asti Tour de Vine
Dates: 10/14
Ride your bicycle through the beautiful back roads of Sonoma County on the Asti Tour de Vine. Cruise past colorful vineyards, next to the Russian River, and through cute rural towns. The event includes 25k, 50k, 100k, and 100m routes. All four end up in the town of Cloverdale at the historic Asti Winery. Your ride ends with a hearty lunch with some local Sonoma County wine.
Santa Rosa Mystic Fair
Dates: 10/14 & 10/15
One of the free Sonoma events in October is the Santa Rosa Mystic Fair. More than 60 exhibitors will be on hand including those that specialize in numerology, massage therapy, and energy work. You will also find vendors selling jewelry, candles, books, henna, and so much more.
The event also features live music, belly dancers and plenty of food. This two-day event runs from 9am to 5pm and is at the Santa Rosa Veterans Building.
Alexander Valley Film Festival
Dates: 10/19 - 10/22
One of the top Sonoma events in October for movie lovers is the Alexander Valley Film Festival. It features both locally produced and independent shows from up-and-coming directors. It will include both domestic and international documentaries and short films.
Shows will be at the Raven Film Center in Healdsburg, The Clover Theatre in Cloverdale and other locations around Sonoma County.
>> Visit their site for this year's schedule of films
More Fun Things to Do in Sonoma in October
In addition to all of these fun Sonoma events in October, you will also find so many other great things to do from heading out on a hot air balloon ride over the valley to bike riding tours. Click the links below to learn more.
Hot Air Balloon Ride: Admire Sonoma County from above on a Hot Air Balloon Ride, you will spend an hour cruising high above the vineyards as you learn more about the region, the entire experience is about 3 to 4 hours with set up, an hour in the balloon, landing and deflation, and a champagne toast to celebrate the day, find discount availability for this tour on Groupon


Sonoma Food Tour: Sample some of Sonoma's tastiest dishes on this 3-hour food walking tour around the Sonoma Square, it will include tastes at up to seven stops, tours are available Tuesday - Saturday and start at 11am, find discount availability on Groupon


Electric Bike Tour in Sonoma: Enjoy a day wine tasting on a "pedal assist" bike near Healdsburg, during the tour you will ride around 8 to 17 miles, but your electric bike will make it easier to get around, stop by 3 to 4 wineries, learn more about each one and eat a gourmet picnic lunch at one of them as well, leaves daily at 10am, tasting fees not included, find availability for this tour on Viator
*Note: Most Groupon deals last for 120 days after purchase, so make sure to check the exact terms before purchasing.
Gem Faire in Santa Rosa
Dates: 10/20 - 10/22
The Gem Faire is coming to Santa Rosa this October. It will feature more than 80 importers, wholesalers, and manufactures at the Sonoma County Fairgrounds. You will find thousands of high quality gems, beads, crystals and more.
>> Get tickets at a discount for this event on Goldstar
Funkendank Oktoberfest with The Motet
Date: 10/21
Celebrate Oktoberfest with this four-hour music and craft beer show. The event will be held at the Somo Village Event Center. This year, several bands will take the stage including the Motet, Dragon Smoke, Afrolicious, and Frobeck.
>> Find tickets today on TicketFly
Pinot on the River
Date: 10/22
One of the best places to find high quality Pinot Noir wines is in the Russian River Valley. Pinot on the River features around 100 wineries from the region serving up their top Pinot wines. The event takes place in the Healdsburg Plaza and runs from 12pm to 4pm (VIP access starts at 11am).
The event helps to raise money for the local Boys & Girls Clubs.
Healdsburg Wine Country Half Marathon
Date: 10/28
Run through two of the most beautiful wine regions during the Healdsburg Wine Country Half Marathon. This is one of the Sonoma events in October that will get your heart pumping and then allow you to cool down with some tasty local wines.
During the race, you will head through both Alexander and Dry Creek Valleys. You can also dress up in costume to enter the costume contest and enjoy food, wine, and fun at the end of the race.
North Bay Science Discovery Day
Date: 10/28
One of the best Sonoma events in October for kids is the North Bay Science Discover Day. The event features more than 150 hands-on exhibits and it's a chance for your kids to meet local engineers and scientists. The event is at the Sonoma County Fairgrounds in Santa Rosa. It runs from 10am to 4pm and the event is free for everyone.
Sonoma Events in October: Wine Tasting Parties
In addition to these larger Sonoma events in October, you will also find some great, small events at local wineries. This list includes celebrations organized by weekend. Most required advanced registration so visit the winery websites for details.
Weekend of the 1st
This weekend also includes several events on September 30. Visit my September calendar for Saturday's events.
Kendall Jackson: Harvest Party (1st), enjoy their popular Heirloom tomatoes and their best wines, live music, and more
Weekend of the 7th & 8th
Chateau St. Jean: Cinq Cepages Release Celebration (7th), a special wine tasting with winemaker Margo Van Staaveren, it's to celebrate the 25th year of the release of their Cinq Cepages wine
D'Argenzio: Harvest Party (7th), at their Santa Rosa location, hand crafted wines, live music, and an Italian feast, $45 general admission, free tickets available for club members
DeLorimier Winery: Harvest Open House, swing by to sample new releases and live music, from 11am to 4pm, complimentary
Gysery Peak Winery: Live Music Concert Series (7th), free live music, Petty Theft on stage from 12:30pm to 4pm
Hartford Wines: Zinfandel BBQ (7th), 3pm to 6pm, sample zins, and enjoy a BBQ meal, $60 per person
Imagery Estate Winery: Italian Affair (7th), enjoy an Italian fest at their annual event, 6pm to 9pm
Landmark Vineyards: Harvest Festival (7th), celebrate the harvest and enjoy Landmark wines paired with food from local vendors, 11am to 3pm, Landmark Courtyard, $45 for the public, $25 for club members
Ledson Winery & Vineyards: Corvettes at the Castle (7th), check out Corvettes set up along the circular driveway at Ledson, talk to the local owners, enjoy a picnic from their Gourmet Marketplace, 10am to 4pm
Mill Creek Winery: Library Wine Tasting (7 & 8), Mill Creek will be breaking out their library wines this weekend for tastings, it's $25 per person to taste and club members get two free tastings
Weekend of the 14th & 15th
Gloria Ferrer Caves & Vineyards: Glorious Bites Challenge (14th), watch top chefs as they compete for a $5,000 grand prize, sample food, wine, and cheer on the chefs, $55 per person (discounts for wine club members)
Kunde Family Winery: Giant Pumpkin Festival (14th and 15th), 113th anniversary event, live music, food, wine and more
Ravenswood Winery: Autumn Winemaker Dinner with Joel Peterson (14), reservations required for this premier event, 6pm to 9pm, $150 for the public, $125 for club members
Sonoma-Cutrer: Family Style Harvest Lunch (14th), family style lunch with perfectly paired wines, views of their 400 acre property, $75 plus tax
Weekend of the 21st & 22nd
Buena Vista Winery: 2nd Annual Harvest Masquerade Ball (21st), head back to 1864 when the Count of Buena Vista hosted his first wine release with a masquerade ball, dancing, light appetizers and wine, dress in your favorite masquerade gown with mask for this special annual event, for reservations contact the winery at 800-325-2764
Emeritus Vineyards: Harvest Trail (21st), enjoy the bounty of this year's harvest, sample new releases and small bites
Kunde Family Winery: Hike & Taste in the Vineyards (22nd), head out on a hike around Kunde's property and vineyards as you learn all about their wines, sample a few along the way, hike starts at 9am and lasts until 1pm, $15 for club member, $30 for the general public, reservations required
Keller Estate: Food & Wine Pairing (21st)
Lambert Bridge Winery: Chef's Table Series (20 - 22)
Seghesio Family Vineyards: Italian Heritage Dinner (21st), 6pm to 9pm, share wine, food and stories with old friends and new, Italian meal with their Italian vintage wine (plus some Zins), $125 per person
St. Francis Winery: Sustainable Seafood Soiree (21st), 5 course dinner of sustainable seafood paired with St. Francis wines, $196 per person, event starts at 6:30pm
Weekend of the 28th & 29th
Jacuzzi Wines: Pizza in the Piazza (29th), pizza and wine for lunch at Jacuzzi, $30 for an 8 inch pizza and a bottle of wine which is perfect for four people, $10 for a glass of their wine plus a slice of their fresh pizza, 12pm to 3pm
Pech Merle Winery: Vertical Tasting, Zin (28th), a variety of Zinfandel wines in this vertical tasting with winemaker John Pepe, $80 per person, $65 for club members
Tricycle Wines: Arrive in Costume (28 - 31), anyone that arrives in costume from October 28 - 31 will receive a free tasting at Tricycle Wines
Wine Tasting Deals in Sonoma County
Get some great deals on wine tasting either before or after these fun Sonoma events in October. Click the links below for some of the best deals around.
R2 Wine Company: Tasting for 2 or 4 plus a bottle of wine to take with you, up to 56% off, tasting room is in downtown Sonoma, check for availability


Spicy Vines: Wine blending class, food & wine tasting, or wine-mixology class, in Healdsburg, check for availability


Simi Winery: $19 for a tour and tasting for two ($38 value), learn about the history of this lovely winery before you sample their tasty wines, located in Healdsburg, check for availability
*Note: Most deals last for 120 days after purchase, so make sure to check the exact terms before purchasing.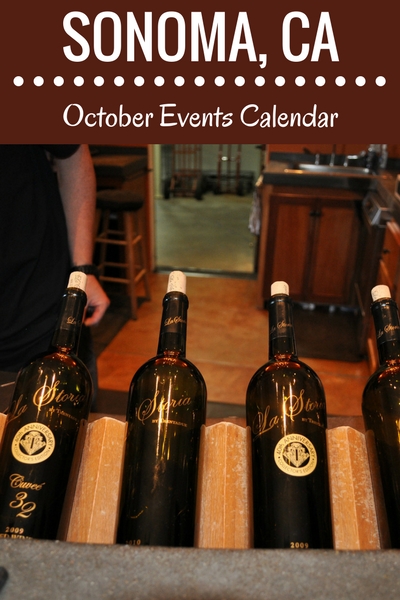 More Ideas for Your Wine Country Visit