Sonoma Events in November: 2019 Festivals, Wine Tasting Parties & More
Sonoma events in November 2019 include an olive oil festival, a wine safari and several on-site winery tasting events. You can also enjoy some tree lighting ceremonies and other holiday events.

Read on for events throughout the county including Healdsburg, Petaluma, Santa Rosa and more.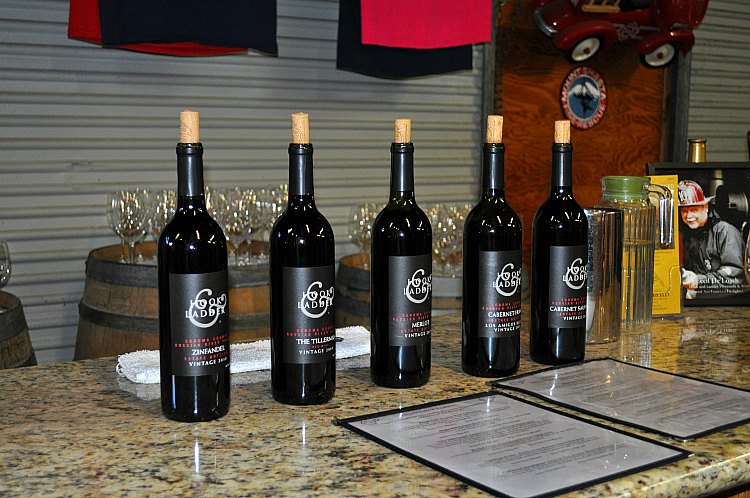 Disclaimer: I receive a small commission from some of the links on this page.

Wine & Food Affair

Dates: 11/2 & 11/3
One of the premier Sonoma County wine and food experiences, this two day event includes wine tasting, food made specifically for pairing with each wine, and the ability to taste wines from the Alexander, Dry Creek and Russian River Valleys all for one price.
Many wineries offer vegan, vegetarian and gluten free treats too. This event has a reduced price designated driver ticket if our non-alcohol drinking friends want to come along.
>> More about this year's event
Santa Rosa Brick Palooza

Date: 11/17
Santa Rosa's Brick Palooza event offers you the chance to show off your LEGO building skills, learn more with hands on work shops, demonstrations, and more. LEGO related businesses will also be on hand showing off their latest goods. The event is at the Santa Rosa Veterans Memorial.
Geyserville Tree Lighting and Tractor Parade of Lights

Date: 11/30
This annual family friendly event is a joy for all. Santa arrives at 5 pm, the tree lighting is at 6 pm, and the parade starts at 6:30 pm. The Tractor Parade is always a treat as many massive tractors, and cool trucks, fully decorated with lights and other displays are on hand to amaze the crowd. Food and drink are also served before and after the event.
Lodging in Sonoma County

Booking.com: Save on your Hotel in Sonoma with Booking.com, Planet Earth's #1 Accommodation Site. No booking fees ever!
TripAdvisor: What's the #1 hotel in Sonoma County? Read reviews & find hotel deals on TripAdvisor!
Veterans Day Parade

Date: 11/11
Petaluma is home to this beautiful Veterans Day Parade each year. It all starts at noon, with live music in the downtown gazebo, and then the parade which includes Clydesdale horses and the Marin's Sheriff's Posse. There is a helicopter fly over that will thrill young and old alike. Food and drink will be available at local restaurants and you can do some early holiday shopping at local merchants.
Wine Tasting Deals

Battaglini Winery & Vineyard: $5 Buys You a Coupon for $5 Off a Wine Tasting for Two Plus 20% Off a Bottle of Wine, near Santa Rosa, check for availability
Harvest Moon Estate And Winery: Save on their wine and cheese tasting plates for one, two or four people, near Santa Rosa, check for availability
*Note: Most deals last for 120 days after purchase, so make sure to check the exact terms before purchasing.

Lighting of the Plaza

Date: 11/16
One of the best family friendly Sonoma events in November is an experience you won't want to miss. Starting at 5 pm, and continuing until 8 pm, there will be music, stories and other events during the night.
Not only will the plaza be lit, but over 8 blocks of the town will also with more than 100,000 lights. Adding to the celebration, hot cider, cookies and snacks are complimentary. You are welcome to bring your own drinks or purchase them at local stores and restaurants located around the plaza.
Healdsburg Turkey Trot
Date: 11/28
The quaint city of Healdsburg, well known for incredible restaurants, wineries, and festivals is home to this year's Turkey Trot. Starting at 8 am, this 5K walk/run meanders through the town. This race will also be raising money for the people affected by this year's fires and disaster in Sonoma County. Food donations are also welcome if you want to give more support. A T-shirt will be included with your registration fee if you enter before November 9th.
This is one of the Sonoma events in November on Thanksgiving Day.
>> Find additional Turkey Trots around the SF Bay Area
Cirque de Boheme Presents "A Paris"

Dates: 11/29 - 12/22
Go back in time to see the classic Cirque de Boheme at Cornerstone Sonoma. This intimate event only allows 150 people and is set in the 1920s where jugglers, clowns, acrobats, and aerialist entertain and amaze you with their skills and feats of magic.
The circus is held under a tent so you don't have to worry about rain dampening your experience in this gorgeous garden setting. You do not want to miss this annual holiday tradition in Sonoma so make sure to book in advance.
Holiday Arts & Crafts Faire

Dates: 11/29-11/30Rohnert Park is home to one of the top free Sonoma events in November, the Holiday Arts & Crafts Faire, every year. Now in it's 40th year, you can let the kids play in the Little Elves' Workshop as you get a jump on all your holiday shopping. Starting at 10 am and ending at 4 pm, the faire is a great way to escape the Black Friday crowds at the mall and experience a more family friendly atmosphere. There is also caroling, food and drink, other crafts for kids of all ages.
Festival of Trees

Dates: 11/29 - 11/30
The tiny town of Gualala is home to the annual Festival of Trees and is a must see for anyone that hasn't visited it. Free to all, this two day experience includes a gingerbread house, many artisans and merchants selling their wares, and lots of cookies, breads, cakes and many more tasty treats for your enjoyment.
Make sure to see when Santa, and Mrs. Claus, will make their daily appearance and look out for the Grinch as he returns to ruin everyone's Christmas. The tree lighting is at 5 pm on Friday, the 23th.
Santa's Riverboat Arrival

Date: 11/30
Santa, and Mrs. Claus, have decided to leave their sleigh at the North Pole and instead take a riverboat as they visit the city of Petaluma each year. There is live music, dancing, food and drink for all and performers from the local ballet school's Nutcracker. Afterward, you are invited to do all your holiday shopping downtown as many local merchants are offering discounts and special deals all.
Santa Rosa Events in November

Find some fun Sonoma events in November in Santa Rosa. Click the links below for ticketing information.

Sonoma County Wine Events 2019

Discover top Sonoma events in November at local wineries. Below you will find fun events to celebrate the holidays, buy wine at a discount, and sample new releases. You can also enjoy an intimate dinner with local wine makers or a more casual party with pizza and wine.
Benziger Family Winery: Holiday Sip N' Shop (11/29 & 12/1), taste wine and estate olive oil, sample local artisan foods, 25% off all non-wine merchandise, 10 am to 5 pm
Buena Vista Winery: Stellar Cellar Sale (11/2 & 11/3), get deals on Buena Vista wines all weekend long, no RSVP required, 11 am to 4 pm with club members having early admission at 10 am
Cline Family Cellars & Jacuzzi Wines: Sip, Swirl & Shop (11/16), this event is complimentary and is from 11 am to 3 pm, no RSVP required
Dutton-Goldfield: Single Vineyard Pinot Release Feature Volo Chocolate (11/2 and 11/3), the release of the 2017 Pinot Noir wines with a Pinot Noir only flight tasting along with delicious chocolates to pair with them, 11 am to 4 pm
Gundlach Bundschu Winery: Built To Spill (11/23), live music from Built to Spill, food is available for purchase, wine by the glass or bottle, parking is available at $10 per person, starts at 6 pm and ends at 10 pm, $55 per attendee
Imagery Estate Wines: Holiday Sip, N' Shop (11/30), holiday treats, entertainment and wine, 25% off all non-wine merchandise, 10 am to 5 pm
Jacuzzi Winery: Sip, Swirl, & Shop (11/16), starts at 11 am and ends at 3 pm
Jordan Winery: Olive Harvest Celebration & Lunch (11/1), starts with a reception, following is an interactive olive varietal demonstration and olive oil tasting, this is followed by a 3-course meal, 11am to 3pm, $150 per person
Martorana Family Winery: Harvest Celebration Dinner (11/16), celebrate harvest with a 4-course meal paired with current release wines, only 50 seats available so purchase early, from 5 pm to 8 pm, $130 for general public and $11o for wine club members
Pech Merle Winery: 2019 G'Ville Tractor Parade (11/30), eat and drink as you watch the annual tractor parade cruise by from 4:30 to 7:30 pm, $15 per person
Red Car Wine: Riedel Wine Tasting Seminar (11/9), taste delicious wines as you learn and use Riedel wine glasses and see how they change the taste and aroma, three complimentary wine class with ticket, 11 am to 1 pm, $55 for general public and $35 for members
Simi Winery: Harvest Celebration Wine Makers Dinner (11/9), the wine is picked and resting in the cellar, so it's time to party, enjoy food, wine, and fun starting at 6pm, $145 per person and $125 for club members
More Things to Do in Sonoma in November

In addition to these fun Sonoma events in November, you will also find dozens of fun activities from hot air balloon rides over the county to food tours. These are just some of the other fun things to do this month all around Sonoma wine country.

Hot Air Balloon Ride: Admire Sonoma County from above on a Hot Air Balloon Ride, you will spend an hour cruising high above the vineyards as you learn more about the region, the entire experience is about 3 to 4 hours with set up, an hour in the balloon, landing and deflation, and a champagne toast to celebrate the day, find discount availability for this tour on Groupon
Sonoma Food Tour: Sample some of Sonoma's tastiest dishes on this 3-hour food walking tour around the Sonoma Square, it will include tastes at up to seven stops, tours are available Tuesday - Saturday and start at 11am, find discount availability on Groupon
*Note: Most Groupon deals last for 120 days after purchase, so make sure to check the exact terms before purchasing.