Sonoma Events in May 2017
Festivals, Wine Tasting & More
Sonoma events in May 2017 include the Sunset Celebration Weekend, the Rose Parade & Festival, French Flea Market, and others. There are also several wine tasting events at local wineries where you can enjoy local wines, live music, food, and more.
Read on for details on this month's top things to do all around wine country.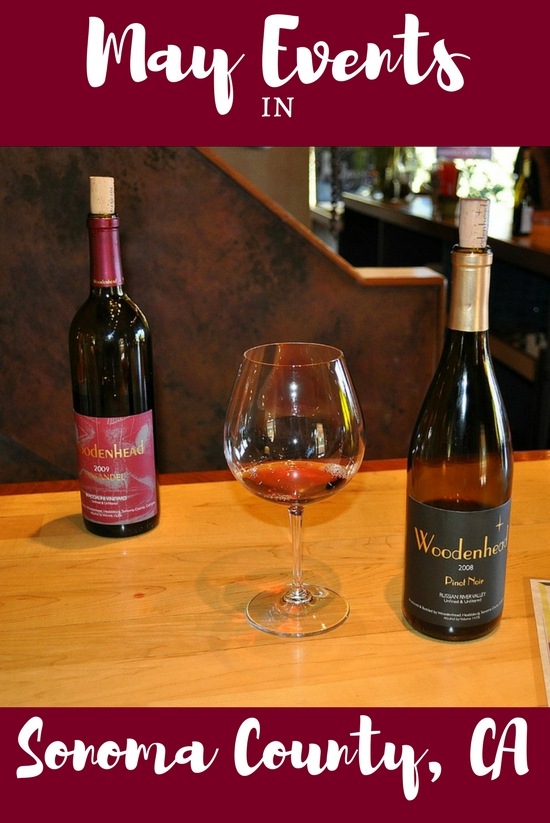 For some of the links on this page, I receive a small commission when you purchase. You don't pay more when you buy through me and it gives me the chance to offer you all this great content for free!
Castles & Kites
Date: May 6
Spring has sprung and summer is right around the corner, which means that it is a wonderful time for the Castles & Kites festival one of the best family-friendly Sonoma events in May! This event is on Saturday from 11 am until 4 pm. The event includes more than 50 kites and 50 sand castles on Doran Beach in Bodega Bay.
The best way to experience this fun event is to start at the boardwalk and then walk down the beach. You are encouraged to bring your own kite and build your own sand castles.
The Castles and Kites event is free for all. Make sure to bring some cash as parking is $7 a car.
Great Petaluma Chili Cook-Off
Date: May 6
Get your taste buds ready to celebrate some of the best chili you've ever tasted at the Great Petaluma Chili Cook-Off! In addition, you will also find a variety of delicious salsas to sample and a beer garden serving local beers. You will also find an arts and crafts area with plenty of local goodies.
Make sure to enjoy the live music and watch the dance teams in action throughout the day.
More Fun Things to Do in Sonoma in May
In addition to these fun Sonoma events in May, you will also find a variety of other fun things to do. Here are just a few of my favorite options this time of year.
Hot Air Balloon Ride: Admire Sonoma County from above on a Hot Air Balloon Ride, you will spend an hour cruising high above the vineyards as you learn more about the region, the entire experience is about 3 to 4 hours with set up, an hour in the balloon, landing and deflation, and a champagne toast to celebrate the day, find discount availability for this tour on Groupon


Sonoma Food Tour: Sample some of Sonoma's tastiest dishes on this 3-hour food walking tour around the Sonoma Square, it will include tastes at up to seven stops, tours are available Tuesday - Saturday and start at 11am, find discount availability on Groupon


Electric Bike Tour in Sonoma: Enjoy a day wine tasting on a "pedal assist" bike near Healdsburg, during the tour you will ride around 8 to 17 miles, but your electric bike will make it easier to get around, stop by 3 to 4 wineries, learn more about each one and eat a gourmet picnic lunch at one of them as well, leaves daily at 10am, tasting fees not included, find availability for this tour on Viator
*Note: Most Groupon deals last for 120 days after purchase, so make sure to check the exact terms before purchasing.
Film Fest Petaluma
Date: May 6
Film Fest Petaluma is an annual film festival that takes place in the historic Mystic Theater in downtown neighborhood. Many of these movies are independent and films that have not shown anywhere else. Some directors and actors will be on hand to give talks and you can interact with them. The presentations at the film festival include animations, live action, and documentary films.
Please click the link below to find out prices and times for the movie schedule.
Sonoma County Wine Events in May
Some of the most popular Sonoma events in May are the local winery wine tasting events. These events are held at the wineries and usually on the weekend days. They include special dinners with famous chefs, walks through the properties with a chance to taste wine at the end, and release parties to sample their newest creations.
>> Find a full schedule of local winery events this month in Sonoma
Russian River Women's Weekend
Date: May 18 - 21
Russian River Women's Weekend is an annual LGBT event. This year, it will be held at the R3 Resort and Hotel in Guerneville.
Activities during this four-day event include morning yoga, pool games, hiking, dancing to some of the best djs around, and dinners. This event is also known for its fantastic burlesque and drag king shows. In addition, there are also comedians and a You-Glo-Girl-Dance party. In other words, there is something for everyone at the Russian River Women's Weekend.
Tickets are available through the link listed below and they have early bird tickets so make sure to plan, buy your tickets soon, and get ready for a long weekend that you will never forget!
>> Find tickets on their site here
Hotel Deals in Sonoma
One of the best ways to enjoy these Sonoma events in May is to spend a night or two in this beautiful wine country. You will find several great deals all around the area. Click the links below for details.
Booking.com: Save on your Hotel in Sonoma with Booking.com, Planet Earth's #1 Accommodation Site. No booking fees ever!
TripAdvisor: What's the #1 hotel in Sonoma County? Read reviews & find hotel deals on TripAdvisor!
Sonoma County Backroad Challenge
Date: May 20
The Sonoma County Backroad Challenge is a great way to see the beauty of this beautiful wine country region. This annual event offers three routes: Century, Metric Century, and Half Metric. All three route begin at Penngrove Park in Petaluma.
After the ride, stick around to enjoy the festival. It features BBQ chicken, local craft brews, live music and fun!
Sunset Celebration Weekend
Dates: May 20 & 21
Sunset Celebration Weekend is an annual event at Cornerstone Sonoma. Cornerstone is the home to Sunset's Garden + Outdoor Test Kitchen. This event is a chance to sample food, do some wine tasting, and admire their art-inspired gardens.
This two day event runs from 11 am to 5 pm both days, and includes many well-known chefs, editors of the Sunset magazine, and lots more to learn and celebrate. For your convenience, there will be shuttles going to and from the Sonoma Valley Airport, Sonoma Valley High School, and the Sonoma Town Square. Make sure to plan ahead as there is no parking for the event.
Tickets: Find a limited number of tickets at a discount on Goldstar
Sonoma Events in May: Rose Parade & Festival
Date: May 20
The Luther Burbank Rose Parade & Festival is one of the largest and longest parades in Northern California. It has been running strong for more than 120 years and just gets better every single year.
The parade starts at Sonoma Avenue and E Street. It then winds through the city and ends at the intersection of Mendocino and 1st Street. The parade includes marching bands, floats, horses and their riders, and so much more.
After the parade, head over to the festival. It has games for kids, food and drink for everyone, and fun shows, arts and craft booths, and other activities such as the crowning of the King and Queen of the Rose Parade & Festival. The parade and festival are free but donations are encouraged to help support the parade and festival.
Wishes in Wine Country
Date: May 20
Head over to Sonoma-Cutrer on Saturday, May 20 for another one of the most popular Sonoma events in May, Wishes in Wine Country. This annual event features more than 40 restaurants and wineries on the beautiful Sonoma-Cutrer property. In addition, you can listen to live music and enjoy some croquet. This event helps raise money for Make a Wish, which helps severely ill children all around the Bay Area.
Tickets: Visit their site for ticketing information
Sonoma Wine Tasting Deals
These are just a few of the top wine tasting deals running currently at wineries around Sonoma County. Click the links below for additional details.
R2 Wine Company: Tasting for 2 or 4 plus a bottle of wine to take with you, up to 56% off, tasting room is in downtown Sonoma, check for availability


Spicy Vines: Wine blending class, food & wine tasting, or wine-mixology class, in Healdsburg, check for availability


Simi Winery: $19 for a tour and tasting for two ($38 value), learn about the history of this lovely winery before you sample their tasty wines, located in Healdsburg, check for availability
*Note: Most deals last for 120 days after purchase, so make sure to check the exact terms before purchasing.
Petaluma's Salute to American Graffiti
Date: May 18, 19, & 20
If you loved the movie American Graffiti, then head to Petaluma this May to celebrate and see the streets where the movie was made. This annual event features a classic car show and festival. The event is open to the public and you can pay a small fee to enter your car for the show. The festival is on Saturday, May 20 with other events on the Thursday and Friday leading up to the big festival.
KGGV Strawberry Festival
Date: May 27
If you love strawberries, then don't miss out on this year's KKGV Strawberry Festival in Guerneville. All day long, you can enjoy strawberry mimosas, BBQ, and strawberry desserts. The event lasts from Noon to 5pm and is held at the GGV studio/Guerneville Community Church at 14520 Armstrong Woods Road.
Oysterpalooza
Date: May 28
Enjoy oysters, music, and drinks this Memorial Day Weekend in Valley Ford. Just an hour north of the Golden Gate Bridge, this fun event features three bands from Noon to 7pm. Tickets are on sale now and do not include food or drink. This event is held at Rocker Oysterfeller's Kitchen + Saloon at 14415 Highway One.
French Flea Market
Dates: May 27 & 28
I love France, and visit whenever I can possibly go, but some years I just can't make it there. So, the French Flea Market is one of my favorite Sonoma events in May where I can stay in the USA and still feel like I'm in Paris! And, the owners of the Chateau Sonoma have established the perfect setting of that magical country right here in Sonoma.
The flea market has over 20 vendors every year, and some of my favorites include vendors such as Elsie Green, Atelier de Champagne, and Uber Chic. If you are looking for a bit of music, and frivolity, during festival, there is a barrel organist that will enthrall you.
Being that you are at Chateau Sonoma, and might want to take a break from all the hustle and bustle of the flea market, you can always go to their tasting room and have a glass of wine or two. The flea market opens promptly at 10 am and closes at 5 pm.
More Tips to Visit Northern California Wine Country