Sonoma Events in May 2018
Festivals, Wine Tasting & More
Sonoma events in May 2018 include the Healdsburg Bicycle Tour, the Rose Parade & Festival, French Flea Market, and others. There are also several wine tasting events at local wineries where you can enjoy local wines, live music, food, and more.
Read on for details on this month's top things to do in Northern California wine country.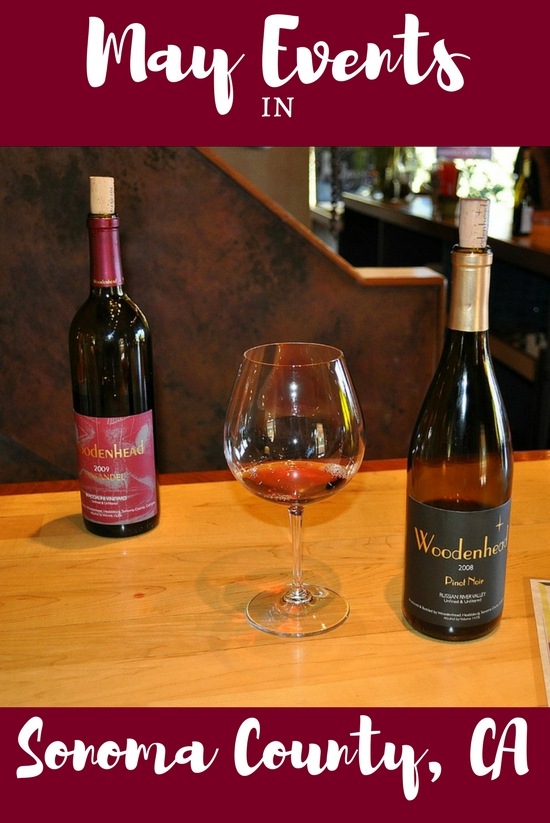 Disclaimer: I receive a small commission from some of the links on this page.
Sonoma Events in May: Castles & Kites
Date: 5/5
Spring has sprung and summer is right around the corner, which means that it is a wonderful time for the Castles & Kites festival one of the best family-friendly Sonoma events in May! This event is on Saturday from 11 am until 4 pm. The is one of the Sonoma events in May which includes more than 50 kites and 50 sand castles on Doran Beach in Bodega Bay.
The best way to experience this fun event is to start at the boardwalk and then walk down the beach. You are encouraged to bring your own kite and build your own sand castles.
The Castles and Kites event is free for all. Make sure to bring some cash as parking is $7 a car.
Great Petaluma Chili Cook-Off
Date: 5/19
Get your taste buds ready to celebrate some of the best chili you've ever tasted at the Great Petaluma Chili Cook-Off! In addition, you will also find a variety of delicious salsas to sample and a beer garden serving local beers. You will also find an arts and crafts area with plenty of local goodies.
Make sure to enjoy the live music and watch the dance teams in action throughout the day.
More Fun Things to Do in Sonoma in May
In addition to these fun Sonoma events in May, you will also find a variety of other fun things to do. Here are just a few of my favorite options this time of year.
Hot Air Balloon Ride: Admire Sonoma County from above on a Hot Air Balloon Ride, you will spend an hour cruising high above the vineyards as you learn more about the region, the entire experience is about 3 to 4 hours with set up, an hour in the balloon, landing and deflation, and a champagne toast to celebrate the day, find discount availability for this tour on Groupon


Sonoma Food Tour: Sample some of Sonoma's tastiest dishes on this 3-hour food walking tour around the Sonoma Square, it will include tastes at up to seven stops, tours are available Tuesday - Saturday and start at 11am, find discount availability on Groupon


Healdsburg All Day Biking & Wine Tasting Tour: Enjoy a day wine tasting near Healdsburg around Dry Creek Valley, during the tour you will ride a hybrid bike around 20 miles (32km) at a leisurely pace, stop by 3 to 4 wineries, learn more about each one and eat a picnic lunch at one of them as well, leaves daily at 10am and returns around 3:30pm, tasting fees not included, find availability for this tour on Viator
*Note: Most Groupon deals last for 120 days after purchase, so make sure to check the exact terms before purchasing.
Film Fest Petaluma
Date: 5/5
Film Fest Petaluma is an annual film festival that takes place in the historic Mystic Theater in downtown neighborhood. Many of these movies are independent and films that have not shown anywhere else. Some directors and actors will be on hand to give talks and you can interact with them. The presentations at the film festival include animations, live action, and documentary films.
Please click the link below to find out prices and times for the movie schedule.
Healdsburg Bicycle Tour
Date: 5/12
Healdsburg is known for fantastic hotels, amazing meals, and world class wines, but it is also known for one of the best bicycle rides in the world. There are many options for you to choose from; the rides start at 20 miles, progress to 35 and max out at 60 miles. The 20 is primarily flat so most riders could easily do it, while the 35 and 60 are a bit more hilly and challenging.
One of the reasons that this is one of the most popular Sonoma events in May is that you get to cruise through the beautiful wine area, but moreover you get a glass of wine when you finish the ride. Your registration also includes fruit and baked good for breakfast, snacks and water at rest stops, a catered lunch, and best of all, a special Healdsburg Bicycle Tour bandana with a map of all three courses!
All three distances have the same price so you can choose which distance you want to ride on the day of the event! Healdsburg is usually quite busy during the spring so make sure to plan and book this cycling tour and your lodging in advance.
Garagiste Festival
Date: 5/12
The first Garagiste Festival in Northern California is right here in Sonoma County! This is one of the Sonoma events in May that celebrates the wines from lesser known wineries producing a small number, but highly tasty wines. This is just one of several Sonoma events in May that falls on Mother's Day Weekend. The is one of the Sonoma events in May that is at the Sonoma Veterans Memorial Hall from 1pm to 5pm.
Sonoma County Wine Events in May
Some of the most popular Sonoma events in May are the local winery wine tasting events. These events are held at the wineries and usually on the weekend days. They include special dinners with famous chefs, walks through the properties with a chance to taste wine at the end, and release parties to sample their newest creations.
You will also find several fun things to do for Mother's Day.
Acorn Winery: Spring Luncheon (5/5) at their estate, four-course buffet lunch paired with Acorn Wines
Alexander Valley Vineyards: Spring Bash & Blending Party (5/19), fun competition that offers you the chance to be a winemaker for the day, winners announced at the end of the party, 10am to 3pm
B.R. Cohn Winery: Lobster Feed (5/12), lobster, prawns, corn on the cob with butter and so many other traditional eats at this year's Lobster Feed at B.R. Cohn, this is one of the most popular Sonoma events in May, so pick up your tickets before they sell out!
Benziger Family Winery: Celebrate with Mom (5/12 & 5/13), free wine tasting for all mom's plus a special bouquet of flowers from the Benziger garden, all day long
Buena Vista Winery: Pinot Gris & Sushi (5/19), stop by the wine tasting room to sample their Pinot Gris & enjoy some sushi, reservations are not required, 11am to 3pm, $5 per person, wine club members receive two free tickets
Chateau Diana: Mother's Day Celebration (5/13), bring your picnic and Chateau Diana will supply your mom with a mimosa as you celebrate her special day, picnic table reservations are required on this day
Clos du Bois: Celebrate Mom! (5/13), enjoy oysters on the half shell paired with the best Clos du Bois wines, family activities include face painting and bean bag toss, 12pm to 3pm, $20 per person, $10 for wine club members
Emeritus Vineyards: Mother's Day Brunch (5/13), 11am to 1pm, 3-course brunch in the vineyard, $100 per person, $85 for wine club members
Fisher Vineyards: Spring Release Party (5/26), 10am to 11:30am, wine and food from chef Josh Mitchel
Gloria Ferrer Caves & Vineyards: Mother's Day Bubbles & Brunch (5/13), bring your entire family to Ferrari-Carano this Mother's Day for a special brunch with their sparkling wine on their estate, runs from 10am to Noon
Korbel: Mother's Day at Korbel (5/13), specials in the tasting room and special tours of their historic gardens, no reservations required
Imagery Estate Winery: Mother's Day Celebration (5/12 & 5/13), all mom's receive complimentary tasting for their special day, they will also be giving all mom's a special bouquet of flowers from their garden
Lambert Bridge: Chef's Table Series (5/17 & 5/18), food and wine experience with dishes made by a local Sonoma chef, 12pm to 2pm, $95 for members and $125 for the public
Landmark Vineyards: Half Shells & Chardonnay (5/5), 11am to 3pm at their Hop Kiln Estate in Healdsburg, $55 general public, $40 for wine club members
Macphail Wines: Rose Release Party (5/6), sample their newly released rose of Pinot noir, food pairings, and live music, 12pm to 3pm
Pech Merle Winery: Lobster Lovers Unite (5/19), food, friend, and fun from 5pm to 8pm
Robledo Family Winery: Cinco de Mayo Festival (5/5), live entertainment, food, and wines, 12pm to 4pm
Schrug Carneros Estate Winery: Mother's Day at Schrug (5/13), 10am to 5pm
Soda Rocks: Rose Release (5/12) from 12pm to 4pm
Truett Hurst Winery: Special treat for all moms on Mother's Day (5/13) from 11am to 4pm
Valley of the Moon Winery: Mother's Day Buffet Brunch (5/13), 11am to 2pm
White Oak Winery: May Lei Luau (5/19), pig roast, live music and wine, wear your favorite Hawaiian shirt or grass skirt, they will provide the Leis
More Things to Do on Mother's Day in Sonoma
Here are just a few additional Sonoma events in May this Mother's Day in Sonoma.
Russian River Rose Company: Head over to the Russian River Rose Company to wonder through their luscious and colorful roses. They are open from 10am to 5pm. Suggested donation $4. 1685 Magnolia Drive in Healdsburg.
Schulz Museum: All mother's get in free at the Schultz Museum in Santa Rosa this Mother's Day. Explore the largest collection of Peanuts art and enjoy some of their hands-on activities. You can get in free from 10am to 5pm on Mother's Day.
Brunch at Vintner's Inn: Spoil your mom with this hearty and tasty Sunday Brunch. It includes omelets, french toast, granola, fresh fruit as well as a couple of carving stations for ham and new york strip loin. You can also enjoy fresh oysters, prawns, smoked salmon and your choice of several desserts. Brunch is from 10am to 3pm. 4350 Barnes Road in Santa Rosa.
Yoga in the Vineyard: Start your day with some yoga at Landmark Vineyards. Class starts at 10:30am (must check in by 10:15am) and will run for an hour. Afterwards, enjoy a tasting flight and a few snacks. $30 per person. 101 Adobe Canyon Road, Kenwood.
La Cage aux Folles: Treat your mom to a theater performance at the 6th Street Playhouse in Santa Rosa. On Mother's Day, they offer one performance of La Cage aux Folles at 2pm. This musical comedy has been a hit on Broadway for years and is a must see. 52 W. 6th Street, Santa Rosa.
Gundlach Bundschu Outdoor Concert Series
This May in Sonoma, you will find two concerts at Gundlach Bunchschu Winery. Both shows are presented by (((folkYEAH!))) and will in the Historic Redwood Barn. Rogue Wave takes the stage on 5/12 at 6:30pm and Washed Out is set to perform on 5/16 at 6:30pm.
The shows take place rain or shine since the Redwood Barn offers covering from the elements. During the show, you can enjoy some tasty Gundlach Bunchschu wines by the glass or bottle.
Esprit du Rhone by WineRoad
Dates: 5/18 & 5/19
A two-day event celebrating the wines of the Rhone. Wineries from Dry Creek Valley, Alexander Valley and the Russian River Valley will be on hand to showcase their wines made from Rhone varietals.
The varietals of this popular wine region in France include whites such as Marsanne, Roussanne, and Viognier. Top reds from this region include Carignan, Grenache, Mourvedre, and Syrah.
This is one of the Sonoma events in May that runs for two days and is at the Sonoma Cider at 44 Mill St in Healdsburg.
Russian River Women's Weekend
Dates: 5/18 - 5/20
Russian River Women's Weekend is an annual LGBT event. This year, it will be held at the R3 Resort and Hotel in Guerneville.
Activities during this four-day event include morning yoga, pool games, hiking, dancing to some of the best djs around, and dinners. This event is also known for its fantastic burlesque and drag king shows. In addition, there are also comedians and a You-Glo-Girl-Dance party. In other words, there is something for everyone at the Russian River Women's Weekend.
Tickets are available through the link listed below and they have early bird tickets so make sure to plan, buy your tickets soon, and get ready for a long weekend that you will never forget!
>> Find tickets on their site here
Hotel Deals in Sonoma
One of the best ways to enjoy these Sonoma events in May is to spend a night or two in this beautiful wine country. You will find several great deals all around the area. Click the links below for details.
Booking.com: Save on your Hotel in Sonoma with Booking.com, Planet Earth's #1 Accommodation Site. No booking fees ever!
TripAdvisor: What's the #1 hotel in Sonoma County? Read reviews & find hotel deals on TripAdvisor!
Ironman Santa Rosa
Date: 5/12
The Ironman is coming to Santa Rosa this May. The race offers you the chance to run and ride your way through the beautiful vineyards around Sonoma County. The race begins with the swim in Lake Sonoma.
Once you hop on your bike, you will cruise past vineyards and small towns throughout wine country. You will then transition to the running portion on the race in the town of Sonoma and you will run along the Santa Rosa Creek Trail. The race finishes just outside the courthouse in downtown Santa Rosa.
>> Visit the official Ironman website for registration details
Sonoma County Backroad Challenge
Date: 5/19
The Sonoma County Backroad Challenge is a great way to see the beauty of this beautiful wine country region. This annual event offers three routes: Century, Metric Century, and Half Metric. All three route begin at Penngrove Park in Petaluma.
After the ride, stick around to enjoy the festival. It features BBQ chicken, local craft brews, live music and fun!
Sonoma Events in May: Rose Parade & Festival
Date: 5/19
The Luther Burbank Rose Parade & Festival is one of the largest and longest parades in Northern California. It has been running strong for more than 120 years and just gets better every single year.
The parade starts at Sonoma Avenue and E Street. It then winds through the city and ends at the intersection of Mendocino and 1st Street. The parade includes marching bands, floats, horses and their riders, and so much more.
After the parade, head over to the festival. This is one of the Sonoma events in May that features games for kids, food and drink for everyone, and fun shows, arts and craft booths, and other activities such as the crowning of the King and Queen of the Rose Parade & Festival. The parade and festival are free but donations are encouraged to help support the parade and festival.
More Things to Do in Santa Rosa
Wishes in Wine Country
Date: 5/19
Head over to Sonoma-Cutrer on Saturday, May 20 for another one of the most popular Sonoma events in May, Wishes in Wine Country. This annual event features more than 40 restaurants and wineries on the beautiful Sonoma-Cutrer property. In addition, you can listen to live music and enjoy some croquet. This event helps raise money for Make a Wish, which helps severely ill children all around the Bay Area.
Tickets: Visit their site for ticketing information
Sonoma Wine Tasting Deals
These are just a few of the top wine tasting deals running currently at wineries around Sonoma County. Click the links below for additional details.
Battaglini Winery & Vineyard: $5 Buys You a Coupon for $5 Off a Wine Tasting for Two Plus 20% Off a Bottle of Wine, near Santa Rosa, check for availability


Harvest Moon Estate And Winery: Save up to 50% off wine and cheese tasting plates for one, two or four people, near Santa Rosa, check for availability


Family Wineries Dry Creek: Save up to 60% off wine tasting for two or four (5 tastes each), near Healdsburg, check for availability
*Note: Most deals last for 120 days after purchase, so make sure to check the exact terms before purchasing.
Petaluma's Salute to American Graffiti
Date: 5/17, 5/18 & 5/19
If you loved the movie American Graffiti, then head to Petaluma this May to celebrate and see the streets where the movie was made. This annual event features a classic car show and festival. The event is open to the public and you can pay a small fee to enter your car for the show. The festival is on Saturday, May 19 with other events on the Thursday and Friday leading up to the big festival.
KGGV Strawberry Festival
Date: 5/26
If you love strawberries, then don't miss out on this year's KKGV Strawberry Festival in Guerneville. All day long, you can enjoy strawberry mimosas, BBQ, and strawberry desserts. The event lasts from Noon to 5pm and is held at the GGV studio/Guerneville Community Church at 14520 Armstrong Woods Road.
Oysterpalooza
Date: 5/27
Enjoy oysters, music, and drinks this Memorial Day Weekend in Valley Ford. Just an hour north of the Golden Gate Bridge, this fun event features three bands from Noon to 7pm. Tickets are on sale now and do not include food or drink. This event is held at Rocker Oysterfeller's Kitchen + Saloon at 14415 Highway One.
French Flea Market
Dates: 5/26 & 5/27
I love France, and visit whenever I can possibly go, but some years I just can't make it there. So, the French Flea Market is one of my favorite Sonoma events in May where I can stay in the USA and still feel like I'm in Paris! And, the owners of the Chateau Sonoma have established the perfect setting of that magical country right here in Sonoma.
The flea market has over 20 vendors every year, and some of my favorites include vendors such as Elsie Green, Atelier de Champagne, and Uber Chic. If you are looking for a bit of music, and frivolity, during festival, there is a barrel organist that will enthrall you.
Being that you are at Chateau Sonoma, and might want to take a break from all the hustle and bustle of the flea market, you can always go to their tasting room and have a glass of wine or two. The flea market opens promptly at 10 am and closes at 5 pm.
Additional Things to Do on Memorial Day Weekend in Sonoma
This year, Memorial Day falls on Monday, May 28. You will find events all weekend long (5/26-5/28) all around Sonoma. In addition to those mentioned above, here are more fun things to do all around wine country this holiday weekend.
Driven To Perfection Classic Car Show and Cruise: This classic car show features more than 200 pre-1976 cars and trucks. You can also grab a snack or a glass of local wine as you enjoy each vehicle on display. This is one of the Sonoma events in May that runs from 10am to 3pm and is at the O'Reilly Media at 1005 Gravenstein Hwy. N. in Sebastopol. Proceeds for this event will benefit the Sebastopol Senior Center.
Tea and Memories in the Rose Garden: The Russian River Rose Company invites the public to join them for a weekend of fun. They will serve organic tea as you relax in their lovely setting and enjoy their colorful roses. Suggested donation is $4. 1685 Magnolia Drive in Healdsburg.
LandPaths Family Trek: Spend the weekend outdoors with your family on this two-day hiking adventure. You and your family will hike five miles from Shell Beach to Willow Creek State Park for an evening of storytelling, roasted marshmallows, and other family activities. After a fun night of sleeping under the stars, you will enjoy a light breakfast and hike the 5 miles back to the beach. LandPaths provides dinner and a light breakfast. You will bring along all camping gear and lunch or any other snacks you might want. It's one of the best family-friendly Sonoma events in May. Visit their site for more details and to register.
Live Music on the Lawn Series at Viansa: This Memorial Day Weekend, Viansa will feature live music in their beautiful Sonoma estate. Bands will play from 11am to 2pm on both Saturday and Sunday. You can grab some wine, some fire roasted pizza and enjoy the beautiful outdoors. 25200 Arnold Drive in Sonoma.
Food Trucks at Landmark Vineyards: Grab some wine and enjoy tasty treats from some of Sonoma's top food trucks. They will be on hand on Saturday from 12pm to 3pm. 101 Adobe Canyon Road in Kenwood.
Barrelrock: Skip the wine this weekend and check out some of Sonoma's highly rated craft brews. This event is on Sunday, 5/27 at Fogbelt Brewing Co. in Santa Rosa. They will feature several local bands and three tasty BBQ sandwiches which are a perfect match with their beer. Admission is free and it starts at noon. 1305 Cleveland Avenue in Santa Rosa.
Sunday Live Music at B.R. Cohn: Spend a relaxing Sunday afternoon at B.R. Cohn Winery in Glen Ellen. Select from their amazing wines and then grab a seat in the shade under their gorgeous olive trees. Local bands will perform from 2 to 4:30. They will also be selling fresh Tomales Bay oysters throughout the afternoon. 15000 Sonoma Hwy in Glen Ellen.
More Tips to Visit Northern California Wine Country