Sonoma Events in June 2022: Festivals, Wine Tasting Parties, & More

by Jill Loeffler  •

Updated: June 6, 2022
Sonoma events in June 2022 include street fairs, beer festivals, and wine tasting activities. Highlights include the Healdsburg Jazz Festival, Sonoma County Pride, and the Huichica Music Festival.

You will find fun activities in Healdsburg, Santa Rosa, and other towns all around this Northern California wine region. Read on for details on the best things to do this month.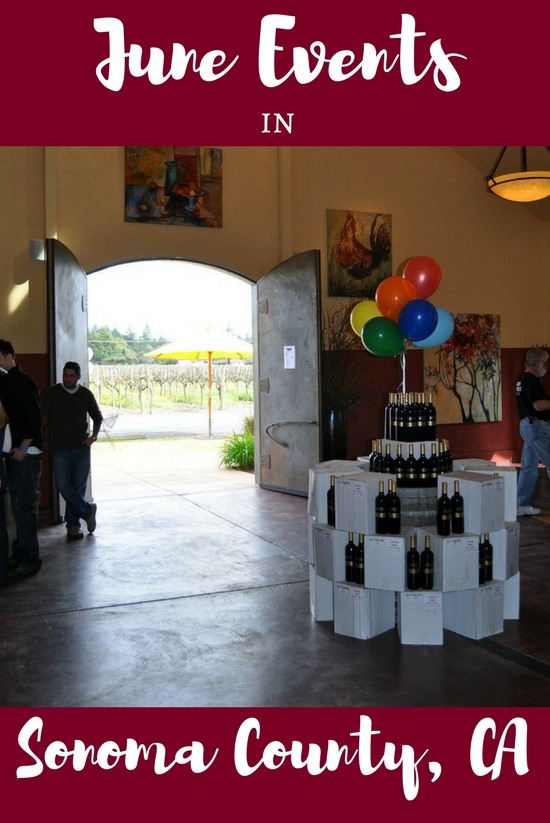 Disclaimer: I receive a small commission from some of the links on this page.

Healdsburg Jazz Festival

Dates: 6/13 - 6/19
One of the top Sonoma events in June is the Healdsburg Jazz Festival. This event features top jazz performers from across the country and all around the world, offering everything from swing to Latin style jazz bands.
Located in the heart of the wine country in the little town of Healdsburg, you can experience masterfully played music, taste award winning wines, and eat at top-rated restaurants all in the same area. While the Raven Theater is one of the main venues, you will find bands playing at some of the restaurants and hotels in town, so you can experience the scene up close and personally.
The festival also supports teaching local kids about jazz music with a four-day seminar. This is taught at different schools in Sonoma County and your tickets help support these much-needed classes and learning experience.
Sonoma County Pride

Dates: 6/3 - 6/5
Sonoma County will be celebrating Pride and supporting the LGBTQI Community all month long, kicking off with a flag raising.
Toward the end of the month you'll find the most popular events, including the Rainbow City Concert featuring Todrick Hall at the Sonoma County Fairgrounds; the Behind-the-Curtain Movie Night, a Wizard of Oz sing-along in Rohnert Park; and Drag Me to the River, a three-course drag benefit brunch in Petaluma.
Sonoma County Wine Events 2022

In addition to the larger Sonoma events in June on our calendar, you will also find several smaller wine tasting parties at the wineries. These events are open to the public and wine club members.
Alexander Valley: Experience Alexander Valley (6/11 - 6/12), two sessions a day, 20 people each, an in-depth look at what makes Alexander wines so great, you can purchase single session, one day or two day tickets
Benzinger Family Winery: Summer Solstice BBQ (6/25), gourmet BBQ with Biodynamic wines
BR Cohn: BR Cohn Rocks (6/5), the ultimate wine and concert experience
Buena Vista Winery: Father's Day Brunch (6/19)
Dry Creek Vineyard: Summer of Zin (6/11), live music, wines, and local food vendors will be on hand for a fun day of outdoor celebrations, gates open at noon
Emeritus Vineyards: Sips & Sounds (6/12), bring a blanket or a chair and enjoy live music with your wine on the lawn
Gloria Ferrer: Spanish Chef's Table Experience (6/10) from 5 pm to 7 pm
Medlock Ames: Backyard Nights! (6/26), watch the sunset as you listen to music and sample wine, requires RSVP, seating is first-come, first-served, 5 pm to 7 pm
Papapietro-Perry: Chardonnay & Lobster Dinner (6/25)
Simi Winery: Simi After Hours (6/22) from 5:30 pm to 7:30 pm enjoy wine and a nice dinner at Simi Winery
Talisman: Summer Release Party (6/25 & 6/26) at the Glen Allen Tasting Room
Viansa Sonoma: Summer Lobster Boil (6/23), lobster dinner, wine, and live music

Huichica Music Festival

Dates: 6/10 - 6/11
The Huichica Music Festival has been entertaining fans since 2010. It is famous for having great music, great food, and since it is located at the Gundlach-Bundschu winery in the city of Sonoma, great wines too.
This two-day event starts at 3 pm on Friday with numerous musicians playing on 2 different stages and ends at 10:30 pm. Saturday starts at 11 am and doubles the stages to 4 and ends at 10:30 pm. This music event has over 20 bands that play throughout the festival. Some are well-known headliners while others may be smaller known of even local bands.
Beerfest: The Good One

Date: 6/11
The annual Beerfest: The Good One is another one of the top Sonoma events in June. For more than 25 years, this event has featured top local and national brewers at the Luther Burbank Center for the Arts just north of Santa Rosa. The event helps raise money for Face to Face, which is a charity devoted to ending HIV in Sonoma County.
It runs from 1 to 5 pm on Saturday afternoon.
North Coast Wine & Food Festival

Date: 6/18
Another one of the large Sonoma events in June is the North Coast Wine & Food Festival. This one day event is held in Rohnert Park and includes the option to sample up to 90 different wines. Unlike most wine and food festivals, the wines that are chosen are selected from many different appellations including Sonoma county, Napa county and lesser known ones such as Mendocino County or Lake County.
More than 20 different chefs will also be on hand and you will get the chance to taste their delicious creations. The event also features live music all day long. It runs from 1 to 4 pm.
Railroad Square Music Festival

Date: 6/12
The Railroad Square Music Festival is a fun afternoon of free music in Santa Rosa. The event is in Santa Rosa's Railroad Square and runs from Noon to 7:30 pm. The event is hosted by The North Bay Hootenanny and sponsored by many local businesses.
Country Summer Music Festival

Dates: 6/17 - 6/19
One of the biggest live music Sonoma events in June is the Country Summer Music Festival. For three days, watch the hottest country performers on stage at the Sonoma County Fairgrounds in Santa Rosa. Headliners this year include Blake Shelton, Chris Young, and Kelsea Ballerini.
Tickets are on sale now for each day or you can buy a pass for all three. Camping is allowed at the fairgrounds either in tents or RVs. Additional rules and tickets are required for those camping during this event.
>> Visit their site for tickets and additional details
Broadway Under the Stars

Dates: 6/17 - 8/14
This month's Broadway Under the Stars at Jack London State Historic Park in Glen Ellen.
The shows for this season start on June 17.
It's a song and dance extravaganza that celebrates some of the best songs and shows ever written.
This is one of the Sonoma events in June that runs most Friday, Saturday and Sunday nights from June 17 - August 14.
Hotel Deals for Your Sonoma Stay

The best way to experience these Sonoma events in June and this beautiful wine country is to spend a night or two. Click the links below for the best deals all around the county.

Booking.com: Save on your Hotel in Sonoma with Booking.com, Planet Earth's #1 Accommodation Site. No booking fees ever!
TripAdvisor: What's the #1 hotel in Sonoma County? Read reviews & find hotel deals on TripAdvisor!
VRBO: You can also find some great places to stay on VRBO. They offer apartments, houses, cottages, and rooms for rent all around Sonoma County. Find some great places to stay here. 
Sonoma-Marin Fair

Dates: 6/22 - 6/26
Traditionally, the Sonoma-Marin Fair includes wine tasting, livestock shows, the World's Ugliest Dog competition, carnival rides, and live concerts each night.
This year, to facilitate pandemic-safe conditions, they are offering drive-thru fair food from noon to 8 pm at the Petaluma Fairgrounds and Speedway so you can still get a taste of those classic summer county fairs!
Wine Tasting Deals at Local Sonoma Wineries

If you plan to check out a few wineries while you are here, check out these great wine tasting deals on Groupon for your stay.

Battaglini Winery & Vineyard: $5 Buys You a Coupon for $5 Off a Wine Tasting for Two Plus 20% Off a Bottle of Wine, near Santa Rosa, check for availability
Harvest Moon Estate And Winery: Save on their wine and cheese tasting plates for one, two or four people, near Santa Rosa, check for availability
*Note: Most deals last for 120 days after purchase, so make sure to check the exact terms before purchasing.

Experience Alexander Valley

Dates: 6/11 - 6/12
Enjoy this two-day festival celebrating the wines of the Alexander Valley in Sonoma. Each ticket offers an experience with a small group of people where you will learn about the wines, experience them, and share your thoughts. This is one of the best Sonoma events in June for Cabernet Sauvignon lovers!
There is a morning (10 am) and an afternoon (2 pm) session each day. All four are limited to just 20 people, so get your tickets today!
Events at the Luther Burbank Center for the Arts

Another place to find top Sonoma events in June is in Santa Rosa at the Luther Burbank Center for the Arts. Here is their schedule of performances this month.

Giro Bello

Date: 6/25
Another one of the fun Sonoma events in June is the Giro Bello. This bike race offers three route through some of Sonoma County's most beautiful areas. The three routes include the Century (100.9 miles with 5,168 feet of climbing), the Metric Century (66.8 mile with 2,406 feet of climbing) and the Family Fun Route (27.6 miles with 896 miles of climbing).
>> Visit their site to register and learn more about this year's routes
More Fun Activities in Sonoma in June

There is so much to see and do in Sonoma. In addition to these Sonoma events in June, here are a few more fun activities for your stay.

Sonoma Wine Country Bike Tour: Ride through Sonoma Wine Country on this 4.5 hour tour, starts in Santa Rosa and takes you to visit two to three wineries, entire trip is about 16-miles (25.7 km), route is mostly flat, check for availability
Food & Wine Walking Tour: Walking and food tour of Sonoma which stops at several gourmet spots for tastings, check for availability