Sonoma Events in June 2020: Festivals, Wine Tasting Parties, & More
Sonoma events in June 2020 include street fairs, beer festivals and wine tasting activities. Highlights include the Healdsburg Jazz Festival, Sonoma County Pride, and the Huichica Music Festival.

You will find fun activities in Healdsburg, Santa Rosa, and other towns all around this Northern California wine region. Read on for details on the best things to do this month.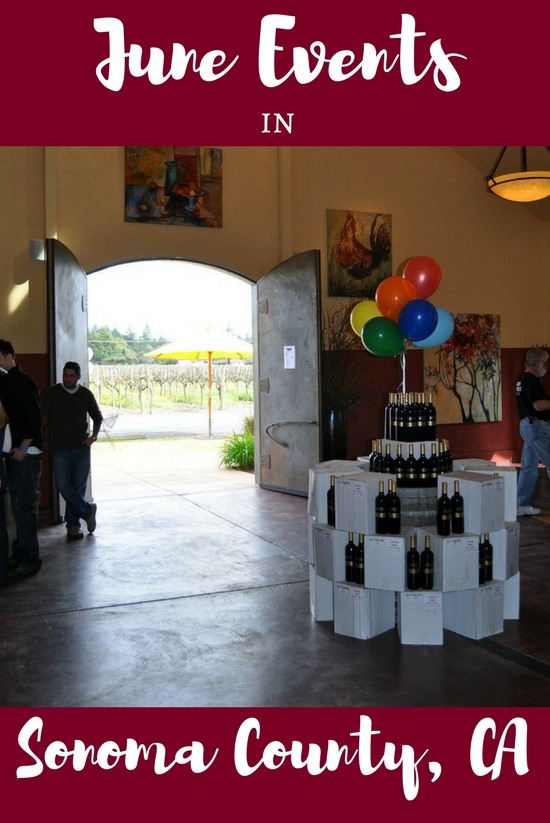 Disclaimer: I receive a small commission from some of the links on this page.

Healdsburg Jazz Festival

Dates: 5/29 - 6/7
One of the top Sonoma events in June is the Healdsburg Jazz Festival. This 10-day event features top jazz performers from across the country and from around the world. In addition, this event features everything from swing to Latin style jazz bands.
Located in the heart of the wine country, in the little town of Healdsburg, you can experience masterfully played music, taste award winning wines, and eat at top-rated restaurants all in the same area. While the Raven Theater is one of the main venues, you will find bands playing at some of the restaurants and hotels in town, so you can experience the scene up close and personally.
The festival also supports teaching local kids about jazz music with a four-day seminar every year. This is taught at 6 different schools in Sonoma County and your tickets help support these much-needed classes and learning experience.
Sonoma County Pride

Dates: 6/5 - 6/7
This year marks more than 30 years of celebrating Pride and supporting the LGBTQ Community in Sonoma County. This large celebration kicks off on Friday with a live concert at the Graton Resort and Casino. Other highlights this weekend include a Day at the River with canoes, an LGBTQ history exhibit, nightly dance parties, and more in the cute city of Guerneville.
Saturday is the LGBTQ Solidarity Rally and Sunday starts with the main event, the Unity March and Pride Parade in downtown Guerneville which starts at 11 am. After the parade ends, the Unity and Pride Festival begins which includes drinks, food and vendors selling their best wares.
Petaluma Drinks!

Date: TBD
One of the top Sonoma events in June is Petaluma Drinks! This two-day event offers you the chance to sample the best local wine, beer, cider and other beverage producers. With your ticket, you can sample beverages at the tasting rooms around Petaluma. Some will also offer special deals if you want to take something home with you.
The event begins on Saturday morning at 10am. You will check in at the parking lot at the Petaluma Visitors Center (alternative rides around town are encouraged). Drinks are available from 11am to 4pm both days.
Sonoma County Wine Events

In addition to the larger Sonoma events in June on our calendar, you will also find several smaller wine tasting parties at the wineries. These events are open to the public and wine club members.
Benziger Family Winery: Tribute to Dad Weekend (6/20 & 6/21), free tasting at the main bar for all fathers from 10am to 5pm
Cast Wines: Leon Day Celebration (6/20), Celebration the halfway point to Christmas (leon is noel backwards), they will team up the the Humane Society and invite Santa along for photo opportunities, 12 pm to 4 pm
Cline Family Cellars: Family Day on the Great Lawn (6/28), fun complimentary family portraits, buy food from a local food truck or bring your own, free event, reservations needed for groups of 8 or more, weather permitting only from 11 am to 4 pm
Cline Family Cellars: Taco & Wine Pairing (6/6), spend the day enjoy tacos paired with your favorite Cline wines
Dutton-Goldfield: Library Pinot Noir Feature (6/13), take a peek inside the DG Library and sample some of their featured wines for the weekend, these wines won't last long so make sure to stop by as early in the day as you can, 10 am to 4:30 pm
Dutton-Goldfield: Father's Day Weekend - Dad's Favorite Pinots (6/20), find the perfect wines for your summer cookouts and the 4th of July holiday
Emeritus: Pups & Pinots (6/20), sip on some Pinot and adopt a puppy, Dogma Animal Rescue will be on hand with some of their rescued pups and it will be an entire day filled with wine, pups, and fun, from 12 noon to 3 pm
Gary Farrell Winery: SOMM SERIES Blending Class "Blend like a winemaker" (6/21), learn about winemaking and blend your own wines with their estate sommelier, earn a prize for the best blend, limited to 16 guests total, $55 per person and $35 for club members, starts at 10:30 am
Gloria Ferrer Caves & Vineyards: Father's Day Bubbles, Brews & BBQ (6/21), grilled treats, cold beer, and Gloria Ferrer's famous wines, runs from 12 pm to 2 pm, prices are $80 for adults, $45 for kids
Imagery Estate Wines: Father's Day Weekend at Imagery (6/20 & 6/21) with complimentary tastings all weekend long for dear ol' Dad from 10 am to 5:30 pm
Kokomo Winery: Birds & Bubbles, Lunch in the Vineyard (6/19), quiet vineyard location for lunch with Backyard Restaurant's famous mouth watering fried chicken paired with their Sparkling Blanc de Blancs, 12pm to 3pm, $75 general public and $65 for club members
KORBEL Champagne Cellars: Father's Day Festivities Under the Redwoods (6/21) Take dad out and let him check out all the coolest Korbel Racing Team cars, giveaways, live music, oysters, and specials starting from 10 am until 5 pm, no reservations required
KORBEL Champagne Cellars: 4th Annual Bubbles & Bags Cornhole Tournament (6/27), grab some champagne and get ready to compete at this cornhole event. Prizes, BBQ, wine and champagne starting at 12 noon, $65 for general admission and $55 for club members
Lambert Bridge: Chef's Table Series (6/18 & 6/19), wine and food pairing event with dishes made by a local Sonoma chef, 12pm to 2pm, $95 for members, $125 per person for non-members
Martinelli Winery & Vineyards: Dinner with the Farmers (6/27), once a year chance to talk to the farmers about their experiences in the vineyards with a multi-course dinner paired with library and current vintage wines
Martorana Family Winery: Lobster Feast (6/20), Martorana wines paired with Maine lobster, enjoy the release of two of their wines: 2018 Sauvignon Blanc and 2018 Rose of Zinfandel, $145 for general admission and $125 for wine club members, Time is To Be Decided
2019

B.R. Cohn Winery & Olive Oil Company: B.R. Cohn Summer Jam '19 (6/8), Live music, 2 glasses of wine, food truck lunch, ice cream, and more beginning at 11:30 am to 3 pm, $40 for general admission, $25 for club members
D'Argenzio Winery: Comedy Night (6/21), live comedy, food, wine and laughs, doors open at 7:15 pm and comedy starts at 8 pm, $15 general admission, $10 club members, RSVP is suggested and 21+ only
Ferrari-Carano Vineyards & Winery: Duskie Estes & John Stewart's Food Truck Pop Up (6/22), fantastic food truck to eat, live music by local artist Steve Pile, wine by the glass, 11 am to 4 pm
Foppiano Vineyards: Paws for Love (6/2), wine tasting, keepsake wine glass, dog treats, lunch available, wine and dog adoptions, 11 am to 4 pm, admission donation of $25
Francis Ford Coppola Winery: Dancing Under The Stars (6/29), salsa dancing, food, wine and more on the outdoor pavilion, salsa lessons start at 6:30 until 7 pm, 7 pm to 10 pm has live music, lessons taught by Santa Rosa Salsa, $39 per person
J. Rickards Winery: Open Barn (6/15), annual summer party, smoked pork taco bar, wines, and live music, ticket includes lunch and full wine tasting, 11 am to 4 pm, $30 per person
Larson Family Winery: Father's Day (6/16), Club member dads will receive a free glass of wine, members can enter to win dad NASCAR tickets
Larson Family Winery: Member Three Lab Vineyard Walk (6/9), Walk through the vineyards with your happy pup along with the Larson family's three labs
Longboard Vineyards: Expression Session Seminar (TBD), learn about and try different vintages, varieties, and more, hands on blending, from 12 noon to 3 pm
Moshin Vineyards: 30th Oysters and Bubbly on the Crushpad (6/2), enjoy wine paired with food on the winery crush pad area, from 4 pm to 6 pm, non-member tickets are $45 and members are $35
Mutt Lynch Winery: National Rose Day (6/8), enjoy rose wines, small bites, from noon to 4 pm, $10 for food which is waived for club members
Pech Merle Winery: Brisket & Black Labels (6/8), 1920's Prohibition Party so make sure to wear your best 20's costume, 6pm to 9pm, general admission $80 and wine club members are $85
Red Car Wine: Wine Tasting & Painting (6/1), drink a flight of four Red Car Wines as you are taught to paint using wine by Elysia Meyers, 11 am to 2 pm, $55 per person and all supplies are included
Rodney Strong Vineyards: Summer Concert series featuring Alanis Morissette (6/22), she will perform her hits live at the winery, starts at 6 pm, tickets start at $99
Simi Winery: Sonoma Summer Soiree (6/22), drink paired with seasonal dishes prepared by the winery's executive chef, all food is from local merchants, includes cellar tour, from 1 pm to 4 pm, tickets are $45
Viansa Sonoma: Father's Day BBQ (6/16), Enjoy BBQ and wines and watch the views, no reservations required
Viszlay Vineyards: Pig Roast! (6/15), enjoy great wines paired with bbq, mac and cheese, and more as you listen to live music, seating is limited, from 3 to 6 pm, $50 per person
WALT Healdsburg: Bob's Ranch Release Party @ WALT Healdsburg (7/20), enjoy the release of their flagship Pinot Noir and Chardonnay wines paired with lobster in the vineyard and more, from 11 am to 2 pm, $135 for early bird tickets
Healdsburg Arts Festival

Dates: 6/26, 6/27, & 6/28
Spend the weekend in the Healdsburg Plaza for the annual Healdsburg Arts Festival. This event features fine art and crafts from no more than 60 artists. They limit the number of artists in order to provide the best experience and products possible. Other highlights for this festival include art demonstrations, interactive experiences, live music, food, and, of course, wine.
The event starts on Friday night from 5pm to 9:30pm and will run in conjunction with Art After Dark. On Saturday, the festival is open from 10am to 6pm and on Sunday from 10am to 3pm.
Huichica Music Festival

Dates: 6/12 & 6/13
The Huichica Music Festival has been entertaining fans since 2010. It is famous for having great music, great food, and since it is located at the Gundlach-Bundschu winery in the city of Sonoma, great wines too.
This two-day event starts at 3 pm on Friday with numerous musicians playing on 2 different stages and ends at 10:30 pm. Saturday starts at 11 am and doubles the stages to 4 and ends at 10:30 pm. This music event has over 20 bands that play throughout the festival. Some are well-known headliners while others may be smaller known of even local bands.
Beerfest: The Good One

Date: 6/6
The annual Beerfest: The Good One is another one of the top Sonoma events in June. For more than 25 years, this event has featured top local and national brewers at the Luther Burbank Center for the Arts just north of Santa Rosa. The event helps raise money for Face to Face, which is a charity devoted to ending HIV in Sonoma County.
It runs from 1pm to 5pm on Saturday afternoon.
North Coast Wine & Food Festival

Date: 6/13
Another one of the large Sonoma events in June is the North Coast Wine & Food Festival. This one day event is held in Rohnert Park and includes the option to sample up to 90 different wines. Unlike most wine and food festivals, the wines that are chosen are selected from many different appellations including Sonoma county, Napa county and lesser known ones such as Mendocino County or Lake County.
More than 20 different chefs will also be on hand and you will get the chance to taste their delicious creations. The event also features live music all day long. It runs from 1 pm to 4 pm
Railroad Square Music Festival

Date: TBD
The Railroad Square Music Festival is a fun afternoon of free music in Santa Rosa. The event is in Santa Rosa's Railroad Square and runs from Noon to 7pm. The event is hosted by The North Bay Hootenanny and sponsored by many local businesses.
Healdsburg Art Food Wine

Dates: TBD
Healdsburg Art Food Wine is an annual event showcasing art from Sonoma County as well as both national and international artists. Events take place in galleries around town. You will also find several other events around Healdsburg such as wine tasting and culinary activities.
All proceeds for the event benefit the Healdsburg Center for the Arts.
Country Summer Music Festival

Dates: 6/19-6/21
One of the biggest live music Sonoma events in June is the Country Summer Music Festival. For three-days, watch the hottest country performers on stage at the Sonoma County Fairgrounds in Santa Rosa. Headliners this year include Tim McGraw, Old Dominion, and Jake Owen.
Tickets are on sale now for each day or you can buy a pass for all three. Camping is allowed at the fairgrounds either in tents or RVs. Additional rules and tickets are required for those camping during this event.
>> Visit their site for tickets and additional details
Broadway Under the Stars

Dates: 6/12 - 7/5
This month's Broadway Under the Stars at Jack London State Historic Park in Glen Ellen. This month's show is called Chicago. It's a song and dance extravaganza that celebrates some of the best songs and shows ever written. This is one of the Sonoma events in June that runs most Friday, Saturday and Sunday nights from June 12 - July 5.
Hotel Deals for Your Sonoma Stay

The best way to experience these Sonoma events in June and this beautiful wine country is to spend a night or two. Click the links below for the best deals all around the county.

Booking.com: Save on your Hotel in Sonoma with Booking.com, Planet Earth's #1 Accommodation Site. No booking fees ever!
TripAdvisor: What's the #1 hotel in Sonoma County? Read reviews & find hotel deals on TripAdvisor!
Cotati Music Festival

Date: TBD
La Plaza Park in downtown Cotati is the place for this year's Cotati Music Festival. Spend the afternoon listening to a variety of artists from Noon to 6pm. In addition to music, you can also enjoy local beers, wine, and food. Artists will also be on hand to show their latest creation.
This is one of the Sonoma events in June this is free. Make sure to stick around after the event to enjoy a night out on the town in downtown Cotati!
Wine Tasting Deals at Local Sonoma Wineries

If you plan to check out a few wineries while you are here, check out these great wine tasting deals on Groupon for your stay.

Battaglini Winery & Vineyard: $5 Buys You a Coupon for $5 Off a Wine Tasting for Two Plus 20% Off a Bottle of Wine, near Santa Rosa, check for availability
Harvest Moon Estate And Winery: Save up to 40% off wine and cheese tasting plates for one, two or four people, near Santa Rosa, check for availability
Williamson Wines: Wine and Food Pairing for Two or Four at Williamson Wines in Healdsburg (Up to 48% Off), check for deal availability

*Note: Most deals last for 120 days after purchase, so make sure to check the exact terms before purchasing.

Sonoma Marin Fair

Dates: 6/24 - 6/28
The Sonoma Marin Fair is a great place to learn more about and sample the wonderful agriculture from these two Northern California counties. The fair includes wine tasting, livestock shows, and the Worlds Ugliest Dog competition. In addition, there are carnival rides and live concerts each night.
Your ticket includes admission for the full day as well as unlimited carnival rides and entrance to that night's concert. The fair is held at the Petaluma Fairgrounds and Speedway.
Experience Alexander Valley

Dates: 6/27 & 6/28
Two-day wine festival celebrating the wines of the Alexander Valley in Sonoma. Each ticket offers an experience with a small group of people where you will learn about the wines, experience them, and share your thoughts. This is one of the best Sonoma events in June for Cabernet Sauvignon lovers!
There is a morning (10am) and afternoon (2pm) session each day. All four are limited to just 20 people, so get your tickets today!
Events at the Luther Burbank Center for the Arts

Another place to find top Sonoma events in June is in Santa Rosa at the Luther Burbank Center for the Arts. Here is their schedule of performances this month.

Giro Bello

Date: 6/27
Another one of the fun Sonoma events in June is the Giro Bello. This bike race offers three route through some of Sonoma County's most beautiful areas. The three routes include the Century (100.9 miles with 5,168 feet of climbing), the Metric Century (66.8 mile with 2,406 feet of climbing) and the Family Fun Route (27.6 miles with 896 miles of climbing).
>> Visit their site to register and learn more about this year's routes
Taste Route 116 - Grill 116

Date: TBD
Spend the day sampling wine and enjoying BBQ along Route 116. The route includes 11 wineries all within 12 miles of each other. The Russian River wineries along this route include places such as Dutton Estate, HANNA, Balletto, Hook & Ladder, and Russian River Winery.
Tickets to this year's event includes a wine tasting pass for the entire day. The event runs from 11am to 4pm and includes one logo wine glass per ticket.
More Fun Activities in Sonoma in June

There is so much to see and do in Sonoma. In addition to these Sonoma events in June, here are a few additional fun activities for your stay.

Hot Air Balloon Ride: Admire Sonoma County from above on a Hot Air Balloon Ride, you will spend an hour cruising high above the vineyards as you learn more about the region, the entire experience is about 3 to 4 hours with set up, an hour in the balloon, landing and deflation, and a champagne toast to celebrate the day, find discount availability for this tour on Groupon
Sonoma Food Tour: Sample some of Sonoma's tastiest dishes on this 3-hour food walking tour around the Sonoma Square, it will include tastes at up to seven stops, tours are available Tuesday - Saturday and start at 11am, find discount availability on Groupon
*Note: Most Groupon deals last for 120 days after purchase, so make sure to check the exact terms before purchasing.

BACK TO TOP