Sonoma Events in June 2018
Festivals, Wine Tasting Parties, & More
Sonoma events in June 2018 include street fairs, beer festivals and wine tasting activities. Highlights include the Healdsburg Jazz Festival, Sonoma County Pride, and the Hot Air Balloon Classic.
You will find fun activities in Healdsburg, Santa Rosa, and other towns all around this Northern California wine region. Read on for details on the best things to do this month.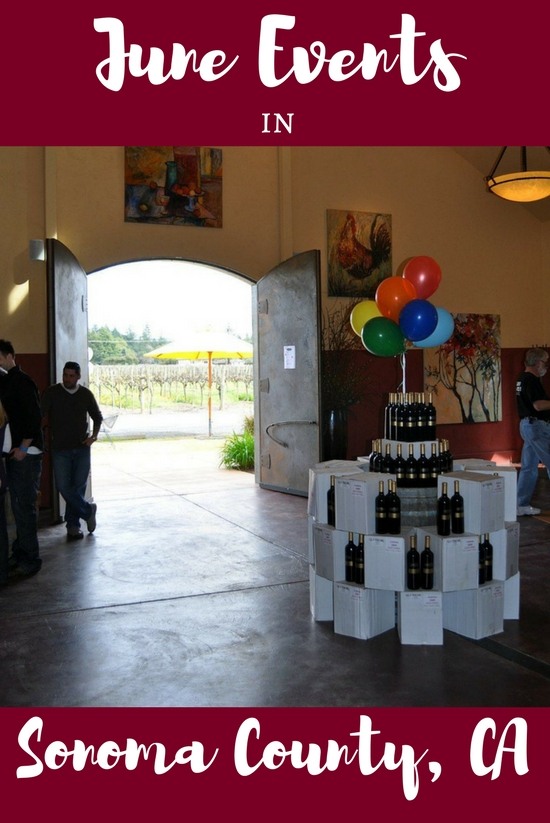 For some of the links on this page, I receive a small commission when you purchase. You don't pay more when you buy through me and it gives me the chance to offer you all this great content for free!
Sonoma Historic Motorsports Festival
Dates: 5/31-6/3
Get in on the action of this year's Sonoma Historic Motorsports Festival. This four-day event features historic cars as they race around the track. This year will feature the super sporty 1960s while also including cars from WWII and up to today. Some of the cars you may see include Ferraris, Corvettes, Alfa-Romeos, Bugattis and many others.
Saturday is a really special day during this event. This is when a selection of race cars, under a California Highway Patrol escort cruise up to Sonoma, and have a public viewing for all to see.
Tickets are priced between $10-$60 dollars per day. Children 12 and under are free.
Healdsburg Jazz Festival
Dates: 6/1 - 6/10
One of the top Sonoma events in June is the Healdsburg Jazz Festival. This 10-day event features top jazz performers from across the county and from around the world. In addition, this event features everything from swing to Latin style jazz bands.
Located in the heart of the wine country, in the little town of Healdsburg, you can experience masterfully played music, taste award winning wines, and eat at top-rated restaurants all in the same area. While the Raven Theater is one of the main venues, you will find bands playing at some of the restaurants and hotels in town, so you can experience the scene up close and personally.
The festival also supports teaching local kids about jazz music with a four-day seminar every year. This is taught at 6 different schools in Sonoma County and your tickets help support these much-needed classes and learning experience.
Sonoma County Pride
Dates: 6/1 - 6/3
This year marks more than 30 years of celebrating Pride and supporting the LGBTQ Community in Sonoma County. This large celebration kicks off on Friday with a live concert at the Graton Resort and Casino. Other highlights this weekend include a Day at the River with canoes, an LGTBQ history exhibit, nightly dance parties, and more in the cute city of Guerneville.
Saturday is the LGBTQ Solidarity Rally and Sunday starts with the main event, the Unity March and Pride Parade in downtown Guerneville which starts at 11 am. After the parade ends, the Unity and Pride Festival begins which includes drinks, food and vendors selling their best wares.
Sonoma County Wine Events
In addition to the larger Sonoma events in June on our calendar, you will also find several smaller wine tasting parties at the wineries. These events are open to the public and wine club members.
Benziger Family Winery: Tribute to Dear Ol' Dad (6/16 & 6/17)
Cast Wines: Lobster Fest (6/24), each person will enjoy lobster, shrimp, corn on the cob, and more, sample the release of their Chardonnay
Chateau Diana: Celebrate Dad (6/17) on his special day with a picnic at Chateau Diana, bring along your own picnic lunch, reservations for picnic tables required
Clos du Bois: Celebrate Dad (6/17), enjoy a BBQ and a glass of wine, bring the family for family friendly games on the lawn, $20 per person, $10 for wine club members
Dry Creek Vineyard: Summer of Zin Concert (6/23), spend the day listening to the Sun Kings, the Bay Area's premier Beatles cover band, sample wines and food throughout the day, gates open at noon and the concert begins at 1pm, $40 per person, $30 for wine club members
Gloria Ferrer Caves & Vineyards: Father's Day Bubbles, Brews & BBQ (6/17), grilled treats, cold beer, and Gloria Ferrers famous wines, 12pm to 2pm
Jordan Wines: Sunset Supper at Vista Point (6/30), evening starts with a reception, guests are then chauffeured to Vista Point for an open air 3-course meal at the highest point on the estate, 5:30pm to 8:30pm
Kokomo Wines: Birds & Bubbles (6/22), 12pm to 3pm, fried chicken lunch with sparkling wine in their Timber Crest Vineyards
Korbel Champagne Cellars: 3rd Annual Bubbles & Bags Cornhole Tournament (6/30), teams compete for prizes, enjoy a BBQ lunch, sample Korbel's sparking wine, and live music after the event
Kunde Family Wines: Hike & Taste in the Vineyards (6/23), hike around the Kunde property and vineyards as you learn more about and sample their wines, starts at 9am and includes some wine tasting, bring along your own lunch, reservations required
Imagery Estate Wines: Fete En Blanc (6/2), annual white party and Father's Day at Imagery (6/17) with complimentary tastings all weekend long for dear ol' Dad
Lambert Bridge: Chef's Table Series (6/28 & 6/29), wine and food pairing event with dishes made by a local Sonoma chef, 12pm to 2pm, $95 for members, $125 per person for non-members
Martinelli Winery & Vineyards: Zio Tony Ranch Dinner (6/30), enjoy an evening at the winery with food prepared by a local Sonoma chef, reception starts at 6pm, dinner at 7pm, reservations required
Mayo Family Winery: Oysters & Bubbles (6/10), sample three of their sparkling wines as you enjoy raw and barbecue oysters
Pech Merle Winery: Brisket & Black Labels (6/9), 1920's Prohibition Party so make sure to wear your best 20's costume, 6pm to 9pm
Soda Rock Winery: Dads and Cabs Event (6/17), 12pm to 3pm
Truett Hurst Winery: Stop by the tasting room for a special treat for all dads on Father's Day (6/17) from 11am to 4pm
Huichica Music Festival
Dates: 6/8 & 6/9
The Huichica Music Festival has been entertaining fans since 2010. It is famous for having great music, great food, and since it is located at the Gundlach-Bundschu winery in the city of Sonoma, great wines too.
This two-day event starts at 3 pm on Friday with numerous musicians playing on 2 different stages and ends at 10:30 pm. Saturday starts at 11 am and doubles the stages to 4 and ends at 10:30 pm. This music event has over 20 bands that play throughout the festival. Some are well-known headliners while others may be smaller known of even local bands.
Sonoma County Hot Air Balloon Classic
Dates: 6/9 & 6/10
If you want to get up, and I mean WAY UP, you should visit the Sonoma County Hot Air Balloon Classic in Windsor. This two day event starts with the Dawn Patrol at 5 am where the hot air balloons are lit up before the sun rises. To help you wake up, the food booths open at 4am with a variety of coffee and food options. The craft booths and kids' area also open at 4 am.
If 5 am is too early, the Main Launch starts at 6:30 am and over 30 fun and exotic balloons take to the sky. Some of these balloons include Yoda, Darth Vader, a life like fish, Tweety Bird, and others. Lastly, if you want to see the world from a different viewpoint, they give tethered balloon rides from 6 am to 10:30 am.

Chairs and blankets are suggested as the grass may be wet from the morning dew.
Beerfest: The Good One
Date: 6/9
The annual Beerfest: The Good One is another one of the top Sonoma events in June. For more than 25 years, this event has featured top local and national brewers at the Luther Burbank Center for the Arts just north of Santa Rosa. The event helps raise money for Face to Face, which is a charity devoted to ending HIV in Sonoma County.
It runs from 1pm to 5pm on Saturday afternoon.
North Coast Wine & Food Festival
Date: 6/9
Another one of the large Sonoma events in June is the North Coast Wine & Food Festival. This one day event is held in Rohnert Park and includes the option to sample up to 90 different wines. Unlike most wine and food festivals, the wines that are chosen are selected from many different appellations including Sonoma county, Napa county and lesser known ones such as Mendocino County or Lake County.
More than 20 different chefs will also be on hand and you will get the chance to taste their delicious creations. The event also features live music all day long.
Railroad Square Music Festival
Date: 6/10
The Railroad Square Music Festival is a fun afternoon of free music in Santa Rosa. The event is in Santa Rosa's Railroad Square and runs from Noon to 7pm. The event is hosted by The North Bay Hootenanny and sponsored by many local businesses.
Broadway Under the Stars
Dates: 6/16 - 7/2
This month's Broadway Under the Stars at Jack London State Historic Park in Glen Ellen. This month's show is called Stairway to Paradise. It's a song and dance extravaganza that celebrates some of the best songs and shows ever written. This is one of the Sonoma events in June that runs most Friday, Saturday and Sunday nights from June 15 - July 1.
Hotel Deals for Your Sonoma Stay
The best way to experience these Sonoma events in June and this beautiful wine country is to spend a night or two. Click the links below for the best deals all around the county.
Booking.com: Save on your Hotel in Sonoma with Booking.com, Planet Earth's #1 Accommodation Site. No booking fees ever!
TripAdvisor: What's the #1 hotel in Sonoma County? Read reviews & find hotel deals on TripAdvisor!
Sonoma Events in June: Country Summer
Dates: 6/15 - 6/17
One of the interesting Sonoma events in June is the boot kickin', cowboy hat wearin', honky-tonk playin' Country Summer Festival. With 15 or more performers, this festival is the largest country music festivals in Northern California.

This three-day event is located at the 5-acre Sonoma County Fairgrounds in Santa Rosa. Each year, it draws in more than 30,000 attendees. In addition to music, this event also features food stands, themed attractions, and a large selection ranging from beer to wine to spirits.
Cotati Jazz Festival
Date: 6/16
La Plaza Park in downtown Cotati is the place for this year's Cotati Jazz Festival. Spend the afternoon listening to a variety of artists from Noon to 6pm. In addition to music, you can also enjoy local beers, wine, and food. Artists will also be on hand to show their latest creation.
This is one of the Sonoma events in June this is free. Make sure to stick around after the event to enjoy a night out on the town in downtown Cotati!
Wine Tasting Deals at Local Sonoma Wineries
If you plan to check out a few wineries while you are here, check out these great wine tasting deals on Groupon for your stay.
Dry Creek Vineyard: Wine Tasting with Optional Private Tasting and Tour for One or Two, up to 42% off, located north of Healdsburg in Dry Creek Valley, check for availability


Family Wineries Dry Creek: Wine Tasting for Two or Four, up to 71% off in Healdsburg, check for availability


Battaglini Winery & Vineyard: $5 Buys You a Coupon for $5 Off a Wine Tasting for Two Plus 20% Off a Bottle of Wine, near Santa Rosa, check for availability
*Note: Most deals last for 120 days after purchase, so make sure to check the exact terms before purchasing.
Sonoma Marin Fair
Dates: 6/20 - 6/24
The Sonoma Marin Fair is a great place to learn more about and sample the wonderful agriculture from these two Northern California counties. The fair includes wine tasting, livestock shows, and the Worlds Ugliest Dog competition. In addition, there are carnival rides and live concerts each night.
Your ticket includes admission for the full day as well as unlimited carnival rides and entrance to that night's concert. The fair is held at the Petaluma Fair Grounds and Speedway.
Toyota/Save Mart NASCAR Sprint Cup Series
Dates: 6/22 - 6/24
The Toyota/Save Mart 350 is revving up as one of the last big Sonoma events in June. This event is held at the Sonoma Motorsports racetrack and lasts for three days of fun, food, drinks, and full on pedal to the metal speed. Not only are there great races, with lots of cars, but there is an air show on Sunday.
It is a family friendly event with special sections and events, like the autograph area, that are just for kids. There are also stunt planes that always electrifies the crowd and other events that the whole family will enjoy and can participate in throughout the weekend.
Experience Alexander Valley
Dates: 6/23 & 6/24
Two-day wine festival celebrating the wines of the Alexander Valley in Sonoma. Each ticket offers an experience with a small group of people where you will learn about the wines, experience them, and share your thoughts. This is one of the best Sonoma events in June for Cabernet Sauvignon lovers!
There is a morning (10am) and afternoon (2pm) session each day. All four are limited to just 24 people, so get your tickets today!
Giro Bello
Date: 6/23
Another one of the fun Sonoma events in June is the Giro Bello. This bike race offers three route through some of Sonoma County's most beautiful areas. The three routes include the Century (100.9 miles with 5,168 feet of climbing), the Metric Century (66.8 mile with 2,406 feet of climbing) and the Family Fun Route (27.6 miles with 896 miles of climbing).
>> Visit their site to register and learn more about this year's routes
Grill 116
Date: 6/23
Spend the day sampling wine and enjoying BBQ along Route 116. The route includes 11 wineries all within 12 miles of each other. The Russian River wineries along this route include places such as Dutton Estate, HANNA, Balletto, Hook & Ladder, and Russian River Winery.
Tickets to this year's event includes a wine tasting pass for the entire day. The event runs from 11am to 4pm and includes one logo wine glass per ticket.
All American Zin Day 2018
Date: 6/30
If you love Zinfandel as much as I do, you are going to love the first event on my calendar. All American Zin Day features tasty local Zinfandel wines from producers in the Dry Creek Valley.
Wineries participating this year include Kokomo, Mazzocco-Sonoma, Rued, Wilson and Family Wineries Dry Creek Cooperative. All inclusive at $60 for the day, you can enjoy tasty treats at each of these wineries as well as more than a dozen different Zinfandel wines.
More Fun Activities in Sonoma in June
There is so much to see and do in Sonoma. In addition to these Sonoma events in June, here are a few additional fun activities for your stay.
Hot Air Balloon Ride: Admire Sonoma County from above on a Hot Air Balloon Ride, you will spend an hour cruising high above the vineyards as you learn more about the region, the entire experience is about 3 to 4 hours with set up, an hour in the balloon, landing and deflation, and a champagne toast to celebrate the day, find discount availability for this tour on Groupon


Sonoma Food Tour: Sample some of Sonoma's tastiest dishes on this 3-hour food walking tour around the Sonoma Square, it will include tastes at up to seven stops, tours are available Tuesday - Saturday and start at 11am, find discount availability on Groupon


Electric Bike Tour in Sonoma: Enjoy a day wine tasting on a "pedal assist" bike near Healdsburg, during the tour you will ride around 8 to 17 miles, but your electric bike will make it easier to get around, stop by 3 to 4 wineries, learn more about each one and eat a gourmet picnic lunch at one of them as well, leaves daily at 10am, tasting fees not included, find availability for this tour on Viator
*Note: Most Groupon deals last for 120 days after purchase, so make sure to check the exact terms before purchasing.
Additional Tips to Help You Plan Your Visit