Sonoma Events in July 2023: Wine Tasting, Festivals, and Other Fun Things to Do

by Jill Loeffler  •

Updated: May 4, 2023
Sonoma events in July 2023 include several Fourth of July celebrations and fireworks displays, outdoor summer concerts, and several festivals. My calendar includes events in towns north of San Francisco such as Healdsburg, Santa Rosa, and Petaluma.

Highlights this month include All American Zin Day, Gay Wine Weekend, and NHRA Toyota Sonoma Nationals. Read on for details about these and other fun things to do this month all around Sonoma.

Disclaimer: I receive a small commission from some of the links on this page.

Fourth of July in Sonoma 2023

Some of the biggest Sonoma events in July include celebrating the Fourth of July holiday. Here are just a few of the top places for festivals, parades, and fireworks this year.
Cloverdale (TBD): Fireworks start at 9 pm over the Cloverdale High School Football field.

Healdsburg: The always fun Kiddie Parade & Duck Dash at the Healdsburg Plaza from 10 am to 1 pm and Fireworks display at around 9 pm at the Healdsburg High School Athletic Field.

Kenwood (TBD): The day starts with a pancake breakfast from 7 am to 10:30 am, 10k & 3k race at 7:30 am, parade at 10:30 am at Kenwood Park Plaza, and Rotary Club BBQ & Family Fun event starting at 11:30 am.
Santa Rosa (TBD): Red, White & Boom featuring live music and fireworks to end the day, runs from 3:30 pm to 10 pm, find tickets on their site.

Sebastopol: July 3rd Fireworks & Music Festival, music starts at 6:15 pm, fireworks display at 9:40pm. Located at the West County High School Football Field, admission is $15 for adults, $5 for kids, 5 and under free
Sonoma: Fourth of July on the Plaza starts at 10 am with a parade, all day of music, fun, and food, and ends at dusk with a fireworks display that lasts for about 45 minutes.
>> More SF Bay Area Fourth of July celebrations
Discounts on Sonoma County Hotels

If you plan to stay in the area for these great Sonoma events in July, make sure to click the links below for great deals all around wine country.

Booking.com: Save on your Hotel in Sonoma with Booking.com, Planet Earth's #1 Accommodation Site. No booking fees ever!
TripAdvisor: What's the #1 hotel in Sonoma County? Read reviews & find hotel deals on TripAdvisor!
VRBO: You can also find some great places to stay on VRBO. They offer apartments, houses, cottages, and rooms for rent all around Sonoma County. Find some great places to stay here. 
Giro Vigneti Healdsburg Bicycle Tour
Date:  7/22
Healdsburg is known for fantastic hotels, amazing meals, and world class wines, but it is also known for one of the best bicycle rides in the world. There are many options for you to choose from; the rides start at 25 miles, progress to 39.1 and 59.6 and max out at 82.5 miles. 
One of the reasons that this is one of the most popular Sonoma events in July is that you get to cruise through the beautiful wine area, but moreover you get a glass of wine when you finish the ride. Your registration also includes fruit and baked good for breakfast, snacks and water at rest stops, a catered lunch, and best of all, a special Healdsburg Bicycle Tour bandana with a map of all three courses!
All four distances have the same price so you can choose which distance you want to ride on the day of the event! Healdsburg is usually quite busy during the spring so make sure to plan and book this cycling tour and your lodging in advance.
Rodney Strong Vineyards Summer Concerts

Date: 7/15 & 7/30
This winery offers a beautifully expansive concert green where outdoor summer concerts are held each year. Grab your chairs and blankets and head to Rodney Strong Vineyards in Healdsburg.
This July, you will find two concerts. The Wood Brothers and ZZ Ward play on Saturday, July 15. Chris Isaak takes the stage on Sunday, July 30. Doors open at 4 pm. The opener starts at 5 pm. 
Sonoma County Wine Events in July 2023

Are you looking for a full list of the best Sonoma events in July at local wineries? These events offer you the chance to celebrate summer with wine tastings, food pairings, hikes, and so much more.
Amista Vineyards (7/8): Rose All Day Cocktail Party, from 5:30 pm to 7:30 pm, live music, hors d'oeuvres and lots of rose and sparkling wines
Amphora Wines (7/15): Paella Party, from 5 pm to 8 pm, enjoy paella paired with their Tempranillo and other wines (vegetarian options available)
Buena Vista Winery (7/30): Nuit Blanche Brunch
DeLoach Vineyards (7/15): Franco-American Winemaker Dinner
Dry Creek Vineyards (7/8): Midsummer Night's Dance Party, live music, wine, and outdoor dance party with food from local vendors
Emeritus Vineyards (7/15): Winemaker Dinner from 5:30 pm to 8 pm
Gloria Ferrer (7/17): Pig Roast in Carneros, from 4 pm to 6 pm, five different styles of roasted pig paired with their Pinot Noir
J. Richards Winery (7/22): Bottle Your Own Wine! from 11 am to 4 pm, owner Jim Rickards will teach you how to blend wine
Jacuzzi Wines (7/9): Handmade Pasta 101, learn how to make pasta and enjoy a wine paired lunch with Jacuzzi Wines' chef
Jordan Winery (7/22): Starlight Supper with Smile Train, from 5:30 pm to 9 pm, enjoy a five-course meal paired with their wine on the winery terrace
La Crema (7/14 - 7/16): Out in The Vineyard - Gay Wine Weekend, 3 days of fun, dancing, food, wonderful wines, and special events to celebrate PRIDE and equality
Lambert Bridge (7/14): Summer Sundowner Series, from 4:30 pm to 7 pm, live music, pizza and wines in their garden
Landmark Vineyards (7/15): Pig, Pizza & Pinot, from 12 pm (noon) to 4 pm, drink special chosen wines while you eat pizza and roasted pig and listen to live music
Medlock Ames (7/30): Backyard Nights, Live Music & Food Truck from 5 pm to 7 pm, live music, wine and food
Papapietro Perry (7/8 & 7/29): Chardonnay & Lobster Dinner, from 6 pm to 8:30 pm, enjoy wine paired with lobster and more
Trione Vineyards & Winery (7/29): Winemaker Friday, meet winemaker John Duckett, tour the cellar and learn about wine as you enjoy them
Viansa (7/20): Viansa di Notte, from 6 pm to 8 pm, live music, light bites, and wine
Healdsburg Arts Festival
Dates: Will return in 2024
Spend the weekend in the Healdsburg Plaza for the annual Healdsburg Arts Festival. This event features fine art and crafts from no more than 60 artists. They limit the number of artists in order to provide the best experience and products possible. Other highlights for this festival include art demonstrations, interactive experiences, live music, food, and, of course, wine.
The event starts on Friday night from 5pm to 9:30pm and will run in conjunction with Art After Dark. On Saturday, the festival is open from 10am to 6pm and on Sunday from 10am to 3pm.
Petaluma Art & Garden Festival

Date: 7/9
Spend the day in Petaluma at their annual Art & Garden Festival. The event runs from 11 am to 5 pm and features local entertainment, gardeners, artisans, and crafters. This part of the event is free.
They will also be featuring a variety of wines, craft beers, food, and cocktails. You will need to buy a ticket to enjoy this part of the festival.
Gay Wine Weekend

Dates: 7/14 - 7/16
This year's Gay Wine Weekend is July 14 - July 16 in Sonoma County. This event offers 3 days of LGBT activities in Sonoma Valley.
Highlights of this weekend include winemaker dinners, wine tours, wine tasting, and so much fun!
>> Visit their site today for details
Petaluma Music Festival
Date: 7/29
Located at the Sonoma-Marin Fairgrounds, this event is jam packed with some of the best live music you can find anywhere.
With 14 bands, on 4 different stages, scattered around the fairgrounds, you will be able to enjoy music all day long as you eat some of the best food, and drink some the best beer and wine from around the north bay.
Gates open at 11:30 am, with music beginning at noon and ending at 9:30 pm. Some of the headliners include bands such as The English Beat, The Brothers Comatose, Royal Jelly Jive, and many more to rock your day away.
There is also a silent auction with donations from many businesses around the North Bay and San Francisco. Ticket prices depend on age, so check the link below for information.
>> Visit Eventbrite for ticketing information
Valley of the Moon Music Festival

Dates: 7/15 - 7/30
The Valley of the Moon Music Festival features chamber music from both the Classical and Romantic eras. It's the first and only music festival of its kind in the world.
All pieces are played with period instruments. This is one of the Sonoma events in July that is held at the Hanna Center in Sonoma.
>> Visit their site for more details
Napa Sonoma Half-Marathon

Date: 7/15 - 7/16
Run from Napa to Sonoma during this annual Wine Country Half-Marathon event. The race starts at Cuvaison Carneros Winery and finishes in the historic plaza in the city of Sonoma.
At the end of the race, enjoy a wine and music festival in the plaza. This event fills up quickly so head to their site to grab your spot today.
>> The Run Sip Napa to Sonoma Half Marathon website
Songwriters in Paradise: Healdsburg

Date: 7/18 - 7/22
Songwriters in Paradise is a boutique music festival created by Nashville artist Patrick Davis. Don't miss your opportunity to wine, dine, and mingle as you enjoy performances by some of the world's best songwriters in Healdsburg this summer.
The festival runs for four days, each night offering an "in the round" show of songwriting and storytelling between two to four of the artists in the lineup. Meanwhile, guests enjoy heavy appetizers and wine from select local wineries.
This is an exclusive event with just 100 four-day passes and 100 three-day passes, so reserve your tickets early!
>> For more information, visit their website

Broadway Under the Stars

Dates: 6/16 - 7/2 (other performances in June and August as well)
Broadway Under the Stars is one of the most popular summer Sonoma events. Held at Jack London State Historical Park, you will spend the evening outdoors as you enjoy a Broadway show performed by the Transcendence Theatre Company. 
Catch a performance at several times this summer in Sonoma. There are different tickets levels and choices so make sure to click the link below and find the ones that are best for you.
>> Visit their site for tickets
Rivertown Revival

Date: 7/22 & 7/23
Rivertown Revival is a chance to celebrate Petaluma. This one-day event includes music, boat races, local food & beer, and craft vendors.
There is also a great area for kids where they can show their creative side with hands on activities. Make sure to enter your boat in Grand Revival Riverboat Regatta for a chance to win up to $500!
More Fun Sonoma Events in July

In addition to all of these fun Sonoma events in July, make sure to check out these other fun activities this month.

Sonoma Wine Country Bike Tour: Ride through Sonoma Wine Country on this 4.5 hour tour, starts in Santa Rosa and takes you to visit two to three wineries, entire trip is about 16-miles (25.7 km), route is mostly flat, check for availability
Food & Wine Walking Tour: Walking and food tour of Sonoma which stops at several gourmet spots for tastings, check for availability
Wine Country Comedy Fest

Date: TBD

Hosted by the Crushers of Comedy and the Laugh Cellar, this annual event will take place at three different venues on three different evenings this year: the Meritage Resort & Spa in Napa, then Landmark Vineyards and Deerfield Ranch Winery in Sonoma.
This award-winning local event features great talent and laughter paired with wine in beautiful settings. 
>> Visit their site for more details and for ticketing information
Fort Ross Festival

Date: TBD
The final item on my Sonoma events in July calendar is the Fort Ross Festival. This one-day event celebrates the people that have called this area home for hundreds of years. It includes horse & buggy rides, hands-on crafts, and costumed historical vignettes.
You can also enjoy music and dancing as well as an International Food Bazaar. Plus, you won't want to miss out on the Fort Ross Beer Garden.
The cost is $20 per car and lasts from 10 am to 6:30 pm. You can buy tickets at the gate.
Live Music Outdoors Around Sonoma

One of the best Sonoma events in July is the outdoor summer concerts and live music. These are just a few places offering concerts this month around Sonoma.
Viansa: Every Saturday and Sunday from 11:30 am to 2:30 pm, Viansa provides free, live music on their estate. Grab some wine and a seat outside to enjoy the music. These concerts are free.
Windsor Town Green (6/1 - 8/31 - No concert 7/6): This city of Windsor offers free live music on Thursday nights from 5 pm to 8 pm.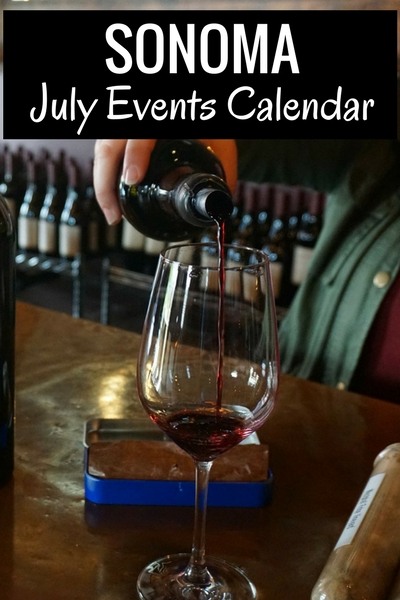 Comments? Questions? Suggestions?
I would love for you join me in my private Facebook group! 
It's a great place to interact with me and others that know the area well.
You can ask questions, get advice for your upcoming stay, and then share your photos and advice with others when you return home. It's a great community and the fastest way to get answers to those nagging questions about your visit!