Sonoma Events in April 2018
Wine Tasting, Festivals, and More
Sonoma events in April 2018 include the Battle of the Brews, Earth Day festivals, and Passport to Dry Creek Valley. You will also find plenty of wine tasting events at local wineries and a few other fun things to do this month.
Read on for details on the best activities in Sonoma this April.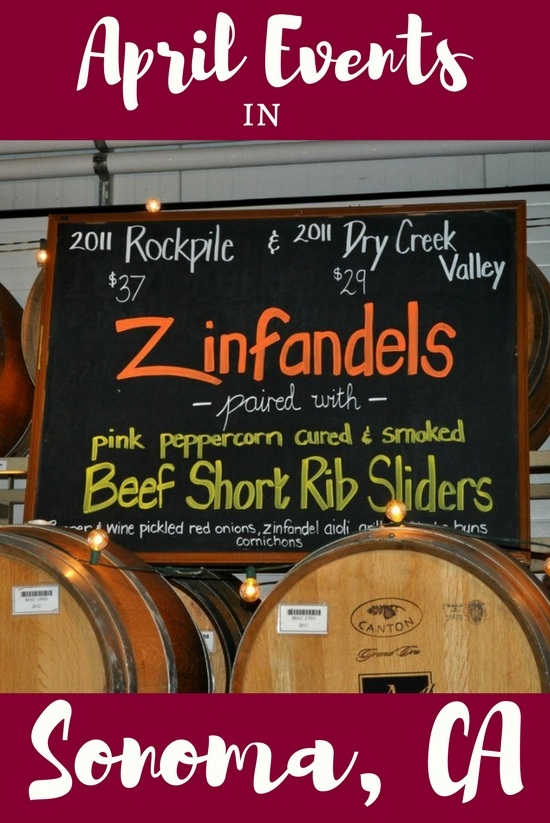 Disclaimer: I recieve a small commission from some of the links on this page.
North Bay Boat, RV & Sport Show
Dates: 4/20 - 4/22
The North Bay Boat, RV, & Sport Show is a large annual event. This 3-day event will give you the chance to check out some of the most innovative RVs, boats, trucks and toys as well as learning more about travel and other adventures you can explore each day of the show. There is also live entertainment every day.
It's one of the Sonoma events in April that offer you the chance to can check out bikes, shoes and all kinds of fun collectibles as you talk to the vendors and learn more about their wares. One of the specialties of this convention is that almost all the vendors allow you to be hands on and get a real feel of what you find enjoyable and fun. Kids under 12 are free.
Sonoma Events in April: Pick of the Vine
Date: 4/7
Pick of the Vine is one of the fun one-day Sonoma events in April where you can sample the best of Sonoma's wine and beer. The event will be held in Rohnert Park at the Doubletree Hilton. More than 30 wineries and craft breweries will be serving up their creations from 6pm to 9pm.
Proceeds from this event go to benefit the Senior Advocacy Service.
Sonoma County Wine Events in April
Every weekend, you will find a variety of fun wine tasting events at wineries all around Sonoma County. They include wine tasting, food pairing and even hikes around the vineyards.
These are smaller Sonoma events in April, yet very popular and are open to the public. You will also usually receive discounted ticket prices to the event if you are a member of the winery.
Bacigalupi: Pinot & Paella (4/28), two sessions, 11:30am to 1:30pm and 2pm to 4pm
Benziger Family Winery: Earth Day Weekend Hike & Wine Tasting (4/22), walk through the vineyards on this hour long hike, learn all about the vineyard and the winery, at the end you will sample some of their biodynamic wines
Buena Vista Winery: Spring Cleaning Event (4/14 & 4/15), this is not a party, but rather a chance to pick up some of Buena Vista Winery's wines at a great price, stop by anytime this weekend to find great deals, no RSVP required
Cline Family Cellars: Fig Rig (4/14), tasty bites from the girl and the fig in the tasting room from 11am to 3pm, enjoy Cline wines all afternoon long
Clos du Bois: Brushes and Barrel Event (4/28), show off your painting skills on a Clos du Bois barrell and sip a glass of wine, 11am to 4pm, price includes a barrel to paint on (it's empty and you get to take it with you), a glass of wine, and painting supplies
DeLoach Vineyards: Earth Day (4/22), celebrate Earth Day, with tours of the Theater of Nature, learn about their biodynamic farming process
Dutton Goldfield: Rose Release Party (4/21), sample their latest rose with small bite pairings
Emeritus Vineyards: Annual End of Frost Party (4/28), new releases and new vintages of the Ruby Red (rose wine), barrel tasting, food, and kids activities, $25 per person
J. Rickards Winery: Spring Cellar Tax Relief Celebration (4/14), stock up your cellar with discounted wine bundles from J. Rickards, enjoy spring bites with their new releases
Kendall-Jackson: Spring Wine & Gardening Symposium (4/14), fun and educational day at Kendall-Jackson, learn about growing edible plants for your kitchen, find out more about sustainability, table-side chats about other gardening topics, 11am to 2pm
Korbel: Flavors of Spring (4/21), visit their gardens on opening day, see areas that are not often visited, recieve a logo flute, small bites paired with their sparkling wines
Kunde Family Winery: Hike & Taste in the Vineyards (4/28), hike the vineyard with a long time employee as you learn more about Kinde's vineyards and the grapes they grow, at the end sample some of their wines
La Crema: Pink Party (4/8) at their Healdsburg Tasting Room, 11am to 4pm, Sunday afternoon Rose tasting and party, food, live music and the release of their newest Rose
Imagery Estate Winery: Gallery Days (4/15), stop by the winery to meet the artist behind the label of their 2015 Sangiovese and find out more about her inspiration for the design, buy a bottle or a print and have her sign it, 1pm to 3pm
Lambert Bridge: Chef's Table Series (4/19 & 4/20), fresh seasonal dishes created by local chefs paired with Lambert Bridge wines, 12pm to 2pm, $95 for members, $125 for non-members, make your reservations early as this is one of the very popular Sonoma events in April
Pech Merle Winery: Sauv Blanc & Ivy Rose Debut Party (4/21), 2017 release party with wine, oyster, and ceviche, 4pm to 6pm
Sonoma-Cutrer: Oysters on the Terrace (4/28), dinner, concert and wine, 5pm to 9pm
Valley of the Moon Winery: Bud Break BBQ (4/14)
Cloverdale Fiddle Festival
Dates: 4/7
The Cloverdale Fiddle Festival is a one day even that started as a way to spread the history, and love, of fiddling to anyone that enjoys it. In addition to listening to live music all afternoon long, this is one of the Sonoma events in April where you get the chance to watch as contestants complete against each other and a winner is selected at the end of the day.
Professional bands will also be on hand and playing throughout the event. Tickets are all general admission and children under 6 are free.
Occidental Fool's Day Parade
Date: 4/7
Head over to the Occidental Center for the Arts for the annual Occidental Fool's Day Parade. The laughs, and silliness, go on through the day as Zero the Clown presides over the parade and the king and queen are crowned along with Lunapillar rides!
This is one of the Sonoma events in April that also has a BBQ and other fun events throughout the festival. The proceeds go to benefit their art center, so it's a fun way to show your support. Activities run from 1pm to 3pm.
April Foolery
Date: 4/8
Head over to Congregation Ner Shalom (formerly the Cotati Caberet) for the annual April Foolery event. Enjoy 6 hours of local dance music. You can also participate in the costume contest. Top prizes are awarded to the Clashiest Costume and the Best Jester.
This festival starts at 2 pm and ends at 8 pm. There will be a raffle, door prizes and all proceeds go to support the annual Sonoma County Dance Beats annual calendar.
April Event Calendar for Santa Rosa
Click the links below for tickets to these Sonoma events in April 2018.
Battle of the Brews
Date: 4/7
Battle of the Brews is a one day event featuring 50 different food and beer vendors. All of them are trying to get your vote to win the People's Choice award. Sample and vote for your favorites. It's sponsored by the 20-30 Club of Santa Rosa and proceeds to to help the needy and disadvantaged kids in Sonoma County.
The event is located at the Grace Pavilion at the Sonoma County Fairgrounds in Santa Rosa. Tickets are available at varying locations, online and in person, and the event starts at 1 pm, so don't be late!
Taste of Olivet
Date: 4/14
Learn more and taste wines from the Olivet District in the Russian River Valley. This district includes wineries in Windsor and Santa Rosa. The event features wineries including Battaglini, De Loach, Harvest Moon, Hook & Ladder, and others.
The wine tasting runs on Saturday from 11am to 4pm. This is one of the Sonoma events in April where each ticket holder receives a logoed wine glass and special offers from participating wineries.
Bodega Bay Fisherman's Festival at Westside Park
Dates: 4/14 & 4/15
Ahoy Matey! Head over to Bodega Bay to see the blessing of the boats, some ship making, and a parade of boats during their annual Fisherman's Festival on April 8th and 9th. Other highlights include lots of seafood, craft booths, live music, and a kid zone for the youngsters. Everyone will also love the pet parade as many cute doggies cruise around with their humans following behind them.
Tickets range from $14 to $25 and two-day passes are available.
Hotel Deals in Sonoma
Are you planning to stay for a night or two to enjoy some of these Sonoma events in April? If so, make sure to check out the great deals on hotels all around Sonoma County.
Booking.com: Save on your Hotel in Sonoma with Booking.com, Planet Earth's #1 Accommodation Site. No booking fees ever!
TripAdvisor: What's the #1 hotel in Sonoma County? Read reviews & find hotel deals on TripAdvisor!
IPA 10K and Beer Mile Invitations
Date: 4/13 & 4/14
A 10k run (6.2 miles) and a beer festival? What could be a better way to celebrate Sonoma County's amazing craft brews? This event includes to types of races. The 10K runners will enjoy a brew before they set off on their scenic 10k run. After the run, they can enjoy additional beer at the festival.
The Beer Mile "race" is based on running (sort of) and drinking (definitely) as the race begins with each contestant drinking a beer, running a 1/4 mile lap, and then repeating this action 3 more times until the "winner" is announced. If you aren't running, being a spectator is also fun as you watch people stumble across the finishing line.
This is one of the Sonoma events in April that also offers a one day expo, the day before the race, at The Barlow in Sebastopol.
Earth Day Festival
Date: 4/21
The free Earthy Day Festival starts at noon and continues until 4 pm at the Santa Rosa City Hall. The festival is centered around conservation, community and protecting the Earth. Events include food, live events that focus on local and earth friendly products. There are also talks to help explain how you can also help create a healthier environment both at home and around the world.
Before the festival, make sure to help the environment with a group cleanup of Santa Rosa creek. You can help clean up the river, while saving native plants and doing some trail maintenance.
Apple Blossom Festival
Dates: 4/21 & 4/22
The two-day Apple Blossom Festival includes music, dancing, and a lot of fun. The event kicks off on Saturday with a parade at 10am on Main Street in the lovely town of Sebastopol. The parade includes marching bands, floats, horses, and many other participants.
In addition, there is also an art show and a special section for kids that include an animal farm for them to play in and explore. This area also has rides for the kids, a train station and games for them to enjoy. Tickets are available at the festival. This is one of the Sonoma events in April where there are different prices depending on age or if you purchase for one or two days. Kids under 10 are free.
Bubbles and Blooms
Date: April 22
The sparkling wine winery of Gloria Ferrer gives us their Bubbles and Blooms event which celebrates both Earth day and Spring in the Sonoma Wine Country. Spring is a beautiful time in the wine country as this is when the vineyards start to bloom and the wineries can get ready for the summer season. Being able to celebrate, with sparkling wine, makes it a perfect time to visit and enjoy Earth Day.
There are a number of presentations during this event including how to protect the environment, floral workshops so you can have the beauty of the outside world in your own house, and tours through the vineyards.
They also have wine and food pairings for you to enjoy. The food will be made by Beth Sogaard Catering. The event runs from 12pm to 4pm.
Wine Tasting Deals
After you enjoy these Sonoma events in April, make sure to visit some of our local wineries to sample our amazing wines. Here are just a few of the places that you can pick up discounts on Groupon before your tasting.
Dry Creek Vineyard: Wine Tasting with Optional Private Tasting and Tour for One or Two, up to 42% off, located north of Healdsburg in Dry Creek Valley, check for availability


Family Wineries Dry Creek: Wine Tasting for Two or Four, up to 71% off in Healdsburg, check for availability


Battaglini Winery & Vineyard: $5 Buys You a Coupon for $5 Off a Wine Tasting for Two Plus 20% Off a Bottle of Wine, near Santa Rosa, check for availability
*Note: Most deals last for 120 days after purchase, so make sure to check the exact terms before purchasing.
Earth and Wellness Day
Date: 4/22
Visit the City of Windsor on April 22 to celebrate Earth and Wellness Day on the Windsor Town Green. This year's events include children's games and crafts. There are also plants for sale to spruce up your home.
The Earth and Wellness Day provides many choices for educational seminars and presentations that will inform, and excite, everyone. There are many choices for food and drink available too. The event runs from 10am to 2pm.
Healdsburg Pink Party
Date: 4/22
Enjoy a day of tasting rose wines at Barndiva Gardens in Healdsburg. This event features roses from Sonoma, Napa, and Mendocino wineries.
In addition, this event includes food and an afternoon of fun. The event runs from 12pm to 3pm at 237 Center Street in Healsburg. This is one of the newer and more popular Sonoma events in April, so get your tickets early!
Passport to Dry Creek
Date: 4/28 & 4/29
Passport to Dry Creek is the premier wine tasting event in the Dry Creek Valley wine region every year. It's a chance to sample some of the best local wines paired with gourmet goodies from top local chefs. More than 45 wineries in the district participate every year.
For two days, you will go from winery to winery to sample wine, enjoy tasty goodies, listen to live music and participate in other fun activities. It's a great way to get to know the wines of this region as well as meet some of the winemakers and other Dry Creek Valley wine lovers along the way. This is my favorite Sonoma events in April and one you will not want to miss!
Butter & Egg Days
Date: 4/28
Just half an hour north of San Francisco is the charming town of Petaluma. Back in the day, Petaluma was primarily known as a farming community, and therefore the Butter & Egg Day celebration to honor its heritage. This special celebration opens at 10 am and the parade starts at noon.
This is not one of your average festivals as it incorporates a lot of the old Petaluma day heritage including events such as Cow Chip throwing contest (if you don't know what that is, it is best to look it up before competing) and the Cutest Chick contest. As with many festivals, it does include food and beverages, art and craft vendors and kids' activities. If you want to support the locals, and enjoy a delicious breakfast, the Lions Club puts on one from 8 to 11 am on Main Street across from Putnam Plaza.
If you decide to spend the night, and extend your trip, there is also the Spring Antique Faire on Sunday. Both events are free to attend.
Spring Antique Faire
Date: 4/29
The day after the Petaluma Butter and Egg Days the city holds their annual Spring Antique Faire. Stroll the gorgeous streets of Petaluma as you admire their antiques including jewelry, furniture, art, books and so many other items.
It's one of the larger Sonoma events in April with around 8,000 people in attendance each year. Make sure to arrive early to find the best items.
If you get want to grab a bit of breakfast before you start searching for your little bit of history, the Mason's prepare a wonderful breakfast, for $8, that starts at 8 am and continues until 11 am. This breakfast costs 8 dollars but the Spring Antique Faire is always free.
Other Fun Things to Do in Sonoma
In addition to these Sonoma events in April, you will find a variety of other fun things to do from sunrise hot air balloon rides to cycling tours. Here are some of the best things to do in Sonoma this month.
Hot Air Balloon Ride: Admire Sonoma County from above on a Hot Air Balloon Ride, you will spend an hour cruising high above the vineyards as you learn more about the region, the entire experience is about 3 to 4 hours with set up, an hour in the balloon, landing and deflation, and a champagne toast to celebrate the day, find discount availability for this tour on Groupon


Sonoma Food Tour: Sample some of Sonoma's tastiest dishes on this 3-hour food walking tour around the Sonoma Square, it will include tastes at up to seven stops, tours are available Tuesday - Saturday and start at 11am, find discount availability on Groupon


Healdsburg All Day Biking & Wine Tasting Tour: Enjoy a day wine tasting near Healdsburg around Dry Creek Valley, during the tour you will ride a hybrid bike around 20 miles (32km) at a leisurely pace, stop by 3 to 4 wineries, learn more about each one and eat a picnic lunch at one of them as well, leaves daily at 10am and returns around 3:30pm, tasting fees not included, find availability for this tour on Viator
*Note: Most Groupon deals last for 120 days after purchase, so make sure to check the exact terms before purchasing.