SF Bay Area Thanksgiving 2020
What's Open this Holiday Weekend
NOTE: Click here to stay up-to-date with what's open and opening soon.
The SF Bay Area Thansgiving holiday weekend looks a little different than in previous years. Most counties around the bay just announced stricter rules. Most restaurants in the bay are only allowed to offer outdoor dining or take away. Most tree lighting festivals are canceled and most ice skating rinks will not open. Almost all Turkey Trots are virtual too.
However, there are some fun things to do this weekend. I've created a list of what's open this weekend with information on what's open on the holiday itself in addition to the weekend.
Below that you will also find details on what you can typically expect this weekend. This is for those planning to visit in 2021 or beyond.
Thanksgiving Day & Weekend 2020 - What's Open
SF Botanical Gardens: The SF Botanical Gardens are open all weekend long. They open at 7:30 a.m. with last entry at 4 p.m. Learn more here.
Muir Woods: They are open and reservations are required. Book your tickets and parking early as they are sure to sell out. Additional details to visiting.
Pier 39: Outdoor dining and shops are open on Pier 39. You can also watch the sealions play on their platforms. It's a fun way to spend the day.
Aquarium of the Bay: The aquarium is open for a few hours on Thanksgiving Day. I recommend picking up your tickets in advance as entry is limited. They are open from pen from 11 a.m. to 3 p.m on Thanksgiving Day and from 11 a.m. to 6 p.m. throughout the weekend. What to expect from your visit.
California Academy of Sciences: The California Academy of Sciences is open on Thanksgiving Day and throughout the weekend. I recommend picking up tickets in advance as they are not selling them at the door. Find tickets here.
Golden Gate Bridge: The walking paths are open and free to visit.
Ferris Wheel at Golden Gate Park: The Skystar Wheel (ferris wheel) at Golden Gate Park is open all weekend long. They still have tickets available for Thanksgiving Day as well as for Friday, Saturday, and Sunday. You must buy your tickets in advance. Find them here.
More Ideas for the Weekend
In addition to everything mentioned above, here are a few more ideas for the weekend. None of these are open on Thanksgiving Day, but open Friday, Saturday and Sunday.
Oakland Zoo: The Zoo is open all weekend long. You must reserve your tickets online in advance, wear face coverings during your entire visit, and only arrive with those in your household. You can also check out their new illuminating lantern festival called Glowfari. It runs from 5:30 p.m. to 10 p.m. and requires an advanced ticket.
Children's Fairyland in Oakland: This is also open from 9 a.m. to 12 p.m. and 1 p.m. to 4 p.m. on Friday, Saturday, and Sunday. Parts of the park are still closed, so they reduced admission prices to $8 per person.
SF Museum of Modern Art: The SF Museum of Modern Art is also open this weekend. They are still only allowing a limited number of people in each day, so make sure to purchase your tickets in advance.
SF Asian Art Museum: The Asian Art Museum will open their doors to a limited number of people on Friday, Saturday, and Sunday. Pick up your tickets in advance.
SF Zoo: The San Francisco Zoo is also open this holiday weekend including on Thanksgiving Day. Pick up your advanced tickets here.
For 2021 and Beyond
You will find plenty of fun things to do in the SF Bay Area this Thanksgiving Day and Weekend. Top options include sporting events, concerts, and fun activities for the entire family. The weekend is also full of tree lighting ceremonies, festivals, and theater productions.
My guide includes options in Oakland, San Jose, San Francisco, Berkeley and other cities around the bay.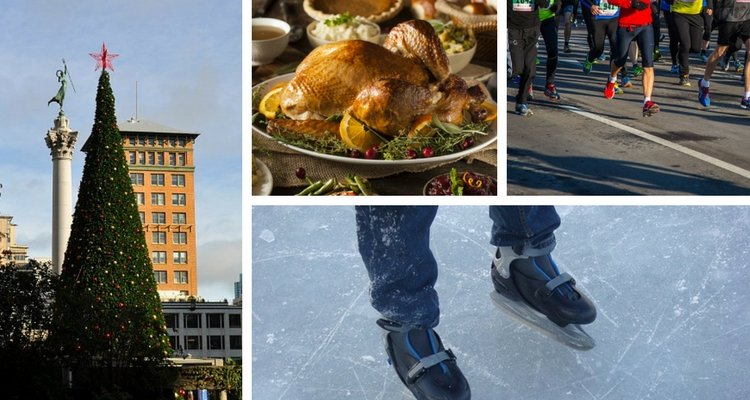 Disclaimer: I receive a small commission from some of the links on this page.
Thanksgiving Day
You will find a variety of activities all around the SF Bay this Thanksgiving Day. They include Turkey Trots, places to enjoy a holiday meal with the family, tours, and admission to some of our top attractions.
SF Bay Area Thanksgiving Restaurant Recommendations
If you plan to head out to eat in the SF Bay Area for Thanksgiving Day, you will find plenty of options. Make sure to book your tables early as they often fill up quickly. Here are some of my top picks around the bay.
San Francisco
Zingari Restaurante & Jazz Bar: Downtown/Union Square
Bouche: Downtown/Union Square
Grill at the St. Regis: SOMA
>> Additional options for dinner in SF
Oakland & East Bay
Lungomare: Oakland/Italian (1 Broadway)
Skate's On The Bay: Berkeley (100 Seawall Drive)
Faz Pleasanton: Pleasanton (5121 Hopyard Road)
Sabio on Main: Pleasanton (501 Main Street)
Black Angus Dublin: Dublin (4814 Dublin Blvd)
Peninsula, San Jose & South Bay
Bistro Vida: Menlo Park (641 Santa Cruz Avenue)
LB Steak-Santana Row: San Jose (334 Santana Row, #1000)
Left Bank Santana Row: San Jose (377 Santana Row)
Quattro Restaurant and Bar at the Four Seasons: Palo Alto (2050 University Avenue)
North Bay
Left Bank - Larkspur: Larkspur (507 Magnolia Avenue)
Insalata's: San Anselmo/Mediterranean (120 Sir Francis Drake Blvd)
Wine Country
Tarla Grill: Napa/Mediterranean (1480 First Street)
Charlie Palmer Steak Napa: Napa (1260 First Street)
Gravenstein Grill: Sebastopol (8050 Bodega Avenue)
the girl & the fig: Sonoma (110 West Spain)
Spoonbar - h2hotel: Healdsburg (219 Healdsburg Avenue)
Find a table for these and at other SF Bay Area restaurants on Thanksgiving Day on OpenTable.com.
Turkey Trots
You will find several great Turkey Trots around the SF Bay Area on Thanksgiving Day. Top picks include those in Silicon Valley, San Francisco, Marin, and wine country.
Other Things to Do: SF Bay Area Thanksgiving
You will find several other fun things to do this holiday in the SF Bay. Here are 7 fun ideas to check out.
1. SF Botanical Gardens: Enjoy the beauty of the SF Botanical Gardens for free on Thanksgiving day. With over 55 acres of landscaped gardens, and over 8,000 different types of plants, it can be your little oasis in an otherwise busy holiday season. Opens at 7:30 am and closes at 5 pm. Learn more here.
2. Outdoor Ice Skating Rinks: If you want to get out and exercise a bit, there are over 16 different ice skating rinks around the bay area. They range from San Jose, Monterey, San Francisco, Marin, and and over to the East Bay. If you want to find out more about them, visit this page with my top picks each year.
3. Muir Woods: Just north of San Francisco is the incredible Muir Woods National Park. This park has redwood trees that hundreds of years old and massive beyond belief. The park is open from 8 am to 5 pm and you will want to plan ahead as the park is often quite busy and hard to find parking during busy days. Additional details to visiting.
4. Pier 39: Pier 39 is always full of fun any day of the year and today is no exception. Stores are open, musicians are playing, and performers are out to entertain you all day long. There are so many choices, it will be hard to decide what to do and see.
5. Aquarium of the Bay: Also located on Pier 39, this is a must visit for the whole family before, or after, you have your meal. Open from 10 am to 5 pm, you will be able to see local wildlife, displays about the bay, see shark feedings (no turkey!) and so much more. More to see and do here.
6. California Academy of Sciences: The California Academy of Sciences has a full days worth of learning, excitement and experiments for you to enjoy. From storytelling yoga, to the Dark Universe show in the Planetarium, and always loved penguin feedings, you will have your fill of things to do. Opens at 9:30 and closes at 3 pm. Find tickets for Thanksgiving Day here.
7. Hayward Japanese Gardens: Open from 8:30 am to 4 pm, this incredibly serene and calm garden is a perfect way to take time and give thanks for everything. Being that this garden is not as well known as others, you may be surprised by how quiet and empty it is even during Thanksgiving.
>> Find a full list of what's open on Thanksgiving in SF
>> Discover a full calendar of Thanksgiving Day activities in San Francisco
SF Bay Area Thanksgiving Weekend
Theater: SF Bay Area Thanksgiving Weekend
Cirque du Soleil: Catch a performance of Cirque du Soleil's Amaluna Under the Big Top near Oracle Park (formerly AT&T Park) in San Francisco. This colorful show is about finding young love and what you have to overcome to stay together. With colorful costumes and daring acrobats, this is one you will not want to miss. Find performances all weekend long including one performance on Thanksgiving Day.
>> Visit the Cirque du Soleil page for more details
Hamilton in SF: Head over to the Orpheum Theatre for one of this weekend's biggest theater productions. It follows the story one of our founding father's, Alexander Hamilton. It's the perfect show for this holiday weekend.
>> Find a full calendar of upcoming performances.
A Christmas Story, Berkeley: Head over to the Berkeley Playhouse to see the classic story based on the movie, A Christmas Story. They offer several performances during the SF Bay Area Thanksgiving Day Weekend. Find a full calendar of shows around the SF Bay Area.
Cirque Arabesque-Magical Beings: Head over to the Shelton Theater on Saturday, November 30 for this high energy performance. This performances includes a vareity of entertainers including circus routines, bellydancers, fusion, North African dancea nd so much more. Visit Eventbright for details and ticketing information.
Sporting Events: SF Bay Area Thanksgiving Weekend
You will find several SF Bay Area sports teams in action this Thanksgiving Day Weekend including the Golden State Warriors and the San Jose Sharks Hockey team.
The Golden State Warriors: The 5 time NBA World Championship Golden State Warriors welcome one team to the brand new Chase Center in San Francisco. The Chicago Bulls roll into town on the 27th with a tip off time of 7:30 pm. This is a can't miss Thanksgiving basketball game.
San Jose Sharks: The San Jose Sharks will have two games for you to enjoy during this Thanksgiving weekend. The first game is against the Winnipeg Jets on the 27th. The second game is against the Los Angeles Kings on the 29th. Both of these games will be a lot of fun and definitely worth going to during this weekend
Concerts
You will find all kinds of great music events this Thanksgiving Weekend. Mana is playing at Oracle Arena in Oakland and that's one of the biggest shows this weekend. You will also find top performances at venues all around the SF Bay Area.
Make sure to check the list below and see everyone that is coming to the SF Bay Area during Thanksgiving weekend as you may want to see more than one.
>> Find a full schedule of top Thanksgiving weekend concerts
Tree Lighting Ceremonies & Other Holiday Events
Union Square: Probably the most famous tree lighting ceremony is this one with a reusable 83 foot tall tree that has over 30,000 lights and more than 1,100 decorations on it. The celebration starts on Friday the 29th at 6 pm and lasts until 7 pm with the lighting at 6:40 pm. More about this celebration here.
Cannery Row Tree Lighting: Cannery Row is home to Monterey's best tree lighting. As well as seeing the tree being lit, you can also meet Santa, his reindeers and hear carolers welcome in the season. The lighting is on Friday, the 29th and starts at 5:45 ending at 6:45 pm. More events in Monterey this month.
Hansel and Gretel: The San Jose Opera performs Hansel and Gretel this weekend at the California Theater. Based on the story about two young kids that whose mother sends them into the forest for their unacceptable behavior. They are kidnapped by a witch that wants to eat them. They work together to fight her off and escape. More about this show and ticketing information.
Gobble Con: Ready to meet some new people and play a lot of games? Then this is the place for you with over 52 hours of board games, role playing, miniatures (even if you don't play games, these are so cute to see), and so much more that your day will fly by without even realizing it. This event is family friendly and fun for all to attend. It runs from Friday the 29th through Sunday, December 1st. It's at the Hyatt Regency in Burlingame.
Harvest Festival in San Jose: This 3 day event, starting on Friday, the 29th and ending on Sunday, December 1st, is a massive compilation of different styles of music, bands, and even has a kid-zone for kids to play in when you want to rock out. Discounted tickets for seniors, military and kids with 12 and under being free.
Point Reyes Open Studios: The beauty of Point Reyes is a must see for everyone and especially when the artist allow you in to see their ceramics, painting, sculptures and other pieces of art in person. If you are looking for gifts for the holidays, or just something for yourself, you will be glad you came and enjoyed this event. The event runs Friday, the 29th to Sunday, December the 1st. The open stuido event is free and a great place to buy gifts for the upcoming holiday season.
Gualala Arts Festival of Trees: This wonderful two day event is a joy for all who see it. Starting on Friday, there is a tree lighting and carolers to help you welcome in the holiday season. Cookies, cakes, and all kinds of other scrumptious desserts will be on hand as you welcome Santa, Mrs. Claus, their reindeer and even the Grinch (Boo!). Food and drink is available and this family friendly event is free for all. It is on Friday the 29th from 10 am to 5 pm and Saturday, the 30th from 10 am to 4 pm.
San Rafael Winter Wonderland: It is a rare day when San Rafael gets snow, but this is one of those days! This annual event always includes great food, arts and crafts, snow sledding, and lots of live entertainment and children's activities. This event starts at noon on Friday on the 29th with the parade starting at 5:30 pm and ends at the San Rafael City Plaza tree lighting. It is free to all, runs on Friday and Saturday, and is family friendly.
Gilroy Gardens - Holiday@Night: Gilroy Gardens is truly unlike any other place in the world with it's amazing designed trees and gorgeous gardens. Enjoy live entertainment, gourmet food, and delicious drinks as you take in the winter sights. There are also some rides that are open during Holiday@Night. This is a family friendly event but it is designed for adults to have fun and celebrate. This event runs specific nights usually between late November until the end of December 31.
Santa Rosa Winter Lights: Santa Rosa's Downtown Courthouse Square is home to this wonderful tree lighting event. Starting at 4 pm on Friday the 29th, Santa will arrive on top of a fire truck for all to enjoy. There is food and drink for all, including adult beverages, and kids can play in a bouncy house, do arts and crafts, and much more. It ends at 7 pm.
Six Flags Holiday in the Park: An annual event not to be missed, you will want to experience the shows, games, and rides on select days starting November 23rd until January 1st, 2020. You will want to make sure and check for specific dates and times. You can meet Santa, and check out the new displays, rides and shows that are only around for this holiday season. You will not believe how much there is to do and see!
Christmas in the Park: Starting on Friday, the 29th at 6 pm and continuing through to January 5th, 2020, you are invited to meet Santa at San Jose's Plaza de Cesar Chavez and watch the beautiful tree lighting at night. Many special guests will be there to perform and make your holiday experience the best you can ever imagine! After the special tree lighting at 6 pm on the 29th, the event will run from 9 am to midnight every day.
Black Friday Shopping
Black Friday in SF: It is time to get your shopping on! There are many options for you to choose from including Union Square, Westfield Mall, Pier 39 and so much more. You will want to get started early so you can skip the crowds while still getting the best deals. If you want to escape the crowds, there are also tours, trips and lots of live concerts and events to choose from today. Find tips on where to shop.
Plaid Friday in Oakland: Based on the idea of weaving together all the local shops and merchants around Oakland, this is a great day to get deals and support the little mom and pop stores around the city. You will see special "plaid" signs in the windows of stores that are participating so you know which ones will be a part of this wonderful day.
Kids & Family-Friendly Activities this Weekend
Lake Merritt Boats: Depending on the weather, you might want to take a boat out on the lake in Oakland and enjoy the relaxation and scenery. You can rent canoes, rowboats, kayaks and more depending on your skill level. All rentals are cash only and the office is closed on the 23rd and 24th so plan ahead and check for updates on their site.
Oakland Zoo: Open Friday, Saturday and Sunday, the Oakland Zoo is a great way to get outside, enjoy lots of wildlife, ride the train, fly over the zoo in the gondola, and check out other events that are going on all day long. Food and drink is available to purchase. The zoo opens at 10 am each day and closes at different depending on the day you visit it. The Oakland Zoo is closed on Thanksgiving Day, Thursday the 28th.
Berkeley's Victory Point Cafe: Want to play a few games and have a few adult beverages at the same time? Then this is where you want to be this weekend. Costing just $5, and giving you the ability to play as many games as you want, and stay as long as you want, this is a great deal and a great time. They have a full menu of food and drinks so you can stay all day long and escape the shopping crowds.
Children's Fairyland in Oakland: Time to become a kid again and enjoy one of the most famous places in Oakland's long history at Fairyland. Open the day before Thanksgiving, and the whole weekend after it, this magical playland has been a joy for kids of all ages for as long as anyone can remember. It opens at 10 am and closes at 4pm and you MUST be accompanied by a child to enter and no child is admitted without a parent. The cost for anyone over 1 year old is $10.
East Bay Region Parks Family & Kids Activities: There are so many activities happening this weekend that it will be hard to decide which ones to choose. They range from butterfly exhibits and talks, the Hazel Atlas Mine tour, to Meet the Newts (the rainy season brings out this cute little guys), and so much more. Check the schedule each day for what seems best for you and your family.

Follow SFTourismTips on Facebook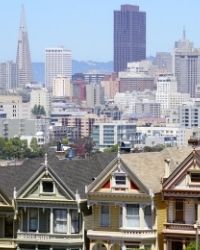 On my Facebook page, you will find more great information about planning your San Francisco vacation.
It includes tips, must see attractions, and other fun details.
Click the link below to check it out. If you enjoy the page, give us a like.

More Tips to Plan Your Stay This Weekend