SF Bay Area Events in July 2019
Wine Tastings, Festivals, & Baseball
SF Bay Area events in July 2019 include not only things to do in San Francisco, but also in Oakland, Berkeley, San Jose, Marin and other cities around the bay. You will find several fun arts & wine tasting festivals, baseball games, and Fourth of July celebrations.
You can also find top theater performances, the best concerts, and other activities in Napa, Sonoma, and Monterey.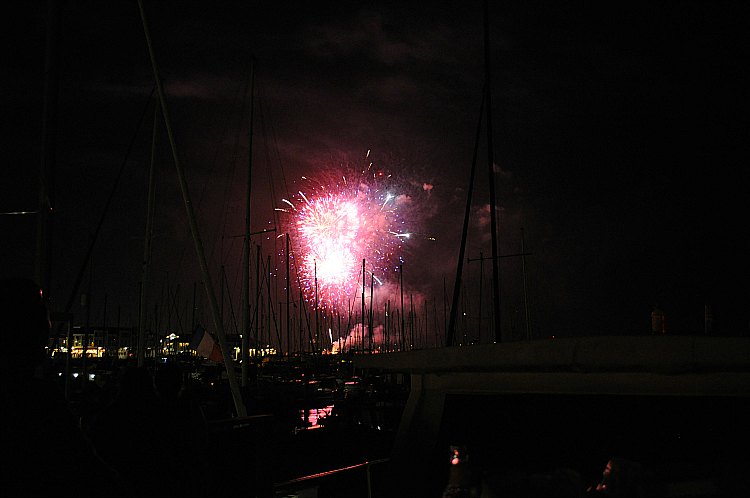 Disclaimer: I receive a small commission from some of the links on this page.
Marin County Fair
Dates: 7/3 - 7/7
The annual Marin County Fair is in San Rafael at 10 Avenue of the Flags. This year, you can listen to live music and stroll through the competitive exhibits such as wine, baked goods, photography, animals, and more.
This year's carnival rides include the Giant Wheel, the Energy Storm, and the Ring of Fire. There are also several family-friendly rides such as the Slide, the Carousel, and the Tilt-A-Whirl.
This is one of the top SF Bay Area events in July and always ends with a large fireworks display to celebrate Independence Day.
Fourth of July Celebrations
Date: 7/4
Dozens of parades, festivals, and fireworks displays are once again planned to celebrate the Fourth of July in the Bay Area. Click the links below to find details for these SF Bay Area events in July!
San Francisco | East Bay | South Bay | North Bay
Wrap-up of the best fireworks displays all around the SF Bay
SF Giants Baseball
Dates: Several in July
July is a great time to head to the ballpark for America's favorite pastime, baseball! The SF Giants are in action all month long at Oracle Park (formerly AT&T Park). They have more than a dozen home games against teams such as the Padres, Dodgers, and Diamondbacks.
>> More about attending an SF Giants game at Oracle Park
Wine Country Big Q
Date: TBD
If you love real BBQ, then join the Wine Country Big Q Kansas City Barbecue Society for this annual event. Held at the Sonoma-Marin Fairgrounds in Petaluma, it includes tastes of a variety of BBQed meats, wines, craft beers, ciders, and spirits. It will also feature live music.
Proceeds go to Sonoma County Vet Connect which supports vets and helps them find services they earned during their service.
>> Find tickets on their website
Half-Priced SF Bay Area Tickets
Find tickets at up to half-price for several SF Bay Area activities in July. Click the links below for more details on these and to find other great deals on Goldstar.
60-Minute Bay Cruise: Cruises around the bay, leaves from Fisherman's Wharf, several cruises a day, Full price $33, Goldstar price $20*


Go-Kart Racing at K1 Speed: Indoor go-kart racing in South San Francico, Dublin, and Santa Clara, Full price $30-$58, Goldstar $17-$38*


Downtown Berkeley Brunch Tour on Sundays from 11am to 2pm, Full price $115, Goldstar $80.50*
*Small service fee at checkout.
Los Altos Arts & Wine Festival
Dates: 7/13 & 7/14
Spend the weekend in Los Altos for their annual Arts & Wine Festival. This highly anticipated event features unique works from dozens of artists, a large selection of locally produced wines, and a variety of cuisines from local chefs. This family-friendly event also features live music all day on Saturday and Sunday. This is one of the popular SF Bay Area events in July that is free and open to the public.
SF Bay Area Theater
Dates: Several in July
The SF Bay Area theater calendar is full of several top Broadway shows this month. Two of the most notable are Hamilton at the Orpheum Theatre in San Francisco and Kiss My Aztec! at the Berkeley Rep.
You can also catch some great performances in Berkeley, Marin County, and Oakland.
>> Complete SF Bay Area theater calendar
Clay & Glass Festival in Palo Alto
Dates: 7/13 & 7/14
Check out the works of more than 150 clay and glass artists at this year's Clay & Glass Festival in Palo Alto. This 2-day event features both fine art and functional pieces that you can use around your house. This is one of the SF Bay Area events in July that also offers demonstrations as well as hands-on workshops. The event is free and is at 1313 Newell Road in Palo Alto.
Festival Napa Valley
Dates: 7/11 - 7/21
One of the biggest SF Bay Area events in July 2019 is in Napa. Festival Napa Valley is a 10-day events that features more than 100 wineries and 60 events. You can taste wine and enjoy music, dance, and theater. There are also several dinner events where you can sample the best of the Napa Valley.
>> Full calendar of events this July in Napa
Bay Area Concerts
Dates: Nightly throughout the Bay Area
Top Bay Area concerts this July include shows at the Bill Graham Civic Auditorium in San Francisco, SAP Center in San Jose, and outdoors at the Greek Theater in Berkeley. You will find additional larger and smaller shows all month long in SF, San Jose, Oakland, Berkeley and several other venues in the Bay Area.
>> SF & Bay Area concerts in July
Oakland Wine Festival
Date: 7/20
One of the largest SF Bay Area events in July 2019 is the Oakland Wine Festival. It's a chance to sample from more than 100 different wines. Each ticket holder will also get the chance to vote in the Double Blind Wine Tasting, which kicks off at 10am. This premier event also includes a winemaker lunch and dinner plus the opportunity to taste dozens of wines from around the world.
Tickets: Visit their site for ticketing information
Oakland A's Baseball
Dates: Several games in July
If you are looking for additional baseball games this summer, then head over to Oakland to watch the A's. This July, they will play more than a dozen home games. They often play at home when the SF Giants are on the road, so between the two teams, there is a baseball game almost everyday this month in the SF Bay Area.
>> Full schedule this month for the Oakland A's
SF Bay Area Hotels
Find a great selection of hotels all around the SF Bay Area below!
Booking: Find great deals all around San Francisco for your upcoming stay!
TripAdvisor: What's the #1 hotel in San Francisco? Read reviews & find hotel deals on TripAdvisor!
Alameda Art & Wine Faire
Dates: 7/27 & 7/28
Always the last weekend in July, the Alameda Art & Wine Faire is the biggest free event in this lovely town in the East Bay. From 10am to 6pm both days, enjoy food & beverage vendors, arts & crafts, and live music. You will also find a special kids' zone for your little ones.
Berkeley Kite Festival
Dates: 7/28 & 7/29
If you love the beauty of kites flying high in the wind, then stop by Berkeley for their annual kite festival. You can fly your own kite, watch expert kite fliers perfect their craft, and participate in several free kite making and kite flying workshops. The event also includes a free candy drop, food & music, and a kids zone.
Art & Soul Oakland Festival
Dates: 7/27 & 7/28
Oakland is known for art, soul, food, culture, and fun so this is the perfect festival to learn all about the city and the magic that it brings to all that visit and live here. Live music pumps through the air with headliners such as Goapele, Las Rakas, and others. There are dance offs with some of the most talented dance teams you'll see anywhere.
The arts are well represented up and down the festival and this year includes a mural that attendees can paint and enjoy. There are many different arts and crafts vendors and loads of different cultural foods you can taste and fall in love with during both days. Lastly, there is a special kid's section with carnival rides, inflatable bouncy toys, face painting and more to enjoy when you want a break.
All events are in downtown Oakland.
Gilroy Garlic Festival
Dates: 7/26 - 7/28
One of my absolute favorite SF Bay Area events in July is the annual Gilroy Garlic Festival. If you are a garlic addict like me, this event will not disappoint. Sample the most garlicky food you've ever tasted as you enjoy live music with other garlic lovers. There is also a cooking competition and fun activities for your entire family. You might even try the garlic ice cream if you are feeling especially adventurous!
>> Find tickets for this three-day event on their website
Benicia Waterfront Festival
Dates: 7/27
Spend the weekend on the lovely waterfront at Benicia's annual Summer festival. Soak in the sun as you enjoy live music, craft beers, locally produced wines, and gourmet goodies. There is also a Kid's Activity Alley and Vendor Village.
Keep this list handy by pinning it to Pinterest.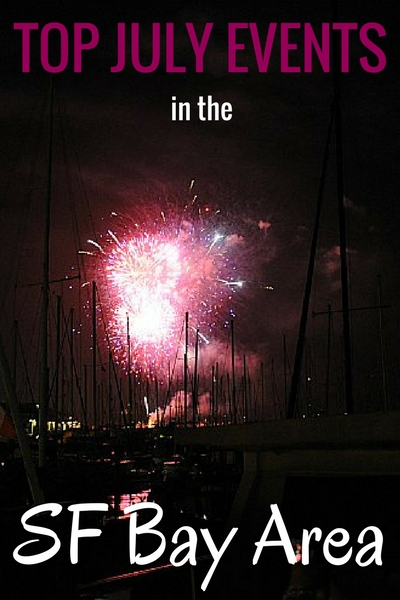 More Fun SF Bay Area Events in July