SF Bay Area Events in December 2017
Sports, Festivals, Theater, and More
SF Bay Area events in December 2017 including sporting events, theater performances, and concerts. You will also find several holiday and Christmas activities, festivals, and details on where you can find Santa.
This calendar includes things to do in San Francisco, Oakland, San Jose, Berkeley, and other cities throughout the bay.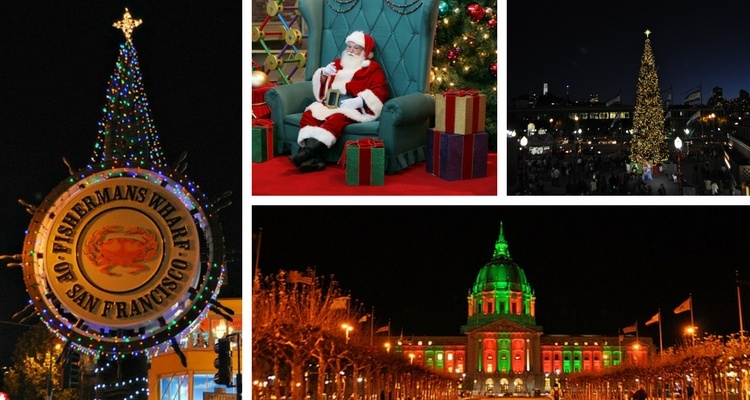 For some of the links on this page, I receive a small commission when you purchase. You don't pay more when you buy through me and it gives me the chance to offer you all this great content for free!
Golden State Warriors
The Golden State Warriors take the court at Oracle nine times this month in Oakland. They take on top teams including the Cleveland Cavaliers, the Memphis Grizzlies, and the Los Angeles Lakers. Don't miss out on your chance to catch a game this season!
Dates: 12/11, 12/14, 12/20, 12/22, 12/23, 12/25, 12/27, 12/29 & 12/30
>> More about attending a game
>> More SF Bay Area sports in December
Pac 12 Football Championship
This year's Pac 12 Football Championship game is on December 1st at Levi's Stadium in Santa Clara, CA. This event has been held here for the last 4 years and is known as one of the best stadiums to watch football. Not only is there the game, they have added a full fan fest with special discounts, events and a chance to win tickets to the 2018 Rose Bowl in Pasadena and to the Pac 12 Football Championship at Levi Stadium for 2019. This is the perfect way to start off the college playoff football season!
Date: 12/1
Santa in SF
Santa and his reindeers are making their way to San Francisco and the Bay Area this month. Santa will make several stops including popular places such as Macy's in Union Square, Pier 39, the SF Zoo and more.
Christmas in the Park in San Jose
Starting in the early 1950s, Christmas in the Park has been a holiday tradition in San Jose. This wonderful event runs for two weeks and includes a traditional tree lighting, a dog day in the park, breakfast with Santa, and the classic New Year's Eve celebration from 7 p to 9 pm which includes live music and more. This event is free and there is food and drink available for all to enjoy. Santa has a special booth in the park so you and your family can make sure to visit him and get a photo or two.
Dates: 11/24 - 1/7

Hours: 9 am - 12 am (midnight)
Jack London Square Tree Lighting Ceremony
If you are looking for a tree lighting in the city of Oakland, Jack London Square is the place to be! Their 55 foot Mount Shasta Fir tree will be adorned with over 5,000 beautiful sparkling lights to be seen by all. This event is free for all to attend and is located on the Oakland waterfront so you can enjoy views of the bay as well as live music and so much more. There are many restaurants and local stores to explore before or after the tree is lit if you want to spend some time enjoying this wonderful location.
Date: 12/1
Hours: 5 pm - 7 pm
Bay Area Theater
Aladdin at the Orpheum Theater is one of the top SF Bay Area events in December 2017. This magical show offers beautiful costumes and stage design. It's based on the hit Disney movie and runs all month long.
Other top shows in SF this month include A Christmas Carol, A Christmas Story, and Avenue Q.
>> Find a full schedule of shows this month in SF
You will also find more performances around the SF Bay. Catch Annie at the Berkeley Playhouse, Irving Berlin's White Christmas at the 6th Street Playhouse in Santa Rosa, and Around the World in 80 Days at Theatre Works Silicon Valley.
Winterfest at Great America in Santa Clara
Winterfest is another one of the top SF Bay Area events in December. This family-friendly activity includes live shows, the chance to bake cookies with Mrs. Claus, and enjoy the snowfall in Hometown Square. Make sure to spend some time admiring one of the largest SF Bay Area Christmas trees and checking out the great rides here.
Dates: 12/1 - 12/3, 12/8 - 12/10, 12/15 - 12/17, 12/19 - 12/23, 12/26 - 12/30
Tickets: Find discounted tickets on Goldstar
Snow Day in the Berkeley Gourmet Ghetto
Located in the Gourmet Ghetto district of North Berkeley, you and yours can enjoy FRESH SNOW while you check out this cute area of the city. You can also meet the Snow Queen (don't worry, she's a friendly Snow Queen), make crafts and even ride ponies! There will be vendors selling their best, live music and lots of great food to eat. There is also a bunch of "ice" around the area, and if you open up your ice you just might find a REAL diamond in it!
Date: 12/3
Hours: 10 am - 3 pm
SF Nutcracker
One of the premier SF Bay Area events in December is the Nutcracker performed by the SF Ballet. This dance company was the first to perform this show in the US in 1944. Today, it's one of the must see performances in the SF Bay and in the US.
Dates: 12/13 - 12/30
>> More on seeing a show this year in SF
Raiders & 49ers Football
The Oakland Raiders have two home games this month in Oakland. The first game is on December 3 against the New York Giants and starts at 1:25pm. The second game is on December 17 against the Dallas Cowboys and starts at 5:30pm.
>> More on attending a Raider's game
The San Francisco 49ers also play two home games this month in Santa Clara at Levi's Stadium. They take on the Tennessee Titans on December 17 and the Jacksonville Jaguars on Christmas Eve.
>> More on attending a game in Santa Clara
SF Bay Area Events in December: Concerts
You will find several fun concerts this December in the SF Bay Area. Top shows include Nghtmre at the Bill Graham Civic Auditorium, Poptopia featuring Taylor Swift, Ed Sheeran, The Chainsmokers, and Niall Horan at the SAP Center in San Jose, and Live 105's Not So Silent Night featuring The Killers, Weezer, Foster the People & Walk the Moon in Oakland at the Oracle Arena.
Craneway Crafts Fair
Head over to Richmond for one of the Bay Area's largest holiday craft fairs. The Craneway Crafts Fair features more than 180 artists from the Bay Area and beyond. It's the perfect place to shop for holiday goodies including jewelry, ceramics, woodwork, photography, gourmet goodies, and so much more. The event benefits KPFA public radio. Craneway Pavilion (1414 Harbour Way South in Richmond, CA) is where you will find this event.
Date: 12/16 & 12/17
Tickets: Find them at a discount on Goldstar
Christmas
Christmas is a lovely time to visit the SF Bay Area. During this holiday season, you will find various things to do from seeing top Christmas lights displays to holiday shows. My insider's guide also offers some of the best things to do on Christmas Eve and Christmas Day as well as a few recommendations for lunch or dinner.
Dates: 12/24 & 12/25
>> Where to see Christmas lights
Heroes and Villains Fan Fest
During this massive San Jose Convention, some of the most famous actors from TV and movies will be in attendance. Some of these include Stephen Amell (Arrow), Sean Gunn (Guardians of the Galaxy), Danielle Panabaker (The Flash), and many more. You will be able to take photos with stars and there is a main stage panel discussion on both Saturday and Sunday. Make sure to get ready with your questions and you just might be able to have them answered live and in person!
Dates: 12/2 - 12/3
Discounted Tickets: Find discounts to tickets for this event on Goldstar
New Years Eve
The SF Bay Area is one of the best places to celebrate New Year's Eve! You will find SF Bay cruises, 21+ parties, concerts, fun things to do with the family, and a large fireworks display by the Bay Bridge at midnight. Being that you are in the West Coast Time Zone, you also get to celebrate 3 other times as all the others in the USA come before ours.
These are just some of the top options in San Francisco that night.
>> Find additional things to do on NYE
>> Check out the best 21+ parties this NYE
San Jose Sharks
The San Jose Sharks are another one of the top SF Bay Area events in December 2017. This month, they take on the Vancouver Canucks, the Los Angeles Kings, and the Ottawa Senators at home. All games are at the SAP Center in San Jose.
>> More on attending a game this month
Outdoor Ice Skating Rinks
You will find many outdoor ice skating rinks all around the SF Bay Area this time of year. Most are open throughout the month of December in locations including San Francisco, Oakland, San Jose, Napa, and more. Check out my top picks this holiday season by clicking on the link below.
>> Full list of those open this month
Shen Yun in San Jose
An experience unlike any others, Shen Yun brings together 5,000 years of classic Chinese culture and history and combines it with the latest technological to amaze and delight all that see it. This event includes dancing, music, extraordinary costumes to enhance your experience and let you feel like you've traveled in time with beauty and elegance. This show has earned rave reviews as it travels throughout the world by well known critics and famous dancers and choreographers.
Dates: 12/28th - 12/30th with two shows on Saturday the 30th
First Night Monterey
Even though it is titled, "First Night Monterey", it is actually held on New Year's Eve, the last day of the year, in the historic downtown of Monterey. Starting at 3 pm with the Kids' Night Event and the always joyous twilight parade, kids of all ages will have a blast. First Night continues with The Main Event which includes music and over 65 different dance performances located all around the area. These range from latin, to ballet, to modern and to other world dances. The Finale Performance includes live music as the countdown to the first day of 2018 arrives at 12: am.
Date: 12/31st
Hours: 3 pm - 12 am (midnight)
>> More things to do this month in Monterey
Women's Hockey: USA vs Canada
Team USA takes on our rival to the north, Canada on the 15th of December at the SAP Center in San Jose. This will be the final match in this year's tour and is sure to be exciting with fast paced skating and competition as the two countries want to prove who is the best until next season. Team USA is currently ranked #1 in the world and has won the last 4 IIHF Women's World Championships, so make sure to come down, root on our team, and make this the best final ever!
Date: 12/15
Sonoma Events in December
This December, spend some time in Sonoma as they celebrate the holidays and raise money for victims of this October's devastating fires. This month, you will find plenty of craft fairs, wine tasting events, and the annual Lighting of the Snowmen.
>> Discover a full calendar of events in Sonoma this month
Napa Events in December
Other top SF Bay Area event in December are in Napa. This month, you will find plenty to do including the Calistoga Christmas Faire, Winter in the Wineries, and the Holidays in Yountville. You will also find several wineries with open houses and other holiday events.
>> Find more events this December in Napa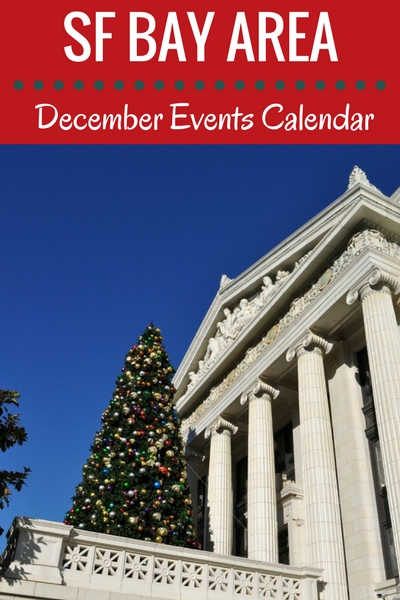 Additional Bay Area Activities this Month