Restaurants in Yosemite National Park: My Top Picks in and Near the Park

by Jill Loeffler  •

Updated: December 20, 2022
Restaurants in Yosemite National Park range from grab-and-go sandwiches to fine dining at the Ahwahnee. You'll find most of the restaurants in Yosemite Valley, with a handful in other locations.
Besides the great places to eat inside the park, my guide offers dozens of nearby options. You'll find some of my favorites in Oakhurst, Groveland, and Mariposa.
Read on for my recommendations on where to eat when visiting this gorgeous national park.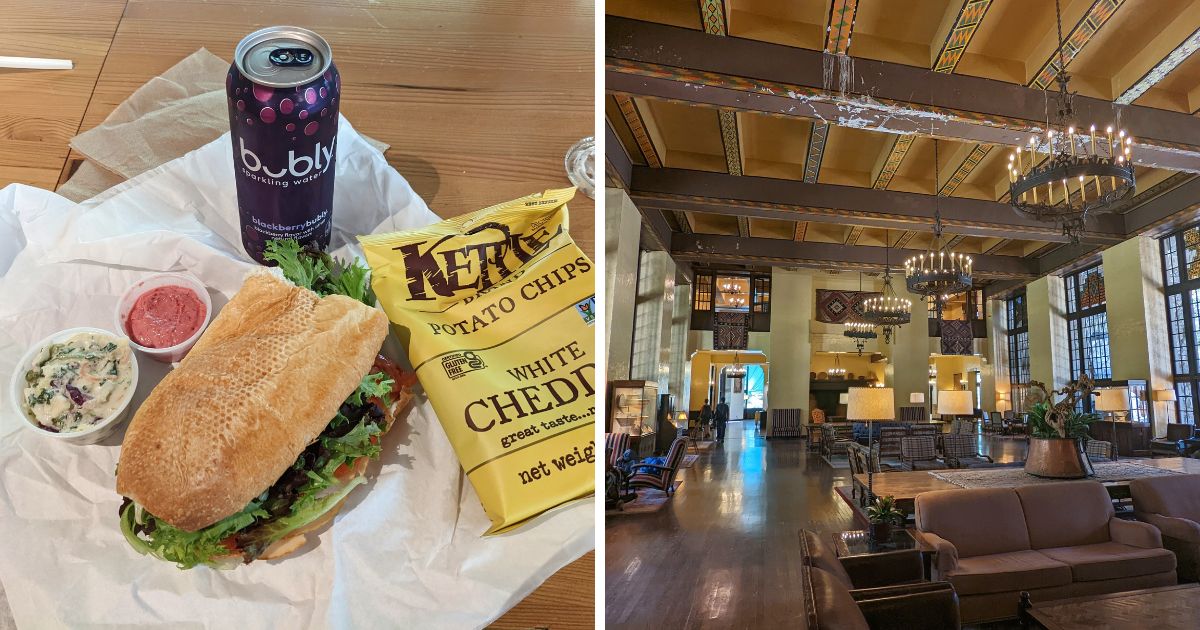 Disclaimer: I receive a small commission from some of the links on this page.

In Yosemite Valley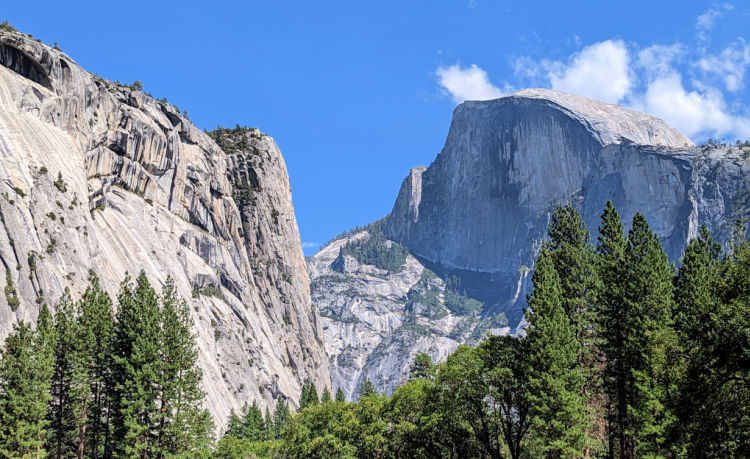 The wonderful Yosemite Valley is within the vast and beautiful Yosemite National Park. The glacial valley, around 7.5 miles in length, is home to some of the most spectacular scenery in the USA, if not the world.
The magnificent Glacier Point provides views that cannot be seen elsewhere. The stunning granite summits, such as Half Dome and El Capitan, are must-see features for visitors.
With a wide choice of campsites, Yosemite Valley is a popular choice for vacationers who want a genuine escape from daily life and an experience not to be missed.
The Ahwahnee Dining Room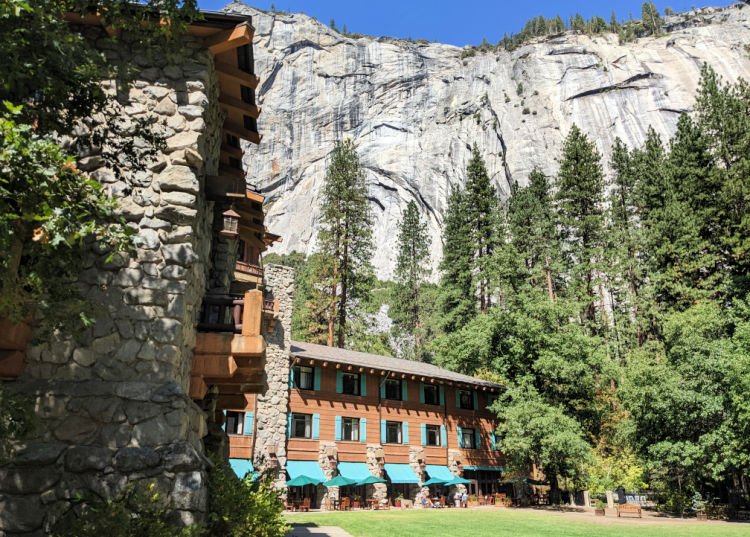 Among the most popular places to eat within Yosemite Valley is the Ahwahnee Lodge. It offers a spectacular dining room with magnificent views and a more comfortable and relaxed bar.
The Ahwahnee Dining Room serves breakfast, lunch, and dinner year-round. Guests should be aware that it is usually casual dress, but there is a requirement for classy attire at dinner.
If you want something quick, the bar serves a limited bar menu.
Outdoor seating enables diners to enjoy the magnificent mountain views. Reservations are essential as the Ahwahnee is understandably popular at all times.
>> Learn more about staying at the Ahwahnee
Degnan's Kitchen and Deli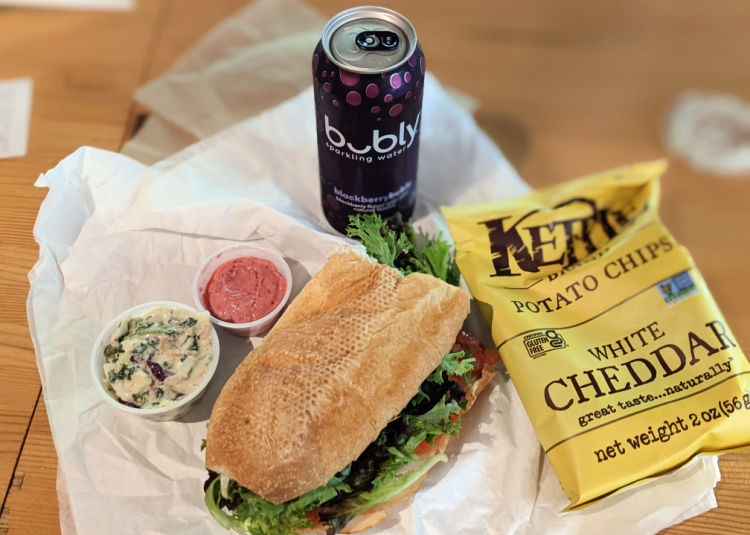 Degnan's Kitchen and Deli is within Yosemite Village, a perfect choice for picking up ready-made sandwiches. This is a quality, fast food outlet with everything from roast beef to breakfast sandwiches.
It also has indoor and outdoor seating, so it is popular with hikers and bikers exploring the wonders of Yosemite Valley.
Village Grill
You'll always find something delicious here, with their menu ranging from traditional hot dogs to salmon burgers. It is located in the center of Yosemite Village and is ideal for picking up a lunchtime snack.
Customers are invited to take a seat on the deck with its stunning views. You may want to take in the scenery while enjoying a milkshake, for which the Grill is famous locally.
Curry Village Pizza Deck
Curry Village offers a range of places to eat, including the popular Curry Village Pizza Deck. With a menu suitable for vegans to meat lovers, this is a place where you can sample traditional pizza toppings and more original options.
With amazing views of Glacier Point from inside or out, it's worth checking out.
Curry Village Coffee Corner
The friendly and welcoming staff at Curry Village Coffee Corner make this a bar you will return to. With a great selection of sandwiches, salads, and pizzas, it is popular thanks to good and simple food at sensible prices.
The bar serves a great choice of alcoholic and non-alcoholic drinks, and the service is efficient and friendly.
Curry Village Seven Tents Pavilion
Curry Village Seven Tents Pavilion offers a wide variety of traditional American and international dishes.
This beautifully presented and recently renovated Yosemite restaurant has a lovely outdoor seating area from which guests can take in the superb sights and scenery surrounding the village.
Given its popularity, you should make a reservation if you wish to dine here.
Bar 1899 at Curry Village
Bar 1899 at Curry Village is a wonderfully charming place to sample small plates as snacks. A friendly and welcoming atmosphere makes it a relaxing and fun place to enjoy a tap beer or one of the bar's original cocktails.
This is a perfect place to wind down after a day exploring the magnificent wilderness of Yosemite National Park. They even have TVs, so you won't miss a game while you're on your getaway in nature.
Yosemite Valley Lodge Dining
The delightful Yosemite Valley Lodge is home to three places to eat, each of which comes highly recommended.
The Mountain Room offers beautiful views of a spectacular waterfall and serves steaks, seafood, and vegetarian dishes.
The Mountain Room Lounge is a relaxed and friendly bar serving drinks and appetizers, also featuring a beautiful fire where guests can toast marshmallows.
Base Camp Eatery serves various dishes using locally sourced ingredients where possible and is a fascinating and original dining experience.
Other Places Around the Park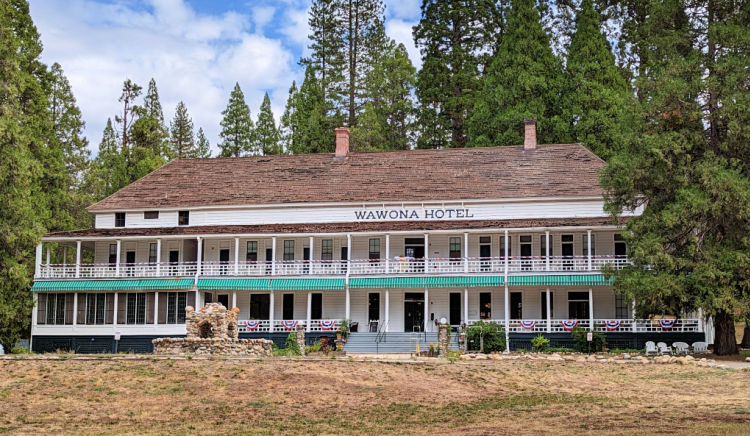 Most of the restaurants in Yosemite are in and around the Yosemite Valley area. However, there are also a handful of other options around the park. These are just a few of my top picks.
Wawona Hotel
The Victorian-era Wawona Hotel Dining Room is a beautiful place to be, with stunning views through tall windows. Choose from a selection of wonderful breakfast, lunch, and dinner meals. You will enjoy this period hotel's warm and welcoming ambiance.
In the summer, the Wawona hosts a barbeque which is always popular.
>> More great places to stay around Yosemite
High Sierra Camps
Enjoy delicious food served in dining tents at High Sierra Camps, and let the chef sort out your packed lunches for the next day's exploration!
The delightful location adds to the experience, and the camp is very popular, so booking in advance is essential.
>> More about camping in Yosemite
Tuolumne Meadows Lodge
The central dining tent at Tuolumne Meadows Lodge is a beautiful place for a meal. You can have breakfast before heading out on a hike or a delicious evening meal upon your return.
Beef, chicken, seafood, and vegetarian options are all on the menu, and the location by the Tuolumne River will add to your enjoyment.
White Wolf Lodge
Dining at White Wolf Lodge is a wonderful experience. The dining room offers a wide variety of dishes, including those suitable for vegetarians.
Stunning views of the amazing peaks in the region are something to behold, and service is friendly and efficient.
Great Restaurant Nearby Yosemite National Park
Some of the best options are in the communities surrounding Yosemite National Park. These include restaurants in Fish Camp, Oakhurst, Mariposa, Groveland, and near the eastern gate.
Tenaya at Yosemite in Fish Camp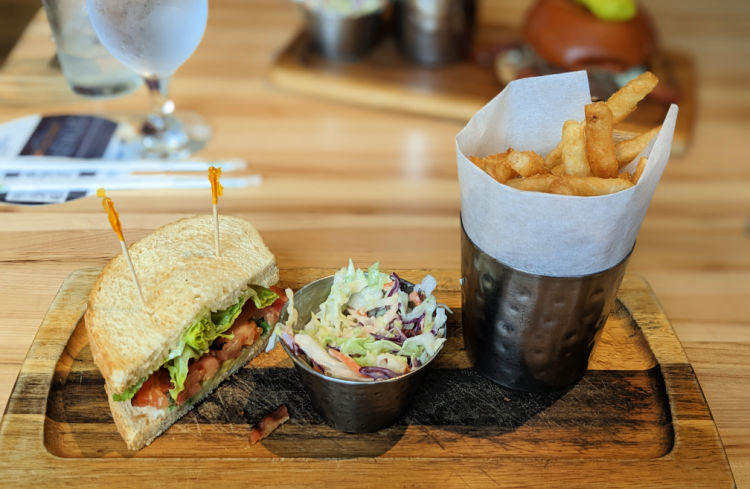 Just a few minutes outside the South Gate, you'll find the Tenaya. This upscale resort features a couple of great places to eat.
My favorite is Jackalope's Bar and Grill. They are open daily from 6:30 am to 10 pm with a large selection of American dishes.
The breakfast menu includes some omelets, pancakes, and a breakfast burrito. They also offer lighter options such as oats, avocado toast, and lox and bagels.
You'll find some great burgers, salads, and starters. My favorites here are The Steakhouse (grilled burger) and the BLTA. My husband loves their Pulled Pork Soft Tacos.
They also offer heartier dishes such as Harris Ranch Grilled Rib Eye, the 72-hour Certified Angus Beef Short Ribs, and the Pan-Seared Lemon Turmeric Black Pepper Pacific Salmon.
They offer both indoor and outdoor seating.
Other spots within this resort include Timberloft Pizzeria, the seasonal Gold Rush BBQ, and a grab-and-go deli.
Oakhurst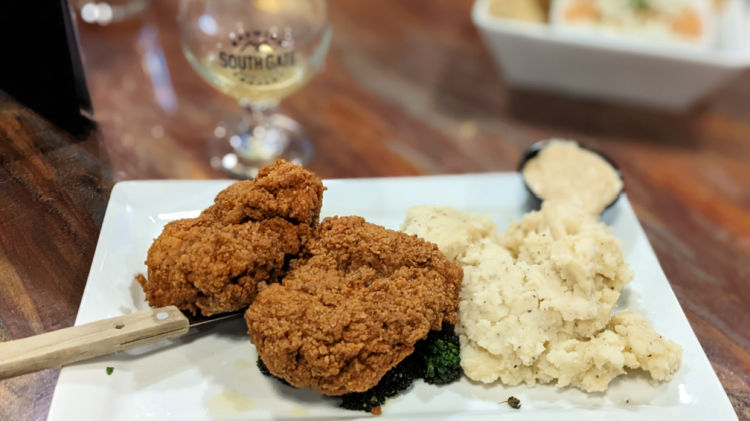 The small town of Oakhurst is about a 30-minute drive from the south entrance of Yosemite National Park. Here are just a few of my favorite restaurants.
South Gate Brewing Company
The one place I always stop when I'm visiting Oakhurst is the South Gate Brewing Company. They brew their beer and feature several tasty dishes on their menu.
Whenever I'm here, I try a different beer, and I've never been disappointed. Their selection ranges from a seltzer to a double IPA. They brew new beers often, so you will always find something different to sample.
The fried chicken and mashed potatoes dish is my absolute favorite, usually only served for dinner. Other top picks include their South Gate Smash Burger, the House Smoked Pulled Pork Sandwich, and Black & Blue Crab Dip.
Smokehouse 41 BBQ
Another great place to eat in Oakhurst is Smokehouse 41 BBQ. This spot is right along Highway 41 and offers a great selection of grilled meats, all smoked in-house.
You can either order a sandwich or one of their plates. Their selection includes Pulled Pork, Beer Brisket (my favorite), Pulled Chicken, Tri-Tip (my second favorite), and Smoked Sausage.
Even though I have my favorites, everything I've tried here is delicious!
Oakhurst Grill & Whiskey 41 Lounge
One of my other go-to spots is the Oakhurst Grill & Whiskey 41 Lounge. It's a fantastic spot with traditional California fare. They also have an excellent cocktail lounge with a fireplace.
I like to start with their wings or their crispy cheese ravioli.
For my main meal, I love their Pork Schnitzel. Other favorites on their menu include their Petite Filet Mignon, the OG Bleu Burger, and their Grilled Salmon.
Make sure to leave a little room for dessert too!
>> More great things to do near Yosemite
Mariposa
About an hour west of the Arch Rock Entrance (on Yosemite's western edge), you will find the cute town of Mariposa. Here you will find some great places to enjoy a meal. These are just a few of my favorites.
Charles Street Dinner House
In the heart of Mariposa, you will find the western-themed restaurant, The Charles Street Dinner House. This dinner-only spot offers a great selection of steaks, seafood, and chicken.
My favorite here is the BBQ Tri Tip Sandwich. Other favorites include the nightly pasta special, the Steak and Spinach Salad, and the 8-oz. Filet Mignon.
If I have room, I like to finish with the Special Creme Brulee (specialty flavor changes nightly) or the Mocha Fudge Ice Cream Pie.
Castillos Mexican Restaurant
If you are in the mood for something a little more casual, then head over to Castillo's Mexican Restaurant. Just a half block off the main street, this cute restaurant sits inside what looks like a small house.
The dining room is much more spacious than it looks from the outside. They also have some outdoor seating, which is excellent in the spring, summer, and fall.
You'll find standard Mexican dishes here. Some favorites include their Tamales, Chimi-Changa burrito, and Flour Guacamole Taco.
The Hideout Saloon
This Gold Rush-themed gastropub is another fun spot in Mariposa. They are open daily from 11 am to 2 am.
On their menu, you will find an excellent selection of comfort foods. Top picks include the Pub Style Fish 'N' Chipz, the Lemon Garlic Salmon Pattiez, and their pizzas.
They have some tasty specialty cocktails too. My favorites are their lemon drops, Lime in the Coconut, and flavorful martinis.
Groveland
Groveland is another great spot for lunch or dinner when visiting Yosemite National Park. It's about thirty minutes west of the Big Oak Flat Park Entrance.
Here are a few of my favorites.
Iron Horse Saloon
The Iron Door Saloon is a fantastic old-fashioned tavern on Main Street in Groveland. It opened in 1852 and is the oldest continuously operated saloon in California.
They serve lunch and dinner on Friday - Tuesday, with breakfast served every Thursday - Tuesday. Even though these are their posted times, the last time we were there, they decided to serve dinner on a Wednesday night so you can always step in and ask if something has changed for that night.
On their menu, you'll find omelets, chicken fried steak, and Belgian Waffles for breakfast. Their lunch menu features burgers, chicken sandwiches, and a few salads.
Their dinner menu features burgers, fish and chips, and a Bleu Butter Steak.
You'll also find a couple of vegetarian options on all of their menus.
Charlotte's Tavern
My favorite in Groveland is Charlotte's Tavern. This cute restaurant offers some great comfort food inside the historic Hotel Charlotte.
My favorites on their menu include their Organic Fried Chicken, the Citrus Boiled Salmon, and their Smokey Beef Brisket. Their menu is small but offers a great selection.
I also love that they serve up local craft beers. Make sure to try one or two during your meal!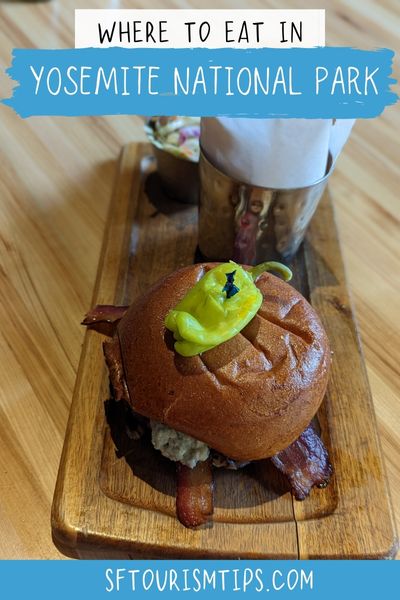 Comments? Questions? Suggestions?
I would love for you to join me in my private Facebook group! 
It's a great place to interact with me and others who know the area well.
You can ask questions, get advice for your upcoming stay, and then share your photos and advice with others when you return home. It's a great community and the fastest way to get answers to those nagging questions about your visit!