Oakland California Airport
Everything You Need to Know About Flying into OAK
NOTE: On December 6, San Francisco (and a few surrounding counties) will once again be on a stay-at-home order. This will last indefinitely. Click here for more information.
The Oakland California airport is officially known as the Oakland International Airport (OAK). It is located right across the bay from San Francisco. It is another great option for those traveling to the SF bay area.
This is the one for you if you are staying in Oakland, Berkeley or Walnut Creek or other destinations in the East Bay. It's also a great option for you if you are heading straight north to visit the wineries in Napa Valley.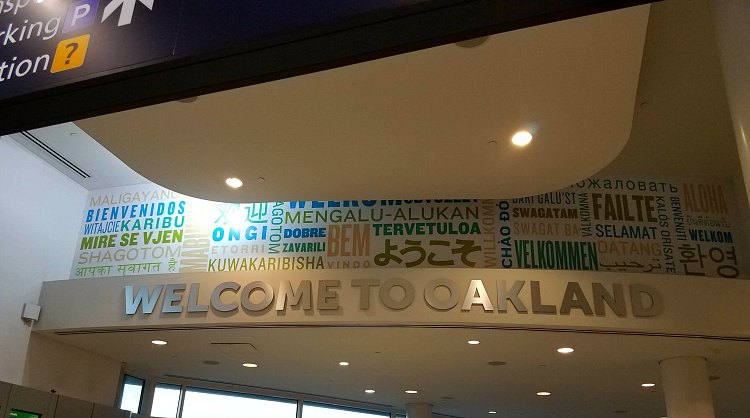 You can also fly to OAK if you are staying in San Francisco. However, transportation to and from San Francisco from it is more expensive than from San Francisco International Airport (SFO).
Since you have to cross the San Francisco Bay Bridge, it takes more time - and is more of a hassle than SFO. This is why I usually recommend flying into SFO if you are heading straight to San Francisco. However, if you find a killer flight deal into OAK, then paying a little extra for ground transportation might not be as big of a deal.
You will want to leave at least an hour transfer time between the Oakland California Airport and San Francisco. While it's only a few miles, traffic is usually heavy between these two cities - so you want to leave plenty of time for your transfer.
At times, it will only take about 30 minutes. During rush hour, it could take you even more than an hour.
Disclaimer: I receive a small commission from some of the links on this page.
Oakland Airlines
These are the thirteen airlines that service the Oakland California Airport:

Alaska Airlines
Allegiant Air
American Airlines
azores airlines
Boutique Airlines
British Airways
Delta Airlines
Hawaiian Airlines
JetBlue Airways
Level
Norwegian Airlines
Southwest Airlines
Spirit Airlines
Volaris
There are around a hundred flights per day that come in and out of OAK. The majority of them are domestic flights from other cities within the US. There are also a handful of international flights each day.
The great thing about Oakland is that it's a smaller place, so it's easy to get around. You can quickly make your way to your airport transportation transfer once you arrive.
Oakland Airport Transportation Options
You have several options for transferring from Oakland California Airport to cities in the east bay or San Francisco. Here are some of the top options.
Airport Shuttles at the Oakland California Airport
As with the other airports in San Francisco, Oakland also has several shuttle options. The difference here is that they don't have ride share shuttle services and you will need to book in advance.
All door-to-door shuttle options from Oakland California Airport are private and pricey. It's a good option if you have a group of people, but not one I would recommend if you are traveling on your own.
---
Scheduled Vans & Buses
There are also scheduled vans and buses. The two options are by Evans Airport Service and Airport Express.
Evans offers six shuttles a day (five on the weekends) from OAK to Napa. It runs between 6:15am and 8:30pm. It takes about an hour and a half to get to Napa on this shuttle. They pick up at 4D across from baggage claim. The cost is $40 and its cash only.
Airport Express offers service to Marin and Sonoma. They offer stops in San Rafael, Petaluma, Rohnert Park, Santa Rosa, and the Sonoma County Airport. The shuttle runs every two hours starting at 5:30am with the last shuttle at 9:30pm. It takes one to two hours to reach the destinations on its route. The cost is $26 for drop offs in Marin and $34 for drop offs in Sonoma.
No reservations are required for either of these companies. Simply show up about 15 minutes before the scheduled departure and you will pay when you board.
---
Oakland Airport Car Rental
The rental car center at the Oakland California Airport is open 24 hours a day. You will find the standard rental car companies at here including Alamo, Avis, Budget, Dollar, Enterprise, Fox, Hertz, National and Thrifty.
This is a great option if you are staying outside of San Francisco. If you are spending your entire vacation at a hotel in San Francisco, then I'd recommend looking at the other Oakland Airport transportation options as you will save quite a bit of money.
---
Bay Area Rapid Transit (BART Trains)
BART is a great way to get to downtown Oakland, Berkeley, Walnut Creek and other places throughout the East Bay. It's also the cheapest and best option to get over to San Francisco.
BART completed a connector section a few years ago and it now takes you directly from OAK to the main BART lines that will take you around the SF Bay.
There is a cost for the connector line as well as for your BART ride on the main lines. You can pick up your tickets at the terminal at the station when you arrive.
---
Taxi
If you are staying in Oakland, then a good option for you is to take a taxi. This is not a great option for those staying in San Francisco as many Oakland taxis are not allowed to drive across the Bay Bridge.
Since each city is in a different county, there are strict regulations for them which further discourages them from wanting to take you all the way into San Francisco.
However, you can either call ahead or use a service such as Uber or Lyft.
Getting to San Francisco from the Oakland Airport
What is the best way to get from Oakland Airport to San Francisco? The three best options are BART, a door-to-door shuttle (booked ahead of time) and Lyft.
BART offers a connection from OAK to the main BART train lines that run into San Francisco. You will need to first take the OAK connection and then transfer over to a San Francisco bound train. The ride takes about 15 to 20 minutes depending on how long you have to wait for the trains.
The BART stops in San Francisco will drop you near downtown, South of Market, the Financial District, Union Square, Civic Center, and Mission Districts. You can also find easy transit to other locations around SF including Fisherman's Wharf.
You can pick up your BART ticket once you arrive at the station.
You will also find several door-to-door shuttle companies that will take you directly to your hotel or personal accommodation when you arrive. They are slightly different than those at SFO as they do not offer shared ride shuttles. You will need to book in advance and your private door-to-door shuttle will pick you up on arrival.
A better option is Lyft. They pick up near Arrivals at the second curb by 2E. This is the only place Lyft drivers are allowed to pick up riders at the Oakland California Airport. The cost to take a Lyft into San Francisco is usually around $40 to $45 (before tip) to get to Fisherman's Wharf or Union Square. The price will increase quite a bit during rush hour.
You can also save on your cost for Lyft by selecting Lyft Line. This is a ride sharing option where your driver can pick up an additional person or two as you head toward your destination. This will save you some money but will take a little longer.
Getting to Locations Around the Bay and Beyond
Here are a few more ideas on how to get from Oakland California Airport to other popular destinations around the SF Bay.
San Jose: The city of San Jose is about 35 miles south of OAK. The best way to get here is to rent a car or use Lyft. You can also use a door-to-door shuttle, but this option is expensive. Public transportation down to San Jose is an option too, but you will need to transfer a couple of times and it will take almost 2 hours.
Napa: The best way to get to Napa is either to drive or take Evans Transportation. From their hub in Napa, you can either use local public transit or Lyft to get to your final destination. The drive to Napa from Oakland is about an hour to an hour and a half (sometimes longer with traffic).
Sausalito: The best way to get to Sausalito from OAK is to drive. It will take about an hour to drive to Sausalito. You can also take public transit. This will take about an hour and you will need to transfer twice.
Santa Rosa: You can easily get to Santa Rosa by driving or on the Airport Express bus. It's about a hour to an hour and a half to drive. The Airport Express takes about two hours to get to the Santa Rosa stop.
SFO: The best way to get from the Oakland California Airport over to San Francisco International is on BART. You will need to transfer twice, but it's the easiest and most cost-effective option. It's also the fastest option during rush hour traffic.
More Tips for the Oakland California Airport
What time should you arrive for your flight at the Oakland California Airport? OAK is small with only around 100 flights a day. I recommend arriving at least two hours before domestic flights and about three hours for international.
While most airlines fly only a handful of routes, Southwest has a large number of flights in and out of OAK. I recommend planning ahead for your Southwest flight as lines are often long all day long.
When does OAK open? The Oakland International Airport is open 24 hours a day. They do close the areas behind security, but you are welcome to stay in their main lobby overnight. This is the best option if you have an overnight flight or connection. It isn't comfortable but will provide you some protection as you wait for your next flight.
Does Oakland Airport offer luggage storage? Unfortunately, they do not offer luggage storage at OAK.
Oakland California Airport Hotels
If you have an early morning or late-night flight, you might want to consider staying near the Oakland California Airport. Many offer free shuttles to and from the airport. Here are a few of my top picks.
1. Courtyard Airport: 3-star hotel with free transit to OAK and family rooms, there is a restaurant on-site and free wifi, it's about a mile away or a 5-minute drive, find recent guest reviews on Booking
2. Holiday Inn Hotel & Suites: 3-star hotel less than one mile from OAK, offers free transit to the airport, suites, and a pool, find recent reviews on Booking
3. Best Western Plus Airport Inn & Suites: 2.5-star hotel, free shuttle, parking, Wifi and breakfast, about 1.5 miles from OAK, check out recent reviews on Booking
Oakland Airport Parking
You can easily park in one of four lots right at the Oakland California Airport. The four lots are priced based on how close they are to the terminals. There are more than 7,000 spots.
Premier is the closest and runs about $38 a day. Hourly parking is behind that and runs about $1 per each 12 minutes or up to $34 for the day.
Right behind hourly parking is Daily. It's about $5 per hour or $24 per day.
The least expensive, yet furthest lot is the Economy lot. It's $18 a day. You can either walk from this lot to the terminal or use their free parking shuttle service.

Follow SFTourismTips on Facebook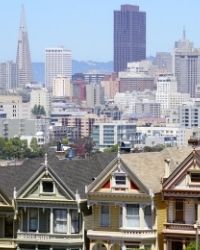 On my Facebook page, you will find more great information about planning your San Francisco vacation.
It includes tips, must see attractions, and other fun details.
Click the link below to check it out. If you enjoy the page, give us a like.

Best SF Attractions