Lower Haight in San Francisco: Bars, Restaurants, and Colorful Victorians

by Jill Loeffler  •

Updated: April 17th, 2023
The Lower Haight in San Francisco is a small, local neighborhood just to the east of the famous Haight-Ashbury District. I love this district's small commercial area because it has some great restaurants, bars, and local shops.

The other thing I love about it is its colorful Victorians. You will find quite a few lovely variety of them in this area with beautiful colors and historic touches.
Its western border is Baker and Buena Vista Streets. Buchanan Street is its eastern border. It stops at Oak Street to the north and Herman Street on the south.
Disclaimer: I receive a small commission from some of the links on this page.

Historic Victorians

The historic Victorians are what initially drew me to the Lower Haight in San Francisco. I still can walk around this small area for hours just admiring the houses.

Some of my favorites are on the streets that dead-end into Duboce Park. They include Carmelita, Pierce and Potomac just south of Waller Street. Being on these blocks makes me feel like I'm stepping back in time since they offer a classic San Francisco experience.
Other streets that I love to explore include Scott Street between Page and Haight. I also really enjoy some of the beauties along Page Street. 
Duboce Park

Just to the south of the Lower Haight in San Francisco is Duboce Park. This small, lovely green space is a perfect place to relax and unwind. You can grab a sandwich and/or coffee and soak in the views of downtown SF. 

It's also the perfect place to meet some locals. Many people hang out here on nice, sunny days. 
Duboce Park is right along the N-Judah line too, so you can easily get to other districts easily on the light rail line.
Bars & Restaurants in the Lower Haight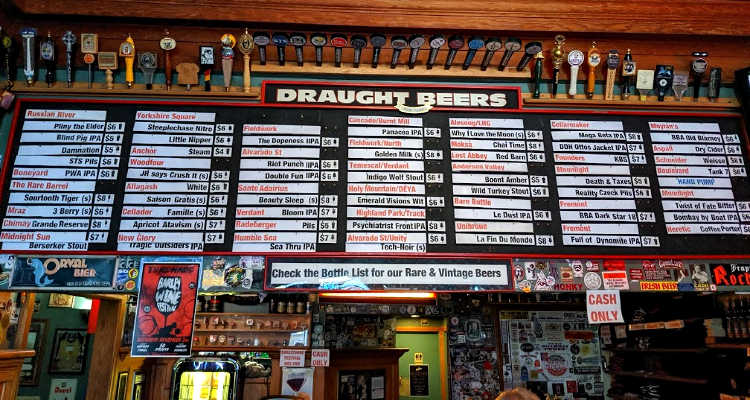 I love exploring the Lower Haight in San Francisco on foot. I also love hanging out at its bars and restaurants. You will find a low-key vibe here with mostly locals. If you are looking for a less touristy feel for your evening, head here for a night or two.
The main commercial area runs along Haight Street between Webster and Scott.
Toronado: This dive bar has a huge selection of beers. They offer everything from double IPAs to tasty sours beers. You will find both local options and some from around the world. 
Toronado has been in the district for a long time and is a local staple. You must order and pay at the bar and they only accept cash. They are one of my favorites in town and you can find my other favorites here. 547 Haight St.
Noc Noc: Another one of my favorites is the Noc Noc. This bar is unique. It's colorful and funky and you will feel like you just stepped into the Beetlejuice movie. With unusual high back chairs at the bar, alien designs all around, and a tree along one wall, it's an experience like no other. The original theme for the bar was that it was the scene after an airplane crash in a faraway place (notice the wings on the ceiling above the door). It's one place that you might find me sitting at the bar on any given night. 557 Haight Street 
Memphis Minnie's BBQ Joint: For those of you that love BBQ, you are going to love Memphis Minnie's. It is one of my favorite places to have lunch and enjoy one of their sandwich meals.

I love their pulled pork, beef brisket, and tri-tip steak. Their sides are also tasty with classic southern BBQ options including their smoked beans, potato salad, and macaroni and cheese. 576 Haight St.
Palmyra: This is one of my favorite Mediterranean restaurants in San Francisco. It's locally owned, laid back, and has tasty Mediterranean dishes. Their falafel plate is one of my favorites. I also love their hummus and rotisserie chicken. It's an easy place to grab a quick meal. 700 Haight St.
More Popular Activities in San Francisco

How to Get to the Lower Haight in San Francisco

You have two great options to get to the Lower Haight in San Francisco.
7-Haight/Noriega: The 7 Bus will take you from the heart of SF including Union Square to the main commercial area of this neighborhood. You can pick up the bus along Market Street. You will want to take it to the stop at Fillmore and Haight. 
N-Judah: Another great option is to take the N-Judah light rail train. This runs underground along Market Street and will take you to Duboce Park near this district (it's above ground at this stop). This is the faster of the two options, but since you are mostly underground, you won't see much on your ride over.

If you are coming over from Fisherman's Wharf, you can take either the F-Street car or one of the cable cars to Union Square. From here, you will transfer to one of the options mentioned above.

Hotel Deals

You won't find any hotels in the Lower Haight in San Francisco, but the links below will give you some of the best deals and recent reviews on some of the top picks all around the city.

Booking: Find great deals all around San Francisco for your upcoming stay! 

TripAdvisor: What's the #1 hotel in San Francisco? Read reviews & find hotel deals on TripAdvisor!
VRBO: In addition to hotels, you'll also find some great places to stay locally through VRBO. Book an apartment or a room and feel more like a local. Find some great places to stay on VRBO here. 
What to See & Do Nearby

Haight-Ashbury: Just to the west of the Lower Haight in San Francisco is the famed Haight-Ashbury district. Here you will travel back to the 60s to relive the Summer of Love. The district is full of interesting stores, casual restaurants, and one of my favorite breweries, Magnolia. It's easy to visit both of these areas in just one day. Learn more here.
Alamo Square & the Painted Ladies: Another popular stop nearby is Alamo Square where you can see the famous Painted Ladies. You will find them about a half mile from the heart of the commercial district in the Lower Haight in San Francisco. Learn more about visiting this top SF attraction.
Duboce Triangle: The Duboce Triangle is another small district just to the south. Here you will find some great bars, restaurants, and two popular music venues. Learn more about what to see and do here.

Castro: The Castro is another district here that you will love to visit. It's the heart of the LGBTQ community and has an interesting history. You can head out on a guided walking tour, visit some of the place that activist Harvey Milk frequented, or check out its top bars and restaurants. Learn more about the Castro here.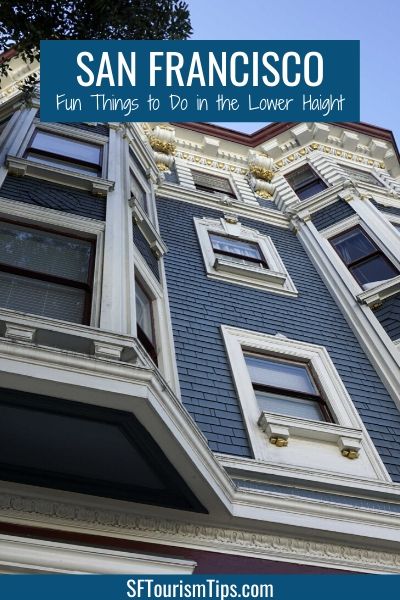 Additional Fun Districts Around San Francisco

Comments? Questions? Suggestions?
I would love for you to join me in my private Facebook group! 
It's a great place to interact with me and others who know the area well.
You can ask questions, get advice for your upcoming stay, and then share your photos and advice with others when you return home. It's a great community and the fastest way to get answers to those nagging questions about your visit!