San Jose Theater 2019
Calendar of Upcoming Performances
The San Jose theater calendar includes a variety of Broadway hits, classic opera shows, and other well-known productions. Every year, you can see performances such as The Book of Mormon, A Christmas Carol, and The Barber of Seville.
My calendar includes the top shows at their four top venues including the City National Civic, Center for the Performing Arts, California Theater, and the Montgomery Theater.
It's easy to get to the theaters from San Francisco or anywhere around the Bay Area. Read on for details the 2019 schedule of performances.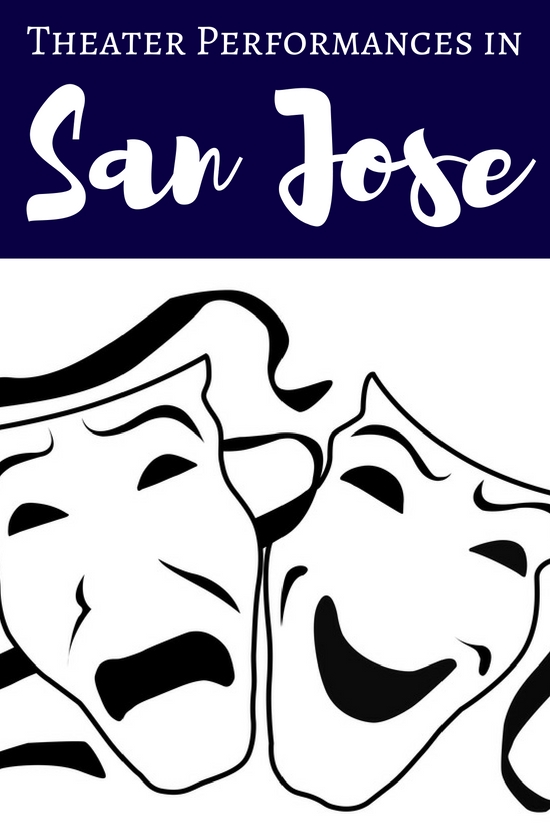 Disclaimer: I receive a small commission from some of the links on this page.
City National Civic
The largest of the four San Jose Theater venues is the City National Civic. First opened in 1936, this historic theater seats up to 2,800 people. It was renovated and reopened in 2012 and includes its historic details as well as modern updates.
The City of San Jose owns the building and renamed it the City National Civic in 2013. Most of the performances here are concerts featuring internationally recognized stars such as Alice Cooper, The Righteous Brothers, and Earth Wind & Fire. You can also see kids shows such as The Wiggles and a variety of other performers all year long.
They offer 5 to 10 shows a month. Most shows run for just one to two nights. It's located downtown at 135 W. San Carlos Street.
Here is the upcoming schedule of shows for the next couple of months for this San Jose theater venue.
April 2019
May 2019
Center for the Performing Arts
The Center for the Performing Arts is the next largest San Jose theater. Most of the performances at this theater are traveling Broadway shows such as Wicked, The Book of Mormon, and The Lion King.
It's also where you can see performances by Symphony Silicon Valley and other smaller, local theater productions. It seats around 2,600 people and is at 255 Almaden Boulevard.
Upcoming Broadway Shows
Here is the schedule of upcoming Broadway shows at this San Jose theater.
Disney's Aladdin
April 10 - 21
The hit Broadway musical from the producer of The Lion King comes to the San Jose theater in April. Based on the film with the same name, Aladdin will make you believe that wishes can come true! Find tickets for all performances.
Fiddler on the Roof
May 21 - 26
This wonderful show follows the story of a father who wants the best for his daughters. Will he be there to support them as they all follow a different path from what he dreamed? This engrossing and heartwarming story is a must see this season. Find tickets to all shows.
School of Rock
June 4 - 9
Another show on the San Jose theater calendar this year based on the movie with the same name is School of Rock. A struggling musician and substitute teacher form a rock band with the top kids at school to perform at an upcoming Battle of the Bands. Are they good enough to win? Find out June 2019. Tickets for all shows.
Book of Mormon
July 16 - 21
This hilarious Tony Award winning musical is written by South Park creators Matt Stone and Trey Parker, and Avenue Q writer Robert Lopez. The story starts with our Mormon missionary, who travels to Uganda to spread the word of his religion. As would be expected, the locals have much important issues to deal with during their daily lives. This show is a definite must see if you love to laugh all night long.
Wicked
August 14 - September 8
Everyone knows about Dorothy and the Wizard of Oz, but do you know the story behind the story? If not, don't miss WICKED. Elphaba, who is born with green skin, but a heart of gold, is made out to be a wicked witch. Meanwhile, Glinda, with her light skin and blonde hair, is made out to be a good witch. However, there is a much deeper truth behind the story. Songs such as "Defying Gravity" and "Popular", the costumes, and the sets, will transport you to the world of Oz.
Jesus Christ Superstar
October 22 - 27
Celebrating 50 years of tours all around the world, it was written by Andrew Lloyd Webber and has kept audiences spell bound since the first show. This musical is based on the Gospels' accounts of Jesus' last week and crucification. It delves into the thoughts and psychological beliefs of Jesus, and especially on Judas, who is worried about how Jesus' choices and decisions will affect his followers. No matter what your belief system, you will enjoy this incredible performance and spectacle.
Blue Man Group
November 1 - 3
The world famous Blue Man Group comes to San Jose for 3 days only this season. The performances are always different but tend to focus on innocence, technology, self-consciousness, and being outsiders. With incredible lighting, music, and action on the stage, this is a can't miss for anyone of any age if they want to experience something new and different no matter how many times you've seen them.
Miss Saigon
November 12 - 17
Based on Puccini's Madame Butterfly, Miss Saigon is a contemporary story that focuses on two lovers torn by the fall of Saigon and circumstances beyond their control. Kim, who is a young Vietnamese woman, falls in love with Chris, an American G.I. Unbeknown to Chris, Kim has fathered a child with him, and so she sets off to find him. This musical is famous for many songs, incredible sets and designs, and more.
Waitress
December 17 - 22
Based on the 2007 film of the same name, the lovely Jenna, a wonderful pie maker, dreams of leaving her small town and making it in the big city. Luckily, a baking contest, and budding relationship with the town's new doctor may give her a chance to do just that. However, will she win the championship and become the person she wants to be remains to be seen. This all-female team has brought this musical to life in a magical way that you will want to experience all for yourself.
Les Miserables
April 21 - 26, 2020
Based on the 1862 French novel by Victor Hugo, Les Miserables is the second-longest running musical in the world. Set in 19th-Century France, Jean Valjean is a peasant who has spent 19 years in jail for stealing a loaf of bread. He meets a Bishop and decides to lead a virtuous life and adopts the lovely Cosette. However, the police inspector Javert won't give up until he tracks Jean down. Love, sacrifice and redemption are all wrapped up in this classic musical. The staging, sets, and costumes are out of this world and like nothing else you've seen before.
Riverdance
May 15 - 17, 2020
After 25 years, this show has been revamped with new sets, lighting and more so that you will have a brand new experience no matter how many times you've seen it before. An international favorite that has been enjoyed by over 25 million people throughout the years, it is based on traditional Irish music and dance. This Grammy award winning performance will make you want to get up out of your seat and dance along with them!
Come from Away
June 16 - 21, 2020
Most people know about the day the Twin Towers fell in NYC, but most don't know what happened to 38 of the planes that were diverted on that day. Ending up in a tiny town of Gander in Newfoundland, this is the story of the 7,000 stranded passengers, how they adapted, learned about each other and ended up becoming a international community. It also shows how the people living in Gander welcomed them as part of their family. This musical continues to give people from all over the world hope that even the worst of times can bring out the best in humanity.
More Shows at the Center for the Performing Arts
4/25: Tom Jones
4/26 - 4/28: PAW Patrol Live! "The Great Pirate Adventure"
5/6: National Geographic: Symphony for Our World
5/8: Celtic Woman - Ancient Land
5/10 - 5/12: The Lightning Thief: The Percy Jackson Musical
5/29: Derek Hough: Live!
California Theater
The California Theater is a smaller stage that was once a movie theater. It's where you will find performances by the Opera San Jose, more from the Symphony Silicon Valley, and The New Ballet. They also offer other one-night performances including comedians, dance performances and more.
You will find it at 345 South First Street. It seats around 1,100 people.
Upcoming Opera San Jose Performances
Madame Butterfly
April 13-28
Madame Butterfly is the story of a French diplomat stationed at the Embassy in China. He's married, but falls in love with a young, beautiful local girl. His wife learns of the affair, leaves him and the two lovers remain together for more than 20 years. It's the story of international espionage and personal betrayal and what happens when things are not as they seem. Tickets for all performances.
More Shows at the California Theater
4/6: 35th Anniversary Gala - Opera San Jose
5/4-5/5: Symphony Silicon Valley: Petrushka & Rach 2
5/19: Cinderella - The New Ballet
5/21: Mr. Barnhill's Final Concert
5/22: Professor Brian Cox - Universal
5/26: Jo Jo Jorge Falcon
6/1 & 6/2: Symphony Silicon Valley: Beethoven's Ninth
6/2: Tales & Legends Concerts: Golden State Youth Orchestra
6/8: Miranda Sings - Who Wants My Kid?
Montgomery Theater
The final San Jose theater venue is the Montgomery Theater. This is the smallest of the four and sits next to the City National Civic. It holds around 450 people.
On stage here, you will find mostly kid's performances along with a handful of other shows. The CMT Marquee shows are CMT alumni and working professionals. The CMT Rising Stars are kids 8-14. CMT Mainstage is performers between the ages of 14-20. The final category is CMT Junior Talents which is kids between 6 and 9.
Here is a schedule of upcoming performances.
4/6: Supertrouper: The ABBA Concert Experience
4/19 - 4/28: Beauty and the Beast - CMT Marquee
5/2 - 5/5: The Adventures of Tom Sawyer - CMT Rising Stars
5/10 - 5/19: Chicago - CMT Mainstage
5/26 - 5/27: Springtime Fairytale
5/26 - 5/27: Whispers of Spring - Bayer Ballet
7/12 - 7/20: Anything Goes - CMT Rising Stars
7/26 - 8/4: Legally Blonde - CMT Mainstage
8/8 - 8/11: James and the Giant Peach - CMT Junior Talents
8/17: Johnny Cash Tribute - "The Only Cash Tribute Band"
10/10 - 10/27: My Son The Waiter: A Jewish Tragedy
10/10 - 10/27: My Son The Waiter: A Jewish Tragedy
More Bay Area Shows