SF Bay Area Valentine's Day Events 2020
Great Pillow Fight, Theater Shows & More Ideas this Holiday
NOTE: Click here to stay up-to-date with what's open and opening soon.
SF Bay Area Valentine's Day events in 2020 include the Great Pillow Fight in San Francisco, theater performances all around the area, and special cruises. You find fun things to do both on the holiday and the weekend before.
Read on for several ideas on how to spoil your sweetie this holiday.
Great San Francisco Pillow Fight
Have you always wanted to be part of a flash mob? Now you have your chance to be part of the Great San Francisco Pillow Fight! In the past, approximately 1,000 people have shown up at Justin Herman Plaza on Market Street with pillows hidden in their bag only to bust them out when the clock strikes 6pm.
It's an amazing sight to see feathers flying everywhere, not to mention a good arm workout. This is by far one of the most unique SF Bay Area Valentine's Day events.
This is not a sanctioned event, so if you go, it's at your own risk!
>> Find additional ideas for Valentine's Day in SF
SF Bay Area Theater
Do something different for date night this Valentine's Day and spend the evening enjoying the best of San Francisco theater!
Some of the city's most historic venues are offering Tony Award-winning shows that are sure to capture your heart. Catch Hamilton, the story of Alexander Hamilton--one of our famous founding fathers, at the Orpheum Theater.
Or head to the Golden Gate Theatre for SpongeBob The Musical. It's a chance to spend some time with SpongeBob and his friends in Bikini Bottom. When a volcano causes a tremor, SpongeBob has to save the day against two villains that are planning to trick the inhabitants.
You can also see one of many performances of Harry Potter and the Cursed Child at the Curran Theater. It's the story of how Harry's son has to deal with a lot of the things his father did as he was growing up. It runs all weekend long.
Many of the shows are on Valentine's Day, but many are also during the weekend.
>> Find a full calendar of theater performances all around the Bay Area
Hornblower Cruises for Valentine's Day
Hornblower is offering three cruises this Valentine's Day and Weekend.
Amore Valentine's Dinner Cruise: This cruise runs on Friday (14th) night. On this 3-hour cruise, you will enjoy a delicious dinner buffet, a hosted premium wine and beer bar, and views all around the SF Bay. It leaves the Pier 3 at 7pm sharp and returns at 10pm.
Aphrodite's Premier Valentine's Dinner Cruise: This is another fun cruise that on Friday night. It's also a 3-hour cruise, but this one offers a four-course seated dinner. It also features a hosted top-shelf bar. It leaves from Pier 3 at 7:30pm and returns at 10:30pm.
Cupid's Valentine's Brunch Cruise: This late morning cruise runs during the weekend on Friday (2/14), Saturday (2/15) and Sunday (2/16). It's a 2-hour cruise with a brunch buffet. You can also enjoy free-flowing champagne, bottomless mimosas, soda, orange juice, coffee, tea and water. It leaves from Pier 3 at 11:30am and returns at 1:30pm.
Comedy Shows
This Valentine's Day in the SF Bay Area head to one of our top rated comedy clubs for a night of laughter. Some of the top options around the Bay include Cobb's Comedy Club in San Francisco, Comedy Oakland, and the San Jose Improv Comedy Club.
Here are a few of my top picks. Click the links for ticketing details.
Jo Koy at the Chase Center, he is performing one show on 2/13 and one on 2/15.
Ismo at the San Jose Improv, two shows, one at 7:30pm and one at 9:45pm. There are also more shows over the weekend on both Saturday and Sunday.
>> More comedy options this holiday
Concerts on Valentine's Day in the SF Bay
You will find a variety of shows this Valentine's Day throughout the SF Bay. Here are some of my top picks. Click the links for ticketing information.
Valentines Super Love Jam featuring Midnight Star, Rose Royce, Heatwave, and others at the SAP Center in San Jose.
Valentine's Love Jam: Tyrese, Joe, Ginuwine, Avant & Brownstone at the Oakland Arena in Oakland.
Avery Sunshine at the Blue Note in Napa, she is performing two shows that night at 6:30pm and 9pm.
The Movement at the Catalyst in Santa Cruz
Dark Star Orchestra at the Warfield in San Francisco, they are performing a show on Friday and one on Saturday.
Violent Femmes at the Fillmore, show starts at

Follow SFTourismTips on Facebook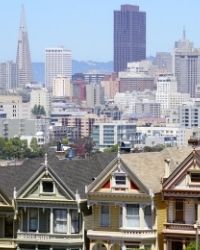 On my Facebook page, you will find more great information about planning your San Francisco vacation.
It includes tips, must see attractions, and other fun details.
Click the link below to check it out. If you enjoy the page, give us a like.

More Things to Do in the Bay Area in February