San Francisco Events in January 2016
Enjoy NY Day Activities, Film Festivals, & SF Sketchfest
January in San Francisco is cool and rainy. It's a wonderful time of year to visit as the city looks almost mystical.
During the month of January, you will find lots of fun activities, including a couple of film festivals, a beer festival, and a celebration of the arrival of the sea lions at Pier 39. You will also find one of the largest comedy festivals, SF Sketchfest.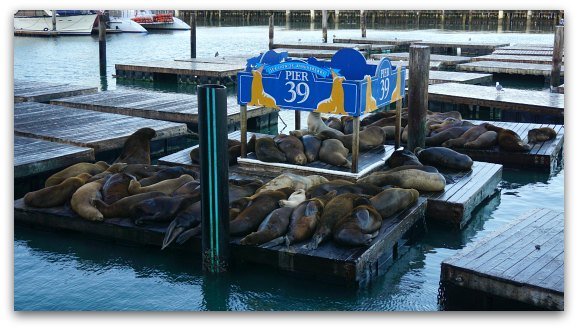 This January, you will also get the chance to see performances of Jersey Boys at the Orpheum Theater, and the SF Ballet opens their season on the 24th of the month.
New Years Day Events
On New Year's Day, you will find a lot of fun things to do all around town. Some top museums and attractions take the day off, however, you will still find plenty of places open. You can stroll through the Botanical Gardens (free this day to all visitors), experience the California Academy of Sciences, or watch the jelly fish at the Aquarium of the Bay. You will also find most tour companies offering their regular schedule of tours.
Date: January 1
Learn More: Full list of activities for NY Day
---
SF 49ers at Levi's Stadium
Head down to Santa Clara to see the SF 49ers in action. On Sunday, January 3, the 49ers take on the St. Louis Rams. Game time is 1:25pm.
Date: January 3
Learn More: See the full 2015/2016 49ers schedule
---
SF Sketchfest
SF Sketchfest is a two and a half week long comedy festival at several venues around town. Each night, you will find several performances from both local and nationally recognized names. In the past, this festival has drawn in thousands of attendees to watch comedians such as Margaret Cho, Kevin McDonald, Janeane Garofalo, and Maya Rudolf. I recommend buying tickets to the big name performances well in advance as these tickets sell out quickly.
Dates: January 7 - 24
Learn More: Full SF Sketchfest details
---
Film Festivals in January
This month, you will find two film festivals. The first is Noir City. It includes films that show the darker side of relationships and other situations. The second is Berlin and Beyond. All of the films in this festival shows contemporary films from Germany, Austria, Switzerland, and Beyond.
Dates: Several dates in January
Learn More: Full schedule of film festivals this January
---
Hotel Deals
Do you plan to stay in San Francisco during your visit? You will find more than 250 hotels throughout the city. Many of them range from around $150 to $1,000+ a night. The best way to cut costs for your visit is to check out the hotels deals on TripAdvisor before you book. You will find a variety of options from 5-star beauties to inexpensive gems with discounts on the nightly rate as well as other free perks such as WiFi, parking, and more.
Learn More: Visit TripAdvisor for a list of deals in January
---
SF Symphony
The SF Symphony continues their 2015/2016 season on January 9. This month, you will find several shows including Itzhak Perlman and Emanuel Ax (January 18) and European Exoticism: the Magic of Weber, Saint-Saens, and more (January 28 - 31). All performances are at the Davies Symphony Hall.
Dates: Several Dates in January
Learn More: Discover the full calendar + tips to attend a performance
---
Hot Chocolate 15k/5k
Enjoy a cool run and some hot chocolate on Sunday, January 10. This fun race starts in Golden Gate Park. You will run through the park as well as along the Great Highway. A 15 minute mile pace is required of all runners for this race. At the end, warm up with some creamy, hot chocolate.
Date: Sunday, January 10
Register: Visit their website to register today
---
Portals of the Past: The Photographs of Willard Worden
All month long, you can enjoy the photography of Willard Warden at the de Young Museum in Golden Gate Park. He captured San Francisco and other local spots during his life here. The collection is from the first two decades of the 1900s and includes early photos of Chinatown, the SF shoreline, and the devastation of the 1906 Earthquake and Fire. He was also on hand to photograph the 1915 Panama Pacific Exposition. It's a great look at what San Francisco was long ago.
Dates: All month long
Learn More: Read more about visiting the de Young Museum
---
SF CityPass
The SF CityPass is a great way to save money for those planning to visit some of SF's must see attractions. It includes admission to the California Academy of Sciences, the Aquarium of the Bay, and The Exploratorium. You will also receive a ticket on a 60 minute Blue and Gold Fleet Bay Cruise as well as a 7-Day Muni Pass. It offers a savings of up to 44% on these attractions and activities (vs. buying them all separately).
Dates: Can be used any day(s) in January
Learn More: Visit the CityPass site to learn more & buy your pass today
---
An Evening with Niel DeGrasse Tyson
Join the host of FOX's Cosmos, award-winning astrophysicist and author, Dr. Niel DeGrasse Tyson, for a stimulating conversation about science, exploration, and the world as we know it.
Dates: January 13 - 14
Learn More: Tickets on Sale Now
---
Fog Design + Art Fair
The 2016 Fog Design + Art Fair is Thursday, January 14 - Sunday, January 17. The event features contemporary design made out of a variety of techniques. This year, they will again collaborate with San Francisco Museum of Modern Art's On the Go Series. In addition to art, you can also participate in one of almost a dozen lecture sessions. Tickets start at $20 per person per day online or $25 at the door.
Dates: January 14 - 17
Learn More: Visit their site for ticketing details & to learn more
---
Martin Luther King, Jr. Festival
Each year SF remembers the life and work of civil rights leader MLK, Jr. with a festival that includes live music, film screenings, a health festival, children's programs, community reflection, lectures, and more. This three-day celebration culminates with a parade/march that commemorates the historic Selma march of 1965.
Dates: January 15 - 18
Learn More: See a more detailed schedule of events for this festival
---
Sea Lions' Arrival Celebration at Pier 39
This year, Pier 39 will celebrate the 26th Anniversary of the sea lions' arrival. These playful creatures began frequenting the Fisherman's Wharf area shortly after the October 1989 earthquake. Today, they are one of the top attractions in the district and Pier 39 celebrates their arrival every January.
Date: January 15 - 18
Learn More: Discover all the things to do & see on Pier 39
---
Richard Howell at the Herbst Theatre
Renowned saxophonist Richard Howell and his group Sudden Changes perform live at the Herbst Theatre. Their music draws on jazz roots with elements of soul and pop. Howell has worked with jazz greats Etta James, Chaka Khan, and Maurice White.
Dates: January 15 - 18
Learn More: See show details and tickets
---
Yoga Journal Live! Conference
If you love yoga, this weekend-long conference is a way to deepen your practice, learn from the best, and participate in workshops. The yoga market and some classes are free and open to the public. Enjoy all the activities at the Hyatt Regency at the Embarcadero Center.
Dates: January 15 - 18
Winter Fancy Food Show
The Winter Fancy Food Show is one of the largest food trade shows each year on the west coast. This year's event will be at the Moscone Center in SF's South of Market (SOMA) district. The show will features 80,000 best-in-class and on trend products including cheese, coffee, gluten free, low carb, natural, organic and more.
Dates: January 17 - 19
Learn More: Visit their website to learn more & register today
---
SF Restaurant Week
Foodies, beware: this week you will be eating out a lot! All over town, SF's best restaurants are inviting you to taste their delicious and elegant fare through multi-course menus at special prices. Discover new dishes and cuisines for lunch at $15 or $25, or for dinner at $40 or $65.
Dates: January 20 - 31
Learn More: Get more information and a list of featured restaurants
---
Japanese Tea Garden Walking Tour
If you would love to learn more about the Japanese Tea Garden during your visit, then head over during one of the free walking tours offered by SF City Guides. Your knowledgable guide will walk you through the gardens and teach you all about its history and the meaning behind each section. This tour runs daily at 1pm (you do have to pay to enter the gardens, but the tour is free). It also funs every Monday, Wednesday, and Friday at 9:30am (entrance to the gardens on these three days is free).
Dates: Daily at 1pm; M, W, F at 9:30am
Learn More: Find more details about this tour & the full SF City Guides free tour schedule
---
Jersey Boys at the Orpheum Theater
Jersey Boys returns to San Francisco on January 20. It's based on the true story of Frankie Valli and The Four Seasons. Discover how they rose to fame and listen to some of their hits songs such as "Walk Like a Man," "Oh What a Night," and "Big Girls Don't Cry."
Dates: January 20 - February 14
Learn More: Full SF theater calendar for January 2016
---
SF Ballet
The SF Ballet opens their 2016 season on January 24. Their first program features three parts: 7 for Eight, Margittomania, and Pas/Parts. All of the performances are at the War Memorial Opera House.
Dates: Starts January 24
Learn More: Find the full schedule for 2016 & details to attend a performance
---
Whale Watching Tours
January is a great time to head out on the open waters for your chance to see migrating whales in the Pacific Ocean. This month is when Grey, Sperm, and Killer (Orca) whales are cruising through the waters just a few miles from SF. Cruises leave several times a week from Fisherman's Wharf.
Dates: Every day in January
Tickets: Buy your tickets today
Learn More: Read more about what you can expect on these tours
---
William Shatner at the Warfield
See William Shatner live at the Warfield on January 30. His one man show, called Shatner's World, will give you an inside look at this famous actor, singer, author, comedian, director, spokesperson, and producer. This funny and entertaining show starts at 8pm.
Date: January 30
Tickets: On Sale Now
---
Free Museum Days
This month, head over to one of SF's top museums during its free day. Most of the top museums offer monthly or quarterly free days. In January, you can visit the Asian Art Museum at no cost on the first Sunday of the month. You will also find a variety of museums offering free admission on the first Tuesday of the month.
Dates: Various dates at the beginning of the month
Learn More: Discover the full calendar
---
Other Great Pages