Chinese Restaurants in San Francisco
My 10 Favorites
You will find a large number of wonderful Chinese restaurants in San Francisco. My list includes dishes from all over China including Dim Sum, Cantonese, and Szechuan (or Sichuan) cuisines.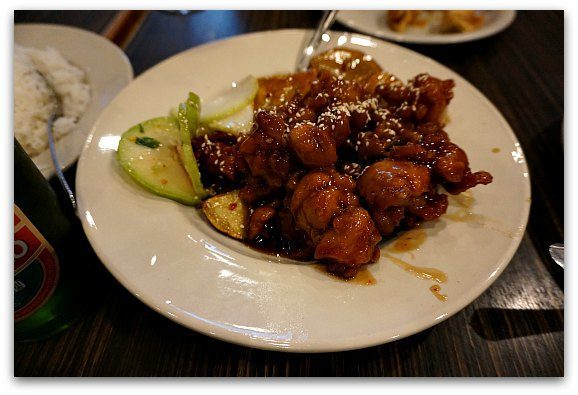 Many of them are inexpensive. You will find most of them in the Chinatown District or in nearby locations.
Continue reading to uncover a list of my 10 favorites.
1. Delicious Dim Sum
If you love dim sum, then head over to Delicious Dim Sum in SF's Chinatown District. It's the perfect place for those interested in sampling a few dishes and not making a big fuss over lunch. The food is very yummy and they have a large selection of dim sum items on their menu.
If you don't speak Chinese and are not sure what a menu item includes, just ask. They are friendly, helpful and the food is both tasty and inexpensive.
Average Price: $2 to $3 for each dish, total per person is usually under $10
Address: 752 Jackson Street
District: Chinatown
2. Henry's Hunan Restaurant
Henry's Hunan is a spacious, clean, modern Chinese Restaurant on the border of Chinatown in the North Beach District. They are open seven days a week and offer many popular Chinese dishes. Some of my favorites here include the Kung Pao chicken, the sweet and sour pork, and the beef with broccoli.
Vegetarians will be thrilled with the large selection of vegetarian options. They also have a number of other locations around San Francisco, but this one is closest to the districts most frequented by visitors.
Average Price: Full meals are usually around $10 to $25 per person
Address: 1398 Grant Avenue
District: North Beach
3. House of Nanking
One of the best San Francisco restaurants for Chinese food is the House of Nanking. The food is great, but very reasonably priced. Don't be surprised to find a line outside waiting to get in. It's a small establishment and they also frequently sit more than one party at a table to fit in as many people as possible.
You'll see the brightly colored sign at 919 Kearny Street, between Columbus Avenue and Jackson Street. They are open everyday for lunch and dinner.
Average Price: $5.95 to $13.95 per dish
Address: 919 Kearny Street
District: Chinatown
4. Hunan Home's Restaurant
This traditional Chinese restaurant offers a large selection of tasty Chinese dishes. You will find more than three dozen items on their menu. Select from chicken, beef, and seafood dishes. You will also find some wonderful sizzling plates made with beef, chicken, or oysters. They also have almost a dozen vegetarian items for sale.
It's a great choice as the restaurant is clean, well situated near both Chinatown and North Beach, and the servers are friendly and attentive.
Average Price: Main meals range from $9.95 to $19.95, with most around $11 to $12
Address: 622 Jackson Street
District: Chinatown
5. New Lun Ting Cafe
Another no frills, inexpensive Chinese restaurant in Chinatown is New Lun Ting Cafe. This delightful place offers standard Cantonese food with incredibly large portions. By far, my favorite item on the menu is the roast pork gravy over rice. Some other great options are their prime rib and the BBQ pork with scrambled eggs.
Average Price: $7 to $8 for most of their main dishes
Address: 670 Jackson Street
District: Chinatown
Save on Chinese Restaurants in SF: The best way to save on your meal bill is to check out the great deals on Groupon.com. They offer discounts on restaurants all around San Francisco. You can find special offers for the meal itself or find deals that include add-ons such as drinks, appetizers, or dessert. Click here to visit Groupon.com today!
6. San Tung Chinese Restaurant
This recommendation is a little off the beaten path, but is one of the best San Francisco restaurants for Chinese food. It is a nice sized establishment that is open for both lunch and dinner everyday of the week except Wednesday.
It is located in the Inner Sunset at 1031 Irving Street between 11th and 12th Avenues. The easiest and cheapest way to get here is to take the Muni train to 9th Avenue and then walk the three blocks over to the restaurant.
Average Price:
Address: 1031 Irving Street
District: Inner Sunset
7. Yan's Kitchen
If you are staying in the Financial District or Union Square, you will love this little gem. Yan's Kitchen is a family owned Chinese restaurant that is hard to beat. They offer large portions at a reasonable price. Their egg rolls are fantastic and very fresh. I also enjoy their General Tso's chicken and their BBQ pork fried rice.
Average Price: $6 to $10 for the main dishes
Address: 57 Columbus Avenue
District: Financial District
8. Z & Y Restaurant
My next recommendation is Z & Y Restaurant near Chinatown. This is another favorite of the locals and has great, but reasonable, Chinese food.
They focus on Szechuan cuisine, which is typically spicy and very flavorful. They offer up dishes such as Chicken with Explosive Chili Peppers, Hot Braised Sea Bass, and Kung Pao Chicken.
They are open for both lunch and dinner everyday of the week. Z & Y is located at 655 Jackson Street in between Cooper Alley and Wentworth Place.
Average Price: $7.95 to $30.95 a plate with the seafood dishes being the most expensive
Address: 655 Jackson Street
District: Chinatown
9. Yank Sing: Offers mainly dim sum, two locations, Rincon Center at 101 Spear Street and 49 Stevenson Street, $7 to $25 per dish
10. Wonderland Restaurant: A great local place in the Lower Haight, 500 Haight Street, $6 to $14 a plate
Other Places You Will Enjoy