Yacht Charter from San Francisco, Sausalito or Tiburon: Golden Gate Yacht Charters
Are you looking for a private yacht charter around the San Francisco Bay? We recently were invited aboard the amazing private yacht, Desolation with Golden Gate Yacht Charters, and did just that. Now you can do the exact same tour and enjoy the SF bay in a way that most rarely get a chance to see!

Read on for pictures and more about booking this private yacht. It's perfect for special occasions including birthday parties, proposals, team celebrations, business meetings, small weddings, anniversary celebrations, renewing your vows, and so much more.
If you are a baseball fan, you can also use them and have a fun time in McCovey Cove during a San Francisco Giants baseball game.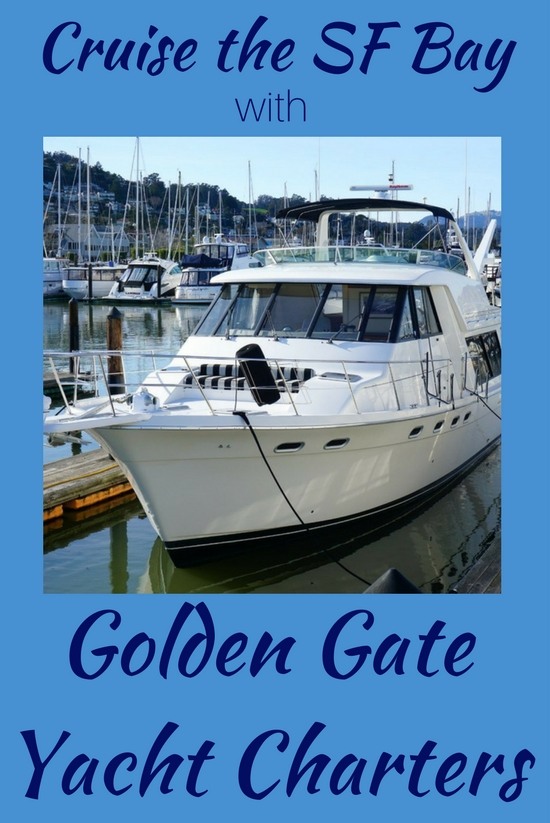 Information about their Yacht, Desolation

The Desolation is a 54' motor yacht. It seats 6 people comfortably and offers plenty of amenities. It has two state rooms, a full kitchen, and two bathrooms. It also has plenty of outdoor space and indoor seating. Here are a few pictures from our yacht charter around the San Francisco Bay with Golden Gate Yacht Charters.

The outdoor seating area offers plenty of room for 6 people plus the pilot. It's also covered to help protect your group from the sun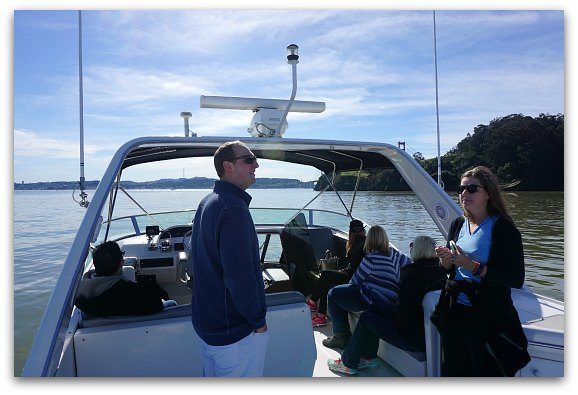 You will also find a large area behind the outdoor seating, which gives your group plenty of space to spread out. This is a picture of me talking with the owner, Torben.
There is plenty of seating indoors, making this yacht tour a perfect choice for cooler days on the SF Bay. Here are just a few pictures of the indoor seating with Golden Gate Yacht Charters.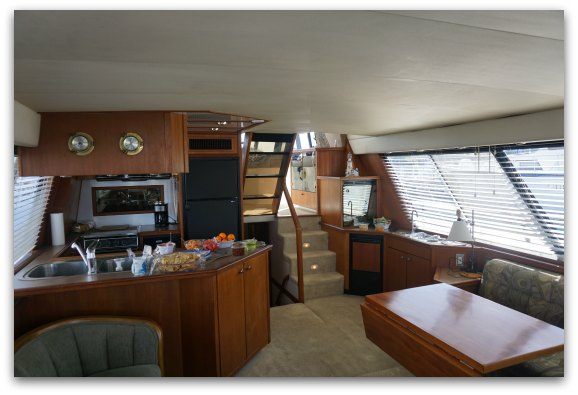 Both pictures show the large amount of interior space that is available in this indoor area. It's perfect for meetings and business celebrations and will comfortably sit your group of 6.
In addition to indoor seating, you will find a full kitchen with an oven, 3 burner stove, and a sink. This room also has a bar and full refrigerator with freezer. It will give you plenty of storage space to bring along food and beverages you want for the journey.
Golden Gate Yacht Charters does offer a few light snacks (nuts, snack bars) and water. If you want additional items, you are free to bring them along. They also allow beer and wine.
If you want to spread out, you will find additional indoor seating one level above. It also seats 6 comfortably and has amazing views out the front windows. This room also has a table near the seating area, so you can do business or use it for your drinks and/or food.
These two images show you the views out the windows from this second indoor seating area.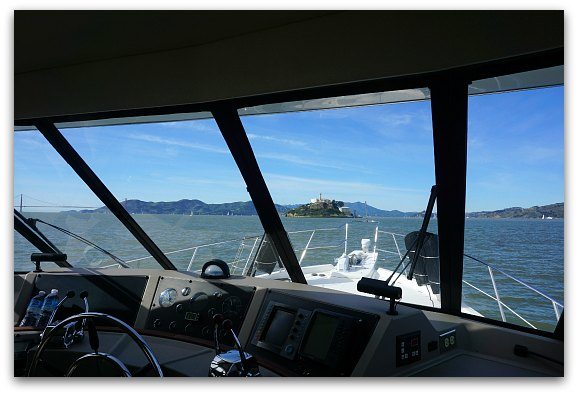 You can also step outside from this area for unobstructed views from the front of the yacht.
Inside, you will also find two bathrooms (each with a toilet and shower) and two rooms for sleeping. It's amazing how big this boat is on the inside.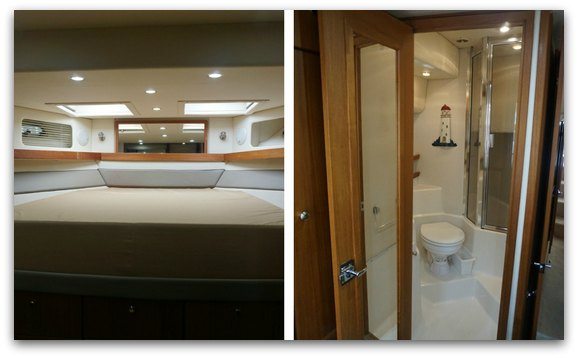 The Desolation is also equipped with both air conditioning and heating, so you will be comfortable during your cruise.

What You Will See on Your Yacht Charter Around the San Francisco Bay

You can either select the route for your yacht charter or you can have Golden Gate Yacht Charters do it for you. Their typical route takes you under the Golden Gate Bridge, along the SF shoreline, near Fisherman's Wharf and next to Alcatraz and Angel Islands.
You can also spend some time cruising around near Sausalito for views of some of the beautiful bay side homes.
Here are just a few of the pictures we took during our cruise with Golden Gate Yacht Charters on this sunny Sunday afternoon.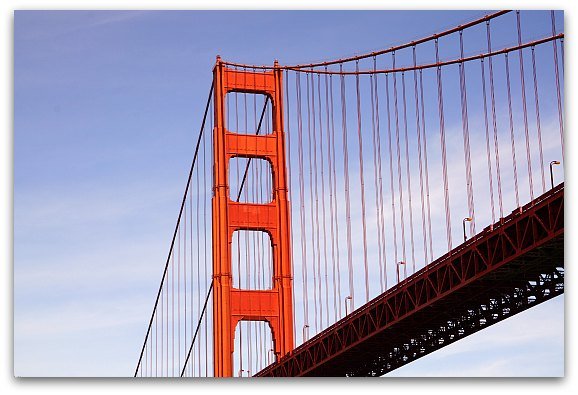 Cruising under the Golden Gate Bridge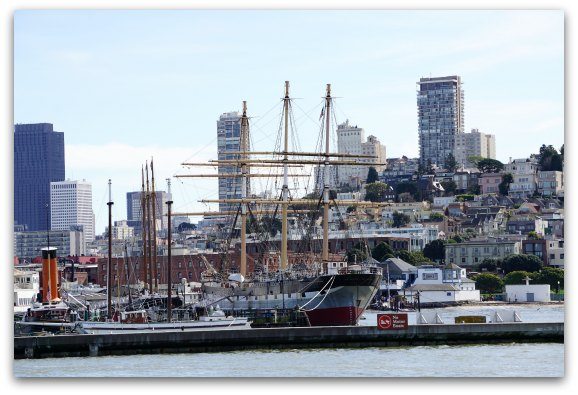 Views along the northern SF shoreline of Fisherman's Wharf and the Hyde Street Pier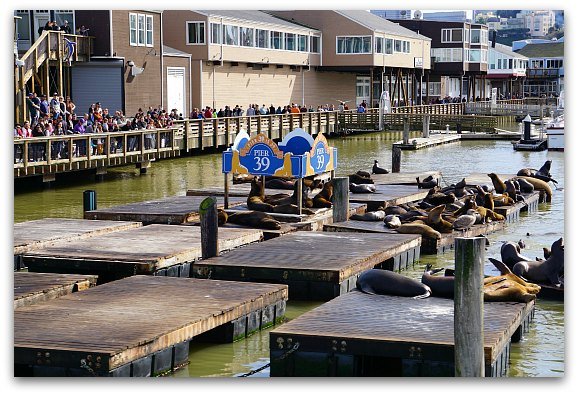 Sea lions playing and sunning themselves at Pier 39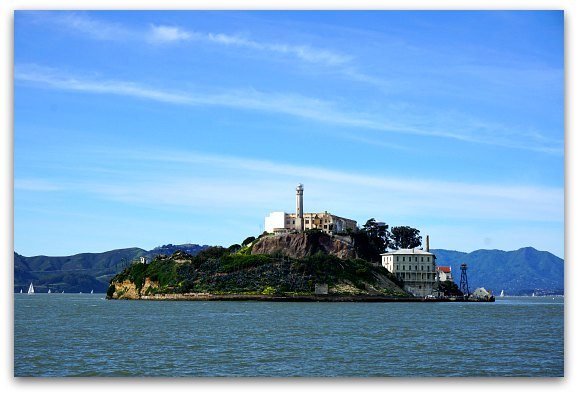 Close up views of Alcatraz Island
About Golden Gate Yacht Charters
Golden Gate Yacht Charters is owned and operated by a local bay area native, Torben. He started his charter business in 2016 and already has several wonderful reviews from his guests.


About Captain Evan

You will also be in great hands with the primary captain, Evan. He is US Coast Guard Approved and a Licensed (OUPV) Captain. He's spent a lot of time captaining boats on the SF Bay and also in other locations such as the Mediterranean and the South of France. He also spent several weeks cruising the entire west coast from Cabo San Lucas, Mexico to Victoria, British Columbia.

They joke that Evan is probably on the water more than he is on land. In addition to being a great captain, he's a fun guy to hang around with too.

Pricing & Other Important Information

Golden Gate Yacht Charters offers a few prepackaged options. You also have the ability to build your own charter. You can also have the captain take you on a pre-planned cruise route around the bay or you can create your own.Here are the details on their prepackaged offerings.
Prices

You can charter their boat for 3-hours, 5-hours, or longer.
3-Hour Private Charter: $950
5-Hour Private Charter: $1,500
If you need to add on an hour or two, it's an additional $320 per hour.
Note: Prices may vary by season.
What's Included

Licensed captain
Gas
Full access to all areas of the boat
Light snacks (nuts, snack bars) and water
What to Bring with You

Food, you can store it in the refrigerator, heat it up on the stove or in the oven
Beer, wine, soft drinks and other beverages (no hard alcohol please)
Plates, napkins, and other serving items for your food
Sunscreen and sunglasses
Camera and extra batteries
Pick Up Locations

They have licenses to pick up you up in the following locations. They will give you special instructions for each pick up location upon confirmation of your charter.
Sausalito
Both of the options below are subject to an additional $100 destination fee.
San Francisco & Tiburon
Special Occasions & When to Use Them

There are dozens of reasons to use Golden Gate Yacht Charters. These are some of the most popular requests.
Birthday parties
Business meetings
Team outings or celebrations
Anniversaries
Proposals
Vow renewals
SF Giants games
Just for fun!
For more information contact them directly at www.goldengateyachtcharters.com or (415) 300-6095.