Presidio Social Club
One of My Favorite San Francisco Restaurants
NOTE: As of July 4, San Francisco and Bay Area counties are slowly reopening. Many large events (including 4th of July fireworks & festivals), theater performances, and concerts are cancelled or postponed. Click here to stay up-to-date with what's open and opening soon.
Yesterday, a friend and I stopped by the Presidio Social Club for brunch. It's one of my favorite brunch restaurants in San Francisco.
This is one of only a handful of restaurants in the beautiful Presidio. They are open for lunch and dinner everyday. Brunch is a special treat and only available on Saturday and Sunday mornings.
For lunch, they serve up a number of classics such as Macaroni & Cheese and their famous hamburger. You can also get a fresh butter lettuce salad or their east west (homemade) chicken noodle soup.
Stopping by for dinner means you can select from their classic meatloaf, market whole fish or their roasted half chicken. They also have an extensive wine list with favorites from Italy, France and, of course, Napa Valley.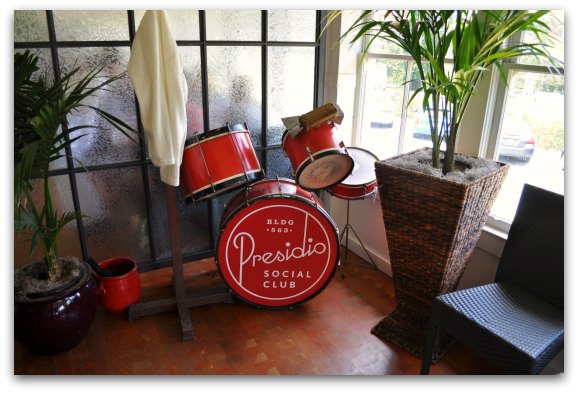 Even though the menu is great any time of the day, my favorite is their brunch menu. This is when you can try out one of their freshly bakes scones or their popular poached eggs and ham.
Since we were here on a Sunday, we decided to enjoy one of their 'weekend classics'. I went for the bloody mary and it was delicious!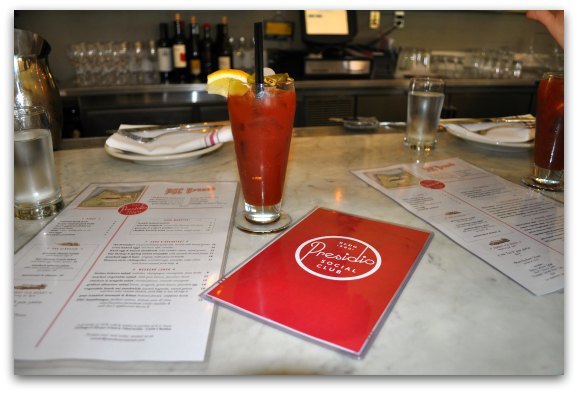 It was a beautiful morning in the city, so we grabbed a table at their first come, first served outdoor area. You do need to check in first, but its one of the best ways to get a table without a reservation.
This outdoor seating area is a little known secret in San Francisco. Even though its close to the water, the location blocks the wind. When it's a little chilly, they crank up their outdoor heaters to keep the area nice and toasty during your meal.
Both my friend and I ordered the special, which was a frittata with broccoli, bacon and a few onions. Doesn't it look yummy!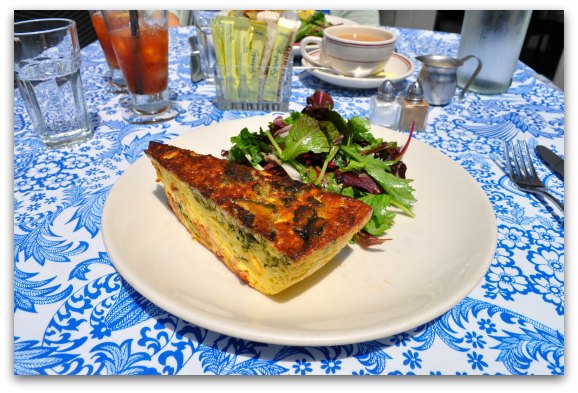 It tasted even better than it looked. Plus, the salad on the side made it healthy - right?
If you get the chance, I highly recommend heading over to the Presidio Social Club for brunch, lunch or dinner. You will not be disappointed!
Dining at the Presidio Social Club
This place is usually packed. I highly recommend making a reservation if you can before you arrive. You can either make your reservation through OpenTable.com or call them directly at (415) 885-1888.
This San Francisco restaurant is open every day.
Monday - Friday from 11:30 am to 10 pm
Saturday from 10 am to 10 pm
Sunday from 10 am to 9 pm
Getting to the Presidio Social Club
The Presidio Social Club is right inside the Lyon Street Gate - on the eastern side of the Presidio.
It is one of the few restaurants in San Francisco with easy parking. They have a small parking lot right in front of the restaurant.
There is even more parking at night and on the weekends. This area has several offices that are only open during the day, so the permit parking opens up at night and on the weekends. You'll find several signs with times on when anyone can use these spots.
The 45 Union bus from Union Square stops just a few blocks away from the restaurant. If you are coming from Fisherman's Wharf, the easiest way to get here is by cab. It's about a 10 minute ride and should only cost you around $15.