Presidio Golf Course
Details About This Nationally Recognized Course
The Presidio Golf Course is one of just a few within the city limits of San Francisco. This nationally recognized course is popular with both locals and visitors.
This San Francisco golf course was originally built in 1895. For almost 100 years, it was a private course just for those serving in the military. During the Presidio San Francisco renovation project in the mid-1990s, it opened to the public. Today, everyone is welcome to book a tee time.
Beautiful Eucalyptus trees line this 18-hole gem. Golfers from around the world come to test out their skills on its hilly and challenging holes. There is also a driving range for those needing a little warm up before their game.
Presidio Golf Course Rates & Hours
The Presidio Golf Course is open every day from dawn to dusk. There are three pricing tiers based on where you live. Prices also vary based on the day of week and if you plan on walking or getting a cart.
| | | | |
| --- | --- | --- | --- |
| Non-Residents | Mon - Thurs | Friday | Sat, Sun & Holidays |
| Greens Fee w/ Cart | $125 | $145 | $145 |
| Greens Fee Walking | $110 | $130 | $130 |
| | | | |
| --- | --- | --- | --- |
| Bay Area Residents | Mon - Thurs | Friday | Sat, Sun & Holidays |
| Greens Fee w/ Cart | $79 | $89 | $99 |
| Greens Fee Walking | $64 | $89 | $99 |
| | | | |
| --- | --- | --- | --- |
| San Francisco Residents | Mon - Thurs | Friday | Sat, Sun & Holidays |
| Greens Fee w/ Cart | $62 | $72 | $77 |
| Greens Fee Walking | $47 | $72 | $77 |
You can book a tee time either online on their website or by calling 415-561-GOLF.
The driving range on the Presidio Golf Course is also open every day. The hours are from 7 am to 7:30 pm Wednesday - Monday. They mow and do maintenance on the course on Tuesday mornings, so the driving range is open from 12 pm to 7:30 pm on Tuesdays.
Driving Range Prices
35 Balls
$7
70 Balls
$10
100 Balls
$13
19th Hole at the Presidio Golf Course
You will also find the perfect end to your day of golfing at the Presidio Golf Course Club House. After you are done, you can enjoy American comfort food with a California twist.
They also feature a full bar with over 70 whiskies and a great international wine list. You can even warm up next to the fire on those cool, windy San Francisco days. Reservations are not required, but you can book a table in advance to ensure a seat after your golf game.
How to Get Here
The Presidio Golf Course sits on the south end of the Presidio at 300 Finley Road. It is best to access it through the southern Arguello Gate.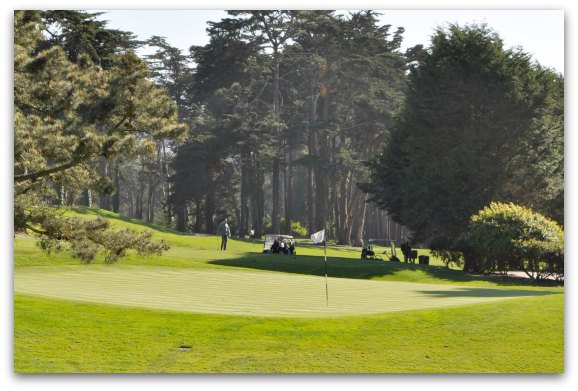 Parking is available here, but you will need to obtain a permit if you are staying more than three hours. All parking in the area is a Zone Z, but permits to park longer are available for those playing all 18 holes.
If you don't have a car, the other option is to take a taxi. It will cost around $30 from either Union Square or Fishermans Wharf.
Other Tips for the Presidio Golf Course
The weather in San Francisco is variable by neighborhood. It might be nice and sunny in Union Square or Fishermans Wharf, but cool and windy in the Presidio. Come to San Francisco prepared for cool, windy weather.
You will also find a great golf shop here -- just in case you show up and need to find something a little warmer. They have a full selection of jackets, pants and other cool weather clothes.
Find the average highs and lows for the SF weather. It outlines typical weather conditions by month, so you can come prepared for your trip.
---
Luxury Hotels: Are you looking for one of the best hotels for your trip to San Francisco? Read on for recommendations for some of the highest rated four and five star hotels in San Francisco. From historic to modern, this list has them all.
Best Restaurants: San Francisco is renowned for its variety and quality of restaurants. This list of recommendations by neighborhood and cuisine makes it easy to select the right restaurant based on your tastes.
Find Hotels in San Francisco for Your Stay
Other Things to Do in the Presidio
Walt Disney Museum: This museum focused on the man, Walt Disney. At this museum, you can learn about the early stages of his life, see some of his first sketches and learn more about how he built the Disney empire we all know and love today. Throughout the year, they also feature a number of interesting traveling exhibits. You can also grab a seat in their theater twice a day for screenings of the Disney classics.
National Cemetery: This military cemetery is one of only three cemeteries still inside the SF city limits. During your visit, you can walk around and learn more about some of the important people buried here. This is also the site for the large San Francisco Memorial Day celebration every year.
Baker Beach: This beautiful beach is the perfect place to get away from the crowds. Although we don't usually have "beach" weather in SF, you can visit this gorgeous attraction for amazing views of the Golden Gate Bridge and to go on a nice walk along the gorgeous waterfront.
All Presidio Activities: On this page, you will discover a list of all the attractions including the Presidio Golf Course, hiking ideas and other fun activities throughout this national park.