Pictures of Alcatraz
Discover My Favorite Pics of Alcatraz & Some Tips to Take Your Own
NOTE: As of July 9, San Francisco and Bay Area counties are holding off on any more reopening due to a spike in cases. Many large events, theater performances, and concerts are cancelled or postponed. Click here to stay up-to-date with what's open and opening soon.
You will find several places along the waterfront to take pictures of Alcatraz. You can also get some great photos from the ferry ride, the SF bay cruise and once you arrive for your prison tour.
Over the years, I've visited many times. These are just a few from my collection of Alcatraz photos to give you some ideas on where you can get that perfect picture.
From Fisherman's Wharf
One of the best places to take photos of the island from San Francisco is in Fisherman's Wharf. The island is only a mile away from this waterfront district, so even basic cameras can take some great photos.
I like to head out on one of the piers to get a little closer. You can get photos from Pier 39. You can also walk out along Pier 41 (where the blue and gold ferries leave) for some great, unobstructed views of the island.
The island behind it is Angel Island (learn more about visiting this island).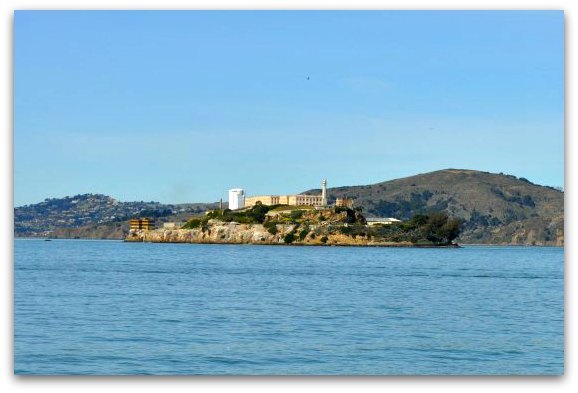 You can also get some great photos from Aquatic Park. Here is one from my last visit there. The cement wall you see in the picture surrounds Aquatic Park, but it's easy to clip out. I left it in, so you can see it's not entirely unobstructed from here.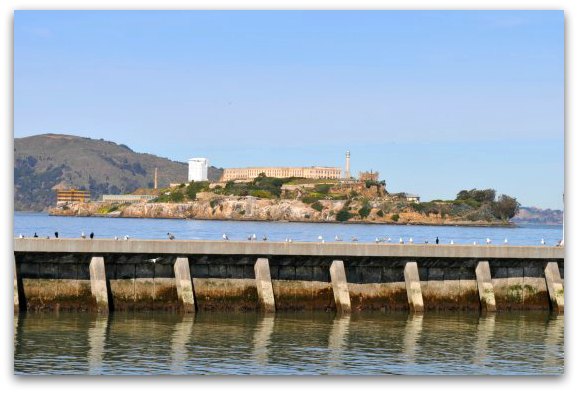 From the Ferries
You can get some amazing pictures of Alcatraz from the ferry. I like to get them on the way back, where there aren't as many people taking pictures.
These will also be pictures of the southern end of the island.
My favorite way to get some great pictures of Alcatraz is on the Golden Gate Bay Cruise. This ferry ride takes you under the Golden Gate Bridge and on all sides of it.
Here are just a few of my photos of the island from this tour.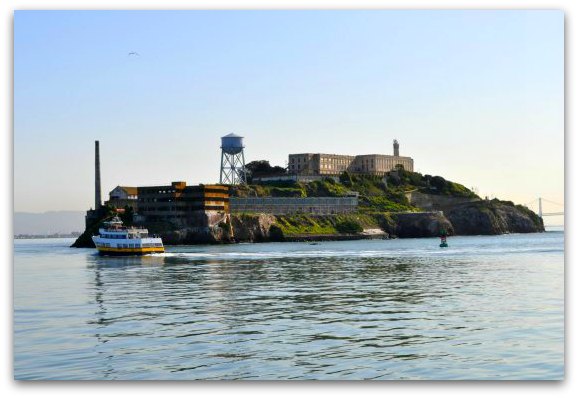 On the cruise, you come in from the west. This is the north west side of the island.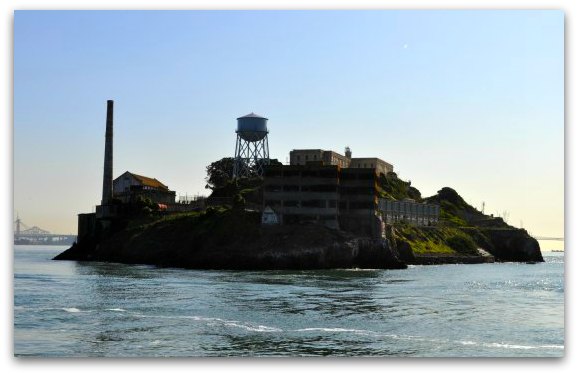 This is the northern side of the island.

This is the eastern side with the main cell house at the top of the hill. You get really close on this tour, so you can get some great shots.
You will find even more of my photos from my last bay cruise here.
On the Island
Here are several photos from my visits.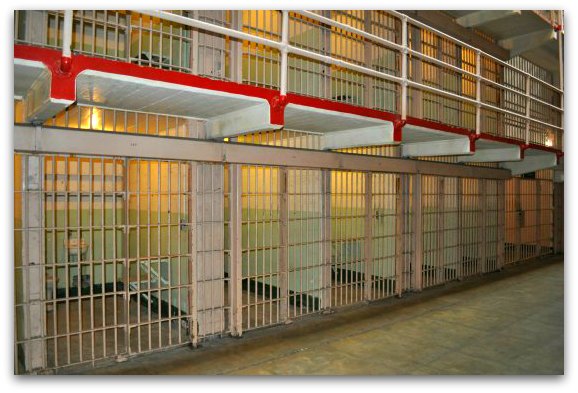 Several prison cell in the main building
A look inside one of the single occupancy cells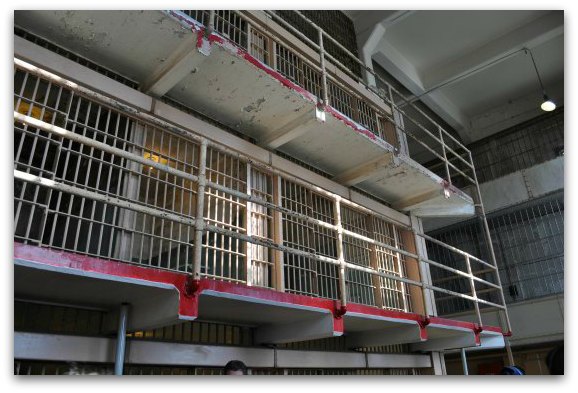 A look up at the top two of the three floors of cells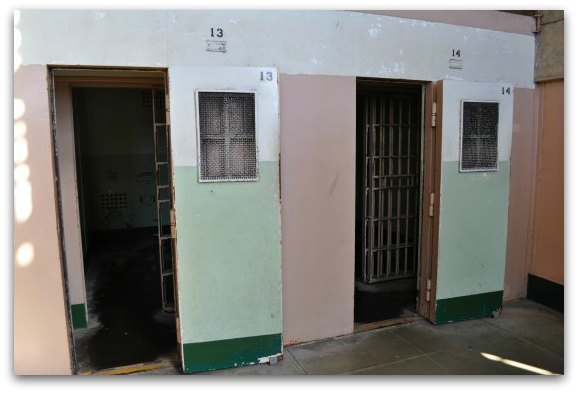 Two of the solitary confinement cells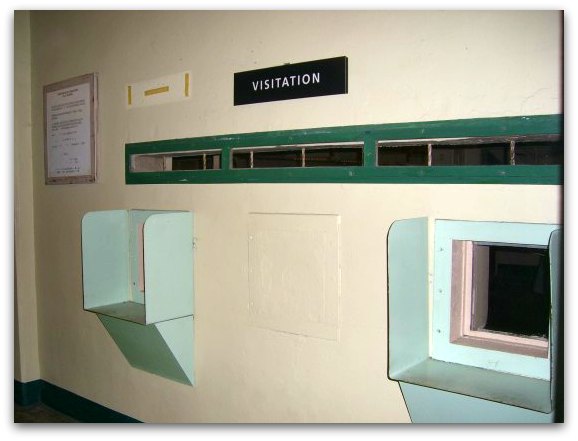 The visitation area of the prison. On the rare occasions that the prisoners could have visitors, this is where the prisoners would sit and talk to their guests.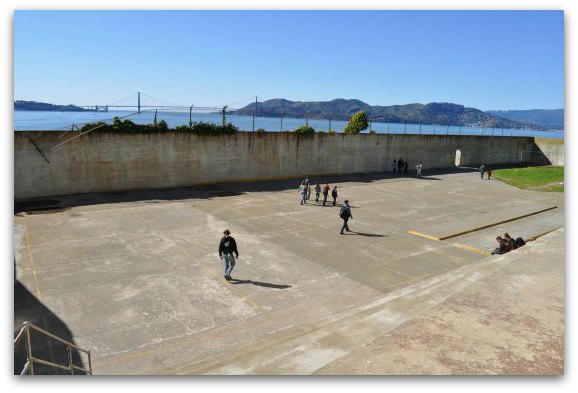 The outside grounds where the
prisoners were able to see the outside world.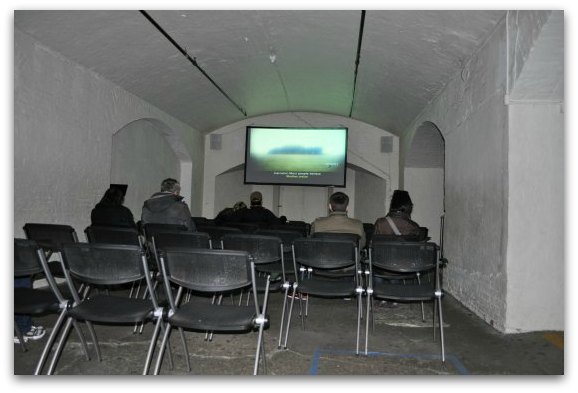 The theater where you can watch a short documentary about the island.
More Alcatraz Pictures & Information About the Prison
More Pages You Might Enjoy
Night Tours of Alcatraz: One of my favorite times to visit Alcatraz is at night. These special, small group tours are only four night a week. The reason I love these tours is that it's a more personalized experience. Not only are the group sizes smaller, but they also provide you with more details about the island and open up areas of the prison that are not normally open. It costs just a little more, but the few additional dollars are worth it!
Buena Vista Cafe: Stop by the Buena Vista Cafe in SF's Fisherman's Wharf district for an Irish Coffee. This historic cafe was the first to make this yummy treat in the US. Today, they offer it up alongside their fresh crab breakfast plates, a variety of sandwiches and other comfort foods to keep you satisfied.
The Perfect Day in the Mission: One of my favorites neighborhoods in San Francisco is the Mission District. This colorful and historic neighborhood features a number of fun things to do. Join me as I take you through the best this area has to offer in just one day. I'll introduce you to the gorgeous Mission murals, the oldest building in San Francisco and take you to one of the best Mexican restaurants in the city.
Save $$ with Goldstar
One tip I love giving all my visitors is to look for all of your event and tour tickets on Goldstar before you buy them anywhere else. This amazing online ticket retailer offers almost 200 tickets in the San Francisco Bay area for up to half off the full retail value.
They work with hundreds of local companies to help them sell through tickets to theater performances, bay cruises and walking tours. I use them quite and have had a blast checking out new tours and events.
Click here for a list of their current tickets for sale. I also recommend checking back often as they feature new tickets almost every day.
Other Popular Pages
What to Wear: Are you looking for some help packing your bags for your trip? This page offers a look at the SF weather by month and a few suggestions on what to wear. Many people think SF is warm and sunny all year long. In fact, it's usually about 60 degree, partly cloudy and windy almost every day. Make sure you check out this page before you finish packing, or you might need to pick up a few additional warm pieces during your stay.
Cheap Hotels: San Francisco is expensive, but there are quite a few amazing budget friendly hotels. Which ones are the cleanest and offer the best services? You will find my favorites here. They are the best of the best for budget travelers and allow you to save some additional money during your stay.
Military History Attractions: Many people don't realize that San Francisco has a large number of Military History Attractions. It was one of the top places for the US Army for a long time. Alcatraz Island, Fort Point National Historic Site and the Presidio are just a few.