Alcatraz Prison
Alcatraz Tours, Pictures & Details About Its History
Alcatraz Prison is located on an island in the middle of the San Francisco Bay. It's about a mile and a half from the shores of Fisherman's Wharf.
The island has a long and interesting history. This is why more than one million people a year visit this SF attraction.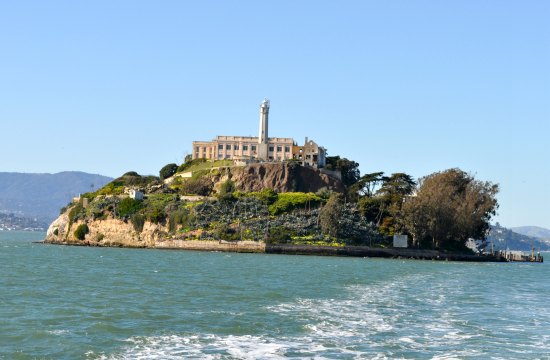 Tours & Visiting Tips
Discover details on booking your trip and what to expect on the day of the tour. Find out more about visiting during the day or night, and tips on where to take the best pictures when you arrive.
Day Tours
You can hop on a ferry to visit Alcatraz seven days a week. Most people head over for one of its many day trips. In this section, you will find out about what to expect during the day trip and a few things you'll want to think about before you book your tickets.
Learn More: Day Tour Booking Tips
Night Tours
There are also a handful of night tours. These are less crowded and offer you a more personalized experience. However, they only leave San Francisco a few days a week and each one only allows a few hundred people. Discover additional details on this tour and how far in advance you need to book to secure your seat.
Details: Night Tours
Alcatraz Tickets
Uncover tips on how and when to purchase your tickets to Alcatraz. Find brief descriptions for each type of ticket, the ferry schedule, and a few thoughts on discounted tickets online.
Details: Find Tips to Purchase Your Tickets
Tips to Visit
Did you already book your tickets? If so, here you will find tips to help you prepare for your journey. Discover the best way to get to Alcatraz Landing by public transit or car. You will also learn about what to expect from the ferry ride, what will happen once you arrive at your destination, and some tips for enjoying your time on the island.
Learn More: Tips to Prepare for Your Visit
"Escape from the Rock" Cruise
Would you like a full view of Alcatraz Prison from the waters of the SF Bay? If so, then this is the cruise for you! This 90-minute cruise follows the same path as the standard SF bay cruise. However, the final 30 minutes focus on the prisoners that once called Alcatraz home. This tour does NOT stop on the island, but gives great views from the water.
Learn More: My Trip on the "Escape from the Rock" Cruise
Pictures of the Famed Island
"The Rock" is also one of the most photographed SF attractions (after the Golden Gate Bridge). Here you will find some photos from my visits. You will also find some tips on where to get the best photos from Fisherman's Wharf and during your visit on the island.
Photos: Fun Photo Gallery

Many people enjoy taking their photos next to this official
sign to prove that they were lucky enough to visit!
History
The following sections are dedicated to the history of this island. Discover details on its infamous prisoners, escape attempts, and some general history of the island.
Al Capone
One of the most infamous prisoners of Alcatraz was Al Capone. He was one of the first prisoners on the island. How did he get his start as a gangster? What crime eventually sent him to prison? What was it like for him here? Discover answers to these questions and more.
Read More: Al Capone
Robert Stroud
Stroud was another famous prisoner on Alcatraz Island—one of the few to become famous after he went to prison. Discover details around the crime that sent him to jail and why he was sent here. You will also find out more about his nickname, the "Birdman of Alcatraz".
Learn More: Robert Stroud
Other Infamous Prisoners & Life on The Rock
What was it like to be a prisoner? Here you will find details on the strict rules and regulations of the prison. You will also learn about some of the other famous prisoners who spent time on the island, including George 'Machine Gun' Kelly and Henry (Henri) Young.
Discover: Prisoners & Prison Life
Escape Attempts
Many people are fascinated by the escape attempts. Here you will learn about the various escape attempts and what happened to those inmates. In addition, you will learn more about the two most famous attempts, including the bloody Battle of Alcatraz and the 1962 attempt by Frank Lee Morris and the Anglin Brothers.
Uncover Details: Famous Escape Attempts
More History
Alcatraz prison also has many other stories to tell. Here you will learn about what it was like on the island before it became a maximum security prison. You will also learn more about prison life and the Indian Occupation that made headlines in 1969.
Learn More: A Brief History
Other Fun Attractions Nearby
For some of the links on this page, I receive a small commission when you purchase. You don't pay more when you buy through me and it gives me the chance to offer you all this great content for free!
Hotel Recommendations
Are you looking for a great place to stay? Here are several recommendations. You will find the best hotels by budget, amenities, and neighborhood. If you want something close to Alcatraz Landing, take a look at the list of the best hotels in Fisherman's Wharf.
Save $$ with Goldstar
One of the best ways to save money during your visit to San Francisco is buying your tickets through Goldstar. While they don't offer tickets to Alcatraz, they do offer around 200 tickets to popular events and tours in SF.
They work directly with event promoters and tour operators to help them fill up their performances and tours. This offers you the chance to save money.
I often use them for theater performances, bay cruises and even walking tours around the city. As you can imagine, I'm constantly 'touring' the SF area, so I love the fact that I can save money as I investigate the best tours and events for you.
Click here to find their current selection of tickets. Also, check back often as they update their ticket selection frequently!
I hope this little tip helps you stretch your dollar and allows you to see as much as possible during your stay!