Brews on the Bay 2019
Enjoy Local Craft Beers Aboard the S.S. Jeremiah O'Brien
NOTE: Here is the latest on what's open and not open in San Francisco.
Are you interested in checking out San Francisco's craft beer scene? If so, then head over to Fisherman's Wharf for this year's Brews on the Bay on Saturday, October 19 from 1pm to 5pm.
This annual event showcases the tasty beers of local SF breweries. On hand, you will find old favorites including 21st Amendment, Anchor Brewing Company, and ThirstyBear Brewing. You will also find lesser known brewers including Fort Point Beer Company, Pine Street Brewery, and Cellarmaker Brewing.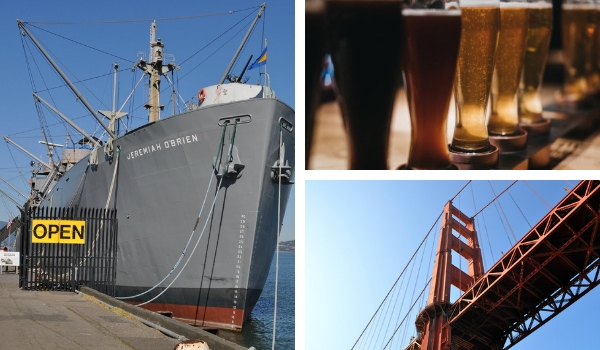 The 2018 event will once again take place aboard the historic S.S. Jeremiah O'Brien on Pier 45.
More Event Details
This four-hour event includes unlimited 8-ounce pours, so you can sample as many different beers as you would like. In total, there will be around 60 beers on tap. Here are just a few that are expected to attend this year.
21st Amendment Brewery
Almanac Beer
Anchor Brewing Company
Bartlett Hall
The Beach Chalet
Cellarmaker Brewing Company
Fort Point Beer Company
Headlands Brewing Company
Local Brewing Company
Magnolia Brewing Company
Pine Street Brewery
Pizza Orgasmica & Brewery
San Francisco Brewing Company
Social Kitchen & Brewery
Southern Pacific Brewing Company
Southpaw BBQ
Speakeasy Ales & Lagers
Sunset Reservoir Brewing Company
ThirstyBear Organic Brewery
Triple Voodoo Brewery & Taproom
Woods Beer / Cerveceria de MateVeza
Food
The 2019 Brews on the Bay event will feature gourmet food from some of the best food trucks and carts in SF, as it did last year with Burr-Eatery, Ebbet's Good to Go, and Doc's of the Bay.
Food is not included in the ticket price.
Buy Tickets
Tickets for this year's Brews on the Bay start at $49.50 to $95 per person plus a small service charge. They are not sold at the gate, so you MUST buy them in advance online.
A Few Additional Details
This is a 21+ event and IDs will be checked at the entrance. Make sure you bring your ID along, no matter what your age, as they will check almost everyone.
Even though this event is on the S.S. Jeremiah O'Brien, you do not set sail around the Bay. The ship stays docked so you can head to the food trucks and carts at any time during the event. This way, you can also leave early and/or show up just a little late if you want.
You will not be able to use the elevator to get to the event on the top deck. Everyone will need to scale the stairs, so please wear appropriate shoes in order to get around.
Backpacks are allowed, but subject to search. Do not bring glassware to the tasting, as they will not allow you to enter with it. Also, even though it's a free flow event, they will remove anyone that has just a little bit too much to drink.
Tips to Get to Pier 45
Because this event offers unlimited drinks, please do not drive. There are plenty of public transit options to get to to this event.
This map shows the location of the S.S. Jeremiah O'Brien and Pier 45 in Fisherman's Wharf.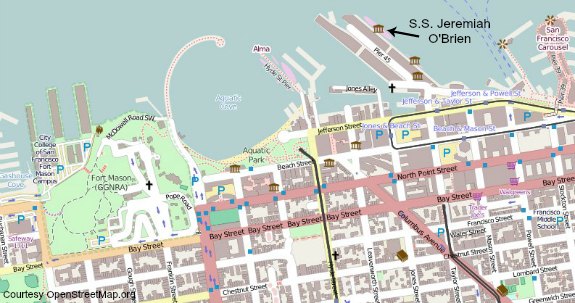 Buses: Several Muni buses drop off within just a few blocks of Brews on the Bay. You can take any of the following: 2, 4, 8, 18, 24, 27, 28, 39, 44, 47, 54, 56, 58, 72, 74, 76, or 91.
F-Line Streetcar: This is a great way to get there from Union Square or anywhere along Market Street. It will take a little bit longer than the bus, but offers a great view of the SF waterfront along the way. See pictures and find out more here.
Cable Cars: You can also take the Powell/Mason or the Powell/Hyde Cable Car to Fisherman's Wharf. Both drop you about four blocks away from Pier 45. Of the two, my favorite is the Powell/Hyde line as it has an amazing drop down a steep hill right before you arrive in Fisherman's Wharf. Learn more here.
Disclaimer: I receive a small commission from some of the links on this page.
Best Places to Stay Nearby
If you plan on spending the entire afternoon at the Brews on the Bay event, you might want to consider grabbing a hotel for the night. Click here for my recommendations for hotels in the Fisherman's Wharf district. All are within walking distance from Pier 45.
You can also look at some of the best deals in this neighborhood by checking out TripAdvisor.com. They offer dozens of discounts on everything from room rates to parking. Click here to find their current list of deals in San Francisco.
Other Things to See at Fisherman's Wharf
Pier 39: One of the most popular stops in Fisherman's Wharf is Pier 39. This remodeled pier now houses dozens of restaurants, shops, and other activities. This is where you can find a beautiful carousel, visit the sea lions, and step inside the Aquarium of the Bay. Discover more here.
Boudin Bakery: Boudin Bakery is less than a block away from the Brews on the Bay event. It's one of the best places to enjoy some clam chowder in a sourdough bread bowl either before or after the event. Find out more here.
Hyde Street Pier: Stop by the Hyde Street Pier to check out its interesting historic ships. They range from an old ferry boat that was used before the Golden Gate Bridge was built to a fun steamboat used to help build the Panama Canal. Click here for pictures and to learn more about visiting.
Other Fun Events this Month
SF Cheese Fest: The annual SF Cheese Fest takes place the same month as Brews on the Bay. This event is at night from 6-9pm. Celebrate local food, beverage, and the art of preservation, which also includes cured meats, jams, pickles, and more. Find festivals details here.
Comedy Day: What could be better than a free day of hilarious acts from more than 40 great comedians, outdoors in Golden Gate Park? Enjoy the day laughing with friends and hitting up the delicious food and beer stands at the festival. Click here for full details.
Polk Street Blues Festival: This annual festival takes place on Polk Street in Nob Hill. All weekend long you will enjoy live blues music on two stages, gourmet food stands, arts and crafts booths, and activities for the kids. Find out more.
Savings: One of the best places to find additional tickets for the weekend is on Goldstar. They feature tickets for tours, theater performances, and other top events at a fraction of the full price. I love to use them for bay cruises, walking tours, and wine tasting events. Click here to check out their current selection of tickets.

Follow SFTourismTips on Facebook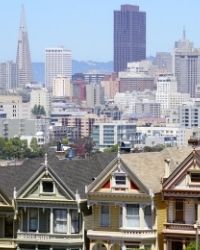 On my Facebook page, you will find more great information about planning your San Francisco vacation.
It includes tips, must see attractions, and other fun details.
Click the link below to check it out. If you enjoy the page, give us a like.

Other Pages You Will Enjoy