Pier 39 Tree Lighting 2016
Details for this Year's Christmas Celebration
The Pier 39 tree lighting celebration is a wonderful way to kick off the holiday season in San Francisco. Every year, you will find free entertainment, a chance to visit with Santa, and a full afternoon of family-friendly activities.
The tree will be lit each night until the end of the year. Stop by any time after sunset to enjoy this magical tree.
This year's celebration is on Sunday, November 19.
For some of the links on this page, I receive a small commission when you purchase. You don't pay more when you buy through me and it gives me the chance to offer you all this great content for free!
Pier 39 Tree Lighting
Annual Pier 39 Tree Lighting Ceremony
Sunday, November 19 at 6pm
Celebration and free activities from Noon to 6pm
This year's annual event is the Sunday before Thanksgiving. Enjoy special performances from Disney friends. Other entertainment this year includes a crafting station, a chance to give your letter to Santa, and Dicken's Carolers.
Santa will be on hand starting at noon. You will find him on Level 2 at the Bay Theater. He will be there until 6pm. You can also find additional dates for his visit and other places to see him in SF here.
If you can't make it to the ceremony, you will have a chance to see its lights every night until the end of the year.
Hotels to Stay at Near Pier 39
If you plan to stay in Pier 39, you will find plenty of places within walking distance of the Pier 39 tree lighting ceremony. Here are just a few of my favorites.
Find additional recommendations on places to stay in Fisherman's Wharf.
Tips to Attend the Ceremony
If you plan to attend this year's ceremony, I recommend arriving early to grab your space. The Pier 39 tree lighting ceremony draws in thousands of visitors every year.
If you only plan to attend the ceremony, I highly recommend that you arrive at least an hour in advance. For me, the best spot to watch is from Level 2 of Pier 39.
When you arrive, make your way up the stairs and grab a spot for the tree lighting up here. It will give you a great view of the entire tree and will give you a chance for some great pictures. These spots fill up quickly though, so make sure to grab your spot early.
If you plan to visit with Santa, I also recommend showing up even earlier. The lines tend to get long quickly and with a 12pm arrival, you will want to be there at least an hour in advance.
Other Fun Things to Do on Pier 39
Aquarium of the Bay: Arrive early and spend some time at the Aquarium of the Bay. This amazing aquarium offers you a chance to learn all about the plants and animals that live in the Bay. They have a large walk through aquarium, a touching pond, and one of my favorite jelly fish exhibits in town. Find more details.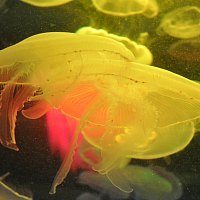 7D Experience: In addition to the Pier 39 tree lighting ceremony, you could also spend some time at the 7D Experience. It's part movie, part video game and a lot of fun. Work with the rest of the audience to fight off the bad guys. You can choose from a variety of different themes. Find details.
All Pier 39 Attractions & Activities: You can also enjoy some holiday shopping, grab some dinner, or sip on some local wines. Find additional things to do on Pier 39.
Holiday Lights Tours
Another way to enjoy the holiday lights in San Francisco is on one of these two tours. They each run after sunset throughout the holiday season.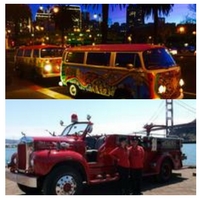 Holiday Lights Tour of San Francisco: Throw on your Santa hat and cruise around town in a 70s style VW van. This 2-hour tour takes you past Chinatown, Lombard Street, Union Square and other top attractions. Click here for this year's schedule and to book your tickets.
San Francisco Fire Engine Holiday Lights Tour: Another fun lights tour is aboard this open air Mac fire engine. You will hear all about San Francisco and see top displays such as those in Fisherman's Wharf, Union Square, the Embarcadero, Market Street, and more. Sing along to Christmas tunes throughout this 90-minute tour. Find tickets and this year's schedule.
Save on These Tours & Events in San Francisco
In addition to the free Pier 39 tree lighting ceremony, you can also save on these deals on top tours this season. Click the links below for schedules and to save on your tickets.
*Small service fee at checkout.
Union Square & Other Tree Lighting Ceremonies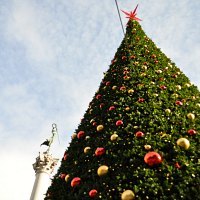 You will also find several other holiday tree lighting ceremonies and events in late November and early December.
The most popular are the tree lighting at Union Square, the unveiling of the Gingerbread house at the Fairmont in Nob Hill, and the enchanted sugar castle at the Westin St. Francis in Union Square.
>> Find a full list of this season's tree lighting ceremonies and holiday events for this year.
Other Ways to Save on Your Stay
Here are a few additional ways to save on your visit. All of these sites offer great deals, so you can see and do even more on your stay.
Thanksgiving Activities
Even though the Pier 39 tree lighting ceremony is before the Thanksgiving holiday, you can still stop by this weekend to see it lit up for the holidays. This weekend is also full of other fun activities such as other tree lighting ceremonies, theater shows, and concerts.
Other highlights this weekend include Black Friday shopping, concerts, and cruises. My guide also includes some great places to enjoy a holiday meal with your family.
>> What to do in SF on Thanksgiving Day & Weekend
Things to Do for Christmas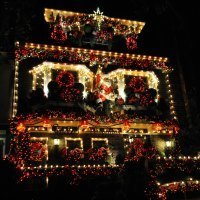 If you are visiting a little later and will be here during Christmas, you will also find plenty of things to do. On Christmas Eve, you can enjoy a show, head out on a special cruise, or find a place to enjoy a meal with your family.
On Christmas Day, you can do a little shopping, head out on a tour, or stop by some of our free attractions that are open every day of the year. My guide also offers several recommendations on the restaurants open that are serving traditional and non-traditional Christmas dinner.
>> More about what to do in SF on Christmas
More Fun Things to Do in Fisherman's Wharf