Sushi Restaurants in San Francisco
My Five Favorites in SF
There are dozens of Sushi restaurants in San Francisco, but which ones are the best? These are my five favorite throughout the city. They range from local options in Nob Hill to one of my all time favorites near Alamo Square.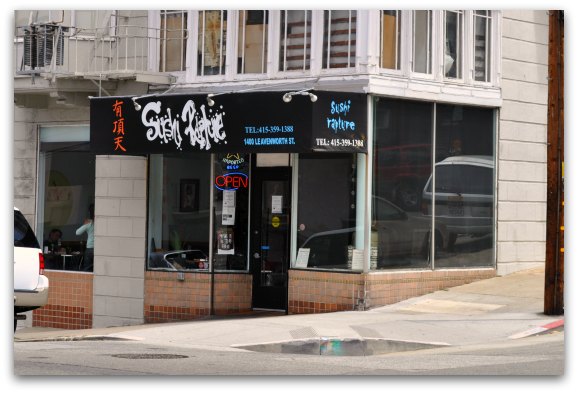 Sushi Rapture
Address: 1400 Leavenworth Street
Neighborhood: Nob Hill
Prices: $$

Sushi Rapture in Nob Hill is one of my favorite, neighborhood Sushi restaurants in San Francisco. The food is pretty amazing and I love the local feel of the place.
Get here early though, as there are only a handful of tables. You can also take a seat at the sushi bar and watch the chefs do their magic.
No only is it one of my favorite Sushi Restaurants, it's also one of my favorite overall restaurants in the city. Click here more details and a list of some of my other favorite restaurants in SF.
Ozumo
Address: 161 Steuart Street
Neighborhood: Embarcadero
Prices: $$$

If you are looking for a great Sushi restaurant near Union Square, then check out Ozumo on the Embarcadero. I've been here a couple of times and really enjoyed it both times.
It has both Sushi and other Japanese dishes, so you have a variety to choose from at Ozumo. I usually head straight for the rolls.
I'd recommend trying their Sumo roll, a slight twist to the standard California roll. I'd also recommend their Spider roll.
Ozumo is also great because it's right along the Embarcadero. The east side of the restaurant has views of the San Francisco bay and the bay bridge.
You can easily get to Ozumo from Union Square by either walking or taking one of the many Muni options down Market Street. You can also take a cab down to the Embarcadero for about $10.
Ozumo is one of my favorite Sushi restaurants in San Francisco. It's also a great option for those staying in and around Union Square.
Blowfish Sushi To Die For
Address: 2170 Bryant Street
Neighborhood: Potrero Hill
Prices: $$$
Blowfish is another great Sushi restaurant in San Francisco. It's located in the Potrero Hill neighborhood in San Francisco.
This restaurant started in SF and was so popular it branched out to a second location in San Jose, CA. I love this restaurant because they have a great menu and really fresh food.
I'd recommend starting with the Popcorn Prawns or spice it up by starting with the Japanese Ceviche. I'd then move on to some of their rolls such as the $o$uMi roll or the San Francisco roll.
As always, you should end the night with a great dessert. My favorite is their Chocolate Dream.
Blowfish is located at 2170 Bryant Street at around 20th and Bryant Streets. It's a $15 cab ride from Union Square, which is your best option.
Tsunami Sushi
Address: 1306 Fulton Street
Neighborhood: Alamo Square/NOPA
Prices: $$$

Another one of my favorite Sushi Restaurants in San Francisco is Tsunami in the Alamo Square/NOPA area. It's a great place, but you'll want to get reservations if you can.
Located on Fulton Street near Divisadero, this restaurant is a hot spot. I recommend trying one of their rolls, especially one with a creative spin on it.
This restaurant also has a great selection of Saki. So, don't forget to add this to your experience. Tsunami is a quick cab ride from Union Square. You can also take the 5 Fulton bus from Union Square. Get off at the McAllister and Divisadero Street stop and walk one block south to Fulton.
There is also usually parking in this neighborhood, so you should be able to find a spot within a few blocks of the restaurant.
Akiko's Restaurant
Address: 431 Bush Street
Neighborhood: Union Square
Prices: $$
If you are staying in Union Square, you don't have to go far to find one of the best Sushi Restaurants in San Francisco. This affordable option offers some of the tastiest sashimi and nigiri in the area.
Don't get me wrong, I also love their rolls. However, the fish is so fresh here that I recommend heading straight for these other two options.
If you do prefer rolls, steer toward the fun options such as the Volcano or the Firecracker rolls. You can also order other Japanese cuisines such as Salmon or Chicken Teriyaki.
More Top SF Restaurants
Buena Vista Cafe: If you'd love to sip on an amazing Irish Coffee during breakfast, then head to the historic Buena Vista Cafe in Fisherman's Wharf. This is the place that introduced Irish Coffee to cocktail lovers in the US. In addition, they serve up one of the heartiest breakfasts in town. My favorite is their Crab Benedict. They also make some mean omelets and scrambles. You will also enjoy their filling lunch and dinner options.
Irish Pubs: Do you love Irish pub food as much as me? If you do, you have to check out this list of the best in the city. You will find one of my favorites right in Union Square as well as in the Mission and even the Outer Sunset.
Italian Restaurants: You will find a high concentration of Italian Restaurants in North Beach. However, is this also where you find the best ones in the city? Yes and no. On this page, you will find some of my favorites all throughout SF. They range from the higher end North Beach Restaurant to a local place in Pacific Heights called Jackson Fillmore.
French Restaurants: I love, love, love French food so this list was easy for me to pull together. It includes five of the best in the city from the popular Cafe Claude near Union Square to the small, local option, Zazzie, in Cole Valley.