San Francisco Art Museum
Discover Tips for Visiting & Pictures of the SF Legion of Honor
The California Legion of Honor is another special San Francisco art museum. Here you can see thousands of pieces of ancient and European fine art spanning more than 4,000 years.
Some of the most famous works of art on display here include Auguste Rodin sculptures, paintings by Claude Monet, and an interesting piece by Pablo Picasso. You will also see exhibits with ancient art from the Egyptian, Greek, and Roman empires.
During your visit, make sure you take a little time to view not only the art on display but also the beautiful building that houses it, which is, in itself, an historic work of art.
Built in the early 1920s, the building is a replica of the Palais de la Legion d'Honneur, a distinguished 18th-century landmark in Paris. Alma de Bretteville Spreckles built and gifted the palace to the city of San Francisco in honor of the Californians who died during World War I.
Here is the grand entrance into the San Francisco museum.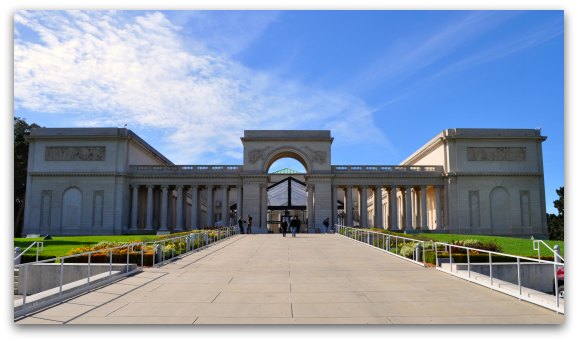 The first major piece of art you'll encounter is in the courtyard before you enter.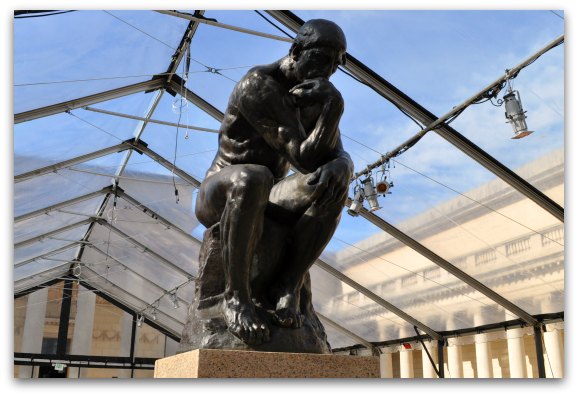 This is a Rodin issued cast of his famous "The Thinker" statue. You'll find even more of his works inside the museum.
Galleries in the Museum
The Legion of Honor is well designed and one of my favorite San Francisco art museums. Below you'll find some information and pictures of the key galleries from my last visit.
Medieval, Renaissance, and Mannerist Art
In this gallery, you will find a number of sculptures, tapestries, and paintings. There is also an amazing 15th century Spanish ceiling, so don't forget to look up as you walk through.
Here are just a few of the beautiful pieces on display in this gallery.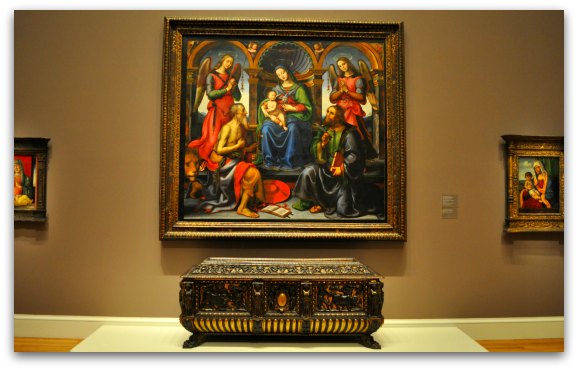 Also make sure you stop by El Greco's famous painting of St. John the Baptist.
French and Italian Baroque and Rococo
This gallery showcases both 17th and 18th century paintings. You will also see a number of sculptures and French furniture.
Here's just one example of the types of pieces you will see in this gallery.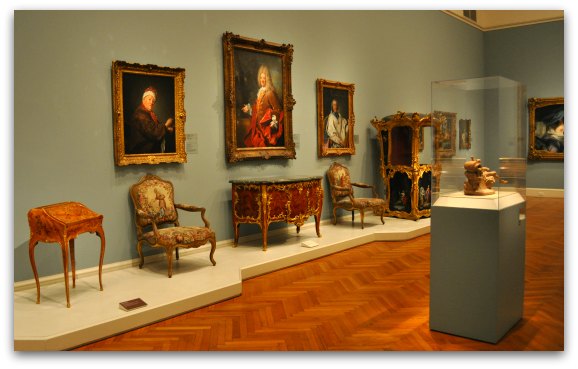 Sculptures
One of my favorite galleries within the Legion of Honor is the sculpture gallery. Here you can see more than 100 pieces of Rodin's famous works of art.
Below are just a couple of his pieces on display in the three rooms dedicated to Rodin.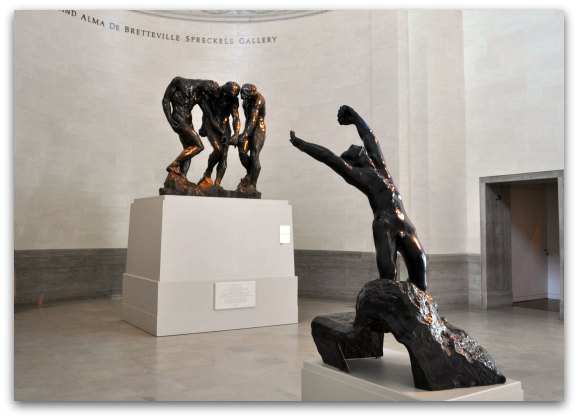 18th to 20th Century Neoclassical Art through Post Impressionism
This is another amazing gallery with works of art from famous European artists including Monet, Picasso, and Renoit. Here you can also see a beautiful Faberge tea table.
You'll find four rooms that make up this gallery. The final room, shown below, is where the most famous works of art in this gallery are on display.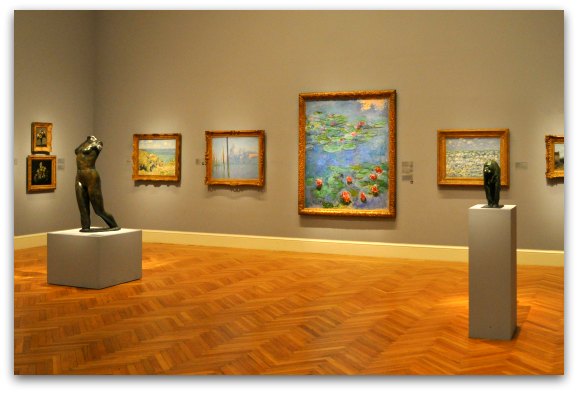 Ancient Art
This is a fairly small exhibit located in the lower level of the Legion of Honor. Here's where you'll find the oldest artwork in the museum, including an 18th Dynasty Egyptian torso of a God and other sculptures and jewelry that are thousands of years old.
Here are two of my favorite pieces from this collection.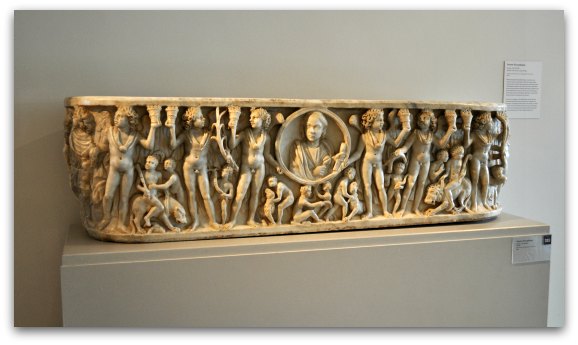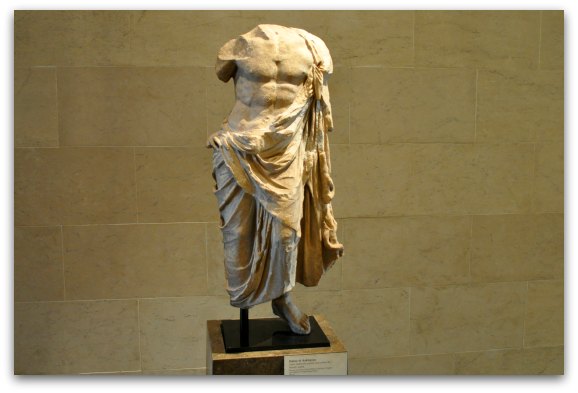 Porcelain Gallery
The Legion of Honor also has a fairly large collection of porcelain. Here you can see several works of art including those from the famous Chelsea, Bow, and Worchester Factories. You will also find pieces of porcelain from both Italy and China.
Here's a view of some of the pieces in the gallery.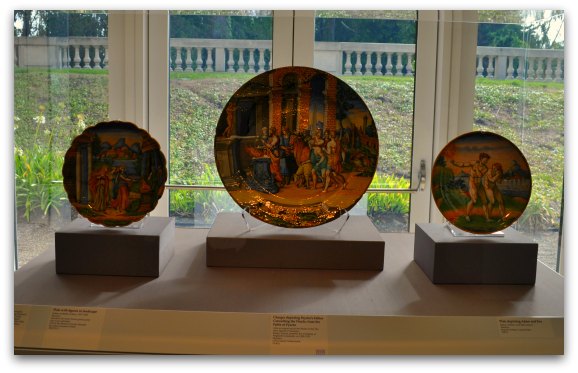 Other Galleries
Other galleries at this San Francisco art museum include the British Art Gallery, 17th Century Dutch and Flemish Paintings, and the Reva and David Logan Gallery of Illustrated Books.
There is also a graphic arts gallery that includes nearly 100,000 prints, drawings, photographs, and artists books. This is called the Jacqueline and Peter Hoefer Print Study Room, and is available for viewing by appointment only.
Special Exhibits
The Legion of Honor also attracts some amazing special exhibits. They usually have more than one special exhibit on display at any given time. You'll find these in designated rooms, one on the main level and the rest in the lower level.
During my last visit, I was excited to get to see the Gifts from the Gods exhibit. It included several pieces of art from or supporting the Olympics.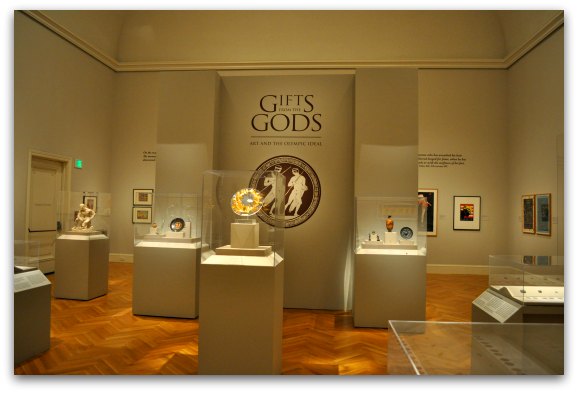 Find a full list of current exhibits for the Legion of Honor museum.
Visiting Tips: Tickets, Tours, and Other Details
Hours:
Tuesday - Sunday: 9:30am - 5:15pm
Monday: Closed (except on December 26)
July 4, Christmas Eve, and New Year's Eve: 9:30am to 4pm
Closed on Thanksgiving and Christmas Day
Tickets
You can pick up tickets at the door. They are less than $20 for adults and discounts are offered for those in the military, seniors, kids, and students. Find current pricing and discounts on their site.
They also offer free admission the first Tuesday of each month.
Additional fees may apply for special exhibits. Last tickets are sold one hour before closing.
Go San Francisco Card
Admission to the Legion of Honor is included with the Go San Francisco Card. This pass includes admission to more than 50 San Francisco and Bay Area attractions.
If you want to see as much as possible during your visit to San Francisco, I recommend checking out the Go San Francisco Card. It includes admission to many of the top SF attractions as well as the most popular tours. It's the best way to save and enjoy everything this city has to offer.
San Francisco CityPass
Admission to the San Francisco Legion of Honor is included on the San Francisco CityPass as well. With this pass, you can also save on the full price admission to many of San Francisco's top museums.
It's another option to help you save a little on your admission tickets. This one also includes a 7-day, unlimited-use San Francisco public transportation pass. Find out more about the San Francisco CityPass.
Not sure which one is right for you? Compare these two options
Other Ticket Details
If you plan on visiting both fine arts museums in San Francisco--the Legion of Honor and the deYoung Museum--you can visit both of them in one day on the same ticket. You can start at either museum, just save your ticket stub and show it at the next museum for entry into their galleries.
See my transportation tips below for recommendations on traveling between these two museums.
Daily Tours
The Legion of Honor also offers daily docent-led tours of some of their exhibits. These tours are included with admission and begin in the rotunda. Their current daily tours include:
Three Masterpieces in 30 Minutes (10:30am - 11am, 1pm - 1:30pm)
Wild West Plains to the Pacific (1:30pm - 2:30pm)
Highlights of the European Collection (2pm - 3pm)
They also offer a different tour most days starting at 12:30pm. The current schedule includes the following (all subject to change):
Tuesday: Fit for King: European Decorative Arts
Friday: Ceramics through the Ages
Saturday: Art in Three Dimensions: Sculpture at the Legion
They also offer tours for some of their paid special exhibits. These tours are only included with the special exhibit tickets.
No reservations are required for any of these tours. Pick up a daily tours guide when you arrive for the most up-to-date list, and then show up at the designated area a few minutes before the tour is scheduled to begin.
Getting to the Legion of Honor
The Legion of Honor is located at 100 34th Avenue.
There are two easy ways to get to this San Francisco art museum: public transportation and driving.
Public Transportation: You will need to take two buses to get to the Legion of Honor. First, hop on either the 1-California or the 38-Geary. Both of them have stops at 33rd Avenue. This is where you will transfer to the 18-Legion of Honor. If you love walking, you can also walk the half mile or so up the hill from this transfer spot.
Driving: Although I usually don't recommend driving for those visiting San Francisco, it is an option for the Legion of Honor since parking here is easy. Before you rent your car, read through these tips for renting a car in San Francisco.
Getting Between the Legion of Honor and the de Young
If you decide you want to visit both of the San Francisco fine arts museums in the same day, here is the best route via public transportation. There are other options, but this route involves the least amount of walking.
18-Legion of Honor & 5-Fulton: Pick up the bus at the stop in the parking lot of the Legion of Honor.

Take this to the La Playa Street and Cabrillo Avenue bus stop - near the Safeway.
From this same stop, you'll hop on the 5-Fulton.
Take this bus to 8th Avenue. It is about a 10 minute walk into the park from this stop.
On the map below, the Legion of Honor is the pink star and the de Young is the blue star.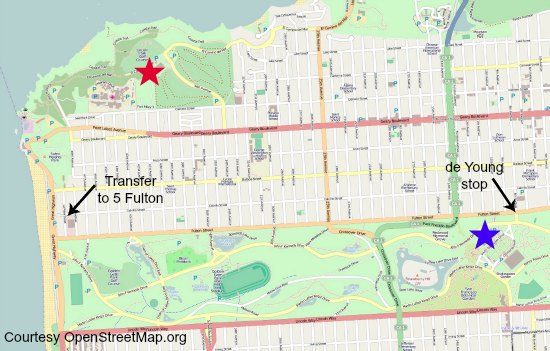 Other Popular San Francisco Museums
Other Top San Francisco Attractions