Free Museums in the SF Bay Area: 15 Always-Free Options

by Jill Loeffler  •

Published: August 17, 2023
The SF Bay Area features more than a dozen free museums. You'll find top options in San Francisco, Berkeley, Monterey, and beyond.
These museums include exhibits about our local history, science, and contemporary art. My favorites include the Cable Car Museum, South Bay Historical Railroad Society, and the African American Museum and Library at Oakland.
Read on to learn more about the top free museums in the SF Bay Area.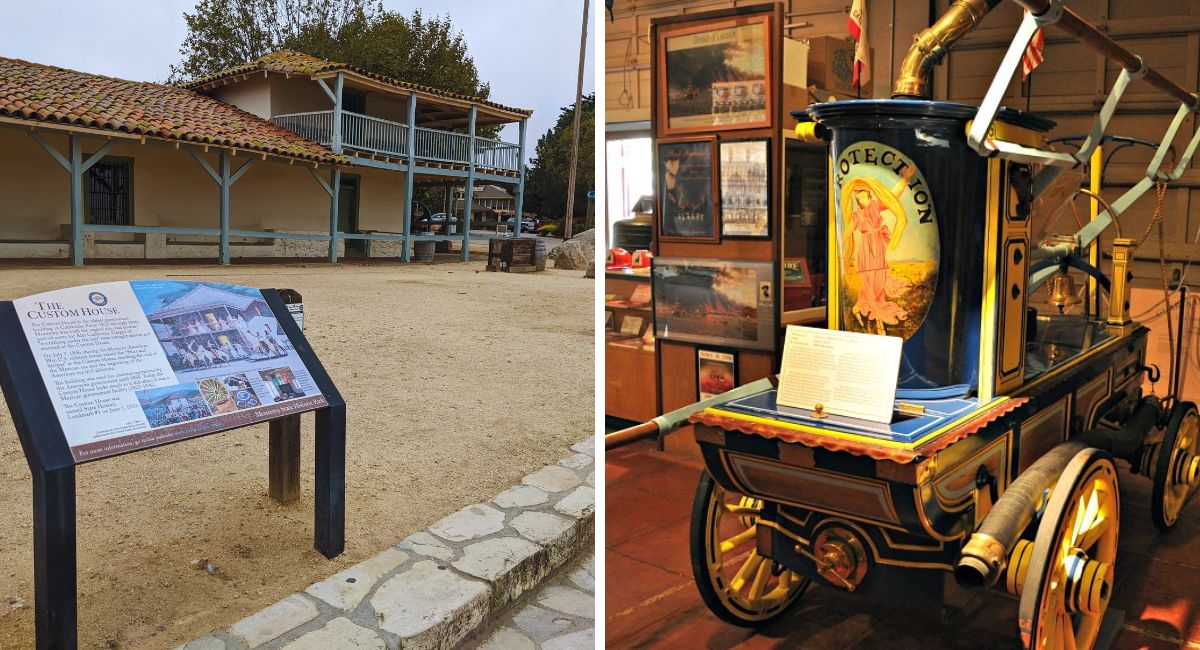 Disclaimer: I receive a small commission from some of the links on this page.

1. Old Custom House Museum in Monterey

Location: 1 Custom House Plaza, Monterey
History abounds at The Old Custom House Museum in Monterey. This is where you will learn about the heritage of California and its settlement, first by the indigenous locals and then by the Spanish and Mexican influence.
The first government building in California, the Custom House, and the surrounding area are living monuments to the early days of trade and commerce in California. Occupying a wonderful spot on Monterey Bay, ships would arrive from South America, Britain, and elsewhere to trade and offload valuable cargo.
One of the best free museums in the bay area, history buffs will enjoy returning to an era when California came alive and revel in the exhibits and stories from the state's original capital, Monterey. A great day out, and don't miss the 2-mile walk that takes you past historic buildings and charming secret gardens.
>> More great free things to do in Monterey
2. Cable Car Museum: Free Museums Bay Area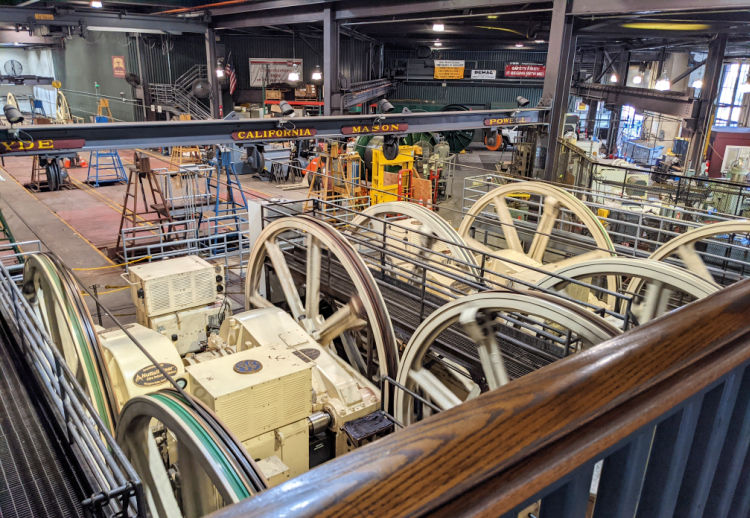 Location: 1201 Mason St, San Francisco
Among the many things that San Francisco is famous for, it is perhaps the cable cars that are among the most charming. These wonderful cars have been carrying residents and visitors through the streets of this vibrant and exciting city since 1873.
At the admission-free Cable Car Museum, visitors can learn about the system and its history from the beginning to the present day. Kids will enjoy the exhibits, including a selection of vintage cable cars, while adults can learn about the inventors of the concept and why it was chosen for San Francisco.
A deck overlooks the massive and fascinating wheels and mechanisms that pull the cars - a sight that is quite spectacular, and there are many more working engineering exhibits. You will come away having recognized that the SF cable car system is a thing of wonder and a technical marvel that belies its age.
>> More about visiting the Cable Car Museum
3. University of California Museum of Paleontology

Location: Campanile Way, Berkeley
The University of California Museum of Paleontology (UCMP) is a free museum that will thrill those who love fossils and ancient history. UCMP is a research center, so the complete collection is only open to the public on "Cal Day," but some exhibits are worth seeing on display outside of the main research center.
When you enter the Valley Life Services Building, and you are awe-struck by fossils of T-Rex, Triceratops, and the fascinating flying dinosaur Pteranodon with its colossal 22ft wingspan. Some exhibits are casts, as the original fossils are too heavy to move around.
This is undoubtedly one of the best collections of fossils in the USA, if not the world. Check the website for opening times so you don't miss out on this spectacular collection that interests people, young and old alike.
>> Visit their official site to find out what is open when
More Great Museums to Explore in San Francisco
4. African American Museum and Library at Oakland

Location: 659 14th St, Oakland
The African American Museum and Library at Oakland charts the history and culture of the African American population in California and the West, and as such, it is an important free museum that tells a fascinating story. The library offers a comprehensive collection of documents and is regularly used for research.
The museum focuses on events for children and adults and includes fascinating collections of photographs and artifacts relating to African American culture in California. Events are held throughout the year, including various historical exhibitions and talks, and the museum runs tours of the building and its archives regularly.
This is a must-see destination for anyone interested in the region's history and the different cultural influences that have formed California. Check the website for opening times, special exhibitions, and other events, and plan your visit accordingly.
>> More fun things to do around the SF Bay Area
5. Fire Department Museum

Location: 655 Presidio Ave, San Francisco
The San Francisco Fire Department Museum features many stunning exhibits that chart the history of this much-loved and vitally important service. The collection is magnificent, including the first ever fire engine built in California, a William Worth engine from 1855.
The museum is free to visit, although donations are welcome at a museum staffed by volunteers, and the story of the service in San Francisco is fascinating. There are many mentions of the fire service in relation to the 1906 earthquake, which famously leveled large areas of the city.
Equally wonderful and educational at the same time, the Fire Department Museum is open Thursday to Sunday from 1 pm to 4 pm. You should call in advance after 1 pm the day you plan to visit to ensure it is open (415.558.3546), as staffing problems may mean it may not be on a given day.
>> More about what you'll see in the Fire Department Museum
6. Pleasanton Museum on Main

Location: 603 Main St, Pleasanton
The history of Pleasanton is ably brought to life at the Pleasanton Museum on Main. This free-admission museum is a delight for history lovers and traces the origins of trade and life in California from when it was settled by the native people right through to the present day.
And that is important because that history is not always pleasant - Spanish settlers changed the very face of the land when they enslaved the local indigenous people, a part of history that is far from glossed very at Museum on the Main - and yet it is entirely fascinating as visitors get to see the way the land changed during this short space of time.
This highly educational and important museum is one for the history lover. While children may find it hard to take all of it in, there are special educational tours designed to involve and engage young minds.
More Great Bay Area Museums to Visit
7. South Bay Historical Railroad Society

Location: 1005 Railroad Ave, Santa Clara
For railroad fans and those who love history, the South Bay Historical Railroad Society is a destination not to be missed. Housed in the historic Santa Clara depot building is a collection of exhibits charting the important and fascinating history of railroads in California and how the coming of the railroads led to great change in the region.
Exhibits include a selection of vintage railroad cars plus two exquisite model layouts that recreate portions of the original railroad network in the area. These will entertain both the kids and model railway enthusiasts. This educational and fun museum is a great place to spend a few hours and learn just what changes were brought about by the boom in railways.
Visitors should be aware that this volunteer-run museum is open only on Thursday evenings and on Saturdays starting at 10 am.
More Free Attractions to Explore
8. Los Altos History Museum

Location: 51 S San Antonio Rd, Los Altos
A charming and surprisingly engaging museum dedicated to the history of Los Altos, this excellent and popular destination takes visitors through time in a fascinating way. The museum is located in a wonderful spot and features the J. Gilbert Smith House.
This important landmark dates back to 1905 and sits under gorgeous ancient oak trees. It has been refurbished to give visitors a taste of a 1930s farmhouse typical to the area and tells its own exciting story.
Interactive exhibits will keep children engaged, and adults will learn how the valley in which the museum sits changed from agricultural land to become the hub of what is now known as Silicon Valley.
There is a lot of history here, and the museum is dedicated to bringing together and preserving the past and present of Los Altos and looking to the future. An original and informative museum that is well worth a visit.
9. Maritime Museum: Free Admission

Location: 900 Beach St, San Francisco; Visitor Center: 499 Jefferson St, San Francisco
The rich maritime heritage of San Francisco is celebrated in the Maritime Museum and Visitor Center. Located in a historic bath house on Fisherman's Wharf, this is a fascinating destination for anyone interested in the city's history of shipping and sailing.
The Maritime Museum features a small collection of artifacts and often has guest exhibitions. It is best known for the restored 1930s murals that adorn the walls.
The Visitor Center offers a more comprehensive and interesting selection of maritime exhibits, including an operating light rescued from a lighthouse. The museum also tells the story of ships that are now buried beneath the streets of the city.
Be sure to stroll through the adjacent Aquatic Park, another feature of the San Francisco Maritime National Historic Park.
The museum and visitor center should occupy you for a few hours, so go in the morning and then have lunch at one of the excellent eateries in Fisherman's Wharf.
>> More details about visiting the Maritime Museum
>> More free attractions around San Francisco
10. Cantor Arts Center and Anderson Collection at Stanford University

Location: 328 Lomita Dr, Stanford
The Cantor Arts Center offers a great opportunity for families with children to enjoy hands-on learning and arts experiences. With family programs involving guides, videos, and even virtual events, this is the place to keep kids occupied while they enjoy their creative side.
Also within the facility is the fascinating Anderson Collection of fine artwork, which is on display alongside many other permanent collections of important art. An archive of photographs by the world-famous Andy Warhol is particularly important, while August Rodin is also represented.
The collections mainly cover modern art, although there are also examples of anatomical drawings and sketches with historical ties.
An excellent museum and gallery to browse while the children enjoy their art, this is one where you could spend many hours and still need more time. Book ahead to ensure the kids get a place, and check the website for events.
11. The Museum of American Heritage

Location: 351 Homer Ave, Palo Alto
Located in Palo Alto, California, the Museum of American Heritage (MOAH) features an eclectic collection of historical exhibits, both permanent and traveling exhibitions. This fascinating museum celebrates all things American and the various cultures that have developed over the years.
The Marshall Matthews Garage exhibit is a recreation of an auto repair shop from the 1920s to 1940's era, and the nostalgia is aided by the presence of a 1915 Ford Model T, a true American icon.
Other exhibits include a wonderful recreation of a typical 1920s general store, an early 20th-century kitchen, and a fabulous working print shop with antique equipment.
The gardens are worth the visit and include a recreated 1942 World War II Victory Garden, among many other interesting horticultural treasures. MOAH runs children's events throughout the year, so it is worth checking the website to see what's on when you're in the area.
12. Bolinas Museum

Location: 48 Wharf Rd, Bolinas
Housing many collections of art, all with connections to Marin County, Bolinas Museum is a wonderful place to enjoy the collections. Exhibits include photographs, paintings, drawings, and many sculptural objects from Marin and Bay Area artists housed in a beautiful building with coastal views.
Initially founded in 1983 to preserve the history of Bolinas, it has come a long way in a short time and is a popular place for traveling exhibitions and regular events. Enjoyed by locals and tourists, and with free admission at all times, the museum also has a charming shop with many great items to browse and buy, and the location itself is worth the journey.
Perhaps not the best for kids, but this is a place where art lovers can immerse themselves in their passion. Check out the various art and other auctions held during the year.
13. Wells Fargo Museum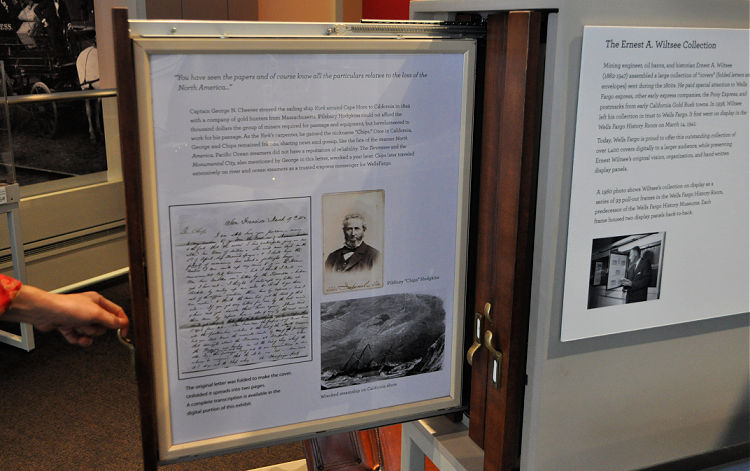 Location: 420 Montgomery St, San Francisco
A great American institution, Wells Fargo remains a household name in the USA today, and this fascinating museum tells the story of this great company. Forever linked with the Wild West and the California Gold Rush, Wells Fargo dates back to the 1700s when it was founded as the Bank of North America.
The museum charts the growth and development of the company through the centuries and up to the present day. You'll find the Wells Fargo Museum in downtown San Francisco, and of particular interest are a pair of massive historic doors that formed the entrance to Morris Store in the Gold Rush era, doors that have a tale to tell!
For most visitors, that era will be of most interest. Yet, the growth and development of Wells Fargo are intriguing to history lovers and show how much the discovery of gold formed the culture and lives of people in San Francisco and California.
>> Additional details to visit the Wells Fargo Museum in SF
>> More things to see and do in downtown SF
14. Robert Louis Stevenson Museum

Location: 1490 Library Ln, St Helena
The great writer Robert Louis Stevenson is celebrated in this wonderful museum dedicated to his much more than just interesting life. The writer of notable books such as "Treasure Island" was also a great traveler and travel writer and famously spent some time living in the Napa Valley with his new wife.
Having perused the biggest collection of items related to Stevenson in the world, visitors can trace his steps in the Valley where many famous places they stayed in are still intact. A superb collection of historical artifacts, including clothing, scrapbooks, the family silver, and oddities such as his father's cheese box (which inspired a plot line in Treasure Island), are displayed alongside a fine art gallery that includes items from the Stevenson family and others relating to him and his writings.
In addition, there is a comprehensive archive and library of documents and editions of Stevenson's work.
>> More fun things to do in Napa
15. The Magnes Collection of Jewish Art and Life

Location: 2121 Allston Way, Berkeley
The Magnes Museum at UC Berkeley is one of the best contemporary Jewish museums in the region, celebrating Jewish culture and history in California, the USA, and worldwide. The Magnes collection is a stunning archive of images, art, objects, and rare texts relating to the Jewish way of life and culture and is among the best examples of this genre in the world.
Fascinating exhibitions are held often, so keeping an eye on the website for future events is worthwhile, and the standing art exhibition is worth the visit alone. With free admission every day, this museum will appeal to Jewish visitors and Bay Area residents, casual viewers, and art lovers who wish to learn more about this interesting and different culture and how it has developed in the USA.
It is a meaningful part of the bay area's history as San Francisco has a large and important Jewish population that greatly contributes to the city.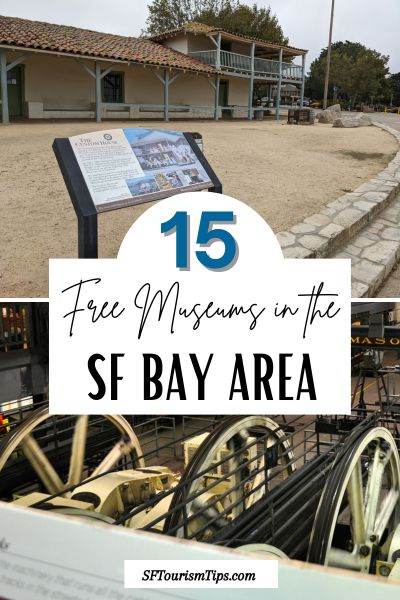 Comments? Questions? Suggestions?
I would love for you to join me in my private Facebook group! 
It's a great place to interact with me and others who know the area well.
You can ask questions, get advice for your upcoming stay, and then share your photos and advice with others when you return home. It's a great community and the fastest way to get answers to those nagging questions about your visit!