Things to Do in Yosemite with Kids: 24 Entertaining Ideas

by Jill Loeffler  •

Published: December 13, 2022
You will find dozens of fun things to do in Yosemite with kids. This list of 24 ideas will give you more information on activities your entire family will love.
You can hike, hang out at Mariposa Grove and see massive Redwoods, do some fantastic birdwatching, or ride on the Sugar Pine Railroad.
What I love about these choices is that they are perfect for kids, and the whole family, at the same time.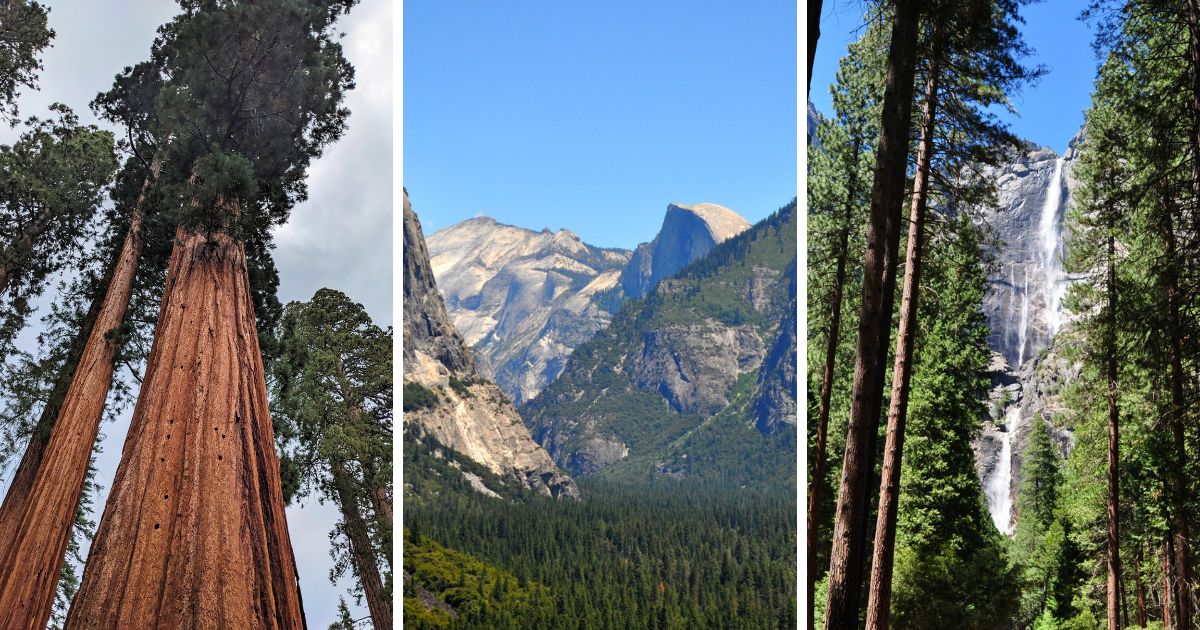 Disclaimer: I receive a small commission from some of the links on this page.

1. Glacier Point
Simply stated, Glacier Point is a must-visit when you come to Yosemite. Most people think it will be too difficult to get there since it is a "hiker's dream," but in reality, it is quite easy since you can drive your car (check dates as this is usually open from Spring to late Fall).
The view from Glacier Point lets you see so much of Yosemite Valley that it will take your breath away. What we love about it is that you can see loads of birds from the viewing point, take some hikes, star gaze depending on the time you are there, or even go skiing or snowshoeing.
If you don't want to deal with driving so that your whole family can relax and enjoy the visit, the bus tour that takes you up is four hours, and you and your kids will love it.
2. Sugar Pine Railroad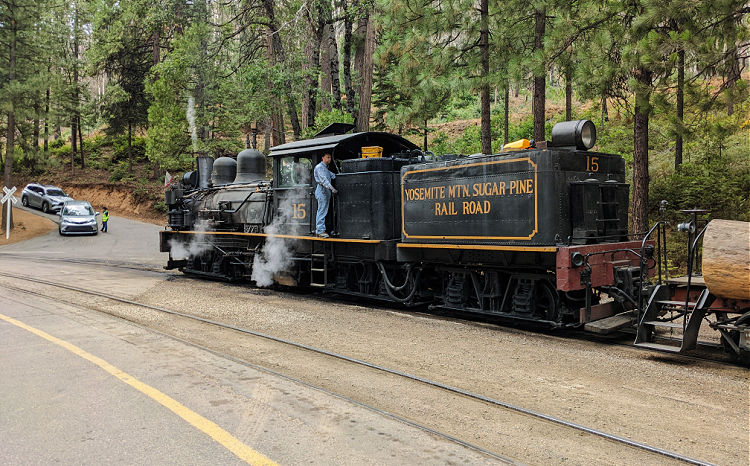 You will want to visit here if you are near the south end of Yosemite. My husband and I love going here for many reasons: The little stores and exhibits, the gorgeous pine trees, the different trains, and the incredibly friendly people who work there.
When you arrive, you'll see a little "town" where you can walk right into the Old West and see what it was like to live during this time through its exhibits, stores, and more.
But the main reason people come is for the train rides. The main one is the "Logger Steam Train," which runs for an hour, and you can choose between an open-air or a covered rail car to ride in.
It winds through the trees, and you'll listen to live narration about everything you see from the conductors. It usually takes about an hour.
If you want to see the same but only want to spend about 30 minutes, there is the "Model A" gas engine which is one car long and speeds through it all. It is a wild ride.
If you want to make this a special event, check out their website since they often have events such as Moonlight Rides, Barbecues, and holiday rides. This is the perfect place for kids and families since there is so much to do, and it is so much fun.
>> More about enjoying the Sugar Pine Railroad Tour
3. Birdwatching
Yosemite is a birdwatcher's paradise. With over 250 species of birds coming through the valley every year, you will surely see some that you have never seen before and may never see again. Many of them are rare.
The birdwatchers' favorites include the Great Grey Owl, Pileated Woodpecker, and the Mountain Chickadee (Is that not the cutest name ever? Kids love saying that one!).
Kids absolutely love watching the American Dipper skim in and out of the rivers as it catches its food for itself and its young ones.
We also love that there are so many different ecosystems that you can see a wide variety of birds in different areas.
Whether in the forest, grasslands, or up high in the peaks, you and your little ones will find majestic birds flying above and close to them when you visit, primarily during the Spring, Summer, and Fall seasons.
There are some during the winter, but they won't be as obvious or as plentiful.
4. Yosemite Falls Hiking Trails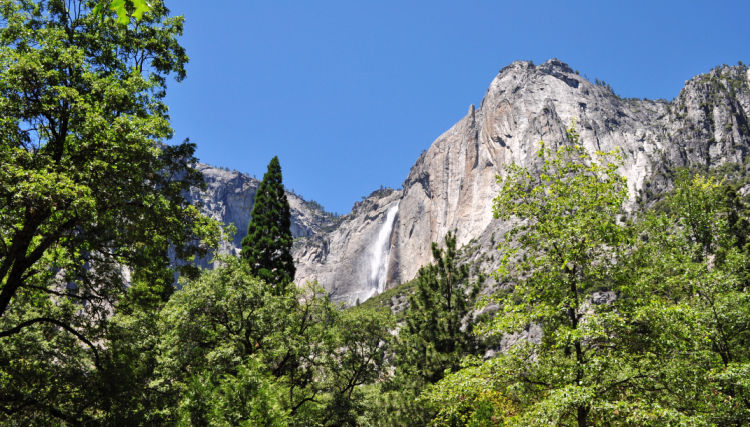 As you can imagine, many people come to Yosemite to hike and explore nature. The beauty of this wonderland is that it is accessible to many people of so many ages.
Even though you'll usually only hear of the Yosemite Falls Trail and the Lower Yosemite Falls trail, there are three. The main Yosemite Falls Trail may be a bit difficult for younger kids, but there is a smaller hike that goes along the way that is perfect. The third hike, the Lower Yosemite Falls hike, is also perfect for kids of pretty much any age.
You will love that there are two major trails here, so depending on your kids' age and energy level, you can choose either.
The Yosemite Falls Trail is the longer of the two and is over 2,400 feet above the valley floor. This hike is actually two hikes in one, as you can first stop at Columbia Rock and see magnificent views of Upper Yosemite Falls. This is only about 2 miles round trip.
If you want to do the full hike, it is 7 miles round trip, which is quite difficult. However, you will be above the humongous falls if you get to the top.
You will also get incredible views of the whole Yosemite Valley like you can't anywhere else.
It is open all year round, but just be careful if you visit during the winter or wet seasons.
Now, if you want an easier hike for the whole family, there is the Lower Yosemite Falls hike. This one lets you see North America's tallest waterfall at over 300 feet! This easy walk is only about a 1-mile loop and is easy for kids of most ages.
It is paved, and if you stand on the bridge at the bottom of it, you'll get sprayed with some of the water! Kids love this because it is so magical and fun. It is open year-round and is safe pretty much all the time.
NOTE: For those in wheelchairs, the easiest way to see this area is by using the eastern side of the loop, as it is fully paved. This makes this hike great for everyone, regardless of age or ability.
5. Tuolumne Meadows

This massive meadow is a wonder to visit as you'll see the beautiful Tuolumne River roll through it and the amazing peaks surrounding it. You'll feel like you've entered a whole different world, and your kids will love the turnouts and the ability to play around it.
The best way to experience the meadows is by taking Tioga Road, a 47-mile scenic drive through it. It is perfect for seeing birds and animals and just enjoying nature. There are also a few visitor centers where you can learn more and get some food or drink.
It is usually open from May until November, depending on the weather, so make sure to check ahead.
6. Guided Tour from San Francisco or Oakhurst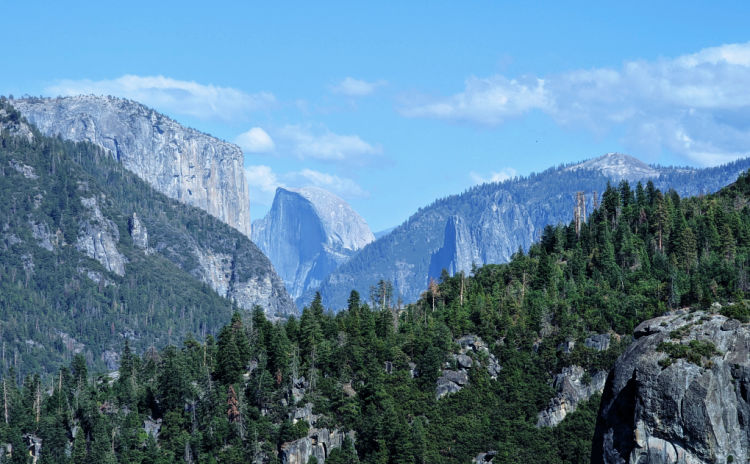 If you are with kids and don't want to do a lot of driving, then these tours will be a perfect way for you to visit Yosemite and not stress out.
One of our favorites is the San Francisco: Yosemite National Park & Giant Sequoias Hike. It includes going hiking at Tuolumne Grove, going through Tunnel View, seeing Half Dome, having lunch in Yosemite Valley, and more.
This tour lasts about 14-15 hours, so you and your little ones can sleep on the way up or back, depending on how much you do.
Find out more about this tour here.
Another one that we love is the Yosemite: Valley Hiking Tour from Oakhurst. This one starts in the small town of Oakhurst, in the foothills just south of the park. You'll get views of El Capitan and Half Dome, do a mellow 3-mile hike, and check out the Ahwahnee Hotel.
This one lasts about 9 hours. Get the details and booking information for this tour here.
7. Tenaya Lake

The largest lake in Yosemite National park, Tenaya Lake, is absolutely gorgeous. Being that it is nestled in between the park's massive mountains and domes, it is unlike any lake anywhere else.
You and your kids will love it since it the water is so clear and clean. It is a favorite for everyone that likes to picnic, swim, or canoe. Also, the beaches are a great place to let the kiddies out and have them run around to burn off some excess energy or find some cute stones.
Whatever you choose to do here, it is a wonderful place to stop and just admire the beauty of nature.
8. Ice Skating at Curry Village

Kids of all ages love ice skating! There is nothing like cruising around the rink, enjoying the amazing views of Yosemite, and knowing that some warm hot chocolate will be your reward!
We love that they have specifically made this rink for everyone of every level so that no one feels left out or like they won't be good enough to enjoy it. It opens starting in mid-November and closes in mid-March.
You are welcome to bring your own skates, but if you don't have any, they will rent them to you. There are two-hour sessions, so you will have more than enough time to have fun and enjoy yourself here.
For those who don't want to skate, there is an outdoor fire pit, and you can purchase food and drink instead.
9. Mariposa Grove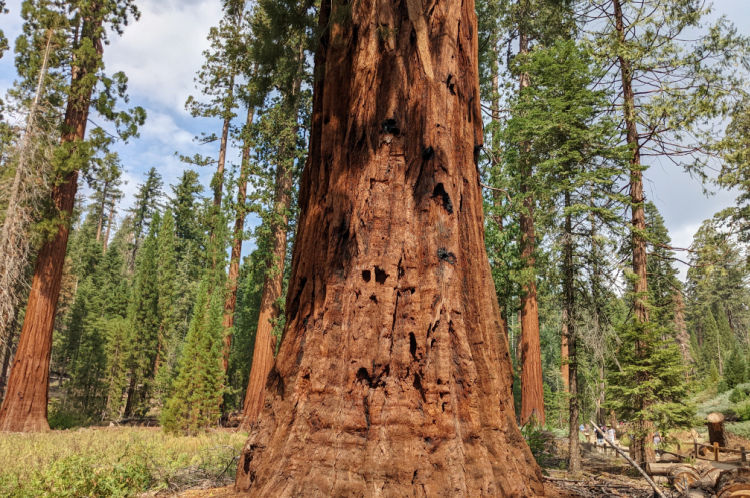 Kids of all ages will be utterly amazed when they walk through Mariposa Grove. These trees are magnificent and awe-inspiring in that they can reach up to 300 feet tall!
With over 500 of them surrounding you and your kiddies, you can take an easy hike around the area and enjoy their grandeur. It is a great place to take photos since the trees are so tall, making you and your kids look tiny.
Some of the most famous Giant Sequoias include the Bachelor and the Three Graces.
>> More about visiting Mariposa Grove
>> More places to enjoy the Giant Sequoias
Additional Guided Tours to Yosemite
10. Fishing

As you can imagine, Yosemite National Park is a dream location for people who love to fish. Most people think only adults love fishing, but kids can enjoy it, too, as it gives them something new to do and gets them to focus (on something other than video games!).
Yosemite has loads of areas to go fishing; you'll just want to make sure you check out the regulations and restrictions. Some of these include being at least 16 years of age, certain types of bait, and also limits on how much you can catch.
Therefore, fishing itself is more for older kids and teens, but can still be fun for the whole family as young kids can search for pretty stones or have fun in the water and surrounding areas.
11. Yosemite Valley Visitor Center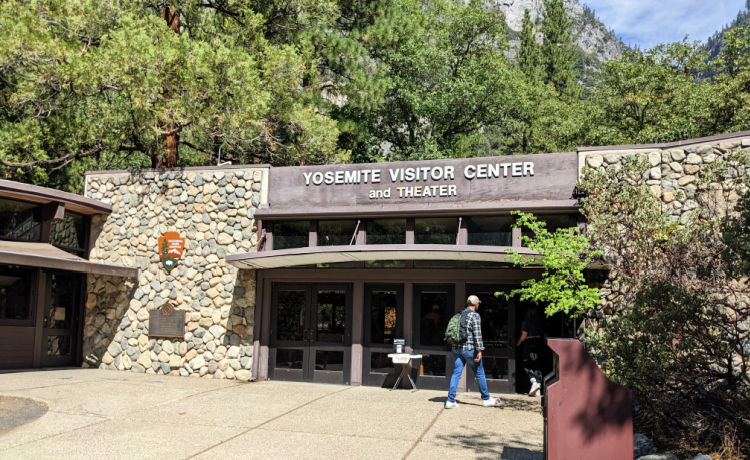 This is the place to begin your visit to Yosemite since the information you can get here is invaluable.
The main Yosemite Valley Visitor Center is staffed by incredibly knowledgeable and friendly rangers all year round. They love entertaining kids and teaching them since they know that your youngsters will become the next generation of nature lovers.
My husband and I love the exhibits, especially the "trail" that allows you to walk through time to get an idea of how Yosemite has changed through the eons.
There is a fun film to watch and lots of other exhibits. Most of these are aimed at kids of all ages, so everyone should have a wonderful time when they visit here.
12. Vernal and Nevada Falls Trail

Known as "Nature's Staircase," this is a trip that is most appropriate for teens and adults in fairly good shape. There are several different lengths, ranging from about 1.5 miles roundtrip to over 5 miles roundtrip, all of which are on the same path.
The reason for the different lengths depends on the views you want to see and how far/hard you want to hike. All of them offer amazing views of the waterfalls, but it just depends on how many waterfalls you will see when you hike it.
You will also get great views of the Merced River and Yosemite Valley. Again, the views depend on how far you hike.
You can also choose to do the Mist Trail or the John Muir Trail, so you'll want to plan ahead and check out the maps, weather, and what services (such as bathrooms, etc.) are open during the season you plan to go.
13. Bridalveil Falls

My husband and I love this trail because it is so easy and quick, and you can see these amazing falls in all their glory.
At over 600 feet, this waterfall is amazing and fun just to watch as the water pours over the edge. During the Spring, it is a massive gushing one; the sound it makes is like thunder!
During the other seasons, it isn't as plentiful but still beautiful to watch and listen to as it goes down the mountain.
It is a very easy hike for pretty much anyone, at only about 20 minutes walking speed, and it is paved from the parking lot. It is at a grade, so you'll want to think about that if your kids are very small, but you could carry them and let them walk.
It is open all year round, but expect it to be icy and wet during winter. Unfortunately, since the walk to it is graded, it is not wheelchair accessible.
14. Camping

If you and your family love camping, or if you just want to try it for the first time, you will be so happy you are here.
With 13 campgrounds, you will find something that fits your style and your budget since some start at under $20 a night. Many also have flush toilets and even laundry near them.
Since camping is so popular at Yosemite, there is often a waitlist, and you'll want to make reservations.
Sometimes they are so popular they are filled within a minute or two of opening up! However, if you miss the reservation date, there are also some first-come, first-served campgrounds.
You'll want to check the schedule to see which campgrounds are open because it depends on the season.
>> Find out more about camping in Yosemite National Park
15. El Capitan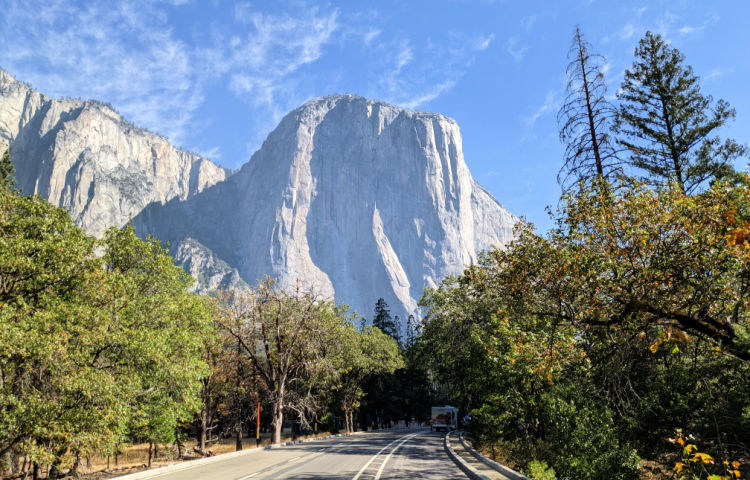 Besides Half Dome, this is probably Yosemite's most famous "face." Known as a destination for anyone who loves massive mountains and for some of the best rock climbers around the world, there is simply nothing else like it in the world.
This massive mountain is over 3,000 feet tall and has appeared in many movies since it is so impressive and unusual. Kids will love it for the amazing and powerful way it stands out in the park like "the Captain" for which it is named.
We love just hanging out below it and looking up. You may think that is obvious since it is so impressive, but there is more to it than that. If you go in the right seasons, you may see mountain climbers on it!
If you have a phone with a great camera, a camera that can zoom, or binoculars, try to bring them as kids will love it. They will want to keep searching it for more climbers and people up there!
16. Boating and River Rafting

There are a number of choices for those who love water sports or those who want to introduce their kids to water sports.
The three that are recommended start with the Merced River, which is open to rafting during the summer and is a nice, fun ride.
The South Fork Merced River is also a lot of fun and good for kids.
Lastly is Tenaya Lake. The lake allows for rafting and kayaking, so if you and the kids have never tried kayaking before, it is the perfect place to have a new adventure!
All locations require kids under age 13 to wear a personal flotation device (usually a life vest) and are open during spring and summer. Rafting in the Merced and South Fork depends on the river's height, so you probably want to check ahead if possible.
17. Hetch Hetchy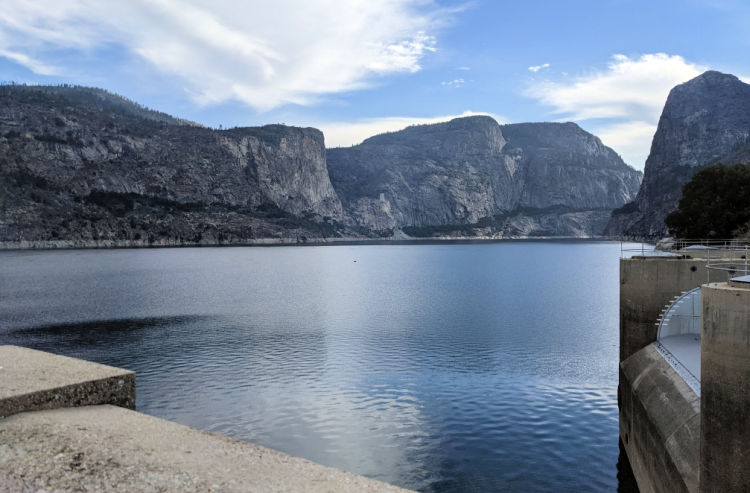 Have you ever wanted to walk across an almost 500-foot dam that is holding back over 350,000 gallons of water? Well, even if it hadn't occurred to you to do that, you and your kids will love it, as it is incredibly powerful and fun!
One of the reasons to visit Hetch Hetchy is the gorgeous lake, with all that water behind it. It is crystal clear and has massive peaks and canyons all around it.
I love to see the water released from the dam and crashing into the rocks below it.
Depending on the season, you can find fantastic hiking, wildflowers in bloom, and spring waterfalls that match others elsewhere.
We love Hetch Hetchy because it is a "hidden gem" of Yosemite, and you and your kids will be able to explore it with fewer people around no matter when you visit it.
18. Yosemite Ranger Walks and Talks

There are many Ranger walks and Talks which teach visitors about the park and are accessible to kids.
In some of these, you'll walk around, and the Ranger will point out and explain about the area, flora, and fauna. Others will allow you to make art while enjoying wine, and others will take you around the historic Ahwahnee Hotel. All of them are fun.
This page is where you will find details for the talks: https://www.travelyosemite.com/things-to-do/ranger-nature-programs/
19. Junior Ranger Walks

If you and your little ones want to learn more about nature, Yosemite is the perfect place for you and them!
There is the "Junior Rangers," which is focused on kids ages 7 to 13, who get to cruise around the valley, pick up litter (it is more fun than it sounds), learn more about the park, and earn a special badge at the end!
If your kid is ages 3-6, there is a special "Little Cubs" program for them.
20. Wee Wild Ones

Some of the Ranger walks and talks include "Wee Wild Ones," where kids 10 and under get to hear stories, make crafts, and more for 45 minutes with a ranger.
These are held at the beautiful Curry Village Amphitheater, starting in late Spring and ending in early Fall. This one is free!
21. Art Classes

There are too many art classes even to try and cover right here. Simply stated, these range from ones specifically for kids up to others for adults.
Many of these classes are led by professional artists, and you and your kids will learn more than you can imagine in them.
You may be at a studio or out walking in nature to get the full experience. Either way, there is so much to do and see that you will love them no matter which ones you choose.
Note: We know this is a page for kids and families, but if you want a little break, my husband and I love the Paint and Sip class, where you can have some wine and cheese and do a bit of painting at the same time. Just make sure to bring a babysitter or let an older sibling be responsible for a few hours.
22. Evening Programs

There are a number of evening programs that your kids will love. Some of these include having tours at night to see the moon, planet, and stars over Yosemite, going on a "Night Prowl" to learn more about nocturnal animals, and other evening presentations.
Kids especially love the "Fireside Storytelling" and the "Halloween Cemetery Tour" since they are both a bit scary and a bit fun. Most of these require reservations, and because they are at night, you'll want to dress accordingly, so check ahead.
23. Tunnel View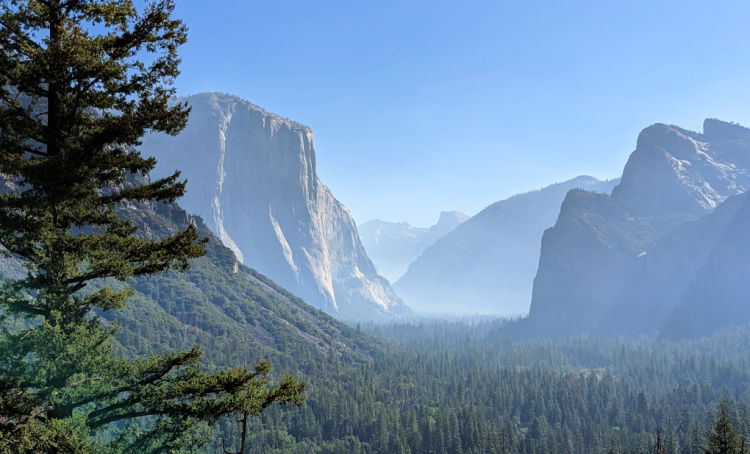 Tunnel View is exactly what it states it is: a view as you come through a tunnel. However, it is so much more than that; it is your entrance into the magical Yosemite Valley.
Kids love this because as you drive through this tunnel, you start to glimpse what the valley will look like and then exit it and take in its full glory.
It is amazing to see what's waiting for you on the other side as you drive through the tunnel, and it is fun to take pictures as you are close to exiting because there is so much to see.
There is also a nice pull-out where you can stop and take in the view, and more photos, before you head down to the valley floor. It is truly a majestic view that will awe kids of any age!
24. Snowshoeing

Most people may not think about this, but snowshoeing can be a wonderful way to introduce your kids to nature during the winter. The season usually runs from mid-December to mid-March, and Yosemite is utterly gorgeous during this time.
Some places we recommend for snowshoeing are Badger Pass and Glacier Point Road. We really like Badger Pass since there you also have the option of cross-country and downhill skiing.
The National Park Service also leads free snowshoeing walks at Badger Pass during winter months, so it is a great way to get acquainted with this fun sport. You'll want to check the calendar to see when the walks are because they change depending on the weather and the season.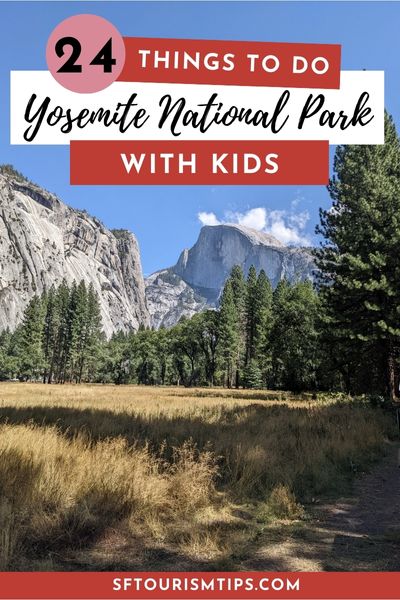 Comments? Questions? Suggestions?
I would love for you to join me in my private Facebook group! 
It's a great place to interact with me and others who know the area well.
You can ask questions, get advice for your upcoming stay, and then share your photos and advice with others when you return home. It's a great community and the fastest way to get answers to those nagging questions about your visit!