25 Exciting Things to Do in Yosemite National Park

by Jill Loeffler  •

Published: December 21, 2022
Whether you are visiting for a day or a week, my list of 25 awesome things to do in Yosemite National Park will keep you busy throughout your stay.
This outdoor wonderland offers so many great options. You can head out on a short hike or one that takes you several days. You can stroll around Yosemite Village and check out its small shopping area. You can also learn more about this national park at one of its museums.
You'll also find details on some special events and family-friendly activities.
I know you will fall in love with this place the minute you arrive.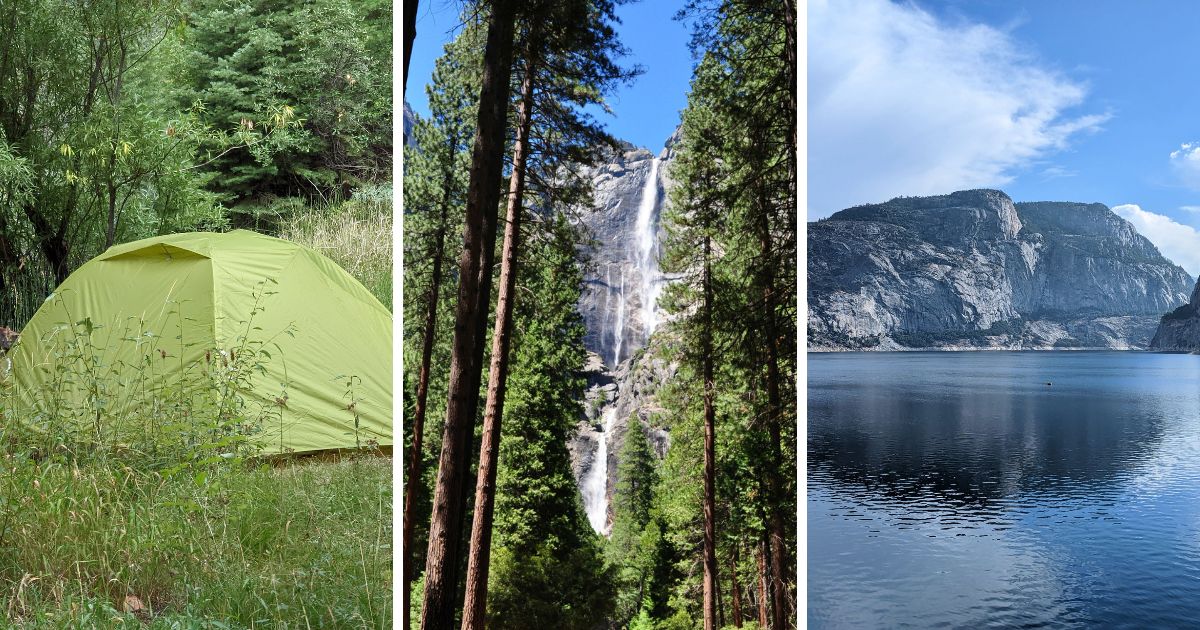 Disclaimer: I receive a small commission from some of the links on this page.

1. Hiking Trails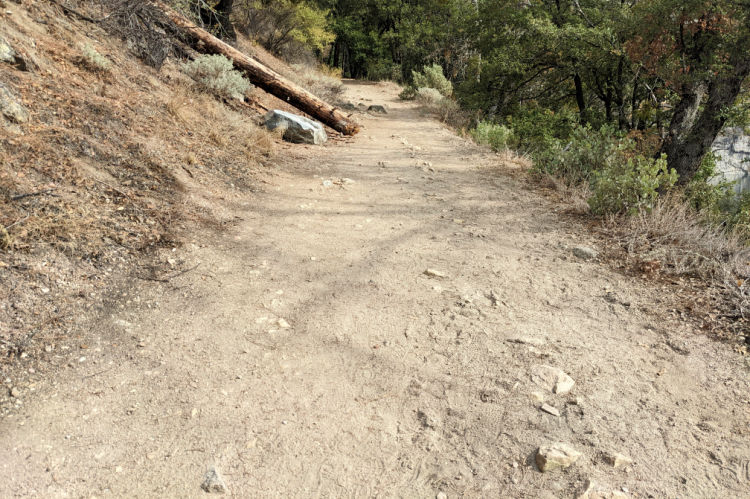 No matter how often you come to Yosemite National Park, you will find a new hiking trail. Some of these are only about 1 mile, while others, such as the famous Half Dome, are up to 13.
With over 750 miles of trails, you will surely find something that moves you.
Some favorites include hiking to lower Yosemite Falls, which is an easy trial and perfect for those looking for a taste of what it's like to hike here. Others continue to climb to the top to see Yosemite Falls from above. I've climbed to the top once, and the route is challenging, but it is an unforgettable experience.
Another one of my favorites is the Hetch Hetchy trail. The trailhead starts by taking you over its massive dam. I love spending a little time watching the water spilling from the dam before entering a tunnel that takes you to the trail on the other side.
Other top hiking trails include the hike to Nevada Fall, a hike around Tuolumne Meadows, and hikes around Mariposa Grove.
2. Museums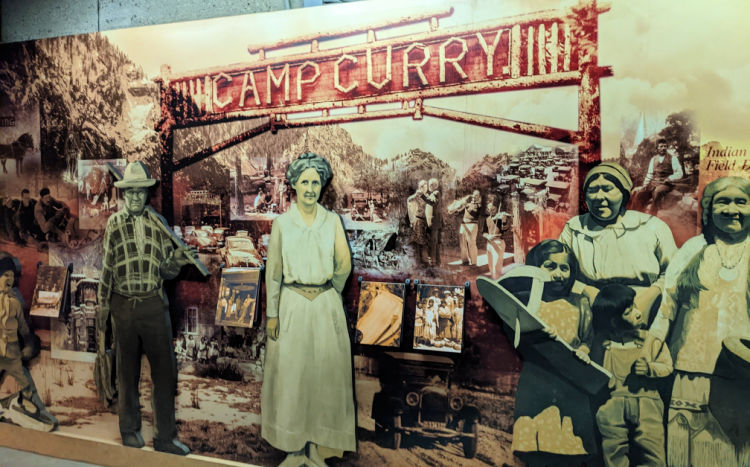 If you want information on the valley, this national park is well-situated with numerous museums and centers.
Many of them are staffed by rangers and have exhibits about everything you could imagine. The Valley Visitor Center is a great starting point.
You will want to check ahead as some are only open during certain times of the year, depending on the weather.
3. Sequoia Groves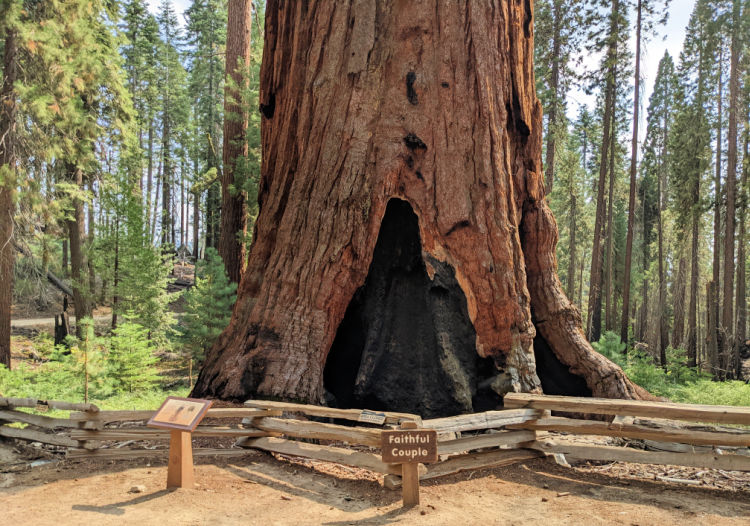 There are three Sequoia Groves in Yosemite: the Mariposa, Tuolumne, and Merced. They are all located at different points in the park and offer different experiences.
The Mariposa Grove has over 500 Giant Sequoias. It's the most popular Sequoia Grove Yosemite National Park. The trees and massive, and it's the most accessible, with flat trails, restrooms, and plenty of maps to help you find your way.
Even though it's the most crowded, it's my favorite of the three.
The Merced and Tuolumne are a little more difficult but are not as busy. Each one has about 24 Giant Sequoias.
All three are worth visiting for very different experiences.
>> More about visiting Mariposa Grove
>> More great places to see giant sequoias
4. Water Activities

As you would imagine, Yosemite is a dream for anyone who loves to be active outdoors. This includes those who want to enjoy swimming, rafting, or fishing.
Some of your choices include the Hetch Hetchy Reservoir, Emerald Pool, and about 3 or 4 others. For boating or rafting, you can choose from three areas, including the Merced River, where you can bring your own watercraft or rent a raft.
For those who want to do some fishing, you will have to check online for which areas are open, depending on the season.
>> More fun things to do in Yosemite with kids
5. Guided Tours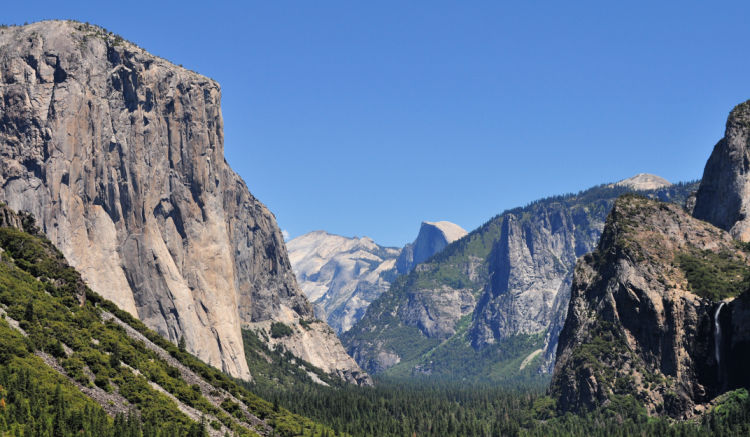 There are several fantastic guided tours that you can take while you are visiting Yosemite. The duration of the tours ranges from 2 hours up to a full day.
Some of these tours are inside buses, while others are open-air. They are all excellent and give you a great view you couldn't get any other way.
Some tours start inside the park, while others start as far away as San Francisco. In addition to the day tours, you'll also find some multi-day tours that allow you to either camp for the night or stay at one of the top hotels in the park.
They also depend on the season, and road closure, since the weather can be unpredictable. Therefore, it is always best to check in advance.
The Best Guided Tours to Yosemite
6. Curry Village

This is a wonderful area to visit when you are in Yosemite National Park. It is located near the John Muir Trail and has a campsite, wood cabins, and if you want to "feel a bit closer to nature," canvas tents.
There are also benefits, such as a few eating choices, a gift shop, and even an outdoor swimming pool. If you want to learn mountaineering, they have a school here for that also.
The front desk is staffed 24 hours a day, so you can be sure to get all the help you need when you stay here.
7. Yosemite Falls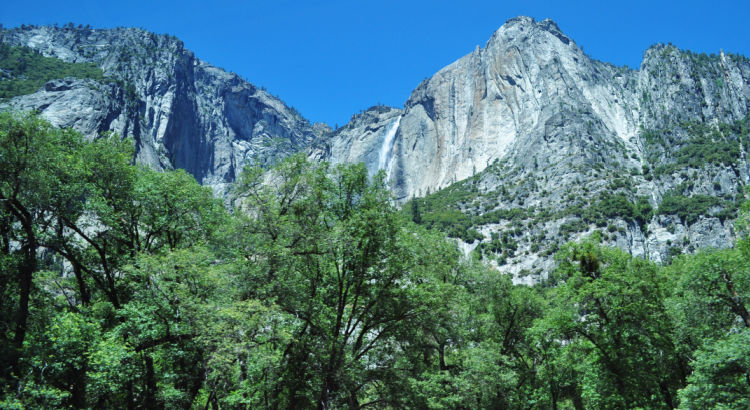 Built in the 1870s, this is one of the most famous trails in Yosemite. The climb is long if you go to the top, but you can stop at many points along the way for amazing views.
Some sights you'll see include Yosemite Valley, Half Dome, and Sentinel Rock. And, of course, you will see Yosemite Falls, which is majestic from below, beside, or above if you hike the whole trail.
We suggest only serious hikers do the entire hike, as it can be as long as 6-8 hours and an elevation gain of almost 3,000 feet.
One thing to note, too is that parts of this longer trail are wet and a bit slippery. Make sure to allow extra time to get through these spots when hiking this trail.
8. Camping in Yosemite

There are 13 campsites in Yosemite National Park, all of which have fantastic views of the area.
All of them tend to fill up quite quickly, so it is best to make reservations in advance if possible. Each of them has a different calendar and unique requirements for staying there.
As they are also only open during certain times of the year, it is best to check in advance to ensure you can get a spot there.
>> More about camping in Yosemite National Park
9. Half Dome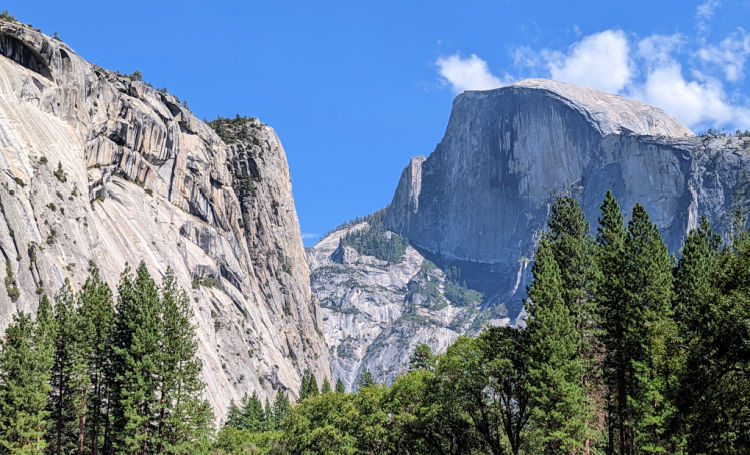 Everyone knows Half Dome, as it's one of the most popular things to do in Yosemite. To admire it from the valley floor, it is majestic and visible almost everywhere.
You are more than welcome to climb part of the trail and get a great view. However, if you decide to hike the entire trail, it is 14 to 16 miles and takes around 10 hours, so you must be in good shape.
Once you reach the base, you can continue up to the top of the famous "Half Dome Cables." You need a permit to scale it, but you can also hike to the bottom to check it out from up close.
If you plan to go to the top, make sure you come prepared with safety equipment and necessary tools. The cables are a metal cable ladder, and everyone uses the same route.
It will sometimes be crowded, and people will climb around you. Be prepared for this if you plan to climb slowly.
If you fear heights, you will not want to attempt this climb.
10. Yosemite Valley Visitors Center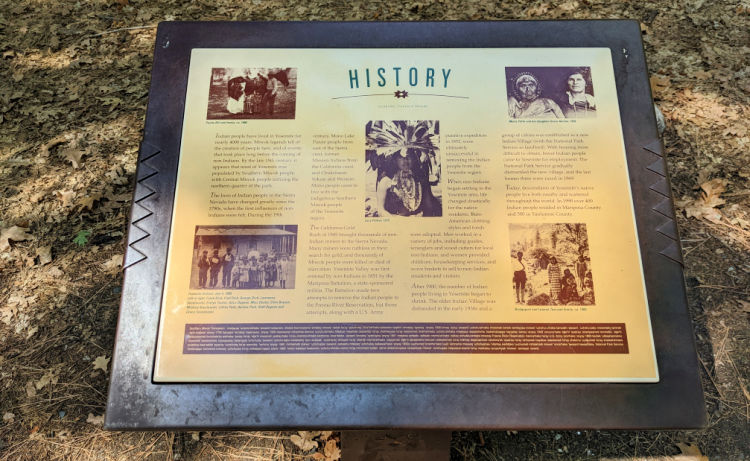 This is a perfect location to start your visit to Yosemite Valley. It is staffed by United States Park Rangers all year round, with loads of information.
On top of asking the rangers any questions you have, you can watch a fun movie, "The Spirit of Yosemite," find books about the area, and check out a fantastic display about the park's geology and history.
My husband and I visit it every time we go to Yosemite just because there may be something new, and there often is!
11. Fish Camp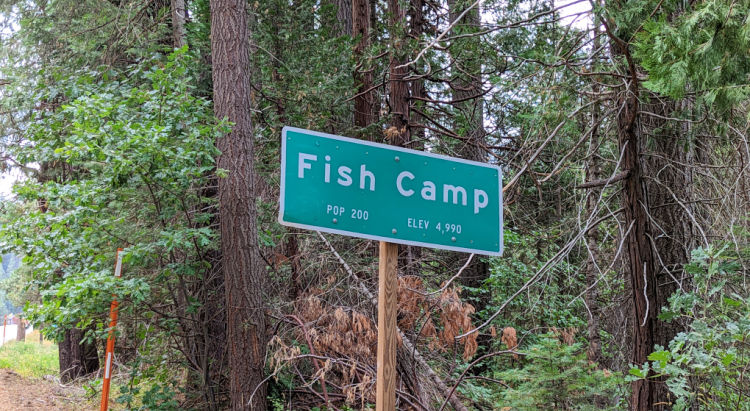 Fish Camp is simply one of the best places around Yosemite because it has just about everything in one little village just 2 miles from the park's south gate.
You'll find the Fish Camp General Store, the Yosemite Mountain Sugar Pine Railroad, the Wawona Golf Course, and more!
There is also an excellent Yosemite National History Center and great hikes to see waterfalls. If you want more relaxation, you can take tours of many of Yosemite's most famous landmarks starting here.
Along with numerous places to stay, this is a great jumping-off point to visit Yosemite from the South Entrance.
12. Sugar Pine Railroad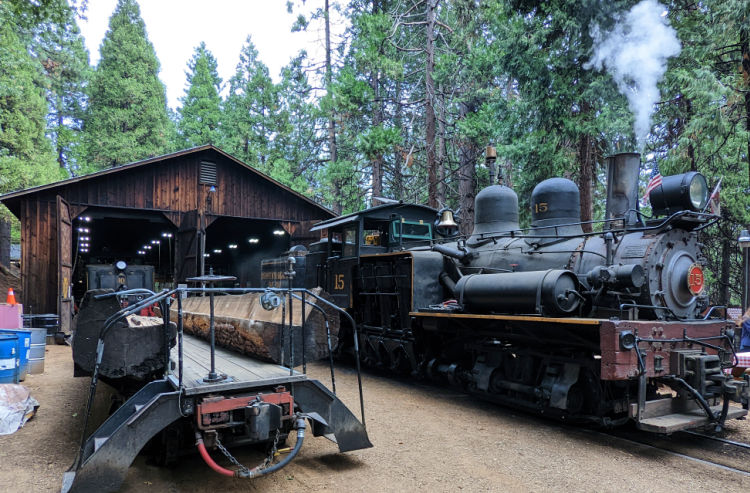 As mentioned above, Fish Camp is home to the Sugar Pine Railroad. Here you'll find several exhibits and stores, but the main reason to come is the fun train rides narrated by conductors who know everything about this area.
You can take a few different rides, and they are all fun. Depending on when you visit, there are also special events with live music, barbecues, and much more.
People love the Jazz Train and the Moonlight Specials. Just make sure to check ahead and see when they are running.
You will think you have been transported back to the days when the loggers and lumberjacks were living and working here!
13. Glacier Point

About one hour from Yosemite Valley, this lookout point is more than 3,000 feet above the floor and will give you views you will never forget.
You will be able to see all kinds of wildlife during the day, and if you come at night, you'll be able to stargaze without any interference from outside lights.
Since you can drive up to it in the summer or ski in the winter, it is a wonderful way to experience the valley.
You can also hike to the top of Yosemite Valley on the Four-Mile Trail.
Other options to get here include taking the bus. This is a fun way to experience it if you want to hike up or down.
14. El Capitan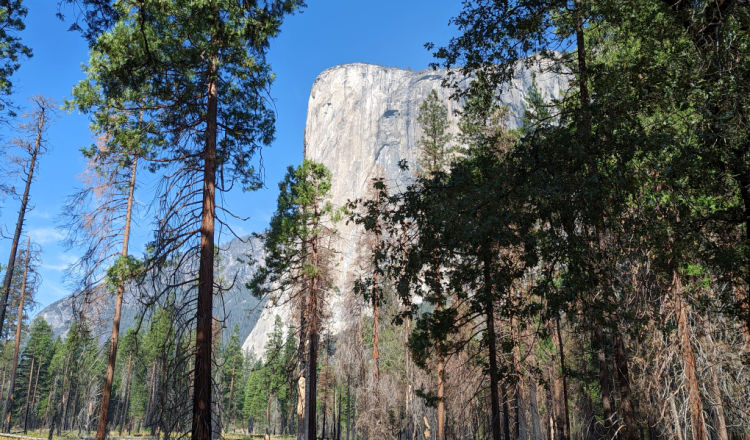 It is hard to say between Half Dome and El Capitan which is the more famous rock formation in Yosemite. El Capitan is imposing and powerful, about 3,000 feet above the valley base.
If you want to hike to the top of it, you can take the trail by Yosemite Falls. However, it is the most famous for rock climbers and base jumpers. If you look closely, you can often see climbers suspended from their ropes (or just using their hands if they are free soloing!) against the rock wall.
It is an incredibly impressive sight and well worth the time when you are there.
15. Skiing

If you are looking for one of the best things to do in Yosemite in the winter, then check out its skiing. It's the perfect pick for you and your family!
Badger Pass Ski Area has wonderful Alpine runs for skiing or snowboarding, gorgeous cross-country trails, snowshoeing and more.
My husband and I love Badger Pass because it doesn't matter your level or experience, as there is something for everyone. They offer lessons in case you are new to the sport or want to increase your proficiency, and you'll never find a more gorgeous location to do it.
If you don't want to drive in the snow, there are also buses that will take you to it from different areas of the valley floor.
16. Ice Skating

What is a winter vacation in a winter wonderland without a little outdoor ice skating? Opened in 1928, the Curry Village Ice Rink is the perfect place to get your "skates on."
Not only will you love the skating rink, but the fire pit and views of Half Dome make this a scenic experience, unlike one you'll have anywhere else.
The skating rink usually opens in mid-November and is open through the winter season.
17. Scenic Views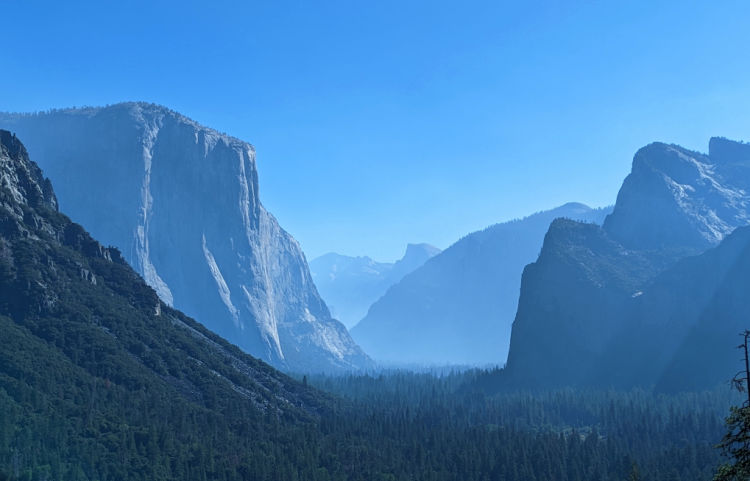 Yosemite National Park is full of fantastic views. From watching climbers on El Capitan to soaking in Half Dome from Yosemite Valley, I know you will love every second of your visit.
For one of the most memorable and best things to do in Yosemite, you need to check out Tunnel View. This stop is not to be missed, as its spectacular placement offers a vista over the valley at Half Dome, the surrounding mountains, and the forest.
You'll find it on the east end of the Wawona Tunnel.
There is parking on both sides of the street, and most people don't stay long, so there is no need to worry about where to stop and park while you soak in these views.
A second place to stop that offers great views across the valley is along Big Oak Flat Road. It's called Yosemite Valley Vista Point.
From this small area, you will see Half Dome, the surrounding mountain peaks, and all around the forest. It's a great option for those entering or exiting through the Big Oak Flat Entrance.
18. Snowshoeing

As you would imagine, Yosemite is the perfect place to go snowshoeing, whether you are an expert or a novice.
There are numerous favorite areas, including Badger Pass Ski Area, Dewey Point/Glacier Point Road, Crane Flat Winter Trails, and the unique Mariposa Grove of Giant Sequoias, to name a few.
There are guided tours if you aren't sure or want to relax and not think about where to go. With the many trails and various difficulty levels, you will surely find something that matches you and your ability.
Because of the elevation in Yosemite, some of these trails are open all year round, while others are only open during certain months, so check ahead.
19. Wildflowers

Yosemite is a wildflower lovers' paradise! Amazingly, it has almost 1,500 species that account for almost 25% of California's native plants!
Since the park's elevation gain is over 11,000 feet, you are sure to get a magnificent variety of flowers no matter throughout Yosemite National Park. The best time to see them is from early Spring and mid-Summer.
If you don't know much about wildflowers or are a pro and just want to learn more, there are guided tours by rangers during the seasons.
20. Ranger-Led Programs

Everyone knows that rangers can advise where to go, where to stay, what to see, and simple stuff like that. But did you know that the rangers in Yosemite do so much more?
Some classes and programs include art classes, tours through the amazing Ahwahnee Hotel, Live Theater Programs, ranger walks, and talks, and our favorite, the wine and paint class!
Some of these require reservations, and some are for children or adults only, so check ahead. Kids' adventures usually only run from April until September because of the school season.
21. Night Programs

Most people think of Yosemite as a daytime adventure since there is so much to see in the light. However, the beauty of Yosemite is that it is just as impressive during the night.
Some programs include a "Night Prowl," in which a naturalist will lead you through the woods at night. During the "Starry Night" program, you will look up and learn all about the night sky.
Another favorite is the "Halloween Cemetery Tour," where you will be exposed to many famous Yosemite denizens' graves and historical areas. There are fireside stories and fun walking tours through it.
22. Things to Do in Yosemite: Hetch Hetchy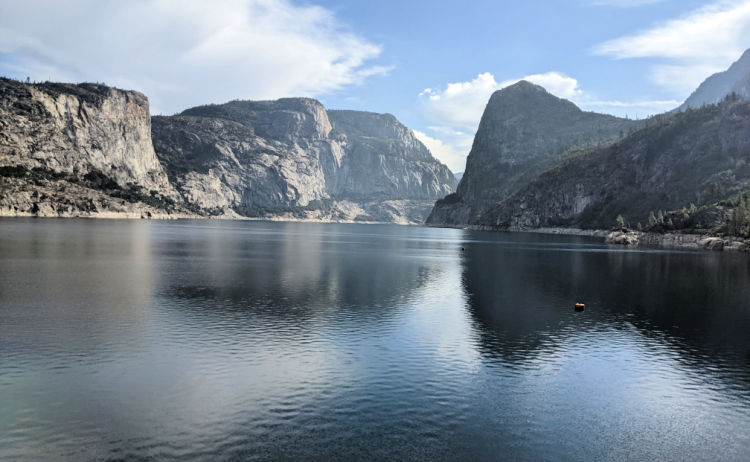 This is one of my husband's and my favorite locations. You get a gorgeous drive with beautiful views along the way, and you can walk over the O'Shaughnessy Dam that holds back millions of gallons of water behind and underneath you!
Once you cross the dam, there are opportunities for hiking, backpacking, birdwatching, and just about anything else you can imagine.
Since it is a source of drinking water for San Francisco, you are not allowed to swim or boat in the reservoir. However, that is one of the reasons it is so amazingly clean and clear.
If you continue hiking, you can get up to the Wapama Fall, a gorgeous waterfall on a 5-mile trail (roundtrip).
23. Photography Tours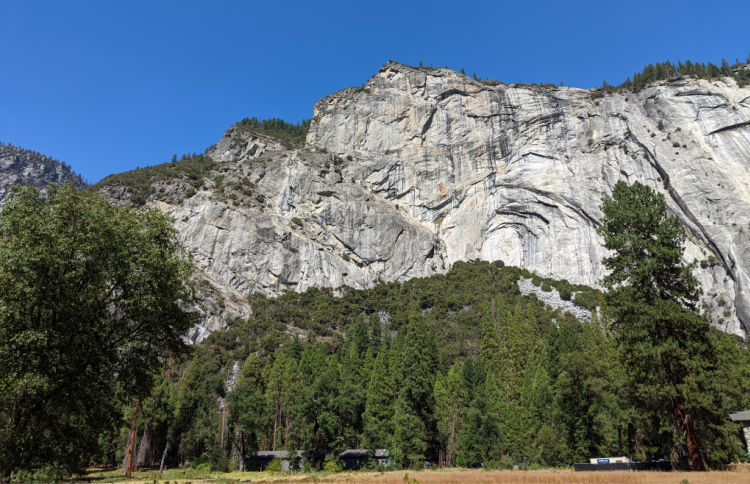 As you would imagine, Yosemite National Park is a photographer's paradise! It is wonderful because whether you are a novice or a professional, you can get amazing photographs no matter what.
However, many people want to capture the best of Yosemite, which is where these photography tours come in. There are a few a week, led by the Ansel Adams Gallery. Some are just simple walks, while others are more in-depth.
If you want more specific tours, you can set up private ones and even have multi-day photography workshops to become one with your camera and the landscape.
24. Birdwatching

One of the gifts of Yosemite is that its species of birds are as varied as the landscape. Depending on the season, you could see over 250 birds migrating or living in this area.
These fantastic birds include the Pileated Woodpecker, the Great Gray Owl, and Peregrine Falcon, among many others. Yosemite National Park is a beautiful place for birding because so many birds live or migrate here, so you can see something different each season you visit.
Because there are so many species, Yosemite has been declared a World Heritage Site and is an international destination for those who love birds and birding.
25. Stay Overnight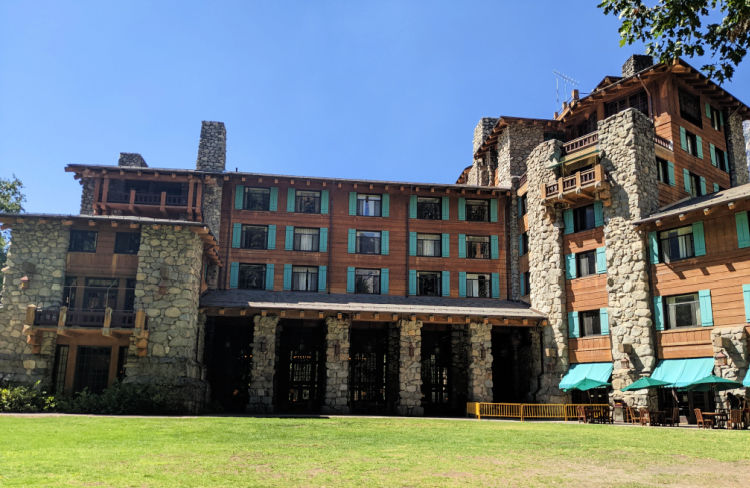 If you think there are only camping and tents at Yosemite National Park, then you are in for a wonderful surprise: the lodging options here are also varied and even luxurious.
Tenaya at Yosemite
This hotel is perfect for anyone as it has rooms and majestic suites in its lodge, cottages, and explorer cabins. All of them have gorgeous views and offer the highest quality accouterments.
For those who feared having to "rough it" at Yosemite, you will be happily surprised. Tenaya offers WiFi, daily guided hikes, an amazing spa, pools, and so much more. There are three restaurants on-site that will ensure your dining needs are met.
It is pet friendly, and you'll want to check out their specials to make your stay just that much more special.
>> Find more details on Tenaya at Yosemite and book your rooms
Ahwahnee Hotel
Simply stated, the Ahwahnee is one of the best hotels you'll find anywhere. It was built in 1927 and is the emblem of class and elegance. It is located in the heart of Yosemite Valley near Half Dome and Glacier Point.
The Ahwahnee is a masterpiece built out of steel, stone, concrete, wood, and glass. It was named a National Historic Landmark in 1987.
The rooms are all perfectly situated and appointed with only the finest. Inside the lodge, you'll feel like you have stepped back in time.
However, you'll also have the most current and finest amenities available in any hotel anywhere in the world. These include their outdoor swimming pool, bar, dining room, and much more.
Fun fact: The Ahwahnee Hotel was used as one of the inspirations for the Stanley Hotel for Stephen King's "The Shining."
>> Read reviews about rooms and more and book for your stay at Ahwahnee Hotel.
Wawona
For those wanting to look out into nature on your own porch, this is the hotel for you. Instead of just being one building, the Wawona is broken down into six. Each of them has classic and authentic decorations from the Victorian era when it was first built.
Located at the park's western end, the Wawona has an outdoor pool, a golf course, and tennis courts. You can even go horseback riding! Some of the other amenities include a restaurant and bar.
You will love coming back from your day, hanging out in the lobby, enjoying the fireplace and live music, and just relaxing.
>> Book your rooms at the Wawona for your stay in Yosemite.
Things to See and Do Nearby
In addition to my list of things to do in Yosemite, you will also find various fun things to do near Yosemite. Some of my top picks nearby include visiting nearby historic towns such as Mariposa and Groveland.
My guide also includes some fun lakes nearby, places to go golfing, and a few local casinos. If you love to sample local wines and beers, I have recommendations for those too!
>> Find a full list of additional things to do near Yosemite
Restaurants in Yosemite National Park
If you plan to stay a few nights in or near Yosemite National Park, you'll want to check out this list of the best places to eat in and near the park.
I've included top picks in Yosemite Valley, some options within a few minutes of the park, and others in the small towns near each entrance.
>> Find a full list of great places to eat in and near Yosemite National Park
More National Parks in Northern California
While Yosemite National Park is one of Northern California's most visited national parks, I know you will love some of the others here. They include Muir Woods, Lassen National Park, and Alcatraz!
>> Discover my list of the top national parks near San Francisco and around Northern California
Comments? Questions? Suggestions?
I would love for you to join me in my private Facebook group! 
It's a great place to interact with me and others who know the area well.
You can ask questions, get advice for your upcoming stay, and then share your photos and advice with others when you return home. It's a great community and the fastest way to get answers to those nagging questions about your visit!