Boulettes Larder: Savor Mediterranean Cuisine in SF's Ferry Building


by Jill Loeffler  •

Updated: May 17, 2022
Set inside the historic San Francisco Ferry Building, Boulettes Larder is a wonderful find. This warm, friendly, upscale restaurant focuses on Mediterranean cuisine and uses only locally produced, farm fresh ingredients.

Disclaimer: I receive a small commission from some of the links on this page.

The minute you step in the door, you feel at home. With the open kitchen and shared seating, it's as if you've just stepped into someone's dining room.
In reality, you have. You've stepped into Chef Amaryll Schwertner's second home and she and her business partner, Lori Regis, treat every customer as a valued guest.
Chef Schwertner is truly an artist and her love of cooking shows through in each dish she creates. Every bite of her dishes is full of flavor and will make you wish for more. 

Being a true master at her craft, Chef Schwertner invents new dishes every day. She has the vision to create unique dishes and has created a gem of a restaurant in Boulettes Larder.

Insider's Tip: Do not leave without trying their AMAZING hot chocolate. They create it with a variety of chocolates and its the thickest, creamiest, and most flavorful hot chocolate I've ever had!

Recently, the Boulettes team expanded with a casual lunch and dinner restaurant, Boulibar. It's next door to Boulettes and offers everything from wood fired cuisines to the most flavorful cocktails in the area.
The menu here is also mostly Mediterranean inspired and changes daily. 
My Experience at Boulettes 

My last visit to Boulettes was on a busy Sunday morning. We were the first ones in the door and we grabbed a seat at one of the shared tables. 
It took us a while to decide as there were so many great options on the menu. We started by sharing their strawberry and raspberry scone dish. This is a popular choice for brunch.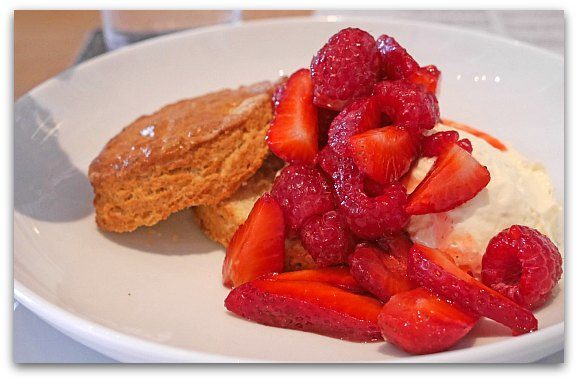 We continued our brunch with a few main dishes. I settled on the vegetarian dish for the day. It was an amazing squash hummus plate with fresh, grilled veggies.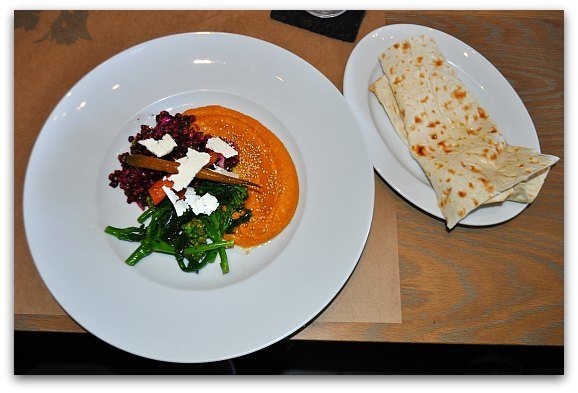 One of my friends opted for the duck special of the day.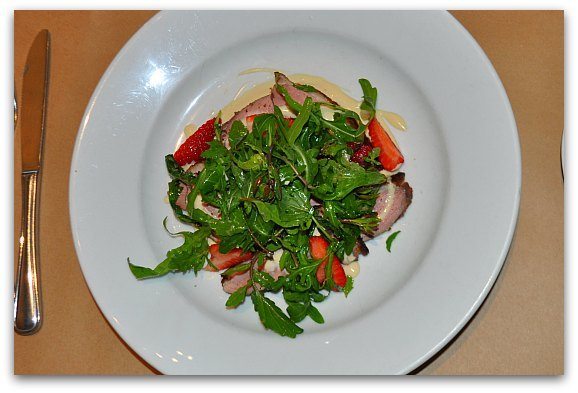 And, my fiancé selected the seafood risotto. 

Fortunately, they both let me sample their dishes and they were just as flavorful as my squash hummus dish. 
At the end of the meal, we were stuffed, but so happy with our meal. Each dish we ordered offered something special and really showcased Chef Schwertner's talent. 
I'd highly recommend this place to any food lovers looking for a wonderful brunch or lunch experience while in San Francisco.

What to Expect at the Boulibar

A few weeks before my visit to Boulettes for brunch, I stopped by the Boulibar with some friends for dinner. It was my first time here and we came after hearing rave reviews about Boulettes new casual lunch and dinner restaurant.
We were not disappointed. 
From the minute we walked in the door to the minute we left, we could not have had a better experience. 

The dishes were creative, full of flavor, and the staff treated us like VIPs. We enjoyed everything including several appetizers, one of their steak entrees, and a seafood dish. Every hand crafted dish was bursting with flavor.

We started our evening with a few cocktails. The menu offered a unique spin on traditional drinks such as bloody marys. They also offered wine by the glass and by the bottle.

I started with a fruity cocktail. It had just the right hints of flavors and was not too sweet. It's just how I like my drinks.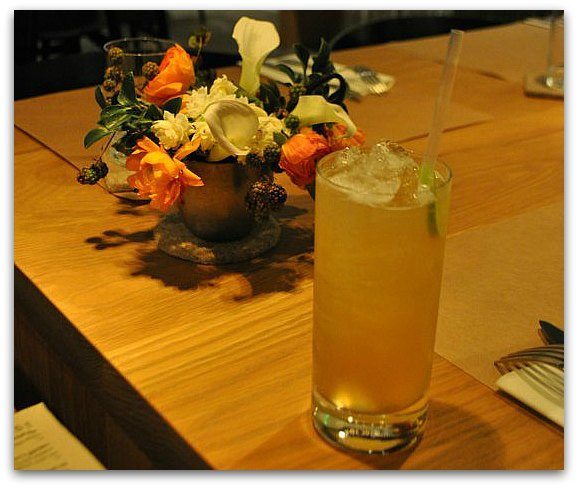 My fiancé started with their bloody mary and he loved it!

We then continued on with some of their top dishes for the day. The first dish to arrive was the Steak Tartare with grilled onions on top and a lemon on the side.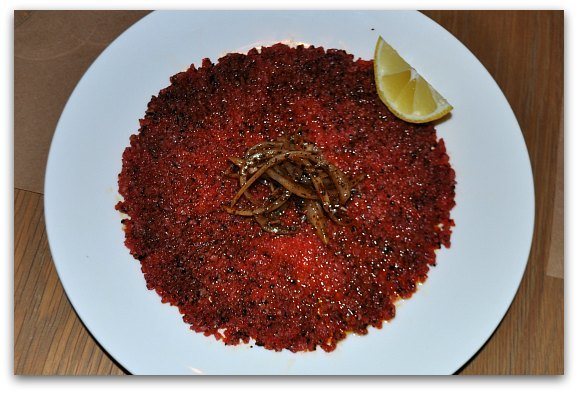 All four of us enjoyed this dish and fought for the last few bites. From there, we moved onto the main courses.
I ordered the steak with grilled vegetables. 
My fiance ordered the seafood salad.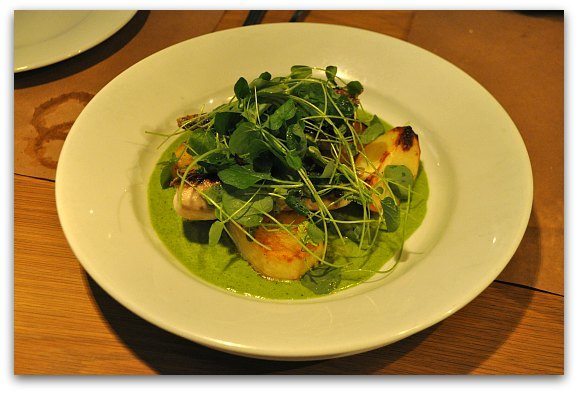 Both of our dishes exceeded our expectations and were VERY filling. After such an amazing meal, we were full, but still had to try some dessert.
As I mentioned above, their hot chocolate is one of the best I've ever had. It's rich and full of creamy chocolate. We ordered one for all of us to share.
Of course, we couldn't stop there, so we also sampled this amazing dessert with a creamy top and chocolate bottom.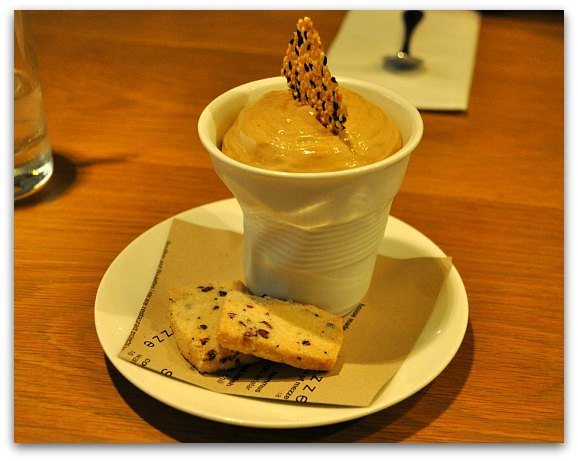 Another special part of eating at the Boulibar was the simple, relaxing live music playing in the background. Most nights of the week, they have someone playing the guitar and signing. It was just the right background music to round out our perfect meal.
As with our brunch at Boulettes Larder, we were thrilled with our experience at Boulibar. It's a perfect stop for any food lover looking to try something new and sample Mediterranean cruise from one of the most talented chefs in the area.
Hours & Location Details

Boulettes Larder is open for both brunch and dinner. 
Tuesday - Friday 
Saturday

Other Details on the SF Ferry Building

The SF Ferry Building is the place to stop for food lovers. This historic building houses almost a dozen gourmet food shops that sell everything from chocolate to mushrooms.
Some of my favorite stops include the Acme Bread Shop, Cowgirl Creamery's Artisan Cheese Shop, and the Ferry Plaza Wine Merchant. 
Learn More: Discover Additional Tips for Visiting the Ferry Building

Additional Activities and Attractions Nearby

Exploratorium: This hands-on science and human perception museum is one of the most popular museums in San Francisco. This award-winning attraction features exhibits that give you the chance to learn more about light, sound, and the human body. Click here for pictures and to learn more about what it's like to visit.
Pedicab Tour or Ride: A unique way to experience the SF waterfront is on a Pedicab Tour. You will find these fun, bicycle powered cabs all around the Ferry Building and Fisherman's Wharf. It's one of my favorite ways to get between these two attractions without have to wait for a ride or walk. I often use Golden Gate Pedicab for my rides. Read more about my experience using them here.
Ferry Ride to Sausalito, Tiburon, or Angel Island: In addition to shops, you can also pick up a ferry to Sausalito, Tiburon, or Angel Island at the Ferry Building. All three offer daily services to and from these destinations. Click here for the schedule for all of these ferries and others that run on the SF Bay.