Waffles in San Francisco: My 10 Favorite Places for this Delicious Breakfast Treat

by Jill Loeffler  •

Updated: November 11, 2022
You will find a variety of wonderful spots for delicious waffles in San Francisco. They range from traditional—crispy waffles with maple syrup and fruit—to less traditional options, including one made from red velvet cake batter covered with cream cheese frosting.
It's also popular to serve waffles with fried chicken or to cover them with hand-whipped cream. No matter what you are craving, you will find something in SF that will satisfy your hunger.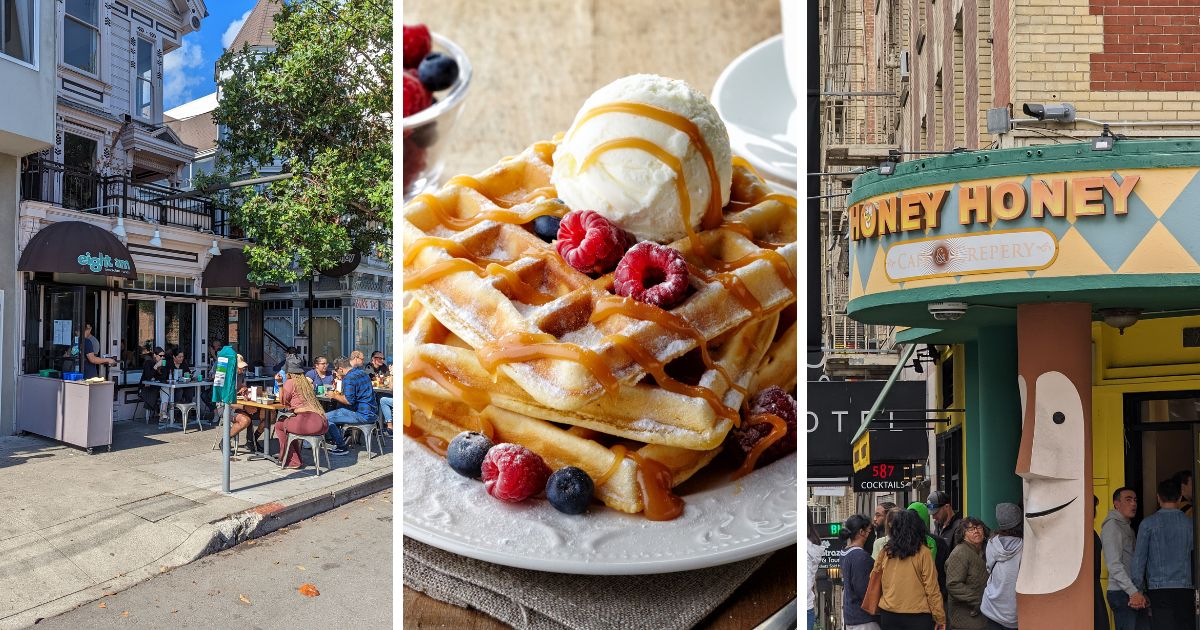 Below are 10 of my favorite places.

Disclaimer: I receive a small commission from some of the links on this page.

1. Blue Bottle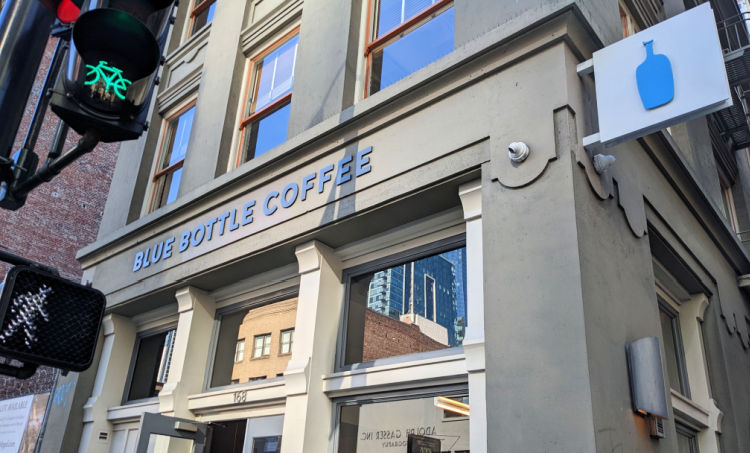 A local favorite for waffles in San Francisco is the Blue Bottle Cafe. They make a delicious, crispy, liege-style waffle from a rich yeasted dough similar to brioche.
This waffle goes so well with a cup of their world-famous coffee, and is served with Mead and Mead's maple syrup and butter. It's the perfect amount to get you fueled up for your day.
You will find several Blue Bottle locations around SF, but the following are the ones that serve waffles all day long.
Embarcadero location: 1 Ferry Building, #7
Open Monday - Friday, 7:30 am - 5 pm; Saturday 8 am - 5 pm; Sunday 12 noon - 5 pm
SOMA location: 66 Mint Street
Open daily, 6:30 am - 7 pm
2. Eight AM

The best place for waffles in Fisherman's Wharf is called Eight AM. Many of their tasty waffles are served with a pile of fresh fruits and a generous portion of whipped cream.
Options range from the simple Belgian waffle to the Banana Nut waffle. You can top it off with their maple syrup and a little butter.
For non-wafflers, they also have some of the best French toast in SF, with caramelized bananas that melt in your mouth. Another one of my favorites here is their avocado toast served with just the right amount of bacon and one egg.
If you are staying in the Fisherman's Wharf area, I'd highly recommend you stop by. They do get busy around 8 or 8:30 am, so I'd head over early if you can.
Address: 1323 Columbus Avenue
District: Fisherman's Wharf
Hours: Daily, 7 am - 1:30 pm
>> More great places to eat breakfast in Fisherman's Wharf
3. Box Kitchen

Box Kitchen is a casual spot serving some of the best bar food in San Francisco. Set inside the Tempest Bar, they serve up waffles in San Francisco for lunch and dinner. 
This is mostly a grab-and-go place, but you don't come here for the ambiance, you come for the amazing food! In addition to their tasty waffles, they also have delicious burgers and garlic fries. I love their chicken sandwich.
They are open late, too, so you can head over for a bite to eat after you hit up a few of the best bars in this district.
Address: 431 Natoma Street
District: SOMA
Hours: Monday - Friday, 11:30 am - midnight; Saturday and Sunday, 5 pm - midnight
4. Little Skillet

The Little Skillet is a cute spot south of Market Street. It's a casual place known for soul food, including chicken and waffles.
Before noon during the week, the waffles are only available at the pick-up window, but you will find plenty of places to sit down and enjoy your meal outside. When the restaurant opens at 12 pm, you can enjoy your meal inside.
All of the waffles on the menu are Belgian-style waffles and are often served with fried chicken. You can choose how many pieces of chicken you want and add on some sides to really fill yourself up.
On the weekends, they serve a full brunch. Their weekend waffle plate comes with two eggs, two waffles, and your choice of sausage or bacon.
Address: 360 Ritch Street
District: SOMA / Mission Bay near Oracle Park
Hours: Daily, 11 am - 8 pm (from 10:30 am on weekends, and until 9 pm Wednesday - Saturday)
5. Pat's Cafe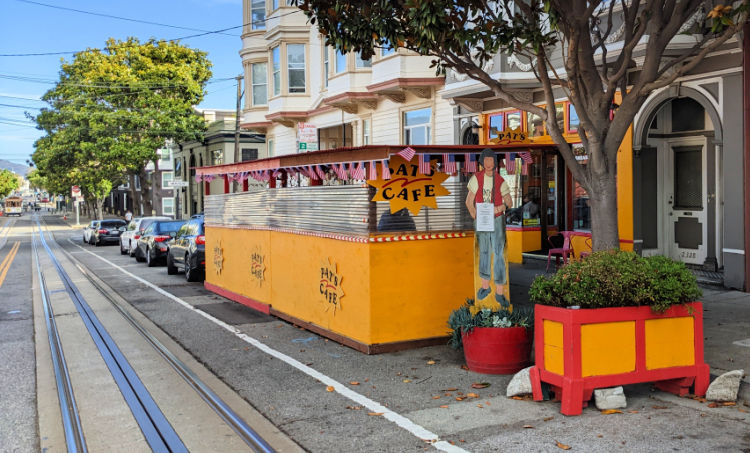 Pat's is a colorful cafe in the North Beach District. You can't miss its bright blue and yellow exterior.
It's an American-style cafe that offers many traditional brunch options including their delicious waffles. Pat serves up her waffles with an egg and bacon. They also have real maple syrup that you can add on top.
I love this place not only for their waffles, but for the welcoming, warm atmosphere. It's the perfect spot to fill up on breakfast before a long day of exploring San Francisco.
Address: 2330 Taylor Street
District: North Beach
Hours: Daily, 7:30 am - 2:30 pm 
6. Jones

If you are looking for the perfect Sunday brunch spot in San Francisco, then head over to Jones in the Lower Nob Hill District. This lovely restaurant and bar is open daily for the after-work crowd, but only serves up their delicious brunch on weekends.
Jones has a large brunch menu, but I often opt for their salt and pepper chicken paired with a buttermilk waffle. Both are so tasty that I sometimes crave it all week long.
Other top options here for brunch include the egg's Benedict and the chorizo scramble.
The downside to Jones is that it is a little pricey and fills up quickly. However, it's worth the splurge if you are looking for a higher-end Sunday brunch experience.
Address: 620 Jones Street
District: Lower Nob Hill
Hours: Saturday, 11 am - midnight; Sunday, 11 am - 4 pm; closed Mondays; Tuesday - Friday, 4 - 10 pm (until 11 pm on Thursdays and 12 midnight on Fridays)
7. Cracked & Battered

Cracked & Battered may not be as famous as some on this list, but they are just as amazing and delicious! Like most places here, they have amazing waffles. They have the classics, but sometimes I want something different.
And that is when I go to Cracked & Battered. My favs include their Fried Chicken Benedict, breakfast burrito, and their "Shakshouka." It is too hard to explain, but you'll want to try it.
Being that there are two locations, you can almost always be sure to find one close enough to you when you want an amazing breakfast.
Their addresses:

#1) Address: 2240 Chestnut Street
District: Marina
Hours: Daily, 8:30 am - 2 pm
#2) Address: 1434 18th Street
District: Potrero Hill
Hours: Daily, 8:30 am - 2 pm
8. Beanstalk Cafe

Another recommendation for waffles in San Francisco is the Beanstalk Cafe in Lower Nob Hill, not far from Union Square. This tiny spot offers up some delicious waffles with toppings of your choice.
Make sure to pair it with some of their delightful coffee blends or their popular toast cup. I love heading here during the week, when it isn't as busy as on the weekends.
The only reason the Beanstalk Cafe is last on my list is that it has very limited seating. I recommend getting there early to grab a spot or order it to go and take it back to your place.
Address: 724 Bush Street
District: Lower Nob Hill
Hours: Weekdays, 8:30 am - 2:30 pm; weekends, 8 am - 3 pm
9. Honey Honey Cafe & Crepery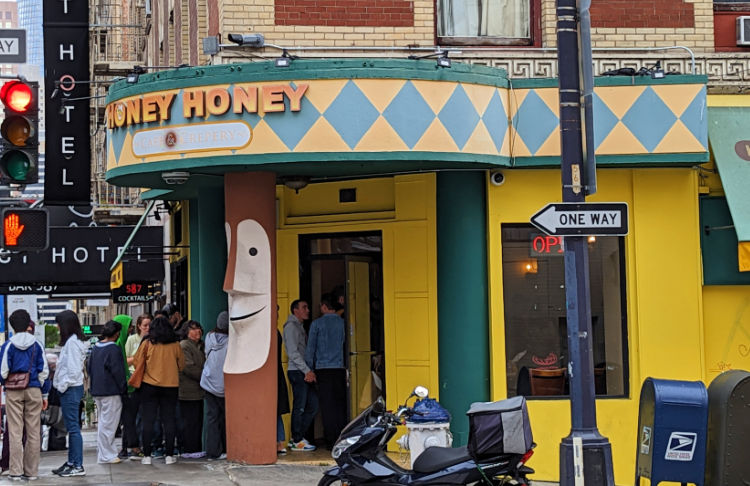 As the name implies, this friendly joint is known for its crepes, both sweet and savory. However, they also have some tasty waffle options, including chocolate and Belgian waffles.
The cafe is also just a couple blocks from Union Square, making it convenient to stop in for breakfast or lunch, or a hearty snack in between sightseeing and shopping. 
Their menu offers a wide variety of American diner classics like soup, salad, and burgers, but personally I think their breakfast items are the best. In addition to the waffles, check out their delicious eggs benedict. 
Address: 599 Post Street
District: Lower Nob Hill / Union Square
Hours: Daily, 8 am - 3 pm
10. The Game Parlour

Not only is The Game Parlour one of the best places to get waffles in San Francisco, it's also a ton of fun to hang out and play board game in. You'll find this spacious, well-lit place near Golden Gate Park in the Inner Sunset. 
They offer a delicious menu of savory and sweet waffles, all with names inspired by popular games. The Bananagrams sweet mochi waffle comes with bananas (of course), nutella, chocolate sauce, and whipped cream.
With the savory waffle sandwiches, you can add waffle fries or a salad and fountain drink for just $3 more. They charge $7 per person (over 4 years old) to stay and use their board games for as long as you want. 
Address: 1342 Irving Street
District: Inner Sunset
Hours: Daily, 11 am - 10 pm (until 11 pm on Fridays and Saturdays)
More Restaurant Recommendations in San Francisco

In addition to waffles in San Francisco, you will find hundreds of other amazing places that serve up everything from burgers to Vietnamese food. Here are more of my favorites:
Brunch in SF: Are you looking for additional brunch recommendations? On this list, you will find some of the best places in the city including some recommendations specifically for Sunday brunch. Click here to learn more.
My Fav Burger Spots: You will find dozens of burger options in SF. My list includes the best options for all budgets. They range from Super Duper Burger, which has several locations in SF, to Maven, which serves up one of my favorites. Click here for my entire list.
Clam Chowder Recommendations: You can't visit SF without tasting some of our delicious clam chowder. Most places in San Francisco feature rich, creamy, white New England clam chowder. I've also included some top spots that serve up the tasty red Manhattan clam chowder. Click here for my full list.
Top Italian Spots: The North Beach area in SF is known for their amazing Italian food. Find the best options there and throughout San Francisco for this popular cuisine. Click here for my full list.
Where to Grab the Best Seafood: Most people that visit SF are also looking for the best seafood. Most head right down to Fisherman's Wharf. While you will find some great spots down there, most of my favorites are away from the waterfront and tucked into some of SF's local districts. Find my recommendations here.
More Restaurant Savings: (Ad) A great place to find restaurant deals in SF is on Groupon. You will find discounts off your entire order and others that offer add-ons to your meal. I recommend checking out the deals before you arrive. Click here to visit Groupon and start saving today!

More Fun Pages to Explore