Tours in Monterey: 14 Exciting Ways to Explore the Peninsula

by Jill Loeffler  •

Updated: April 26, 2023
I absolutely love these tours in Monterey. They offer you the chance to learn even more about this cute waterside town, Pacific Grove, Pebble Beach, and even Carmel-by-the-Sea. 
I've taken many of these tours over the years and it's a great way to learn more about the history of the Monterey Bay Area, the local cuisines, and the wines from the nearby regions.

One of the most popular options is the local whale watching tours. This area is one of the best to see a variety of whales throughout the year and it's a must do when visiting the Monterey Peninsula.
You can also head out for some deep-sea fishing, biking rides along the waterfront, searching for ghosts at night or driving around in a sea car.
Here are just a few of the most popular tours in Monterey.
Disclaimer: I receive a small commission from some of the links on this page.

1. Whale Watching Tours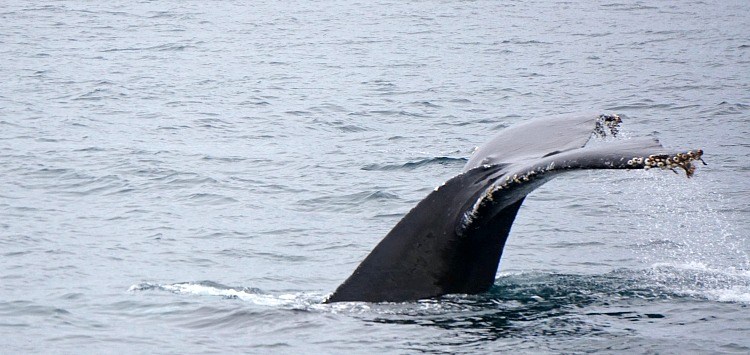 Whale watching is one of the most popular Monterey tours. The reason it's such a popular option because it's a excellent feeding ground for whales during their migration. It's one of the best places to see them.
In addition to the whales, it's also a fantastic place to get a look at other local wildlife including sea lions, dolphins and beautiful birds.
Most of the boats leave from Old Fisherman's Wharf and there are several companies to choose from. They often offer a slightly different tour during the spring/summer/fall months compared to the winter tour. 
However, each one gives you an amazing chance to see whales as they migrate through and other wildlife in and around the water.
>> Pre-book your whale watching tour today! 
>> Visit my Monterey whale watching page for more details
Other Unforgettable Whale Watching Experiences
2. Deep Sea Fishing in the Monterey Bay
This is the perfect excursion for anyone who loves deep sea fishing and the experience of hauling in a big one! In operation since the 1940s, you know that you'll have the best crew to help you find the best fishing around the bay.
Some of the catch may include Salmon, Rock Cod, crabs and more.
He offers tours that allow you to select the type of fish you want to catch. He usually has about half a dozen options available for booking. All these deep sea fishing tours in the Monterey Bay leave from Chris' Fishing and Whale Watching at 48 Fisherman's Wharf in Monterey.
Note: You will need a fishing license if you are 16 years or older. This can be purchased at their office. Children are allowed on the fishing trip if accompanied by an adult. You can also rent a rod from Chris.
>> Visit his site to learn more
3. Monterey Original Walking Tours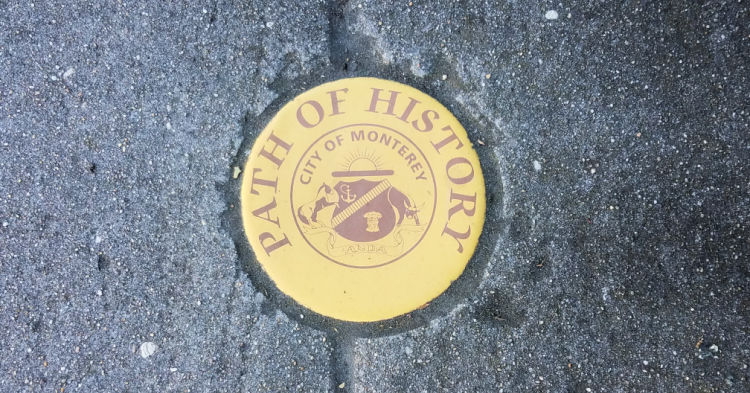 This area is famous for its history and one of the best ways to learn more is on a guided Monterey walking tour.
Monterey Original Walking Tours has some of the highest rated tours. 
On these walks, you will learn about landmarks, how the Spanish settled the area and changes to the city over the years.
They offer two tours. The first is The Historic Monterey Tour where you will learn all about the history of the Spanish here. You will visit old adobe houses and other structures.
It's a two-hour walking tour at 2 pm every Thursday - Sunday. It departs at the Rodriquez-Osio Adobe at 380 Alvarado Street.
The second is the Monterey Wharf and Cannery Row Tour. It will take you down Cannery Row and transports you back to the 1930s. You will also learn why Monterey used to be called the "Sardine Capital of the World" as well as other pieces of history as you explore this popular area with your guide. 
It runs every Thursday through Sunday at 10 am and is two hours long. 
>> Visit their site to make your reservation in advance
4. Macabre Monterey Ghost Tour
Are you ready to hear some fantastic ghost stories? The Macabre Monterey Ghost Tour is a fantastic pick for those of you that love chilling and spooky tales. 
This one-hour tour includes stories about infamous murders, sea monsters, and even an exorcism.
You'll visit places such as the Monterey Hotel and the historic Stoke Adobe. You'll even step inside a local art museum that once was used as a morgue! 
This Monterey tour also includes time to scan the bay for the Moore's Beach Monster.
It's a fun way to learn more about the dark history of this area! 
>> Find out more and get additional ticketing information
>> Find some additional fun things to do at night around Monterey
5. Monterey Wine Country Tour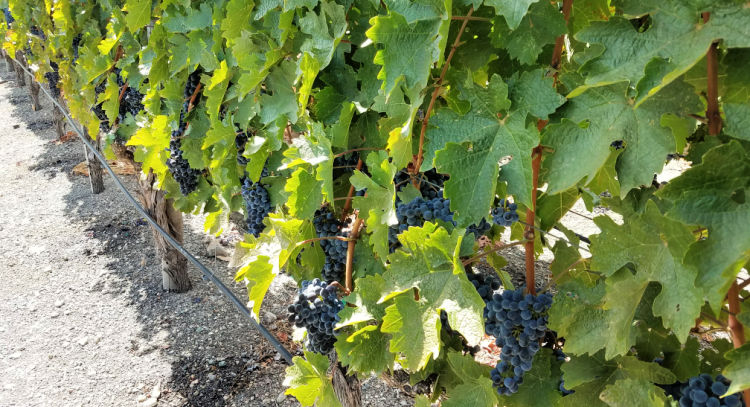 Calling all wine lovers! Want to spend a little time in Carmel Valley sampling local wines during your stay? 
If so, then check out this great Monterey Wine Country Tour. 
You'll tour starts with a pick up at your local hotel in Monterey. You will then make the 30 or so minute drive over to Carmel Valley. You then get the chance to taste at two to three local wineries.
During your winery visit, you'll also get the chance to learn more about local wine production and ask questions.
The full tour lasts about 3 hours and you can take either the morning or afternoon tour. 
>> Find out more and book your seat today! 
>> Check out some additional places to sample wines around Monterey
6. Old Monterey Walking Food Tour

Monterey is a food lovers paradise, and this tour will let you experience many of the delicious treats here. Instead of eating a meal at just one location, this tour takes you to different areas and gives you the chance to nibble on, or drink, some of the best local foods and wines.
One of the bonuses of this tour is that while you are enjoying local bites, you will learn more about the area and its history.
I love this one because of its combination of two of my favorite things: food and history! 
I also like that they limit the size of the tour. It allows for a more personalized experience. The walk is at a normal pace and it's pretty flat. You'll walk about a total of two miles.
It usually lasts about three and a half hours, which allows you time to check out other attractions on the same day. 
The tour departs from the Pink Harbor House near the entrance of Old Fisherman's Wharf.
>> Find out more and pick up your tickets today
7. Monterey Movie Tour
If you are a movie lover like me, you are going to LOVE my next pick! This next tour includes famous movie spots all around the Monterey Bay including along Cannery Row, in Pacific Grove, 17-Mile Drive in Pebble Beach and Carmel-by-the-Sea! 
You'll see where certain scenes were filmed in movies such as A Summer Palace, Star Trek IV: The Voyage Home, and Turner and Hooch. Others movies include The Parent Trap, Julie, and In Love and War.
The tour lasts about three hours and it will stop three times, where you can get out and see some spots up close. 
It runs daily, so make sure to pick up your tickets today! 
>> Visit their site to learn more
8. Monterey Bay Tours and Cruises

There is no better way to experience the beauty of the Monterey Bay then by taking a boat cruise.
I recommend checking out the experiences with Monterey Sailing. They offer both daytime and sunset catamaran cruises.
I love these because they offer a unique experience on the water. They are also smaller group Monterey Bay tours that only allow up to 18 total people. 
The cruises run for an hour and 15 minutes during the day or an hour and 30 minutes at night. Each ticket includes one complimentary beverage and some free snacks.
Hop aboard, sit back, and relax as you soak in the beauty around Monterey Bay! 
>> Visit their site for ticketing information
9. Monterey & Pacific Grove Sea Car Tour

Get ready to zoom around Monterey in a cool 2-seat open-roof convertible car. You can either follow the pre-set two-hour tour or spend the two hours exploring on your own.
You will be able to visit places such as Cannery Row, Fisherman's Wharf, the wonderful Lovers Point beach and Park and the town of Pacific Grove. You can also stop at other places if you want on this 2-hour tour.
Your personal tour will depart from the Portola Hotel. There are numerous times, so check the schedule to find one that works best for you on your visit here.
Note: Children 3 years and under are not allowed on this tour for their own safety. Kids 4 and over must be accompanied by an adult.
>> Find details for this tour and availability during your visit
10. 17-Mile Drive Electric Bike Tour

One of the best ways to explore 17-Mile Drive in Pebble Beach is on this fun electric bike tour. By using an electric bike, you won't have to put out too much energy to climb the hills on this tour. 

Some stops include the breathtaking Spanish Bay Beach, China Rock, and the Lone Cypress. You'll also be able to explore the Del Monte Forest which has some Cypress trees that are more than 300 years old! 
This 3.5-hour tour includes e-bike, helmet, gloves and a tour guide to educate you on this area. Your ticket also includes entrance into 17-Mile Drive.
The tour departs from Big Sur Adventures at 2106 Sunset Drive in Pacific Grove.
>> Find out more and pick up your tickets today
11. Wharf Walks with Tim Thomas

Tim Thomas is well-known in the local area as a historian and author. He offers insightful tours in Monterey that include details about the local history of the area. 
Each tour is about 2 hours long and you'll find his schedule of upcoming tour on the Fisherman's Wharf website.
Tim is the perfect tour guide as he was the curator for the Monterey Maritime & History Museum for 16 years and is a 4th generation native of Monterey.
His tours are always informative, fun and different each time you take one. Make sure to book in advance. The minimum age limit is 10 years old and only 15 people are allowed per tour. 
The Wharf walk departs from the pink Harbor House at #1 Old Fisherman's Wharf at 10 am.
>> Visit the Fisherman's Wharf site to learn more about his upcoming tours
12. Self Guided Tours
One of the new trends in guided tours is self-guided tours. These are audio tours that you take on your own time. 
It's great for those that don't like group tours or want to avoid being tied to take a tour at a specific time. They are also inexpensive and are usually less than $15.
Some of the best options around the Monterey Bay Peninsula include: 
Historic Cannery Row: A Self-Guided Audio Tour of John Steinbeck's Monterey, learn more
Monterey: 17-Mile Drive Self Guided Tour, learn more
From San Francisco: Highway 1 Self-Drive Audio Tour, learn more
Additional Self-Guided Tours Around Monterey Bay
13. Monterey and Carmel-by-the-Sea Tours from San Francisco
My final recommendation is for those staying in San Francisco. If you want to watch the views out the windows and not worry about the drive, I highly recommend taking a guided tour from San Francisco.
These tours drive down Highway 1 on the way down and usually stop at a gorgeous outlook along the way. You will then spend time in Monterey and some also offer a little time in Carmel-by-the-Sea. Most usually drive along 17-Mile Drive in Pebble Beach as well.
It's a long day, but on the two hour return trip to San Francisco, you can sit back and relax as someone else does the driving.
>> Find out more about this popular tour here
14. Handcar Tours through Fort Ord Dunes State Park
Experience the railroad like never before with this one-of-a-kind handcar tour. To participate, you need a group of at least 2 and up to 4 people to keep moving your four-person vehicle, which is just as it sounds–operated completely by hand!
With your team, you'll have to physically work your way across the scenic 6-mile route, meaning that you'll get a great workout on the 1-mile stretch of uphill! There are of course other segments where you can relax a little and enjoy the incredible views.
At the top of the hill, you'll get a gorgeous vista of Monterey Bay on California's blue coastline. Throughout the park, you'll also admire the sand dunes and local fauna and flora, including the majestic Monterey Cypress and Monterey Pine.
The tour takes about 1.5 hours to complete, and not to worry–you'll have trained tour guides cranking their own handcars right in front and right behind your group. It costs $199 for each group of 2-4 people, who must all be age 10 and up.
>> Visit their site to learn more and book your tour today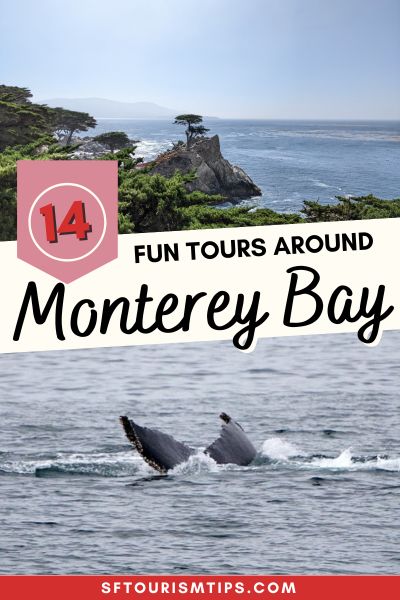 Comments? Questions? Suggestions?
I would love for you to join me in my private Facebook group! 
It's a great place to interact with me and others who know the area well.
You can ask questions, get advice for your upcoming stay, and then share your photos and advice with others when you return home. It's a great community and the fastest way to get answers to those nagging questions about your visit!