Santa Cruz Museums: 7 Fun Finds Along the Pacific Coast Highway

by Jill Loeffler  •

Published: August 18, 2023
Santa Cruz museums offer you the chance to learn more about the local marine life, art, and history. My top picks include the Santa Cruz Surfing Museum, the Monterey Bay National Marine Sanctuary Exploration Center, and the Children's Museum of Discovery.
Read on for details about seven of the top museums here and what you'll experience when you visit.
Disclaimer: I receive a small commission from some of the links on this page.

1. Santa Cruz Museum of Art and History

Address: 705 Front Street
While this area along the Pacific Coast Highway is best known as a surfing and beach destination, I recommend you check out the Santa Cruz Museum of Art and History, where you can see various exhibitions by local artists dedicated to the culture of the people of the area and this wonderful part of California.
The Mary and Harry Blanchard Sculpture Garden is also worth checking out, and you can take in the beautiful views from the museum's quiet rooftop space. I love that exhibitions are often changed, so please check the website to see what's on.
2. Santa Cruz Surfing Museum

Address: 701 West Cliff Drive
Santa Cruz, California, is famous for many attractions, yet it is best known as the home of surfing. Santa Cruz Surfing Museum is the place to learn about the history and culture of surfing in this area and around California.
Housed in a historic lighthouse, this quirky attraction overlooks Steamer Lane, one of the most famous surfing spots in the world, and you can browse at your leisure through a collection of fascinating artifacts, photographs, and other items that tell the impressive and engaging story of surfing.
The gallery celebrates Santa Cruz as a dedicated World Surfing Reserve, an accolade the city is hugely proud of and well-deserving.
Even if you aren't a surfer, this is a genuinely interesting and unique museum displaying over a hundred years of surfing memorabilia. Another great thing about it is that it offers free admission!
Take a few minutes to watch the surfers on the water, and you may be watching some of the best in the world.
3. Seymour Marine Discovery Center

Address: 100 McAllister Way
The coastal nature of the area around Monterey Bay is celebrated at the Seymour Marine Discovery Center. Open Tuesday to Sunday from 10 am to 4 pm, this superb attraction is of interest to adults and children equally.
As an educational center, at the Seymour, you can touch a shark - an actual live shark - and learn about the vast different species of marine life that populate Monterey Bay, also known as the 'Serengeti of the Sea.'
Few places offer as diverse a range of ocean life as Monterey Bay. There are many hands-on exhibits and displays to enjoy here, and children are catered for with dedicated items.
Visitors can learn more about the research the team carries out here and be introduced to the latest in marine science.
It's a great day out for all the family and highly recommended.
4. Monterey Bay National Marine Sanctuary Exploration Center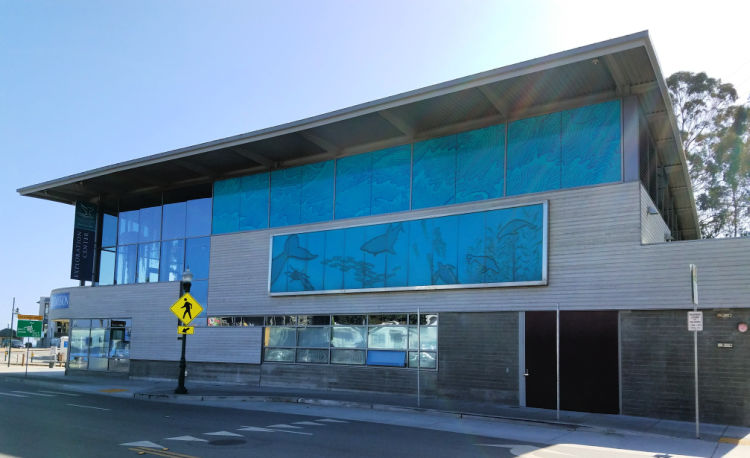 Address: 35 Pacific Avenue
The Monterey Bay National Marine Sanctuary Exploration Center is a fantastic place for kids and adults. Monterey Bay is a special place with an incredibly diverse selection of marine life, and the Center is dedicated to teaching visitors what it is all about with many excellent exhibits - including a truly fascinating water tank that recreates the life in Monterey Submarine Canyon.
Other exhibits explain how pollution has damaged the marine environment and tell visitors what is being done to clean up the pollutants. It sounds weird, but kids will enjoy the life-size storm drain that they can climb inside! Head to the deck; you will see the center in all its glory.
There are pictures of the bay when it was a busy fishing port, plus examples of what it may have become had Monterey Bay not been given protected status.
This is a fantastic place to learn and spend a few hours or longer!
5. Santa Cruz Museum of Natural History

Address: 1305 East Cliff Drive
The Museum of Natural History is a must for a family day out. With impressive collections including animals, fossils, shells, and more - plus ethnographic artifacts that trace the region's history - there is a lot to take in here, and all of it is fascinating.
The geology of the region is covered in detail, with activities that will keep children entertained throughout, while the region's history is painted by way of a selection of exhibits relating to Santa Cruz.
As with many Santa Cruz museums, it is impressive to learn that a mere 4% of the almost 17,000 items that make up the collection are on display at any time!
The gift shop stocks a selection of exciting things that children will appreciate, plus books and other information relating to Santa Cruz and Monterey Bay.
6. Santa Cruz Children's Museum of Discovery

Address: 1855 41st Avenue #10
The Children's Museum of Discovery is a brilliant place to take the kids. With a choice of activities and exhibits - all educational and designed to teach children more about themselves and the world around them - Mom and Dad can take some time out and leave the youngsters in the hands of the qualified, friendly, and dedicated team.
The museum can also host birthday parties for kids - a very popular and successful service - and use art and other mediums to help children explore and discover. The Museum of Discovery is among the best museums in the area for children.
While others may be of little interest to the very young, this attraction is geared primarily towards young ones and will be enjoyed to the full, no matter their age. Book in advance as spaces are limited, and this is a popular kid's attraction.
7. NHS Skate Museum

Address: 104 Bronson Street
For lovers of unusual and original museums, the NHS Skate Museum is entirely dedicated to one of California's most popular sporting and leisure pursuits - skateboarding! It may seem at first that it will only appeal to skaters, but this museum and art gallery tells a more interesting story of skateboarding from its origins to the present day.
Art by local artists and skaters, plus historic skating artifacts, are among the exhibits, and this attraction acts as a social meeting point for skaters. Two leisure pursuits define California youth culture: skateboarding and surfing, and this city is at the heart of both communities.
Check out this unique spot, and you may be surprised to find how influential skateboarding has been on the youth of this part of California, let alone the rest of the world.
Comments? Questions? Suggestions?
I would love for you to join me in my private Facebook group! 
It's a great place to interact with me and others who know the area well.
You can ask questions, get advice for your upcoming stay, and then share your photos and advice with others when you return home. It's a great community and the fastest way to get answers to those nagging questions about your visit!