Santa Cruz Hiking Trails: 21 Stunning Hikes for Outdoor Lovers

by Jill Loeffler  •

Published: August 21, 2023
Outdoor lovers are in for a treat with these fun Santa Cruz Hiking Trails! My list includes options for all levels, from easy treks to full-day excursions.
My top picks will take you through redwood forests, along the waterfront, and around golf courses.
I've created several sections with options for 2 miles or less, 2 to 5 miles, and more than 5 miles. This will allow you to easily find something that fits your needs.
Read on to learn more about the best hiking trails around Santa Cruz.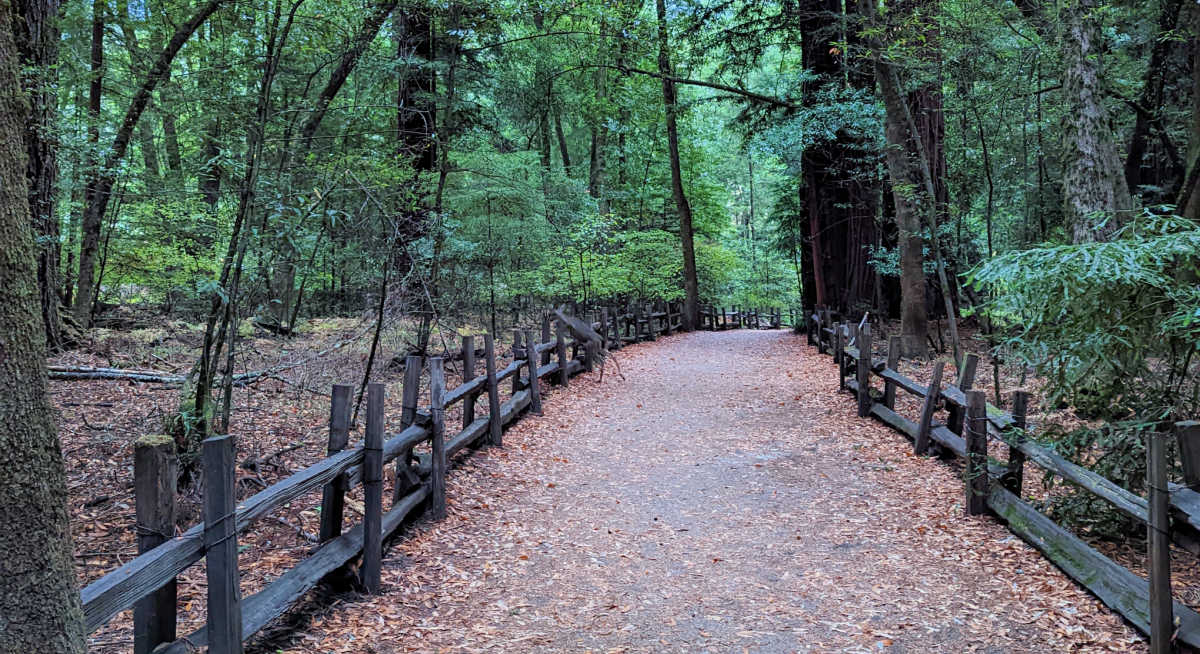 Disclaimer: I receive a small commission from some of the links on this page.

2 Miles or Less
1. Old Growth Loop Trail
Length: 1.3 miles (loop)
The Old Growth Loop Trail offers an opportunity to explore some of the most delightful scenery in the Santa Cruz region. The trail has various spurs along its route, indicating the location of giant redwoods.
The Advocate Tree Spur takes you to the fallen Advocate Tree, which once stood 265 feet tall and was over 1000 years old when it fell in 2017. There are many magnificent examples of these stunning trees along the route.
Explore the charming creek and the unusual twisted and gnarled redwoods that were disfigured by an earthquake some years ago and are trying their best to grow straight an amazing and unique sight.
2. Redwood Grove Loop Trail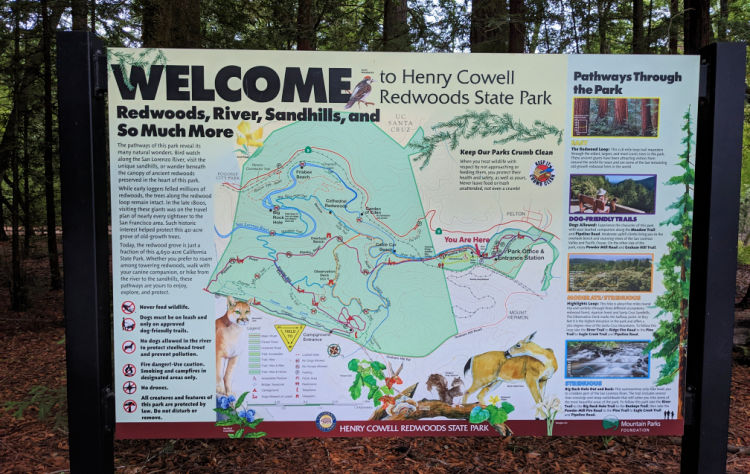 Length: o.8 miles (loop)
One of the largest old-growth groves lives in Henry Cowell Redwoods State Park, where a choice of exciting and sometimes challenging hiking trails takes you past towering ancient trees that are wonders of nature.
The Loop Trail is a great option for those who want to see the impressive grove on a short and easy hike. It offers an eerie quiet, but it's a welcome retreat from the business around it.
3. Bridge Creek Trail

Length: 1.9 miles (point to point)
Suitable for intermediate-level hikers, the picturesque Bridge Creek Trail takes you through a wonderful redwood forest, along Bridge Creek (sometimes right next to it, and sometimes high above) to a spectacular waterfall.
There is a historic site along the trail where you can learn about the region's history and how the logging industry played a significant part in shaping this area of the USA.
Look for fallen logs in odd formations frequently seen along the trail that add a different feel to this beautiful spot.
4. Natural Bridges Tidepools

Length: 1.2 miles (out and back)
This trail takes you along the fabulous Natural Bridges State Beach, which is famous for its natural arch rock formation. If you go at low tide, you'll also get to enjoy the fascinating tidepools left behind when the tide ebbs away.
The marine life in the pools includes starfish, sea anemones, urchins, and some wonderfully colored sponges not often seen up close.
The easy walk is suitable for children who will certainly enjoy exploring the tidepools for animal life. There are organized walks at some times of the year, and we recommend checking in advance as to the right time to visit.
5. Sunset Trail
Length: 0.4 mile (out and back)
Enjoy this short and sweet beachside trail, perfect for—you guessed it—sunsets. This easy 12-minute walk takes you along beautiful New Brighton State Beach near Aptos.
This is a lovely little stint for families, for couples looking to take in a view, or even for those solo travelers seeking solitude.
The ocean views at this beach are great because lots of people take their dogs here (on leash) and dolphins and seals can often be spotted just offshore, so there's plenty to look out for.
More Ideas for Your Santa Cruz Vacation
6. Monarch Butterfly Natural Preserve Loop
Length: 0.6 mile (loop)
Santa Cruz is world famous for the migrating Monarch butterflies that settle here in great numbers, usually between October and November. Due to the large number of butterflies that arrive here, you will find visitors from around the world to see them every year.
The Monarch Butterfly Natural Preserve Loop is a comfortable half-mile (1-km) walk through the Preserve where the creatures congregate. You may also see other local wildlife, including deer, snakes, and wild turkeys.
This is a walk that the whole family can enjoy and an experience you will never forget.
7. Split Stuff Trail

Length: 0.3 mile (point to point)
This is a connector trail within the Forest of Nisene Marks State Park that is short and flat. It is the first trail you can access when you come to the main entrance to the park.
The Split Stuff Trail is a single track that cuts off of the dirt road on the way to the Ranger Kiosk. It leads you to Aptos Rancho Trail, which takes you across some small bridges as you head farther into the park.
Because of its accessibility, you'll probably see bikes, families, and dogs on leashes here.
8. Pogonip Creek Nature Loop

Length: 1.6 miles (loop)
This relatively short, moderate loop trail lies within the Pogonip Open Space Preserve in Santa Cruz. Dogs are allowed on leash here, and you may also see cyclists.
This trail will take you on a loop through the meadow, where you'll likely see lots of wildflowers.
2 to 5 Miles
9. Old Landing Cove Trail

Length: 2.4 miles (loop)
A basic and straightforward walk alongside the Pacific Ocean, the Old Landing Cove Trail is fascinating for lovers of history and wildlife.
The recommended visiting time is from December to April, as this is when whales pass by as they migrate, a sight not to be missed. Other wildlife to look out for include water birds and occasional sea lions.
For history buffs, a visit to the old Wilder family farm, complete with its antique cars and farm machinery, paints a beautiful picture of 19th and early 20th-century farming activities on the Pacific coast.
10. Fall Creek Trail
Length: 3 miles (point to point)
Fall Creek Trail takes you through a deep, steep-sided valley where the creek runs year-round thanks to the topography's dense vegetation and abundant rain.
Luckily for visitors, that means being surrounded by beautiful redwoods and ferns along the creek, which you'll cross a total of five times over small footbridges on this segment of trail. Where Fall Creek Trail meets Bennett Creek Trail, you'll also see small waterfalls and an old barrel-making mill.
The trail is relatively smooth and easy, great for kids to play in the creek, but just be careful of exposed roots and rocks from erosion.
11. Englesman Loop Trail

Length: 4.5 miles (loop)
The Englesman Loop Trail takes visitors on a delightful hike through parts of Wilder Ranch State Park. This beautiful and historic trail is challenging in places and appeals to experienced hikers.
This trail is also popular with mountain bikers, so watch out for approaching bikes! Visitors should be aware that dogs are not permitted on the trail.
Allow two hours to cover the loop at a leisurely pace, and look out for the plentiful local wildlife and historical sites along the way.
Fun Tips for Your Drive Along the Pacific Coast Highway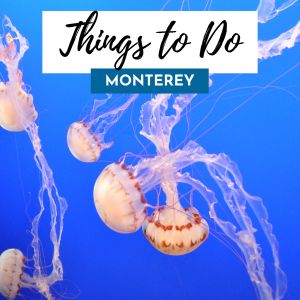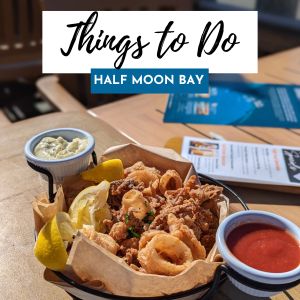 12. The Dool Trail

Length: 2.7 miles (loop)
The Dool Trail is a popular attraction and makes for an exciting hike. A reservation system is in place so the trail does not become overcrowded.
Sadly, this trail was heavily burned by the CZU Lightning Fire of 2020, which destroyed many redwoods and firs. Along the way, visitors will see the effects of the fire on the hillside.
But while many of the trees are gone, there are still some spectacular redwoods alive along the trail. Some visitors take a short hike to Ocean View Summit to take in the views across Waddell Creek Valley.
13. Ohlone Bluff Trail

Length: 4.7 miles (point to point)
The Ohlone Bluff Trail is a bit longer but an easy hike suitable for families. The trail meanders along the Pacific Ocean shoreline and stretches between two ends of the Wilder Ranch State Park.
Open to walkers and bikes, it offers many opportunities to explore the delights of the coastline. Visit in winter or spring for the best ocean views and an enhanced possibility of spotting migrating whales.
The trail blends into the Old Cove Landing Trail at the eastern end, should you wish to extend your hike or ride. Make sure to enjoy the varied flora and fauna of this delightful part of California.
14. Enchanted Loop Trail

Length: 5.3 miles (loop)
The Enchanted Loop Trail takes hikers and bikers through some beautiful parts of Wilder Ranch State Park. The ranch is a historic roaring camp railroad landmark and features a collection of antique cars and farm machinery.
The beautiful scenery along the trail is what attracts most visitors, and bikers rate it as the best in the region. Look out for the local wildlife—including plentiful snakes—and enjoy the region's spectacular landscape.
Allow 2.5 hours if walking, as some parts are quite a challenge.
15. Saratoga Gap Trail

Length: 4.7 miles (loop)
The Saratoga Gap Trail in Los Gatos is a moderate hike with about 1,000 feet in elevation change. You'll descend from the trailhead and then make your way back up as you come around the other side of the loop.
There is a waterfall that may or may not be running depending on what time of year you go, but in general you'll get incredible views throughout your trek.
Many people come here to enjoy the unique sandstone formations and fun rocks to climb on. It can get crowded on weekends, so just be prepared to share the trail.
More than 5 Miles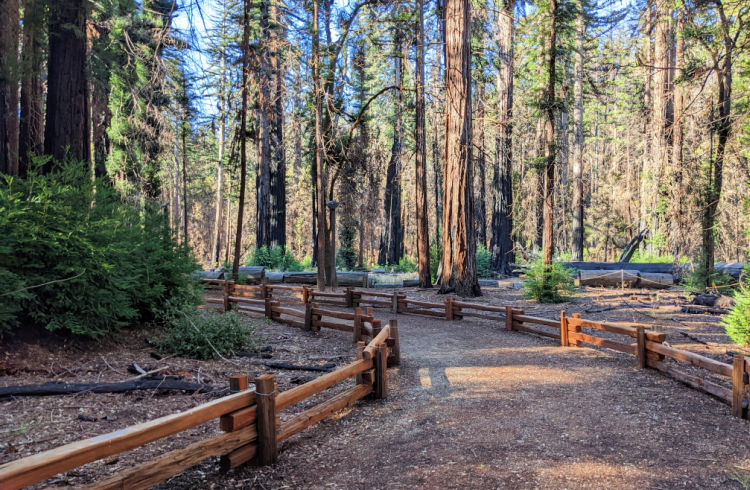 16. Wilder Ridge Trail
Length: 7.7 miles (loop)
The Wilder Ridge Trail takes visitors on a fascinating hike through some of the most spectacular scenery in the Wilder Ridge State Park.
This is a moderately challenging hike that will take you more than 3 hours to complete, but one worth attempting for the wildlife and plant life.
There are some spectacular scenes along the trail, and mountain bikers favor it for its varied elevations. This trail is popular but is said to be quiet during the week and enjoyed by more experienced hikers.
17. Fall Creek and Lost Empire Trail Loop

Length: 9.4 miles (loop)
The Fall Creek and Lost Empire Trail Loop follows Fall Creek on a lovely route through Henry Cowell Redwood State Park. If you are searching for somewhere to walk among these towering giants of the tree world, there are few hiking trails more exciting than this one.
Considered quite a challenging hike and also popular with mountain bikers, this trail may take as long as 5 hours to complete. While dogs are not permitted, horses are, and this is a popular trail for horse riding experiences.
18. Four Crossings
Length: 6.6 miles
Four Crossings is so named because, to complete the hike, walkers must wade through the San Lorenzo River four times! At some times of the year, the river may be too deep to cross, so the advice is to pay a visit between July to October - and prepare to get wet!
On a warm summer afternoon, surrounded by glorious redwood trees, it is a surprisingly pleasant experience. This spectacular trail is a little short of 7 miles and is entirely within Henry Cowell Redwoods State Park.
This is a popular horse-riding trail, so look out for horses while you take in the magnificent forest scenery that is difficult to match elsewhere.
19. Loma Prieta Grade Small Loop

Length: 5.9 miles
When people hear "Loma Prieta," most think of the infamous 6.9 earthquake that struck in 1989, causing widespread damage to the region. While you can see evidence of the earthquake on this trail, you won't actually pass the epicenter, which is a little farther east.
Loma Prieta is also the name of the highest point in the Santa Cruz mountains (several miles north of this gradual loop trail) and the 1800s sawmill community that is now a tiny ghost town not far from here, in the same Forest of Nisene Marks State Park.
On this beautiful redwood trail, visitors can observe oddly shaped trees that were disrupted by the quake and have since twisted to try to grow straight once more.
A fascinating and unique trail that comes highly recommended.
20. Pacific to Redwoods Loop

Length: 11.9 miles (loop)
One of the longer hikes within Wilder Ranch State Park, the Pacific to Redwoods Loop may be challenging for some, yet it offers both of the region's main attractions: the magnificent Pacific Ocean and magical coast redwood trees, which will take your breath away.
Allow at least 5 hours and add more if you intend to visit the Wilder Ranch itself, which is a preserved late-19th and early-20th-century dairy farm with a fascinating history.
This trail is popular with mountain bikers and hikers, so keep an eye out while on the paths.
21. Aptos Creek Fire Road

Length: 23.3. miles (out and back)
This lengthy hike located in the Forest of Nisene Marks State Park takes about 10 hours to complete. Since it's a fire road, the path is relatively wide, so it's popular with both hikers and mountain bikers.
It's a moderately challenging incline going in and a nice downhill grade going back out, which bikers love. The other great thing about the more than 3,000-foot elevation gain is the stunning views of the Pacific Ocean.
You'll start through a dense redwood forest along Aptos Creek until the trail rises along a ridge, where the redwoods will be replaced with oaks, manzanita, and firs. The views and the varied landscapes make this all-day adventure truly worthwhile.
Comments? Questions? Suggestions?
I would love for you to join me in my private Facebook group! 
It's a great place to interact with me and others who know the area well.
You can ask questions, get advice for your upcoming stay, and then share your photos and advice with others when you return home. It's a great community and the fastest way to get answers to those nagging questions about your visit!