San Francisco Folk Festival 2020
Enjoy Dancing, Live Music, and Other Free Activities
NOTE: On December 6, San Francisco (and a few surrounding counties) will once again be on a stay-at-home order. This will last indefinitely. Click here for more information.
Heading into its 44th year, the 2020 San Francisco Folk Festival is on Saturday, June 13. This annual event is free and open to the public.
This amazing affair offers dozens of different types of performances, including a variety of dance and musical shows as well as workshops.
Performances take place between noon and 10pm.
All events are at the Everett Middle School, 450 Church Street (between 16th and 17th Streets).
More Festival Details
This one-day event features several rooms with live music. They include performers such as Mike Simpson (Too Many Chords - for a guitar), Janet Lenore (Ukulele Jam), and Art Peterson (Contra Band Dance).
You will also have fun during the Classic Waltz Mixers, Sean Nos: Low Impact Irish Step, and the Argentine Tango.
There is also a large dance party at the end of the day.
Are you interested in the full schedule? Click here for more details.
How to Get Here By Public Transit
From San Francisco
The easiest way to get to the San Francisco Folk Festival if you are already in SF is by taking the 31 Muni Bus. It stops right across the street from the event at Turk and Lyon.
From the East Bay
Take BART to the Powell Station. Head upstairs and find the 31 Geary bus at Market and Powell Streets. Take it to the corner of Turk and Lyon.
From the North Bay
The fastest way by bus is to take the 70, 80 or 101 to the Richardson and Lyon stop. From here, walk to Lombard and Lyon and take the 43 through the Presidio to the stop at Masonic and Turk. From here, walk two blocks east to the festival.
From the South Bay
Take BART to the Powell Street Station. Exit at this stop and find the 31at Powell and Market Streets. Take this bus to the stop at Turk and Lyon.
Tips for those Driving to the Festival
The San Francisco Folk Festival is one of the few events that it might be easier to drive than take public transit. Even though this festival is popular, you can usually find parking within four or five blocks of the church.
Other Events This Month
Stern Grove Festival: In addition to the San Francisco Folk Festival, you can also enjoy free, live music at this year's Stern Grove Festival. This yearly event features live music from both local performers and internationally recognized stars such as Smoky Robinson. It's every Sunday at 2pm from mid-June to mid-August. Click here for more details and a full schedule for this year.
SF Summer Opera Performances: June is also the time to check out performances by the SF Opera. Each summer, they offer a handful of performances throughout the month of June and into early July. Click here for this year's shows.
Union Square Live: Another fun event each summer is Union Square Live. Head over to the heart of the city for free, cultural performances including local bands, free dance lessons and more. They hold most performances on Wednesday and Sunday. Click here for this year's schedule.
Yerba Buena Gardens Festival: Just a few blocks away from Union Square, you will find the Yerba Buena Gardens. Each summer, they also host performances several times a week. Stop by to see a variety of acts including kids shows, theater groups and live Latin, jazz or blues music (just to name a few!). Click here for the full schedule.
Save $$ Today: If you want to save money on event tickets in San Francisco and the Bay Area, then check out the selection on Goldstar.com. On this website, you will find almost 200 events with tickets for up to half-off the full retail value. It's a great way to save! Click here for their current selection of tickets.

Follow SFTourismTips on Facebook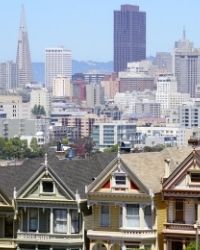 On my Facebook page, you will find more great information about planning your San Francisco vacation.
It includes tips, must see attractions, and other fun details.
Click the link below to check it out. If you enjoy the page, give us a like.

Other Pages You Might Enjoy