12 Best Museums in Monterey: Art, History, and Others to Visit

by Jill Loeffler  •

Published: April 19, 2023
You will find a number of outstanding museums in Monterey. Top picks include the Monterey Museum of Art, the Dali Exhibit, and the Colton Hall Museum. Other top picks include the Monterey Bay Aquarium, the Presidio, and the MY Museum.
Some focus on the events that occurred in the area before and shortly after the time when California became a part of the United States. Some are dedicated to educating kids of all ages, offer information about natural history and provide you with a chance to learn about local plants and animals.
Here are some of the best museums around the Monterey Bay Area.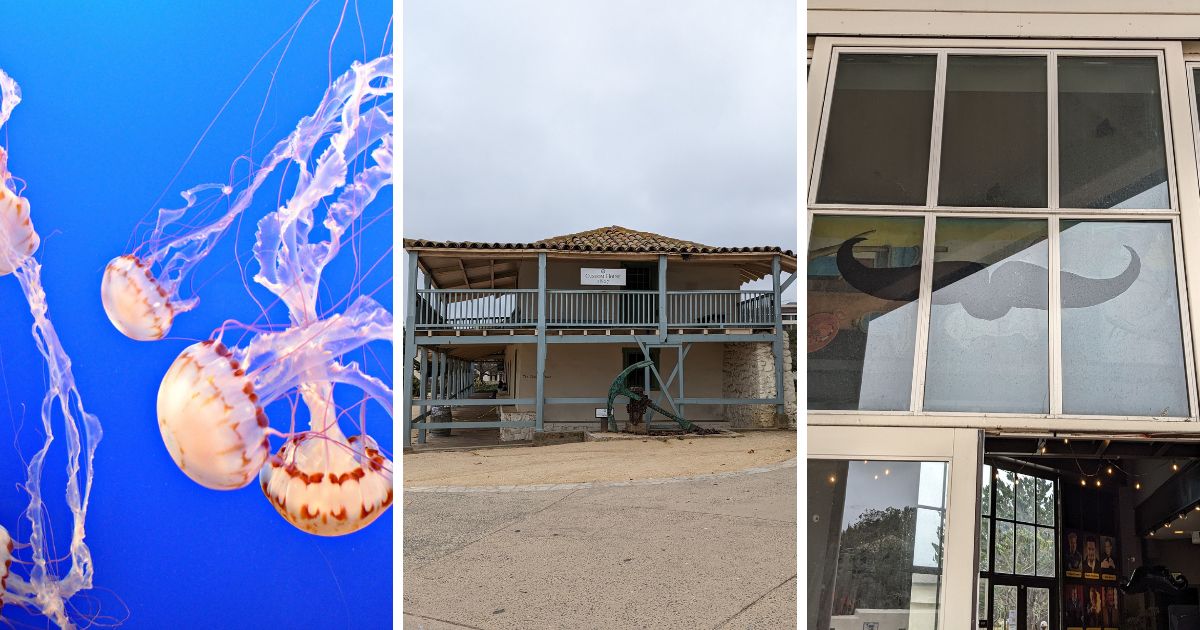 Disclaimer: I receive a small commission from some of the links on this page.

1. Monterey Museum of Art
The first of our museums in Monterey is the fantastic Monterey Museum of Art. This art museum is located in downtown Monterey and is dedicated to showing the diversity of not only this area but all of California.
The museum was founded in 1959 and has over 14,000 pieces of art in its permanent collection. These pieces range from those made by Indigenous peoples thousands of years ago to current pieces by artists creating paintings, photography, contemporary art, and more.
Some of the well-known artists include Edward Weston, Ansel Adams, Utagawa Kunisada, Evelyn McCormick, and many others.
They also have many traveling exhibits and special events throughout the year.
Location: 559 Pacific Street
Hours: Thursday - Sunday from 11 am to 5 pm
Admission: Adults 18 years of age or older are $15; Students, active military, and anyone under the age of 18 are free
2. Monterey Bay Aquarium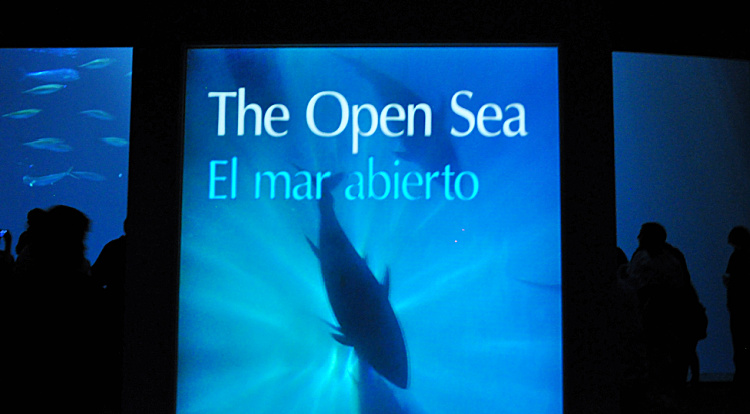 One of the "can't miss" museums in this area is the Monterey Bay Aquarium. This incredible structure is the second largest of all aquariums in the world! It houses over 35,000 plants and more than 600 species of animals in its massive 3.3-acre facility.
Some of the exhibits you will see include the Splash Zone, where penguins waddle all around (one of my favorites from my visits), and the Sea Otter exhibit. The Open Sea exhibit is another of my favorites. This massive tank features turtles, Hammerhead Sharks, and dozens of other fish swimming around and around. It is one of the best places for the whole family to find something magical.
They often have new and traveling exhibits and special events, and you can check out the classes and take a behind-the-scenes tour. There is so much to see that it is almost impossible to see everything in just one visit!
If you are a tv or movie fan, you might have seen the Monterey Bay Aquarium featured in HBO's Big Little Lies, Finding Dory, or, most famously, in Star Trek IV: The Voyage Home.
Location: 886 Cannery Row
Hours: 10 am to 5 pm every day
Admission: Adults 18 to 69 years of age are $59.95, teens 13 - 17 years of age and seniors over 70 years of age are $49.95, Children ages 5 - 12 years old are $44.95, children ages 4 and under are free
3. Dali Exhibit at the Monterey History & Art Association at Stanton Center
This museum is one of my favorites since it is located near Monterey Bay. I love this museum because it is not only dedicated to arts from around this area, but it also has an extensive collection from Salvador Dali.
Most people don't realize this, but Dali lived in Monterey at the Hotel de Monte for eight years during his lifetime. After he died, the Piterman family donated almost 600 art pieces from their collection.
These exhibitions include engravings, sculptures, lithographs, and etchings. Not only that, but it also has some of the rare tapestries made by Dali! It is definitely one of the hidden gems located here.
Location: 5 Custom House Plaza
Hours: Monday - Thursday, Saturday, and Sunday, 10 am to 5 pm, not open on Fridays
Admission: Adults over the age of 25 are $25, adults ages 18 - 24, seniors, and military (with id) are $20. Youths 18 and under are free
>> More indoor activities in Monterey
4. Colton Hall Museum
Originally built as a school and town hall, the state's early leaders used its rooms to draft the first California Constitution here in Monterey in October of 1849.
Today, you can visit this landmark site and see a re-creation of the meeting room used to draft this important document. The Colton Hall Museum also offers a handful of exhibits from the early days of Monterey. An added benefit is that this is a free museum.
Something I found quite interesting during my visit is that the state Constitution was originally written in both English and Spanish.
Location: City Hall on Pacific Street between Madison and Jefferson Streets
Hours: Saturday - Sunday from 10 am to 4 pm
Admission: Free
5. The Old Custom House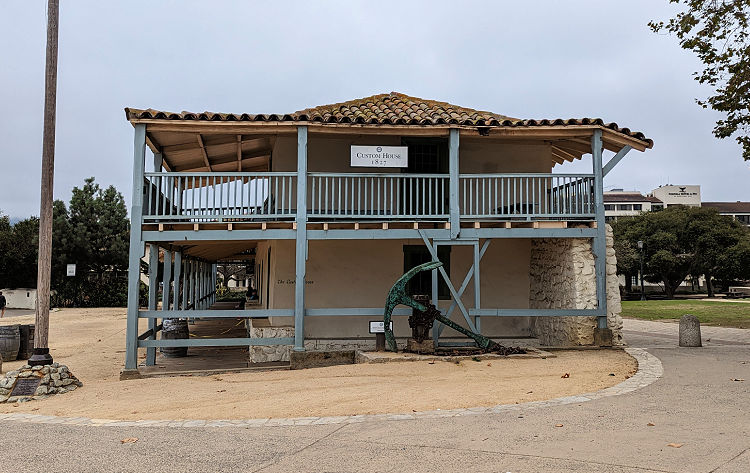 The Old Custom House is California's oldest government building and is the State Historical Landmark #1. In its early years, it was used as a way to connect both Baja (lower) and Alta (Upper) California while under the control of the Spanish government.
Monterey became an area a center for trade and commerce because of its location in the state and this site was the center of it. It is also where Commodore John Drake Sloat claimed over 600,000 miles of territory for the US by raising the American flag.
Today, you can walk through this building to see what it looked like in the 1800s and take a look at several artifacts from that time. It's one of the museums in the Monterey State Historic Park group.
Location: Custom House Plaza near Fisherman's Wharf
Hours: Tuesday - Thursday from 12 pm to 4 pm, Friday - Saturday from 10 am to 4 pm
Admission: Free
6. Pacific House Museum
The Pacific House Museum is another one of several museums and historic buildings comprising the Monterey State Historic Park. Originally constructed in 1847, this Monterey Museum features exhibits that tell the story of Monterey when it was the capital of California under Spanish, Mexican, and, finally, the U.S. government.
It also houses the Monterey Museum of the American Indian, where you will see pottery, baskets, and other Native American artifacts, as well as other pieces of California art. You will also learn about the natural history of the area.
Something special about it is the two-mile "Monterey Walking Path of History," which is one of the few remaining whalebone sidewalks in the world. I love walking tours, and this one takes you to the Pacific House Museum and many of the beautiful houses around the area.
Location: Custom House Plaza just south of Monterey's Fisherman's Wharf
Hours: Tuesday to Thursday from 12 am (noon) to 4 pm, Fridays and Saturdays from 10 am to 4 pm
Admission: Free
7. First Brick House
Another museum included as part of the Monterey State Historic Park is the First Brick House. This is where Gallant Dickinson introduced a new, more permanent method of building houses.
Prior to 1847, all houses were made of adobe and didn't last long because of the weather. Gallant built his house out of brick. Stop by to visit his original house and the Monterey history exhibits in the main room.
A fun fact is that it was purchased for $10 in 1915 by Juan and Maria Garcia, who turned it into a Spanish restaurant before becoming one of the museums in Monterey.
Location: Heritage Harbor next to the Old Whaling Station
Hours: TEMPORARILY CLOSED, but you can walk right up to it and check out the outdoor facade
Admission: Free
8. Stevenson House & Museum
The final building on our list that is part of the Monterey State Historic Park group is the Robert Louis Stevenson House & Museum. Over the years, this historic adobe building housed many fishermen, artists, writers, and government officials.
This free museum explores one of Monterey's most famous residents, writer Robert Louis Stevenson.
At the time, it was a rooming house called the French Hotel. He lived here for a few months in 1879. During his stay in Monterey, he wrote "Old Pacific Capital." Today, you can visit the restored house and see several rooms dedicated to Stevenson.
If you aren't acquainted with Robert Louis Stevenson, here are two of my favorite quotes, "That man is a success who has lived well, laughed often, and loved much." The other is "Wine is bottled poetry." I wholeheartedly agree with him on both counts!
Location: 530 Houston Street in Salinas
Hours: Saturday from 10 am to 4 pm; It is closed on Christmas Day and New Year's Day
Admission: Free
9. Monterey County Youth Museum - MY Museum
If you are traveling with kids, you will want to stop at this hands-on children's art museum. It focuses on kids ages 8 and younger, but everyone is welcome to explore and play here.
Exhibits here include My Build-a-House, My Theater, and My Go-Fore Golf. Each exhibit targets a specific age group, so your kids can find an activity that's perfect for them.
Depending on the day, you and your kids can do arts and craft area at this one of the museums in Monterey. They also have fun events like live music, pop-up exhibits, and more. It's a fun place to have birthday parties too!
It is always a good idea to check beforehand to see what they offer daily. It is the perfect stop for any family wanting to have a little fun, regardless of age.
Location: 425 Washington Street
Hours: Wednesday - Friday from 10 am to 3 pm; Saturday and Sunday from 10 am to 5 pm
Admission: Adults $10; Children $10; Children under 2 are free
>> More fun things to do with kids
10. Presidio of Monterey Museum
The Presidio of Monterey Museum houses exhibits featuring the history of military development in the area. This free museum starts with the indigenous period, transitions to the time when Spain and Mexico ruled the area, and ends with the present.
Due to the area's importance starting in 1902, much of this museum focuses on the development of this Presidio as a training base. It is a great place to learn about the area's history and imagine what it was like back in the day.
Location: 76th Artillery Street & Corporal Ewing Road, Building 113 in Lower Presidio Historic Park
Hours: Saturday and Sunday from 10 am to 4 pm; Closed Thanksgiving, Christmas Eve, Christmas Day, and New Year's Day
Admission: Free
11. National Steinbeck Center
John Steinbeck was known as a writer who could give voice to the "everyday person" and let you walk in their shoes. He often wrote about the local area and the people who worked and lived there, giving readers a chance to see life from the 1920s to the 1960s. Two of his most famous books are East of Eden and The Grapes of Wrath.
This museum has many interesting exhibits, shows, and information about him. It also examines what it was like to live in Monterey County when it was just starting to be the heartland for much of the state.
When you first enter, you'll be met by a docent who will give you a quick orientation of the National Steinbeck Center. They suggest that you plan for about 2 hours for your self-guided tour. There are guided tours, but you have to book them in advance.
Location: 530 Houston Street in downtown Salinas
Hours: Wednesday to Sunday 10 am to 5 pm, closed on New Year's Eve, New Year's Day, Easter, 4th of July, Thanksgiving Eve, Thanksgiving, Christmas Eve, and Christmas Day.
Admission: Adults are $15; Seniors, Students, Retired Military or Veterans, Teachers, and Monterey Co. Residents are $13; Active Duty Military and Families (Memorial Day – Labor Day: FREE) are $13; Children Ages 6-17 are $7, Children 5 and under and members are Free
12. Pacific Grove Museum of Natural History
Located in the cute town of Pacific Grove, this museum is dedicated to the natural history all around Monterey Bay. Some of the exhibits include information about the birds who live in this area, native plants, and the most famous and beautiful of creatures from here -- Monarch Butterflies.
Some of the exhibits I enjoyed during my visit include those that focus on the people who have lived in this area, such as the Point Alones Chinese Fishing Village residents. They had emigrated from China in the late 1800s and into the early 1900s and had the largest fishery in all of California for a time.
Beyond that, there are exhibits about the native peoples, their artwork, and how this area has changed throughout history. It is a very educational and wonderful exploration of this west coast area.
Location: 165 Forest Avenue in Pacific Grove
Hours: Wednesday to Sunday, 10 am to 4 pm: Closed on holidays and for a week in August (so double check their schedule if you plan to visit during this time)
Admission: Adults are $10, Youth 4-18, students with school ID, seniors, and military are $6.00, kids 3 and under are free.
Comments? Questions? Suggestions?
I would love for you to join me in my private Facebook group! 
It's a great place to interact with me and others who know the area well.
You can ask questions, get advice for your upcoming stay, and then share your photos and advice with others when you return home. It's a great community and the fastest way to get answers to those nagging questions about your visit!