Kayaking in Monterey: What to Expect During Your Adventure on the Water

by Jill Loeffler  •

Updated: March 30, 2022
Are you interesting in kayaking in Monterey? The calm, cool waters of the bay make it the perfect place for beginners or those looking to improve their skills.

You can either rent a kayak to go on your own or join a guided tour. If this is your first time, I recommend that you go with a guide or take a short training session to learn a few tricks before you set out on your own.
During your journey, you will get to see many marine animals up close including sea otters, seals and sea birds. You might even get the chance to see a few starfish and some of the 300+ species of fish.
My favorite time to go is in the late summer and fall. This is when it's warm and often sunny in this area.
Even though this is my favorite time to go, the mild temperatures allow you to go kayaking in Monterey all year long.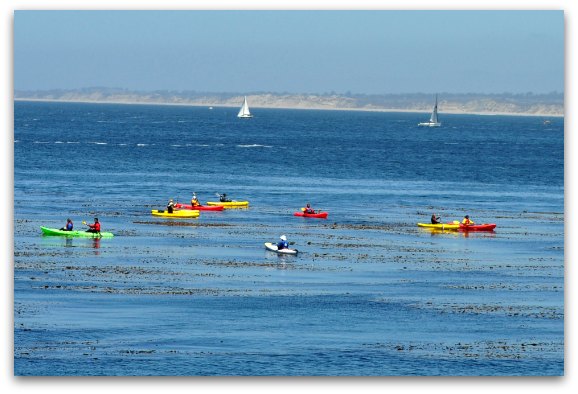 Several people kayaking in Monterey
Disclaimer: I receive a small commission from some of the links on this page.

Company Recommendation: Monterey Bay Kayaks

I like this company because they have an amazing staff of instructors and guides. They respect the environment, teach you how to properly manage your kayak and introduce you to all the great animals living in the bay.
In my opinion, they are the best company to rent or learn from when you go kayaking in Monterey. Their staff is friendly, knowledgeable and always eager to answer questions.
Kayaking Classes
Right now, Monterey Bay Kayaks is only offering Private Classes. They start at $200 to $450 (depending on your group size). 
You must reserve your spot in advance and they will respond within 24 to 48 hours.
It's a great way to get started or to advance your skills! 
Kayaking Tours
They also offer a wide variety of kayaking tours. They range from family-friendly two-hour tours on the bay to fun sunrise tour.
Prices range from around $55 - $75 per person.
Kayak Rentals
If you've been kayaking before, then you can also rent a kayak and go on your own. This allows you to spend as much time as you want in each location.
The only requirement for going on your own is that all kayakers need to be good swimmers. This ensures your safety during your trip.
Kayak rentals start at $35 per person for the day. They offer both open deck and closed deck kayaks.
Monterey Bay Kayaks is just two blocks from Old Fisherman's Wharf at 693 Del Monte Avenue. Learn more and book your trip today directly on their website.
Seven Tips to Prepare for Your Kayaking Trip

Kayaking in Monterey is always an amazing experience. Here are just a few tips to help you make the most of your adventure.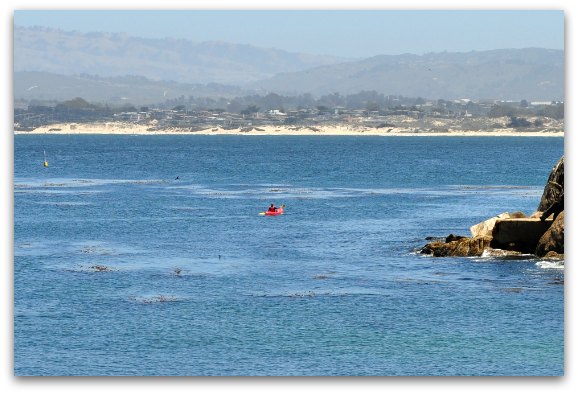 A lone kayaker on the Monterey Bay.
1. Bring Your Swimsuit: I always wear my swimsuit when I go kayaking. I often wear clothing over it but like to have my swimsuit on in case my kayak gets too wet.
2. Carry a Change of Clothes: You will most likely get at least a little wet when you go kayaking in Monterey. Make sure you bring a change of socks, shoes and other items to change into when you are done.
3. Don't Forget Sunscreen: The foggy, cool days on the Monterey Bay can be deceiving so make sure you always put on sunscreen before you go. I also bring mine along and reapply along the way.
4. Wear a Hat & Sunglasses: Another way to keep the sun off your skin is to wear a hat and sunglasses. These will also protect your eyes from the reflection of the sun off the water.
5. Pack a Snack & Some Water: If you are heading out for more than a couple of hours, make sure you bring along something to eat and drink. Kayaking in Monterey is tiring, so it's always a good idea to bring along some nutrition.
6. Leave Valuables at Home: To keep them dry and safe, leave any valuables at home. This includes jewelry, cameras and anything else that you don't want to get wet with salt-water.
7. Take Seasick Medication: This might be the most important one on the list (or at least it is for me!). If you have issues with seasickness, you will want to take steps to prevent it. I typically take Bonine about 30 to 45 minutes before I leave. This keeps me from getting sick and doesn't make me drowsy. Sometimes it's hard to find in stores, but you can find it online on Amazon.
Comments? Questions? Suggestions?
I would love for you join me in my private Facebook group! 
It's a great place to interact with me and others that know the area well.
You can ask questions, get advice for your upcoming stay, and then share your photos and advice with others when you return home. It's a great community and the fastest way to get answers to those nagging questions about your visit!