Mission District San Francisco
Tips to Visit This Culturally Diverse SF Neighborhood
The Mission District San Francisco is another colorful, interesting San Francisco neighborhood. Here you will find a mixture of cultures, some of the best restaurants in the city and a number of places to grab a drink at night.
It is one of my favorite places to visit during the day or night. If you want a real San Francisco experience - you have to head over to the Mission at least once during your visit.
It's a busy neighborhood, but not as touristy as some of the other districts. There are also so many fun things to do in this SF neighborhood.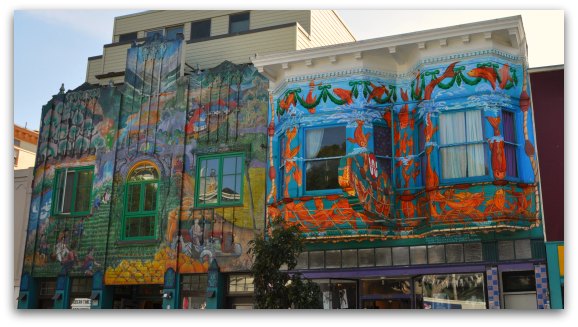 The first settlers from Mexico came to this area in the late 1700s. They built a couple of important missions in the area during this time. One of them, the Mission San Francisco de Asis still stands.
Today, you will still see influences of this neighborhood's Latin American background. However, you will also find quite a bit of diversity here. These are just a few of the things that make this a unique San Francisco neighborhood.
Top Mission District San Francisco Attractions & Activities
Here are some of my favorite things to do in the Mission District San Francisco.
1. Visit the Historic Mission San Francisco de Asis
The Mission San Francisco de Asis is an old mission built in 1791. It's the oldest building in San Francisco.
Here you can visit the old mission, the newly rebuilt basilica and one of the only graveyards still within the San Francisco city limits. In addition, you can visit the Mission museum and see the original adobe bricks used to maintain this sturdy structure.
Learn More: Mission San Francisco de Asis
---
2. Soak in the Colors & Stories of the Mission District Murals
San Francisco has more than 1,000 murals throughout the city. However, the Mission District has a large concentration of them.
The first San Francisco mural in this neighborhood was painted in the mid-1970s. From there, more and more murals appeared which created an even more colorful neighborhood.
Click thru to see pictures of some of these beautiful murals. Here you will also find maps so you can easily discover them during your visit.
Learn More: Mission District Murals
---
3. Uncover the History of the Neighborhood on this Historic Walking Tour
The history is rich in this part of San Francisco. If you want to learn more, then I recommend taking the Historic Walking Tour offered by the San Francisco Public Library. This free walking tour is offered on Sunday mornings at 11am. It usually lasts about two hours.
You don't need to register in advance - just show up at the at the gold painted fire hydrant on the corner of Church and 20th Streets a few minutes before the tour starts.
Learn More: Mission District San Francisco Walking Tour
---
4. Enjoy the Diversity of the Cuisines on a Food Walking Tour
Another way to enjoy the Mission District San Francisco is by sampling its wide variety of foods. The Taste of the Mission Tour is led by a local food lover. You will walk through the area and taste just a sampling of food available in the Mission District San Francisco. It's a fun way to try some new cuisines and get to know the neighborhood along the way.
Learn More: Book Your Spot for the Taste of the Mission Tour
---
5. Join in on the Dia de Los Muertos or Day of the Dead Celebration
The Mission District San Francisco has a large Latin American population and influence. Part of their culture is to honor and celebrate those that have left this world. This annual celebration is called Dia de Los Muertos or the Day of the Dead.
This is an emotional celebration held every year starting on November 1 and lasting until the early hours of November 2. If you are in San Francisco during this time, I highly recommend that you attend.
You will be impressed with the time and effort this community takes to honor and celebrate those they have lost. The event welcomes both observers and participants.
There is a 'community' parade the first night at 7pm starting at 22nd and Bryant. You can watch the parade, join in for a while and then step out to watch again. The parade walks in a circle covering about 6 square blocks in the district for hours - usually until 1 or 2am.
Along the way, you will see several Mission District San Francisco locals displaying memorials to honor their loved ones. You can also see several other memorials in Garfield Park - located on the corner of Harrison and 25th Streets. The overall experience is moving and one you will never forget!
---
6. Catch Some Rays in the Mission Dolores Park
If you really want to hang with the locals, then I recommend spending some time in Mission Dolores Park. This beautiful park is on the western side of the Mission District San Francisco.
The park sits on a hill and has amazing views of downtown San Francisco. Locals love to come here on warm, sunny days to hang out, meet other people and just enjoy the day.
There are also several events held in the park or many races that run through it. Either way, it's a hub of activity on almost any day of the week. The park starts on the corner of Dolores and 18th Streets.
Grab some coffee, a good book and come on over to enjoy a local past time in the Mission District San Francisco.
---
7. Watch the Colorful Parade at Carnaval
Every Memorial Day Weekend, the Mission comes to life with the colorful Carnaval Festival and Parade. This annual event celebrates both the Latin American and Caribbean arts and traditions. On both Saturday and Sunday, you can sample delicious treats, listen to traditional music and walk through the art booths. On Sunday, head over early to catch the colorful parade.
Learn More: Carnaval on Memorial Day Weekend
Other Pages You Might Enjoy
Best Mexican Restaurants San Francisco
The Mission District San Francisco is where you will find a large number of Mexican Restaurants. The majority of them are casual, with walk up service and open seating. Since there are so many, it is sometimes hard to tell them apart. Here are four favorites.
La Oxaquena: On the northern side of the Mission District San Francisco is La Oxaquena. This fast and cheap Mexican Restaurant is open all day and night from 9am to 2am. Swing by for a quick burrito or one of their other Mexican delicacies. You will find it at 2128 Mission Street near 17th Street.
San Jalisco: Another northern Mission District San Francisco favorite is San Jalisco. They feature the flavors and foods of the Jalisco region in Mexico. Here you can sit down for a meal and enjoy some authentic Mexican food. San Jalisco is at 901 S. Van Ness near 20th Street.
El Farolito: Heading down to the southern part of the Mission District San Francisco, you will find El Farolito. This is a casual, low key restaurant that is great for late night dinning. Have a few drinks in the neighborhood and then soak it up with some of their tacos or popular homemade salsa.
La Taqueria: Also on the southern side of the Mission District San Francisco is La Taqueria. They are fast, friendly and also serve up nothing but authentic Mexican food. Make sure you have some cash on hand, since they do not accept credit cards. La Taqueria is at 2889 Mission Street between 24th and 25th Streets.
More Great Mission District San Francisco Restaurants
Not only are there a lot of Mexican restaurants here, but there is a wide variety of other cuisines. There are too many great ones to name them all - so here are just a few of my favorites.
Walzwerk: This is one of the best German restaurants in San Francisco. Their focus is on Eastern German food and here you'll find the best including schnitzel, bratwurst and beef roulade. Make sure you order their cold dog -- layered chocolate cake -- for dessert. They are open for dinner. You can find them at 381 S. Van Ness at 15th Street.
Lolo: Another favorite in the Mission District San Francisco is Lolo. This small and unassuming restaurant is a mix of Mexican and Mediterranean cuisine. You can sample everything from guacamole to their pecan encrusted salmon. Their tuna tacos are also a great find. Don't forget to check out their wine list. Lolo is at 3230 22nd Street near Mission Street. They are open only for dinner.
Foreign Cinema: Are you looking for dinner and a movie? Then you should check out Foreign Cinema. The majority of their menu is seafood including one of the largest oyster bars in the city. In addition to their seafood dishes, you can also find Pimenton spiced chicken and a yummy gourmet burger. Each night they feature a different movie in the back ground to set the mood for that perfect night out. Foreign Cinema is at 2534 Mission Street. They are open for dinner during the week and brunch each Saturday and Sunday.
Delfina: If you are looking for Italian food, then look no further than Delfina. This very popular restaurant serves up some amazing dishes such as their olive oil mashed potatoes, blood orange insalata and a twist on traditional spaghetti. They are open only for dinner and are at 3621 18th Street.
Little Star Pizza: Both thin crust and deep dish pizzas are the speciality at Little Star Pizza. You can find some of the best pizza in the city here. They also have a fun selection of beers. Visit them for either lunch or dinner at 400 Valencia Street.
San Francisco Nightlife in the Mission District
Similar to the restaurant selection, the Mission District San Francisco also has a large number and variety of bars. You can find everything from live music to casual lounges.
This is one of my favorite neighborhoods to hang out in at night. New bars open frequently - so there is always something new to check out! Here are just a few of my favorite places.
Elixir: This is a fun place to grab a drink in the Mission. The inside is an old fashioned saloon that opened in 1858. You will also find a mix of people and events from Board Game night to a Cocktail Club on Thursdays. The crowd gets a little rowdy at times, but overall it's a great place to join in on the fun. Elixir is at 3200 16th Street at Guerrero.
Latin American Club
: This is another one of my favorites in the Mission. Even though the name says 'club', it is not really a club. It's a low key bar that serves only hard liquor and tap beer. It's also large with plenty of seating -- but gets crowded later at night and on the weekends. The Latin American Club is at 3286 22nd Street.
Make Out Room: The Make Out Room is across the street from the Latin American Club at 3225 22nd Street. This is a small, cozy venue with live performances of little known, usually local, bands. However, they have a mixture of events including DJs and some other eclectic shows. Make sure you check out their calendar before you arrive -- so you know what you are getting yourself into for the night. The Make Out Room is great for those wanting to find something a little different during their stay in San Francisco.
Phoenix Irish Pub: The Phoenix is your typical Irish Pub with great pub food and beer. They have a large selection on tap and the atmosphere is fun and lively. Join them for happy hour from 4 -7 Monday through Friday or any other time you are in the Mission. The Phoenix is at 811 Valencia Street.
Zeitgeist: This bar is a local favorite for a sunny day in San Francisco. Most of the action in this bar is outside in the large picnic area in the back. It's one of those -- almost anything goes -- types of places. You will find a large mix of patrons that all share seats on the community picnic tables. You can also grab some bar food here such as burgers or bratwurst. They have more than 40 beers on tap and a happy hour that extends from 9am to 8pm every day. Zeitgeist is on the corner of Valencia and Duboce Streets.
Hotels In & Near the Mission
While there are a few hotels in this neighborhood, I wouldn't recommend most of them to you. However, here are a few great finds. You will also find some ideas on where to look when booking an apartment rental.
Inn San Francisco
943 South Van Ness Avenue
The Inn San Francisco is a small, bed and breakfast with just 21 rooms. It's in a great location in the Mission. It's also close to public transportation - so you can easily get to other parts of the city.
The historic feel of this bed and breakfast makes it a guest favorite (built in the late 1800s!). It also includes the following amenities:
Free wireless internet access
Patio
Free hot and cold breakfast options
Parking available for a fee
Each room includes a small refrigerator, a TV and bathrobes
Rooms at the Inn San Francisco start at around $140 a night. Compare prices and find the best deals on TripAdvisor.
---
1906 Mission
1906 Mission Street at 15th Street
1906 Mission is a small hotel in the heart of this colorful district. They offer budget friendly accommodations with shared bathrooms. You can choose from a deluxe double room, standard double room, or a queen room.
All rooms also feature free wifi, newly updated decor, and both heating and air conditioning. The entire property is non-smoking and they speak several languages (English, Italian, Spanish, and French).
Rooms here start at around $134 a night. Find the best prices for 1906 Mission on Booking.com.
---
Apartment Rentals
The best place to look for apartment rentals is on AirBnB. This is the service I use when I travel and I've had great luck.
You can find reviews and also the average guest ratings for an apartment's cleanliness, location and more. You can also search by neighborhood and amenities.
I've also recently started to use the apartment search on Booking.com. They offer hundreds of options all around San Francisco. They also include guest reviews so you can get a great feel for what it's like to stay there. Click here to check out the selection of apartments on Booking.com.
Apartment Hunting Tip: If you stay in an apartment in the Mission District San Francisco, look for apartments that are on streets on the western side of Mission Street. It's safer on this side and the quality of the rentals is higher. The other side has its advantages, but I only recommend booking there if you are familiar with the area.
Mission District San Francisco : Getting Here
BART: If you are coming from Union Square, your best option is to take BART (Bay Area Rapid Transit). You can hop on at any station on Market Street. There are two BART stops in the Mission. The 16th Street stop is on the northern side of the Mission District San Francisco. The 24th Street stop is on the southern side of the Mission. Learn more about taking BART on the public transportation San Francisco page.
Bus: If you are heading over from Fisherman's Wharf, then your best bet is to take the bus. The 49 Mission bus picks up on the western side of Fishermans Wharf and takes you directly into the Mission District. Jump on the bus at the corner of Van Ness and North Point. It drives down Mission Street and stops about every two blocks. You can hop off at any point along the way. It's $2 per person for a one way ride.
Taxi: Taking a taxi is always an option in San Francisco. It is one of the fastest ways to get to the San Francisco Mission District, but not the cheapest. A taxi ride from Union Square is going to cost around $10 to $15. A taxi ride from Fisherman's Wharf is around $20 to $25. Read on to learn a little more about taking one of the San Francisco taxis.
Car: Driving is an option, but also a little bit more expensive than taking public transportation. If you do decide to drive, you will find street parking quite difficult in this neighborhood. However, the good news is that there are two main parking garages in the area. Find out more about these San Francisco parking garages, including costs, location and hours.
More SF Hotel Recommendations