San Francisco Events in July 2017
Fourth of July Celebrations, Street Fairs, and Free Walking Tours
Celebrate summer with these San Francisco events in July 2017. The biggest events this month center around the Fourth of July holiday, with activities along the waterfront and fireworks over the bay.
You can also enjoy a performance of Hamilton at the Orpheum Theater, explore SF on a free walking tour, and visit top museums at no cost during their monthly free admission day.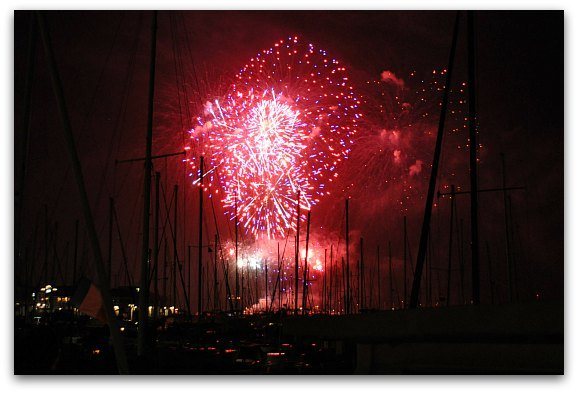 For some of the links on this page, I receive a small commission when you purchase. You don't pay more when you buy through me and it gives me the chance to offer you all this great content for free!
Hamilton at the Orpheum Theater
Who knew a colonial era musical could be so entertaining? With its costumes, diverse cast of characters, and innovative score, this modern twist on the story of our country's founding fathers has won the hearts of countless audiences. Don't miss your chance to see the Broadway hit Hamilton live in San Francisco at the Orpheum Theater.
Dates: March 10 - August 5
Tickets: On sale now
SF Summer Opera
While in San Francisco, you have the opportunity to watch the second largest opera company in North America perform at the historic War Memorial Opera House in the Civic Center District. The summer season wraps up in the first few days of July, so plan ahead and get tickets for the final performances of Verdi's Rigoletto or Pucinni's La Boheme.
Dates: May 31 - July 3
More: Read more about the SF Opera and their current shows
A Perfect Day in the Haight-Ashbury District
Are you interested in exploring the famed Haight-Ashbury District on your own? If so, then check out my self-guided tour of this colorful neighborhood. In one day, it takes you past the places where famous musicians, actors, and others lived. It will also offer you some great suggestions on where to grab lunch and a list of the top places to see while you are there.
Dates: Any day in July
More: Check out the full itinerary
Theater: The Curious Incident of the Dog in the Night-Time
The Curious Incident of the Dog in the Night-Time, a best-selling mystery novel narrated by an autistic boy, has charmed millions of readers and now theater-goers, as it has been cleverly transformed into an award-winning play. Catch it at the Golden Gate Theater until July 23.
SF Theater this month also offers The Roommate, You Mean to Do Me Harm, and La Cage Aux Folles at the SF Playhouse.
Dates: All month long
More: Find a full schedule of theater performances this month
Top Half-Priced Tickets for San Francisco Events in July
Buying your tour and event tickets through Goldstar is a great way to save up to 50% off. These are some of the best discounted tickets for San Francisco events in July.
60-Minute Bay Cruise: Cruises around the bay, leaves from Fisherman's Wharf, several cruises a day, Full price $31, Goldstar price $15.50*


Twilight Cruise: 2-hour evening cruise with heavy appetizers included with every ticket, leaves once a day from Fisherman's Wharf, Full price $64, Goldstar price $32*


7D Experience: Enjoy a thrilling ride at Pier 39's 7D Experience, step into this 20-person theater, strap yourself into your seat, and get ready to fight off the bad guys, this 3D movie and video game activity is perfect for the entire family and one you will not forget, Full price $14.99, Goldstar $8.25*
*Small service fee at checkout.
More Ways to Save in SF
Another great way to save in San Francisco is with the CityPASS. It includes admission to top museums such as the California Academy of Sciences, the Exploratorium, and the Aquarium of the Bay at a discount. You will also receive a 7-day Muni pass with unlimited rides and a ticket on a 60-minute SF Bay Cruise.
Buy Today: Save up to 47% on San Francisco public transit and 4 top attractions with CityPASS. Shop now!
More: Find tips to make the most of this discount pass
Free Walking Tours
One of my favorite San Francisco events in July is the free walking tour offered through the SF Public Library by SF City Guides. Each one is guided by a knowledgeable local that will tell you all about a specific district, time period in SF, or attractions. You can discover fun facts about the Golden Gate Bridge, find out what SF was like before and during the Gold Rush, and uncover real stories about the 1906 Earthquake and Fire.
Dates: Every day in July
More: Full schedule of free walking tours by day
Fillmore Jazz Festival
The largest jazz festival on the west coast takes place on the weekend before Fourth of July in San Francisco. This fun event offers free, live jazz music all weekend long. The festival also features dozens of local artists showcasing their work, top gourmet goodies from SF eateries, and other fun activities.
Dates: July 1 - 2
More: Uncover more details for this year's event
Live Music Concerts
Head out and enjoy some live music while you're in town, as San Francisco is full of great concert venues from large to small. Stop into an intimate cafe setting for some local jazz or emerging bands, or purchase tickets ahead of time for one of the bigger names visiting classic venues like the Warfield, the Fillmore, or the Bill Graham Civic Auditorium.
Dates: Several throughout the month
More: Check out the full concert schedule for upcoming performances
Hotel Deals
Visit the hotel sites below for top reviews and discounts on hotel rooms during your stay.
Bookings: Save on your hotel with Booking.com, "Planet Earth's #1 Accommodation Site." No booking fees ever!
TripAdvisor: What's the #1 hotel in San Francisco? Read reviews & find hotel deals on TripAdvisor!
Fourth of July
Celebrate Independence Day 2017 in San Francisco! Like every year, this Fourth of July will bring lots of fun activities to the city, especially along the waterfront in Fisherman's Wharf. You can enjoy live music, family-friendly activities, and the fireworks display over the water at dark.
Date: Tuesday, July 4
More: Find a list of all the top activities and info on the fireworks show
SF Giants
You will find thirteen SF Giants home games in July 2017. Watch them take on the Miami Marlins, Cleveland Indians, San Diego Padres, and Pittsburg Pirates. All games are at AT&T Park by the water in the SoMa district.
Dates: Several in July
More: Discover the full 2017 schedule
Union Square Live
It's summertime! And that means free, outdoor, live performances at Union Square in the heart of downtown SF. This festival offers a variety of dance, music, circus, and theater performances every week from now through September. These shows are family-friendly and easy to access.
Dates: Several from April - September
More: Get the Union Square Festival details and schedule
Free Museum Admission Days
Once a month, several SF museums offer free admission to their permanent collections. Many of these free admission days are offered toward the beginning of the month. Participating museums include the Conservatory of Flowers, the Contemporary Jewish Museum, and the Asian Art Museum.
Dates: Several in early July
More: Find the full schedule of free admission days for July
Frozen Film Festival
The largest SF film festival in July is the Frozen Film Festival. It offers independent film makers, youth, and underserved communities, with great talent but few screening opportunities, a place to show their work to a wide audience. The opening night gala will feature local musicians and artists, and for four days, you can watch groundbreaking documentaries, animations, and shorts at the Roxie Theater in the heart of the Mission District.
Dates: July 20 - 23
More: Find additional details on the Frozen Film Festival
Other Film Festivals: Review the full film festival calendar for this year
Stern Grove Festival
It is a San Francisco tradition for people to flock to Stern Grove to enjoy a picnic with friends while listening to incredible live outdoor concerts amidst the tranquility of the trees on summer Sunday afternoons. Many well-known groups perform here, and every week the concert is totally free! Last year, Janelle Monae, the O'Jays, and the New Pornographers were among the headliners. Stay tuned for this year's lienup!
Dates: June 25 - August 27
More: See the Stern Grove schedule and plan your outing today
Summer Wine Tours
If you love tasting wine, then head up north to Napa and/or Sonoma on a fun and interesting day trip. You can leave the driving to the experts as you sit back, relax, and learn more about each region, sample new wines, and see how the wine is made. Choose among different tour packages that vary in price, duration, number of wineries visited, and form of transportation (may be a bus, private van, bikes, train, or even helicopter!).
Dates: Any day in July
More: Read about the top wine tours from San Francisco
Tickets: Grab your seat today on one of these wine tours
Comedy Clubs in SF
Laugh the night away at one of SF's premier comedy clubs. Both the Punch Line in the Financial District and Cobb's in North Beach are known to host the biggest names in standup, including Dana Carvey, Russell Peters, Dave Chapelle, and many more. You can also catch local comedians, improv troupes, and musical comedies at those and several other locations all around town.
Dates: Several in July
More: Find a full calendar of shows this month in SF
Exhibits at SF Museums
This is the last month to catch the exhibit In That Case: Havruta in Contemporary Art at the Contemporary Jewish Museum in SoMa. In addition, check out SF's other top museums, including the Walt Disney Museum, the de Young Fine Arts Museum, and the Legion of Honor. All are currently featuring excellent traveling exhibits, like The Future of the Past: Mummies and Medicine.
Dates: All throughout the month
More: Find out more about SF's museums and their current exhibits
San Francisco Marathon
This year marks the 40th edition of the San Francisco Marathon! Spend your Sunday morning touring SF's streets with your own feet by joining more than 27,000 other runners in either the 5K, half, or full marathon. You'll run past landmarks like the Embarcadero, Fisherman's Wharf, Crissy Field, the Golden Gate Bridge, Coit Tower, Golden Gate Park, the Haight-Ashbury, and the Mission.
Dates: Sunday, July 23
More: Visit their website for details & to register
Yerba Buena Gardens Festival
The Yerba Buena Gardens Festival is an ongoing summer event offering free entertainment every week from now through October. Find a comfy spot on the Yerba Buena Gardens lawn in SoMa and enjoy live outdoor music, dance, and theater performances that feature both well-known and emerging artists. These shows are a great way to get exposed to classical, jazz, and traditional ethnic music and dances.
Dates: Several days in July
More: Get the Yerba Buena Gardens Festival details
Laborfest SF
Laborfest is an annual month-long event that discusses and educates the public on the struggles of everyday workers from around the world. It features almost two dozen events including documentary films, discussions, and presentations. You can also join in on their walking tours and annual boat tour. Most of the events are free or request a small donation.
Dates: All month long
More: Find this year's schedule of events
More Things to Do in San Francisco in July
In addition to San Francisco events in July, you will find dozens of other fun things to do. Click the link below for further ideas, such as which cruises to take, which walking tours are the best, and which districts to visit this month.
More: Click here for a comprehensive list of things to do this month in SF
What to Wear in July
Discover tips to help you pack on my weather in July page. Here you will find average highs and lows and a little more about what to expect from the weather each day. I've also included tips on what to wear while you are here.
2016 Dates
The following events also typically take place in July, but have not yet been confirmed for 2017. Check back soon for this year's exact dates.
Mime Troupe
No, this is not pantomiming! But it IS a fantastic, free show of a talented community-based group that talks, sings, and dances about socially and politically relevant themes. It's another one of the unique San Francisco events in July.
Date: TBD
More: Find out more about the Mime Troupe group, their work, and performances
Sunday Streets
The fourth edition of Sunday Streets this year takes place on July 10 in the Tenderloin. This is a monthly street fair that rotates among districts, bringing together the community to enjoy free activities for the whole family, live music, and streets closed to traffic so people can play freely in the area.
Dates: July date TBD (Festival runs from April to November)
More: Find out which weekends to visit which neighborhoods
Salsa Festival on the Fillmore
Get out and join 7,000 others at one of California's biggest Latin dance parties, dancing under the stars to live salsa music at the Fillmore Center Plaza. In addition, the festival features three blocks of salsa bands, DJs, dance instructors, and live performances.
Dates: TBD
More: Read more about this fun, lively salsa event
Breastfest Beer Festival
Taste delicious beers from local breweries while supporting an excellent cause! In addition to beer, there will be samples from local restaurants, live music, a raffle, and more. This annual fundraiser at the Marin Center in San Rafael helps raise money for low-income women fighting breast cancer.
Dates: TBD
More: Find out how you can attend this great event for a great cause
Renegade Craft Fair
The summer edition of the Renegade Craft Fair at the Fort Mason Center features several hundred hand-selected artists and their unique work, including furniture, jewelry, clothing, posters, and more. This is a great opportunity to get new ideas and purchase the items you need for your summer redecorating projects.
Dates: TBD
More: Get the details about this bi-annual event for craft lovers
Japantown Anime and Cosplay Festival
This year's annual Anime and Cosplay Festival in SF's Japantown is on Saturday, July 16. Make sure to wear your costume and have fun at this free event. Not sure what to do? Stop by the Senpai booth to get 101 instructions from Cosplay professionals.
Date: TBD
Film Night in the Park
Enjoy a free movie in the park on Saturday, July 23. Film Night in the Park's July movie is Finding Nemo. This free event will start just before dark in Union Square. Head over early to get the best seats.
Date: TBD
More: Find additional info here
Phono Del Sol Festival
This local, non-profit music and food festival takes place at Potrero del Sol Park located on the southern side of SF (walking distance from the 24th Street & Mission BART station). Bands will play on two stages all afternoon long, and you will be able to purchase delicious bites from San Francisco's hottest food trucks.
Date: TBD
More: Find additional info here
Other Great Pages for Your Visit