Where to Stay In and Near Yosemite National Park

by Jill Loeffler  •

Published: December 16, 2022
Discover details on where to stay in Yosemite National Park. My guide offers information on top hotels, lodges, and camping sites.
In Yosemite, you will find both high-end and budget options. They range from The Ahwahnee to the tent cabins near Curry Village.
If you prefer to sleep outdoors, you'll also find information on the best campgrounds around this national park.
In addition to finding information on where to stay in Yosemite, I've included details on nearby places to stay. You'll find a wide range of options within an hour of each gate in places such as Oakhurst, Groveland, and Mariposa.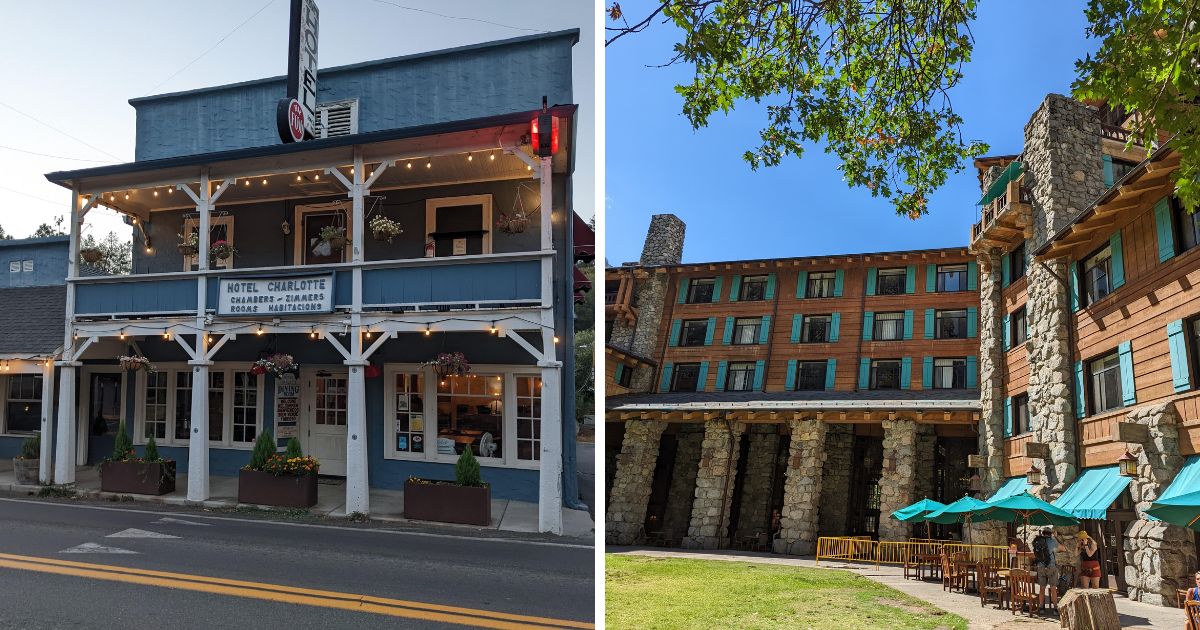 Disclaimer: I receive a small commission from some of the links on this page.

Where to Stay in Yosemite National Park
I'll start with the Yosemite National Park lodging accommodations. With a choice of campsites, lodges, and hotels, there is somewhere for everyone in one of the most spectacular destinations in the USA.
The Ahwahnee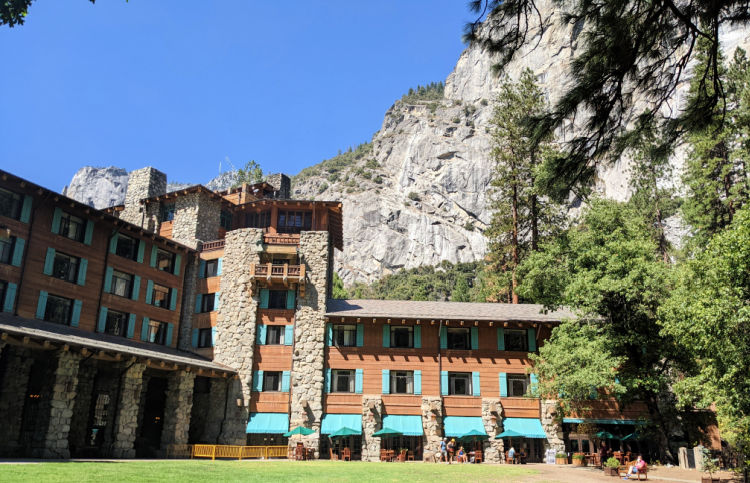 The Ahwahnee has the distinction of being a National Historic Landmark. A stunning building frequented by VIPs, this is the perfect destination for a comfortable and pampered stay in Yosemite.
The gloriously beautiful interior is just part of the appeal, for the hotel is designed to fit in with the natural surroundings.
A heated outdoor swimming pool, welcoming bar, and restaurant are all features that guests appreciate. All rooms come fully equipped with a flat-screen TV, coffee maker, telephone, and more, and the hotel offers a concierge service.
Yosemite Falls and Yosemite Villages are close by. Curry Village is also close as well.
>> Check prices and booking details for the absolutely amazing Ahwahnee Hotel.
Yosemite Valley Lodge
A popular choice with families and groups, Yosemite Valley Lodge is ideally placed for spectacular views of Yosemite Falls and as a base for exploring the glorious surroundings of Yosemite National Park.
Large windows allow for excellent scenic views, while all rooms come fully equipped with the expected amenities.
Yosemite Valley Lodge offers a choice of family and traditional rooms as well as bunks, and there are various choices for meals throughout the day.
Yosemite Valley Lodge comes highly recommended by satisfied guests and is a perfect choice for groups who wish to experience the beauty of the location.
>> Check current prices and read the reviews to book your rooms here.
Wawona Hotel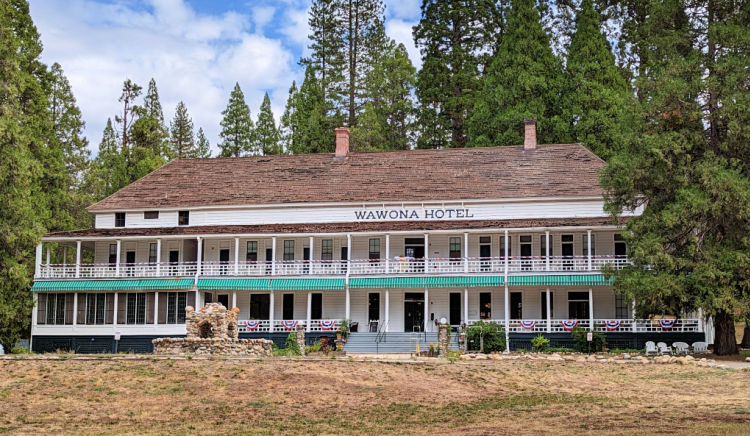 Few Yosemite National Park lodging options can match the Wawona Hotel for outright charm. One of the original mountain hotels in the region, the Wawona exudes Victorian style, reflecting its origins in 1856.
The rooms - half with private bathrooms, half with shared - are superbly finished, and the amenities are impressive.
Few hotels offer anything as charming as live piano music in the evening, but it does! The hotel provides access to a pool, a nine-hole golf course, and riding stables.
The nearby attractions include the magnificent Mariposa Grove of Giant Sequoias. It is not to be missed for a touch of old-world style.
>> Learn all about Wawona Hotel and book your room for your stay.
Tuolumne Meadows Lodge
Tuolumne Meadows Lodge occupies a superb location next to the Tuolumne River. At 8700ft, you are guaranteed magnificent views of spectacular scenery.
Accommodation is by way of one of 6 tent cabins, each with a solid floor and sleeping up to four, and showers and restrooms are located in the center of the park.
This is an experience for the true adventurer, as there is no electricity on site, so relax, settle back, and enjoy a digital detox!
The Lodge is some 60 miles from Yosemite National Park and is popular with those who have explored the park or intend to do so.
>> Get the best guest reviews and find the best deals for Tuolumne Meadows Lodge.
Housekeeping Camp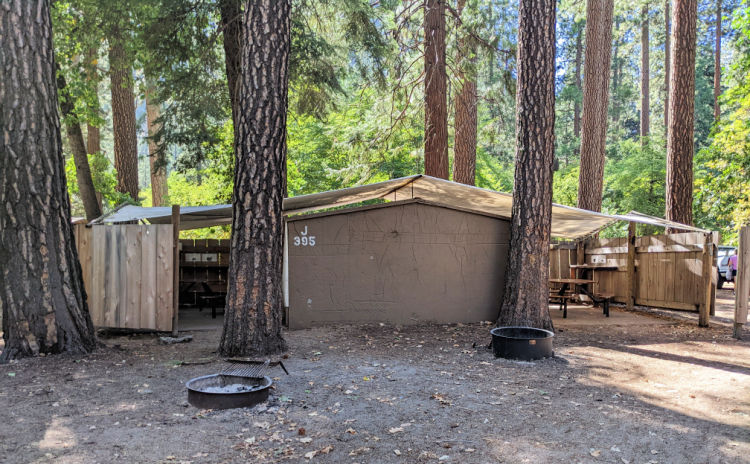 For lovers of the outdoors, the superb camping units at Housekeeping Camp offer the perfect opportunity for a camping experience without the hassle of erecting a tent.
Three-sided concrete units are your accommodation with privacy curtains on the front. The views of Yosemite Falls and the Half Dome are simply spectacular.
Right next to the Merced River and in the middle of Yosemite Valley, this picturesque camp is the place for families to enjoy nature to the full, and all units come with power sources and a patio to cook and enjoy the stunning views.
>> Find out all about guest experiences and make your reservations here.
White Wolf Lodge
The tranquil setting of White Wolf Lodge makes this a place of relaxation and peace. With a choice of canvas or wood cabin set in a beautiful wildflower meadow, few Yosemite lodging options offer such a wonderful experience.
A central dining room is the breakfast place since there is no cooking in or outside the cabins, as this is a wildlife haven.
The site is perfect for enjoyable hikes to the beautiful Lukens and Harden Lakes. White Wolf Lodge is set in a charming and remote location, perfect for exploring the local area. Yosemite Valley is a 30-minute drive from White Wolf Lodge, making this an easy trip.
>> Find the best rooms and views at the White Wolf Lodge. 
Vacation Homes & Rentals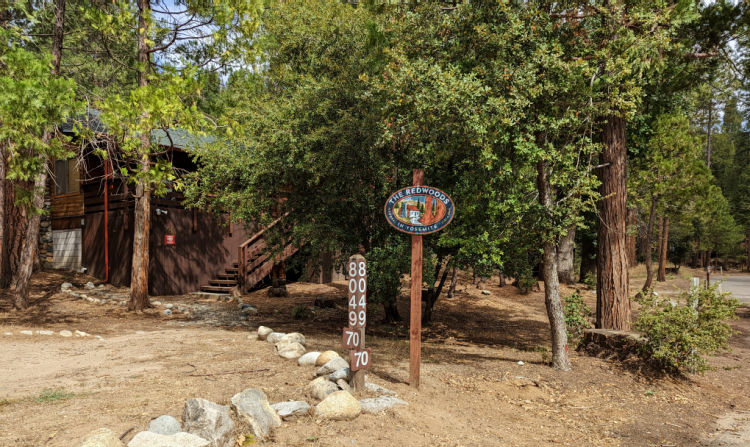 There are many excellent rental homes within and close to Yosemite National Park for families, couples, and groups. If this is your preferred choice of accommodation, you may want to check out Sierra Blossom.
It is in the heart of the national park and is superbly equipped and furnished.
Other rentals include Upper and Lower Cascades, each a stunning property perfect for exploring the valley, or perhaps Fish Camp Cabin, just a couple of miles from the South entrance to the park, is more to your taste with its good location among the legendary cedars and pines.
>> Find lots of options here for your stay in Yosemite Valley.
Curry Village
Curry Village has occupied a prime spot beneath Glacier Point for more than 120 years and offers canvas tents, wooden lodges, and traditional hotel rooms. With accommodations to satisfy all, this is a perfect base for exploring the many wonders of Yosemite National Park.
Choose from various dining options, enjoy a ranger talk in the beautiful outdoor amphitheater, or relax in the pool.
Simply stated, Curry Village is not a place where everything is calm and tranquil. There is a sense of old-world charm at this welcoming and warm destination, which former guests highly recommend.
>> Read all about Curry Village and find the perfect camping spot for your vacation. 
Other Campgrounds
Many campsites in and around Yosemite Valley and National Park offer various accommodation options. Some also provide RV spots for added convenience. With a choice of traditional canvas, wooden lodges, and hotel rooms, Yosemite has 13 of them.
With spaces for erecting your tent at many sites, you will find a campsite among those in these regions.
If getting close to nature is your thing, few places on earth match Yosemite National Park for its stunning scenery and unique attractions.
>> Learn more about about all the camping options in Yosemite.
Fun Tours for Yosemite
Where to Stay Near Yosemite National Park
There are five entrances to Yosemite National Park, and all five have accommodations within a short drive. There are three entrances on the western side: Big Oak Flat, Arch Rock, and Hetch Hetchy.
The other two are the South Entrance and the Tioga Pass Entrance on the park's eastern side.
Here are some of my top picks near each gate.
South Entrance: Oakhurst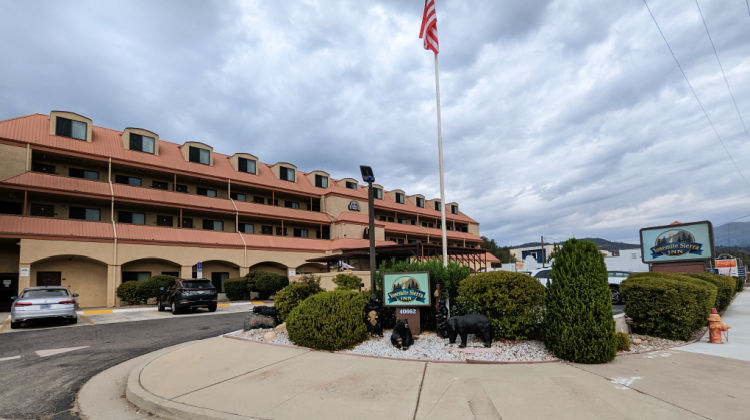 Oakhurst is one of the largest towns near Yosemite National Park. You will find it about 30 minutes away from the south entrance. It takes about an hour and a half to drive to Yosemite Valley from here.
Here you will find quite a few places to stay, some great restaurants, and a bit more nightlife than other options on my list.
Here are just a few hotel recommendations in Oakhurst.
Oakhurst Inn
Occupying a simply stunning location close to the South entrance to Yosemite National Park is the Oakhurst Inn, and the views are just out of this world.
A traditional and hearty breakfast sets guests up for a day exploring the region. The comfortable and beautifully furnished rooms are perfect for a good night's sleep after an exciting day.
An outdoor pool with a sun deck offers unbelievable views of the surrounding scenery. With shops and restaurants in Oakhurst, this is an ideal choice for a family vacation or a romantic getaway.
>> Find recent reviews and room availability for the Oakhurst Inn.
Yosemite South Gate Hotel and Suites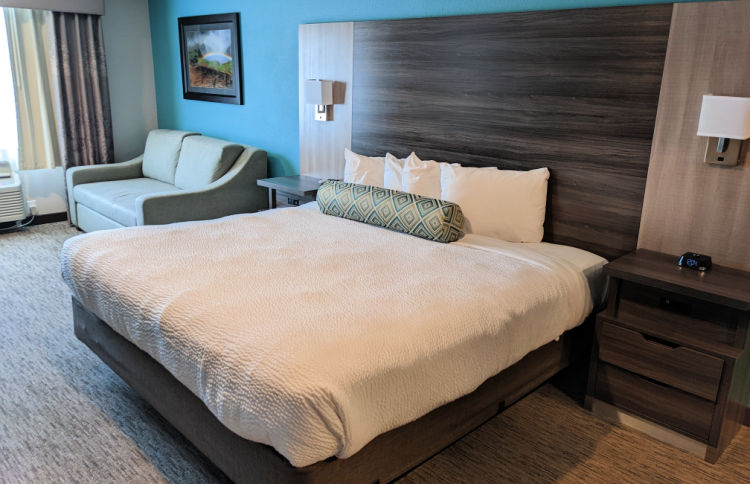 This is typically where I stay near the south entrance. It's on the northern end of town, which makes accessing Yosemite National Park easy.
The rooms are updated and spacious. The hotel also sits back from the road, so it's perfect for light sleepers.
They offer a simple breakfast and are nearby several great places to eat.
>> Check Yosemite South Gate Hotel and Suites for reviews and availability.
Best Western Plus Yosemite Gateway Inn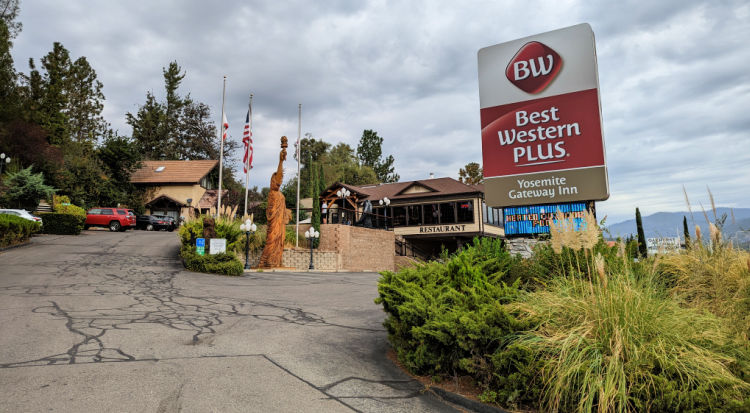 Another great place to stay near Yosemite National Park is the Best Western Plus Yosemite Gateway Inn.
The hotel is spread out among several different buildings. It's so cute and fits well in the natural surroundings. you will find both standard king and queen rooms. You can also upgrade to a two-room suite.
This three-star property also features one of the best restaurants in Oakhurst, Oakhurst Grill & Whiskey 41 Lounge. They are open from 4 pm to 8 pm most nights. Make sure to grab a reservation as tables fill up quickly.
>> Booking details and availability for rooms and deals here.
South Entrance: Fish Camp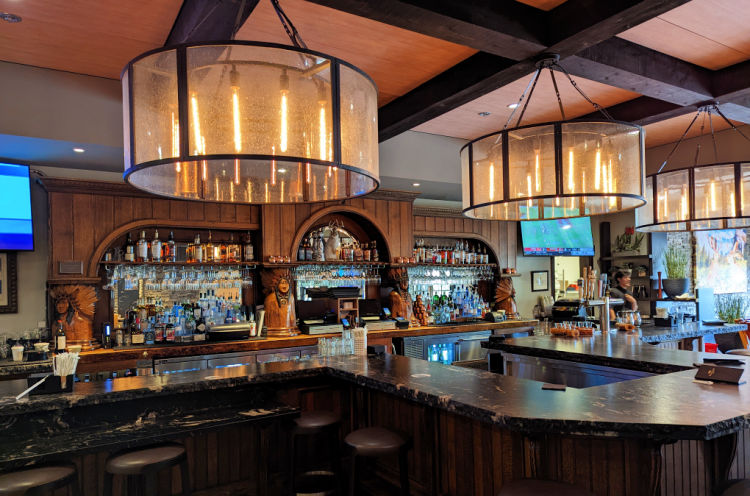 The charming small town of Fish Camp is close to the South entrance of Yosemite National Park. It offers a choice of accommodation options in an ideal location.
It is surrounded by the glorious Sierra National Forest and with amazing views of the mountains.
You can choose from traditional hotels, campsites, and lovely wooden lodges in superb spots.
This is the ideal gateway to the southern areas of the National Park. I love the small town is home to a general store, a history center, and some great local hiking trails.
It's just less than 10 minutes from the south entrance. It's about an hour south of Yosemite Valley.
Tenaya at Yosemite
The Tenaya at Yosemite is the most extensive accommodation in Fish Camp. It's an upscale, three-star hotel surrounded by nature.
They also have a couple of great places to eat on-site, trails that start right on the property, and an outdoor seasonal pool.
Even though it's a larger hotel, you will feel like you are staying in a relaxing mountain cabin.
>> More about staying at this amazing mountain resort
Big Oak Flat Entrance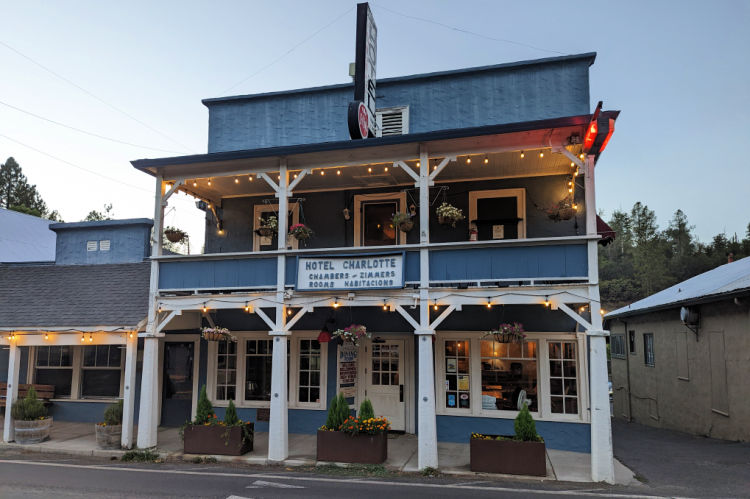 The Big Oak Flat entrance is on the northwestern edge of Yosemite. The entrance is along Highway 120 and is the most popular gate for those coming from San Francisco, the Bay Area, and most spots in Northern California.
You will find several places to stay near this entrance.
Rush Creek Lodge at Yosemite
This large three-star hotel is less than 5 minutes from this entrance. It's an easy jumping-off point to get to Yosemite Valley, Yosemite Falls, and Hetch Hetchy.
It's a large lodge with moderate amenities that allow you to unplug and revitalize in nature. The rooms do not have TVs, but do offer radio streaming and games for entertainment. Rooms also have free Wi-Fi.
You will also find a great Tavern on site (where you can watch your favorite team on TV), a couple of other restaurants, a small general store, and a pool bar.
You will also find a swimming pool, a spa and wellness center, and trails that start right on the property.
Rooms here run from around $360 to $450 a night during the high season and $265 to $415 a night during the off-season. The prices reflect its closeness to the park and its overall appeal right in nature.
>> More about staying at Rush Creek Lodge at Yosemite.
Buck Meadows
The small town of Buck Meadows is about 20 minutes from the Big Oak Flat Gate. It offers a handful of accommodation options.
The highest rated include the Yosemite Westgate Lodge, Yosemite Ridge Resort, Buck Meadow Lodge, and Blackberry Inn Yosemite.
There isn't much to do here except relax and sleep, but the prices will be better than staying outside the gate. It's about an hour from Yosemite Valley.
>> Read guest reviews and find the best room at the best prices in Buck Meadows.
Groveland
If you want to stay in a cute historic town with a bit of nightlife, you can drive just a little further to Groveland. This small town is about 30 minutes away from the entrance.
Here you will find a few more accommodations, including the Groveland Hotel, the Hotel Charlotte (my favorite place to stay here), and the Yosemite International Hostel.
I like staying here because there are a few bars and restaurants. There is also a nice store where you can stock up on supplies and easily get to and from the park daily.
It's about an hour and fifteen minutes to Yosemite Valley from Oakhurst.
>> Find recent reviews and ratings for Groveland hotels and lodging
>> More fun mountain towns around Northern California
Arch Rock Entrance
The entrance is also on the western side of the park. It's along Highway 140.
The closest accommodation near this gate is the Yosemite View Lodge. This 3-star hotel is just 10 minutes outside the gate. It's near the small town of El Portal, which offers several services.
Other places to stay along Highway 140 include the Yosemite Cedar Lodge, the Dry Gultch Campground, and Yosemite Redbud Lodge.
If you want some nightlife and more restaurant options, head a little further west to the small town of Mariposa. It's about 45 minutes from the Arch Rock Entrance.
This historic town offers several one, two, and three-star hotels. Most are within walking distance of the town center, where you can meet others visiting Yosemite.
>> Learn about the rooms and rates near the Arch Rock Entrance. 
Tioga Pass Entrance
The Tioga Pass Entrance to Yosemite is the only gate on the eastern side. Staying near this gate, you will mostly find campgrounds.
You will find a couple of hotels in Lee Vining, about 20 minutes from this entrance.
The next closest options are in June Lake. Here you will find a couple of 4-star options and several one, two, and three-star options. The area sits above 7,000 feet, so this is something to consider if being at altitude for too long is an issue.
>> Find rooms and reviews for rooms and locations at June Lake.
Hetch Hetchy Entrance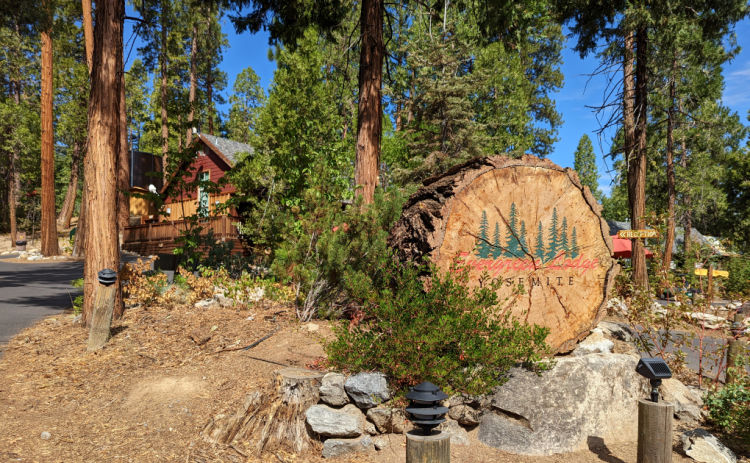 The final entrance is the Hetch Hetchy Entrance on the northwestern end of the park. It's the least used entrance and typically only used for those hiking Hetch Hetchy or one of its nearby trails.
The closest hotel to this entrance is the Evergreen Lodge at Yosemite. It's only about 5 minutes from the entrance. This lodge is surrounded by nature and is perfect for relaxing and unwinding.
This gate is close to the Big Oak Flat Road Entrance, so you can also stay at the places mentioned in that section if you plan to visit the Hetch Hetchy area of Yosemite National Park.
>> Read about the options and rooms at the Hetch Hetchy Entrance.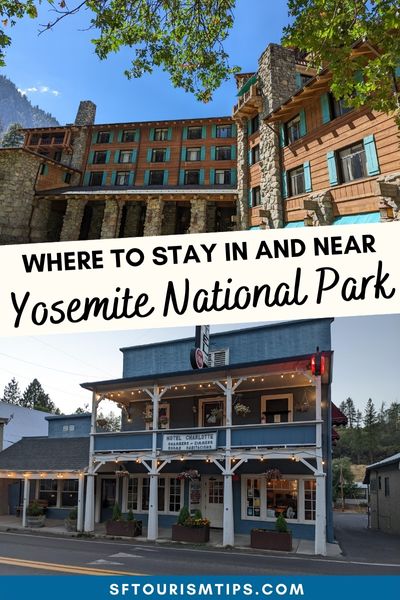 Comments? Questions? Suggestions?
I would love for you to join me in my private Facebook group! 
It's a great place to interact with me and others who know the area well.
You can ask questions, get advice for your upcoming stay, and then share your photos and advice with others when you return home. It's a great community and the fastest way to get answers to those nagging questions about your visit!