St. Helena Wineries: 15 of My Top Picks Near this Napa Valley Town
Located in the heart of Napa Valley, you will find more than 150 St. Helena wineries, all the way from Spring Mountain over to Joseph Phelps Winery on the eastern edge of the valley. You will also find a few tasting rooms right in town.

Many of the St. Helena wineries are along Highway 29 and the Silverado trail. With so many to choose from, it is always difficult to decide where to start. I've selected a list of my 15 favorites.
They range from those with award-winning Cabernet Sauvignon to those with amazing views of the valley. Each one will impress you because of both their wines and their beauty.
Most of the wineries on this list require or highly recommend reservations for tastings and tours.
Disclaimer: I receive a small commission from some of the links on this page.

1. Ballentine Vineyards

One of my favorite St. Helena wineries is Ballentine Vineyards. They have amazing wines and work hard to be environmentally friendly.
Their entire winery runs on solar power. They also designed their roof to allow them to capture rainwater for irrigation and frost protection. They do everything they can to limit their impact on the environment so they can continue to make tasty wines for years to come.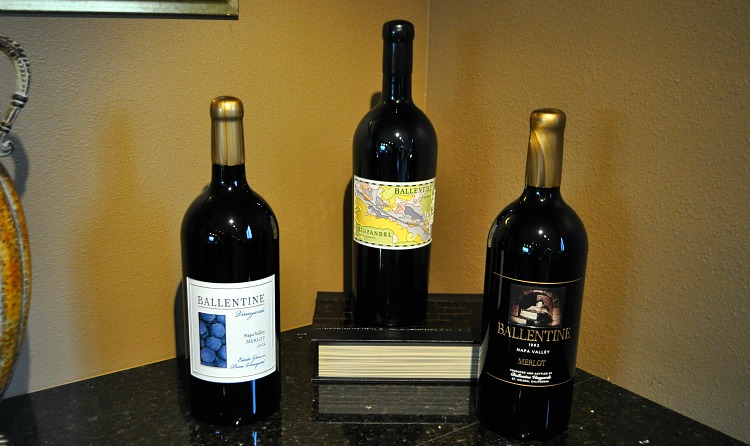 Their Zinfandel wines started receiving awards all the way back in 1947. Today, it's one of my favorites in Napa Valley.
Their estate Merlot and single vineyard Cabernet Franc are two of the others I love here.
2. Newton Vineyard

Newton Vineyard is next on my list of my favorite St. Helena wineries. I love them for their tasty wines, great views, and colorful gardens. (Please note that garden tours are currently unavailable and tastings are being held at the Tasting Room in Calistoga while they rebuild their winery after the Glass Fire.)
Newton Vineyard sits on the hillside of Spring Mountain above Napa Valley. This affords the winery great views all around Napa. It also is where you will find a slightly cooler climate that the vines love and allows the grapes to grow nice and juicy.
My two favorite wines here are their Spring Mountain Cabernet Sauvignon and their Bordeaux Blend called the Puzzle. Due to their great location, you will find their wines ranging from around $55 to just over $200 a bottle.
3. V. Sattui Winery

V. Sattui is one of the most popular St. Helena wineries. They welcome a large number of guests each year in their tasting room. They also have a deli where you can grab a sandwich and head outside to enjoy it on one of their picnic tables.
One of the things I love about V. Sattui Winery is that they have a large selection of wines. On any given year, they usually have about 50 types of wines available for sale. This makes it popular since almost everyone will find something they like, from a large selection of reds and whites to sparkling and dessert wines.
Some of my favorites here include the Paradiso (Bordeaux blend), Carneros Chardonnay, and Cuvee Rouge sparkling wine. Then again, it is hard to choose since almost everything here is great.
Their prices range from around $30 to almost $400 a bottle. In addition to great wines, they also have some fun annual parties.
4. Charles Krug Winery

Charles Krug Winery is another top pick on my list of St. Helena wineries. Opened in 1861, they are the longest continually operated winery in Napa Valley, with the first tasting room since 1882. Their business model forever changed the landscape for the Northern California wine industry.
Now owned by the Mondavi Family, Charles Krug Winery continues to craft excellent wines. Some of my top picks here include their Sauvignon Blanc, Pinot Noir, and Merlot.

5. Spring Mountain Vineyard

Spring Mountain Vineyard is another one of the must visit St. Helena wineries. I fell in love with their Cabernet Sauvignon more than two decades ago and each year it just gets better.
Since 1992, Spring Mountain has focused on being a sustainable wine growing operation. They avoid insecticides and use all natural, biologically based regimens, which helps maintain their eco-system. It also means a healthy and high-quality glass of wine every time.
Their location on Spring Mountain offers the perfect environment to grow small production, highly concentrated grapes for full flavored wines.
The show Falcon Crest filmed many of their outdoor scenes on their property and any Falcon Crest lover will recognize the mansion the minute they pull into the property.
While I love all of the wines here, my top pick is their Elivette. It's a Bordeaux Blend with a great balance of fruity and earthiness. It's great to drink right away, but if you put it away for a few years, you will find an even tastier and more complex wine.
>> Find more great Northern California wineries and wine regions to visit
6. Sinegal Estate Winery

There is so much to love about Sinegal Estate Winery, which sits at the base of the Mayacamas Range. Even though they are a short drive from the town of St. Helena, they are worlds apart.
On the estate, you will find both amazing wines and a serene, colorful property. Let's start with their wines.
You'll find several great Cabernet Sauvignons as well as a special one from Howell Mountain that you don't want to miss. I also love their Cabernet Franc and Sauvignon Blanc wines.
After you finish tasting (or before), make sure to spend a little time exploring. You will find lovely gardens including an olive orchard and an oak grove. Cross their small foot bridge to find their hidden private lake that is a waterfowl sanctuary. Admire the lake as well as all of the animals that live around it.
7. Markham Winery

Markham Winery is another one of the St. Helena wineries with a long history in Napa Valley. Founded in 1879, it was one of the largest producers in the 1880s. After the original owner, Jean Laurent, died in 1890, a series of owners ran the property for a number of years.
In 1978, Bruce Markham bought this property and created Markham Winery. For years, he focused mainly on Cabernet Sauvignon. He also did quite a bit of work with Merlot. Markham sold to the Mercian Corporation in 1988 and they began a rapid expansion.
Today, you will find a wide selection of varietals on their menu. In addition to their amazing Cabernet Sauvignon wines, they also have a tasty Syrah, Sauvignon Blanc, and Chardonnay.
8. Duckhorn Vineyards

Another one of the St. Helena wineries that you've probably heard of is Duckhorn. Founded in 1976, they have a long history of high-quality and complex wines from some of Napa's best vineyards.
In 1979, they released one of the first high-end Merlot wines in the valley, which set the standard for this varietal all around Northern California. In 1982, they released their first Sauvignon Blanc wine.
With only a handful of winemakers over the years, their wines continue to be high quality and highly popular with locals and visitors alike.
Their tasting room sits inside their classic estate surrounded by beautiful gardens and vineyards. Their tasting allows you to sample the two wines that made them famous (also my top picks). In addition, you will get the chance to sample many of their other crowd favorites.
Their wines range in price from around $30 to almost $200 a bottle.
9. Hall St. Helena

One of the top St. Helena wineries for Cabernet Sauvignon lovers is Hall. It's also a great stop for art lovers.
Hall purchased this property in 2003. It was home to the historic St. Helena Bergfeld Winery. While it opened as Hall St. Helena later that year, they also decided to remodel the historic 1885 Bergfeld Winery on the property. It reopened in 2013 and is a must see on your visit to St. Helena.
They feature more than a dozen Cabernet Sauvignon wines from vineyards all around Napa Valley. Many have won awards including 90+ point ratings from the Wine Advocate, Wine Enthusiast, and Wine Spectator. They also have some 90+ point Sauvignon Blanc wines.
Make sure to also check out their art while you are here. You will find it throughout the facility, including sculptures in the nearby vineyards.
This is one of the few wineries that do accept walk-in tastings during business hours. In addition to Hall St. Helena, they have a second facility about 15 minutes away called Hall Rutherford.
10. Merryvale Vineyards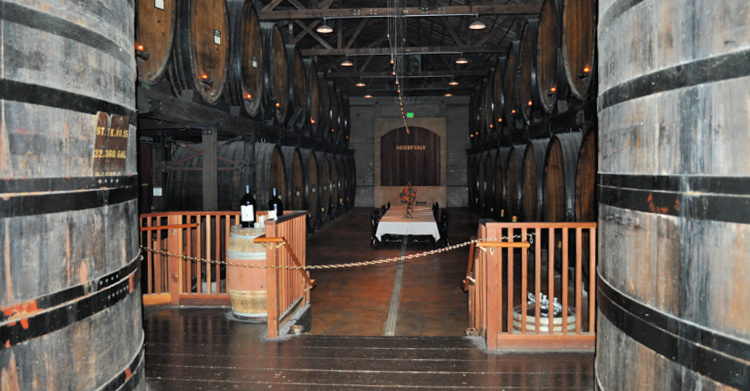 Merryvale Vineyards sits inside a historic property just on the southern edge of the town of St. Helena, right on Highway 29.
The building dates back to 1933. It was the first winery production facility built after prohibition lifted. It is also the location where Peter and Robert Mondavi first experimented with wine making.
Over the years, it changed hands many times. Today, the Schlatter family owns the winery and they work hard to ensure their wines meet high-quality standards.
Some of my favorites here include their Napa Valley Merlot and Cabernet Franc. They also offer a variety of wine tasting experiences, including chocolate and cheese pairings.
Their wines start at around $35 per bottle with some around $200 each.
11. Joseph Phelps

Joseph Phelps offers a variety of high-quality wines from several vineyards around Napa Valley. Phelps purchased this property in 1973 and produced the first California variety labeled Syrah the following year.
He continued to innovate and was the first in Napa to produce a proprietary Bordeaux-style red wine blend. Many others followed Phelps and today, you will find this popular red wine blend all around the valley.
Their Insignia Bordeaux-style wine is one of my favorites. You'll also love their Cabernet Sauvignon and their Pinot Noir.
Their wines start at around $45 a bottle with some of their top end wines going for around $300 or more.
12. Barnett Vineyards

Barnett Vineyards sits high above the valley on Spring Mountain. It's another one of my top picks of St. Helena wineries.
All of their wines are from single vineyards. They are either from their estate vineyards or a single vineyard within Napa Valley. This allows them to offer high quality wines that showcase the flavor profile from each unique vineyard.
Their estate vineyards grow Cabernet Sauvignon, Merlot, and Cabernet Franc. Sitting on the hillside allows the water to drain and strain the vines. This creates smaller, yet more concentrated grapes that they turn into full flavored, fruity wines.
Their wines range from $38 to $190 a bottle.
13. Pride Mountain Vineyards

Pride Mountain Vineyards is another one of the great St. Helena wineries. It sits on the top of Spring Mountain and offers complex, flavorful wines.

The first winery established on the property was The Summit Winery in 1890. Over the years, it changed hands many times and was an orchard during prohibition. In the 1950s, John and Babs Gamble purchased the property and began to turn it back into a winery.
Jim and Carolyn Pride purchased this property in 1989 and founded Pride Mountain Winery. They released their first vintage with the Pride Mountain label in 1994.
Today you will find about a dozen wines in their portfolio. The Reserve Cabernet Sauvignon, their first wine, is still one of their followers' favorites. You will also find typical Napa Valley varietals including Merlot and Chardonnay. Some others you will find here include Viognier (one of my personal favorites), Syrah and Sangiovese.
Their wines start at around $45 a bottle and go up to about $100 a bottle for their top of the line Reserve Cabernet Sauvignon.
14. Fantesca Estate & Winery

Fantesca Estate and Winery is one of the newer St. Helena wineries on my list. Founded in 2004 by Susan and Duane Hoff, this winery made a name for itself very quickly in a highly competitive market.
The name comes from a character that originated in an Italian comedy troupe, which in turn inspired Cirque du Soleil. It was a single female character that was described as "Sexy, Smart, and Unpretentious." The Hoff's knew this was perfect for their new venture.
One of their keys to success is the fact that they hired one of the best winemakers in the world, Heidi Barrett. Barrett is known around the world for her ability to make high-quality wines. Robert Parker dubbed her "the Queen of Cult Cabernet" and she has received 5 different 100-point wine ratings by top critics in her career.
They have just four wines on their menus and their tastings start at around $250 per person. However, if you want to sample a high-quality wine from a world-renowned wine maker, this is the place to stop.
15. Anderson's Conn Valley Winery

My final pick on my list of the top St. Helena wineries is Anderson's Conn Valley Vineyards. You will find them about 10 minutes east of downtown St. Helena just south of Howell Mountain.
Founded in 1983 by Todd Anderson, this winery continues to be family owned. Even though they are close to St. Helena, here you will find a peaceful retreat away from the chaos of many of the more visited wineries closer to town.
They create some amazing Cabernet Sauvignon wines as well as a few Bordeaux blends with a high percentage of Merlot and Cabernet Franc. The only white is a tasty Sauvignon Blanc.
Call ahead to book your tasting, or on the day of to see if there is availability. They offer personalized service with a feeling of what Napa used to be before it became so famous.
Comments? Questions? Suggestions?
I would love for you join me in my private Facebook group! 
It's a great place to interact with me and others that know the area well.
You can ask questions, get advice for your upcoming stay, and then share your photos and advice with others when you return home. It's a great community and the fastest way to get answers to those nagging questions about your visit!