Sausalito Art Festival: Details & Tips to Attend the 2023 Labor Day Festival
Update for 2023: The Sausalito Art Festival is canceled for 2022 and is still waiting on word for 2023. The park they have been using was damaged during COVID and they are waiting for repairs. Everything below is from 2019 and will give you a good idea on what to expect again in the future.
Spend this Labor Day weekend at the 67th annual Sausalito Art Festival. Join more than 30,000 art, music, and food lovers at this premier Bay Area event on August 31 - September 2, 2019.

This three-day event offers music from more than 20 local and nationally recognized bands. Music includes everything from rock to pop to blues.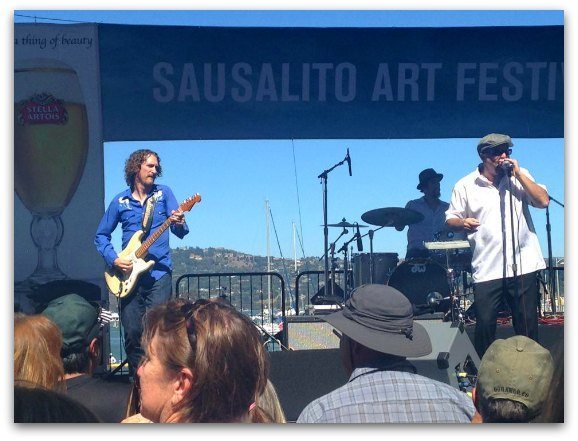 Some of the musical entertainment at the Sausalito Arts Festival.
Disclaimer: I receive a small commission from some of the links on this page.

Concerts & Entertainment

Main Stage

The main stage houses the headliners. It is a beautiful location right along the waterfront in Sausalito.

Artists Stage

The Artists Stage is smaller, but still offers a wide variety of music. Here you could listen to everything from 30's jazz to classical music.

Children & Family Area

The final stage provides entertainment for the entire family. Here you can watch clowns, theater performances and listen to local musicians playing children's music.
In this area, there are a number of hands on-activities such as arts and crafts.
Other Things to Do at the Sausalito Art Festival Details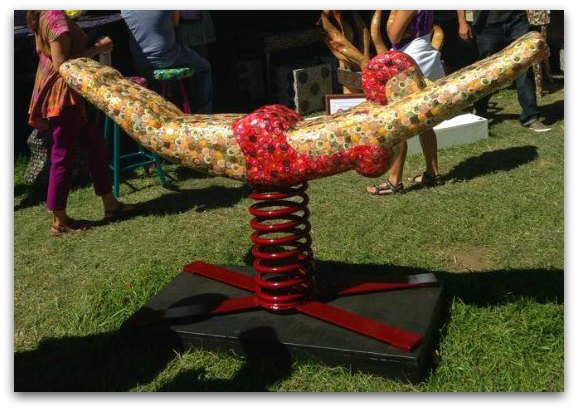 A piece of art for sale at the festival
Exhibiting Artists

This year, you can once again buy works of art from more than 270 artists. These are the categories of items that will be on display:
2-D Mixed Media
3-D Mixed Media
Ceramics
Clothing
Drawings
Functional Art
Glass
Jewelry
Paintings
Photography
Print Making
Sculptures
Watercolors
Woodwork
Food & Beverage Vendors

The Sausalito Art Festival offers a wide variety of gourmet food options from tasty crab-cakes to homemade noodles. You can also find festival favorites such as hamburgers, turkey legs and ice cream.
Festival goers can pair their yummy treats with premium wines from California, an ice cold Margarita, or some bubbly. The beer selection is also top notch with everything from your standard Budweiser beers to the best local micro-beers on the market.
Silent Auction

The Sausalito Art Festival's Silent Auction is near the front entrance. You can walk through and bid on must have pieces of art and other items. All proceeds go to benefit art scholarships for those wishing to pursue a college degree in the arts.
It is the perfect place to find unique works while supporting a great cause!
More 2019 Festival Details

The hours for the 2019 Sausalito Art Festival are:
Saturday, August 30: 10am to 7pm
Sunday, September 1: 10am to 7pm
Monday, September 2: 10am to 5pm
Tickets

You can purchase your tickets in advance or at the door. Tickets include admission to the festival and live music for one day. They do not include food or beverages.
The prices are as follows:
Adults: $30
Seniors (62 and over): $25
Children (12 and under): Free
You can buy tickets online in advance (recommended), but this includes a small service fee. You can also wait and buy them at the door, but they have sold out in the past.
A Map of Festival Location

The Sausalito Art Festival will be held in Marinship Park (green star on the map). This is north of the main shopping areas and the ferry drop off point (red star on the map).

Transportation Options

Sausalito Ferry: The easiest way to get here from San Francisco is to take the ferry. Both ferries that service Sausalito will run additional ferries for the festival. After you arrive at the ferry terminal, you can either walk down to the festival or take a free shuttle bus.
10-Golden Gate Transit Bus: Another easy way to get to Sausalito is to take the 10-Golden Gate Transit Bus. It picks up at several places throughout the city. It also drops off just a couple of blocks from the festival.
Fisherman's Wharf: If you are in Fisherman's Wharf, you will want to pick up the bus on the north east corner of Lombard and Fillmore Streets.
Union Square: If you are staying in Union Square, you can pick this bus up at 7th and Market Street. Look for the Golden Gate Transit sign and make sure you signal the bus driver as they pull up to the stop. These buses do not stop at every location, so make sure you let them know you plan to take it.
By Car: Driving is an option, but plan on paying quite a bit for parking. The two closest lots (shown in the map with the large blue "P") are $20 each. The further lots run about $10 for the day.
Sausalito Art Festival History

The Sausalito Art Festival started in 1952 and has grown tremendously over its 60+ year history.The Sausalito Art Festival Foundation founded this event and runs it every year. Proceeds from this event (as well as their other festivals) go to support the local artists community. They use the money for grants, scholarships, and other community programs.
Hotels Nearby the Sausalito Art Festival

Disclaimer: I receive a small commission from some of the links on this page.

You will find several great hotels within walking distance of the festival. Here are a few of the top options.
Casa Madrona Hotel and Spa: 4-star hotel with suites, a restaurant and parking, in the heart of Sausalito just steps from the festival and all that this waterfront village has to offer, 801 Bridgeway, find recent guest reviews and book at Casa Madrona
Hotel Sausalito: 2.5-star hotel right on the waterfront, also in the heart of the action, for the price, this is the best value in this part of Sausalito, 16 El Portal, see what recent guests had to say about it
The Gables Inn Sausalito: 3-star B&B with free breakfast and fun afternoon wine & cheese event, about a mile from the festival, but a beautiful walk both ways along the waterfront, highly rated, 62 Princess Street, learn more about what recent guests said about The Gables Inn Sausalito.
Find additional information on these and other hotels in Sausalito.
Other Things to See & Do in Sausalito

If you are heading over to Sausalito for the day or weekend, you will find a lot of fun things to do. Top options include shopping along the waterfront, wine tasting and soaking in the views of San Francisco and the SF Bay Area. You will also find some great museums and galleries.
Visit my Sausalito attractions page for a list of the top things to do in this cute waterfront town.
Comments? Questions? Suggestions?
I would love for you to join me in my private Facebook group! 
It's a great place to interact with me and others who know the area well.
You can ask questions, get advice for your upcoming stay, and then share your photos and advice with others when you return home. It's a great community and the fastest way to get answers to those nagging questions about your visit!